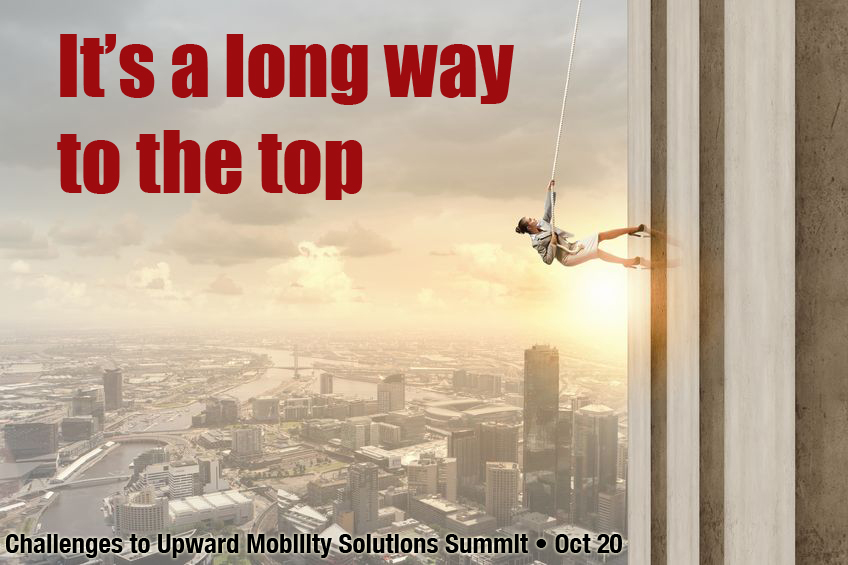 Tuesday, October 20,
Grand Valley State University
Eberhard Center (map)
REGISTER HERE
Michigan residents are very concerned about the many challenges facing unemployed and underemployed people.
Some workers question the quality of services available through workforce development agencies - and suggest there are inadequate resources for workers to improve their basic skills. Most agree that employers are responsible for training workers. The vast majority of workers identified either one or two major hurdles to upward mobility.
Click here to download the full report, "Getting to Work: The public's agenda for improving career navigation, college affordability, and upward mobility in Michigan." And please join us for this important discussion.
Cost of the event is $25 for Bridge subscribers, $35 for non-subscribers. Breakfast and lunch are included. Space is limited, so register today!
8:30-8:45 am: Doors open/Registration begins/Continental breakfast
8:45-9:00 am: Introduction and Welcome: John Bebow, President & CEO, Center for Michigan
PANEL 1
9:00-9:30 am: What's the problem? Overview of "Getting to Work" report findings, Bridge reporting on challenges to upward mobility, and statistical realities in West Michigan. Moderated by Amber DeLind, The Center for Michigan
Chastity Pratt Dawsey, Reporter, Bridge Magazine
Kevin Stotts, President, TALENT2025
PANEL 2
9:30-10:15: How can we eliminate structural unemployment? Moderated by John Bebow, Center for Michigan
Job and basic skills training, skill attainment: Jeannine LaPrad, Corporation for a Skilled Workforce and Andrew Brower, W.K. Kellogg Foundation
Conclusions of Talent 2025 Work Groups, particularly Workforce Development Group: Kathy Crosby, Goodwill Industries of Greater Grand Rapids
Individualized workforce development support: Duane Berger, Michigan Department of Health and Human Services
PANEL 3
10:15-11:00: How do we increase skills for workers throughout their careers? Moderated by Phil Power, The Center for Michigan
Young workers:
Paid internships for youth: Dierk L. Hall, City Connect Detroit
CTE opportunities for career development and hands-on experience: Brandy Lovelady Mitchell, Kent Innovation High
Apprenticeship-style programs: Amy Koning, GRCC School of Workforce Development and Advanced Manufacturing Partnership
Experienced workers:
Retraining scholarships and credentialing: Larry Good, Corporation for a Skilled Workforce
Pure Michigan Talent Connect: Stephanie Comai, Talent Investment Agency
PANEL 4
11:00-11:45 am: How can employers support talent development? Moderated by John Bebow, Center for Michigan.
Building your own talent pipelines: Mark Peters, Butterball Farms
Encouraging and building systems for skill attainment: David Muir, Paragon D & E
On-the-job training: Jon DeWys, DeWys Manufacturing
KEYNOTE
12:00-12:20:Q&A with Ken Sikkema, Senior Policy Fellow, Public Sector Consultant & former Michigan Senate Majority Leader and Kevin Stotts, President, TALENT2025. Moderated by Phil Power, The Center for Michigan.
12:20-12:25 pm: Thank You and Next Steps: Phil Power
SPEAKERS
Ken Sikkema is a senior policy fellow at Public Sector Consultants. His areas of concentration at PSC include public finance, environment, and energy policy. His background in state government and experience in the legislature are particularly useful to organizations seeking to move the state's public policy agenda forward in innovative and creative ways.
Prior to joining the firm, Mr. Sikkema served in the Michigan House of Representatives for six terms and in the Michigan Senate for two terms. In the House he served as Majority Floor Leader from 1995 to 96 and as the Republican Leader from 1997 to 98. In the Senate he served as the Senate Majority Leader from 2002 to 06. Prior to his service in the Michigan Legislature, Mr. Sikkema was market manager for Herman Miller Inc. in Zeeland, Michigan. He has also served as both an adjunct and visiting professor at Grand Valley State University.
Mr. Sikkema is a cum laude graduate of Harvard University with a BA in History. He received his MBA with distinction from the University of Michigan School of Business Administration.
Kevin Stotts is President of TALENT 2025, a West Michigan non-profit organization that seeks to boost educational attainment across the region. Previously, Kevin was the Vice President for Community Programs for the Grand Rapids Area Chamber of Commerce where he directed the Center for Community Leadership (CCL) and Hello West Michigan. As President of TALENT2025, Kevin works with West Michigan CEOs, educators, and workforce and economic development leaders to create, develop and take to scale initiatives to ensure West Michigan is a top 20 region for talent.
Jeannine LaPrad is President and CEO for Corporation for a Skilled Workforce and is responsible for helping CSW advance its mission of catalyzing transformative change in education, economic, and workforce development through research and action. She has spent the last 15 years researching and promoting innovative economic, education, and social policies and practices that help people successfully engage in sustainable work and lifelong learning. Jeannine also brings strong subject matter expertise and diverse relationships across the energy, economic, and workforce development fields in the Midwest. She served as the project director for CSW's work with the Midwestern Governors Association to develop a New Energy Economy Jobs Platform and currently is leading some related work on the development of the industrial energy efficiency manufacturing supply chain and workforce in the region. She has a Bachelor's degree in organizational psychology and communications and a Master's degree in higher education policy from the University of Michigan.
Andrew Brower is a program officer at the W.K. Kellogg Foundation. He co-leads the Grand Rapids place-based team, co-directing both strategy and investments. Brower is responsible for developing and coordinating strategic grantmaking activities addressing systemic barriers that create vulnerable conditions for historically marginalized communities and children. His work includes implementing programmatic and grantmaking activities to increase social change impact, ongoing analysis of solutions and trends, developing relationships within the field, fostering alliances with community and philanthropic partners, and supporting the overall direction and implementation of the Kellogg Foundation's strategic framework. Andrew also serves as co-lead for the New Options Project, an effort focused on prototype development for market-based pathways to employment for disconnected young people ages 16 to 24.
Brower holds a Master in Business Administration from the Ross School of Business of the University of Michigan, a Master of Forestry from Michigan Technological University and a Bachelor of Arts in English from Albion College. He was member of the inaugural Marano Fellows for the Aspen Institute's Sector Skills Academy, is a graduate of Leadership Grand Rapids and served as chair of the City of Grand Rapids' Board of Zoning Appeals.
Kathy Crosby has worked for the Goodwill Industries organization since 1980. She is currently the CEO of Goodwill Industries of Greater Grand Rapids, a $34 million organization serving eight counties in west and central Michigan. Goodwill of Grand Rapids operates a growing collection of retail, a recycling center, "Blue Spoon" catering business, a restaurant in the downtown market, the sandwich counter in the local bus depot, and a food truck. The organization employs 700 people on a long-term basis and another 200 transitional 'trainees' at any point in time. In 2014, Goodwill provided vocational-related services to 3,300 people and placed 883 into community employment.
Kathy's first alma mater is Siena Heights University in Adrian, MI where she earned a B.A. in Business Administration and her M.A. in Organizational Leadership. She also earned an Executive M.B.A. at the R. H. Smith School of Business at the University of Maryland and has attended the Aspen Institute Leadership Seminar in Aspen, Colorado.
Kathy is the Chair of the Board of Directors of the Economic Club of Grand Rapids and Vice Chair of the Better Business Bureau of Western Michigan's Board of Directors. She also serves on the CEO Leadership Council of Talent 2025, the Grand Rapids Chamber of Commerce's Regional Issues Council, the Regional Air Alliance Council, and the YMCA's Board of Directors. She serves on the Board of Directors for the Michigan-wide non-profit association, MARO, and is active with MARO's Leadership Academy for developing emerging talent in nonprofits across Michigan. She is a mentor for the Jandernoa Entrepreneurial Mentoring Program and a member of Inforum of West Michigan where she serves on the Honorary Council. She sits on the Board of Directors for Goodwill Industries International, and also serves on the Pastoral Council for Saint Anthony of Padua Catholic Church where she is an active member.
Duane Berger has worked in Michigan Government leadership positions since 1992 with a focus on business modeling and redundancy elimination to lower overhead costs while generating a culture of urgency to assure citizen's needs are supported. Berger currently applies the high value attainment working on special projects in Governor's office including development of business governed Resource Retention Networks providing company stability through turnover reduction and enhanced upward mobility. The previous four years he served as Chief Operating Officer in the Department of Human Services where he initiated the Pathways to Potential program working with the clients where they are to remove barriers and enhance individual's life pathways to their greatest potential. He served Secretary of State Terri Lynn Land as Senior Deputy Director (Director of Department Services Administration) for eight (8) years (2003 – 2010) developing and managing the department budget and financial records along with strategic and operational functions. He served on Governor John Engler's cabinet as the Director of Management and Budget (DMB) lowering the cost of provided services through metrics, partnership development and functional redundancy elimination while strengthening infrastructure. Duane graduated with a Bachelor of Science degree from Morningside College, Sioux City, Iowa.
Dierk L. Hall is President and CEO of City Connect Detroit. Mr. Hall joined City Connect Detroit in 2002 and has since served the organization in a variety of progressive capacities, including Program Officer and Vice President. Prior to joining City Connect Detroit, Mr. Hall worked as a Program Officer for the Society of Manufacturing Engineers Education Foundation and the United Way for Southeastern Michigan. He is currently a member of the board of Adult Well-Being Services and the Homeless Action Network of Detroit. Mr. Hall holds a Masters of Public Administration degree from the University of Michigan, Ann Arbor, and a Bachelor's degree from Michigan State University in East Lansing.
Dr. Brandy Lovelady Mitchell is a lifelong children's advocate who is passionate about education and helping students and educational staff maximize their potential. She began her career at what is now Network 180, connecting children and families in mental health and substance abuse services. From there she took her love of children to the most logical place – our public schools. Like many educators, Brandy has a true love of learning. This, combined with the influence of her parents, led her to continue her own education with a host of degrees. Dr. Lovelady Mitchell recently completed a Doctorate of Education Leadership at Eastern Michigan University. Her professional work and doctoral studies caused Eastern Michigan University to describe her as an "upcoming educator to watch" and the university recently honored her as one of their 2015 Scholars of Excellence. HBCUTE of Grand Rapids also recently named her an Elite Educationalist.
Amy Koning is the Associate Dean of Operations for the School of Workforce Development at Grand Rapids Community College. With a history of both K12 and post-secondary teaching, Amy values the investment made in our future workforce. Through her tenure as Associate Dean, Amy has helped to promote that investment throughout GRCC's occupational programs. Additionally, she leads the Advanced Manufacturing Partnership (AMP) industry/education partnership at GRCC. Amy has a master's degree in Educational Leadership from Western Michigan University and is currently completing her Ph.D. dissertation at WMU.
Larry Good provides strategic leadership across the organization's practice. Larry engages with policy and practice leaders nationally as part of CSW's efforts to inform change in public policy and investment in workforce development. Larry is a leader in designing and implementing transformative workforce development change strategies that result in scalable results. Larry currently is co-leading an initiative to develop a competency-based Credentials Framework that connects the dots among degrees, certificates, industry certifications and other credentials. Larry led a major engagement assisting the State of Michigan in developing and implementing a total rethinking of state workforce policy, initiatives, and structure, including the landmark No Worker Left Behind initiative. Prior to becoming CSW's Chair in 2006, Larry served as President and CEO from 1991 to 2005. Larry has an MBA from Michigan State University and a BA in political science from Oakland University in Michigan.
Stephanie Comai was appointed by Governor Snyder as Director of the Michigan Talent Investment Agency (TIA), effective March 16, 2015. TIA is a new state agency created within the Department of Talent and Economic Development (TED). TIA's mission is to enhance and foster more effective talent development efforts in Michigan, including improving career and technical education, skilled trades training, employment assistance. As a part of her duties, she is charged with oversight of the Unemployment Insurance Agency and the Workforce Development Agency. Prior to joining TED, she was a Deputy Director with the Department of Licensing and Regulatory Affairs (LARA). She served as the Director of Revenue and Partnership Enhancement for the Michigan Department of Human Services. She was a member of the Board of Trustees at Central Michigan University from 2003-2010. She also chaired the State Management Issues Committee for Governor-elect Snyder's Transition Office during 2010. Working for Governor John Engler, Comai directed the E-Michigan Office, which developed the Michigan.gov web portal. She held several additional positions in state government in the Engler Administration focusing on, implementation of policy initiatives, executive staff recruitment, and fiscal efficiencies. She has a Master of Public Administration degree from George Washington University and a Bachelor of Arts degree from the University of Michigan.
Mark Peters is the Chief Executive Officer for Butterball Farms, Inc., the nation's leading producer of embossed and specialty butter and margarine for the hotel and restaurant industry. Mark grew up in the operations side of the business working with his father, Leo Peters, Founder of Butterball Farms. After the death of Leo Peters in 1995 Mark succeeded his father as President. There were challenges with productivity and cash flow, but Mark's entrepreneurial spirit and determination was to build the company. He brought in talented team members and, under Mark's leadership, developed international partnerships and initiatives, and increased the overall growth and status of the organization. . Mark has a Bachelor of Arts degree in Business Administration from Calvin College and a Bachelor of Science degree in Accounting from Davenport University, as well as two semesters of engineering from Grand Valley State University.
Jon DeWys is CEO of DeWys Manufacturing, which employs over 150, serves 11 different industries, and over 115 different clients located in Michigan, Ohio, Indiana and Wisconsin. The company serves an array of markets including office furniture, medical, power generation, industrial, and electronics. He is also the founder of DeWys University, created out of the need to train and equip both current and new team member's skills in a growing environment.
David Muir, President, Paragon D & E David started working at Paragon in 2002. As the third generation president, he has been a part of Paragon all of his life. Paragon was purchased as a die cast manufacturer in 1962 by his grandfather, Fred M. Keller, and the company is celebrating its 70th anniversary in business. Today, Paragon is bringing tooling to the next level of innovation for plastics and composites across many industries from Aerospace, Automotive, Nuclear, Military, Marine and others. The company continues to grow and now has over 225 team members, including over 25 apprentices.