Beyond bottled water: Huge checks, slow progress test patience in Flint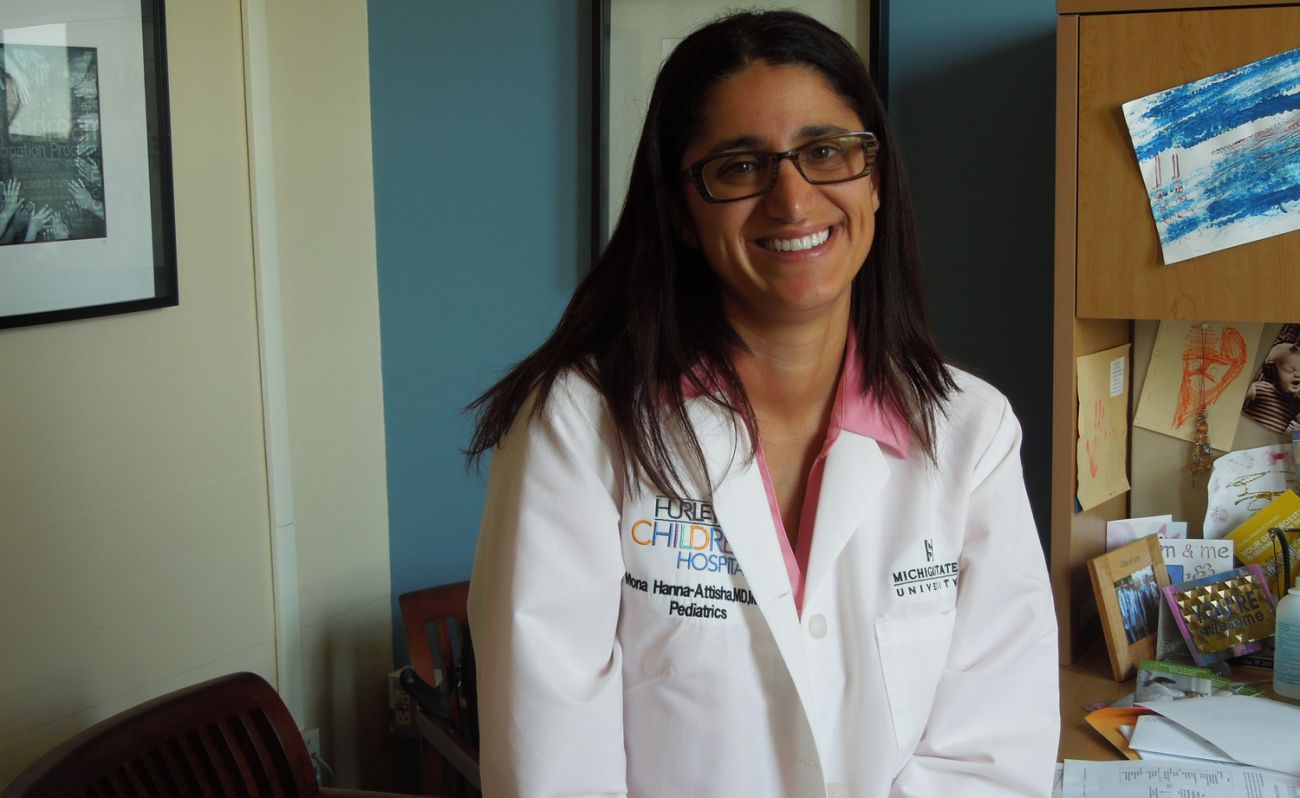 From her desk overlooking downtown Flint, Kathi Horton has watched millions of dollars flood into her beleaguered city. One fund run by the Community Foundation of Flint, where Horton is president, has had 15,000 donations so far this year.
"The donations come in from across the country, from every type of faith community and children asking for donations for Flint for their birthdays," Horton said. "It's an astonishing show of generosity."
A few blocks south on Saginaw Street, Michael McDaniel is in charge of a program called "FAST Start," with the aim of replacing all lead service lines in the city in one year. Despite its name, only 33 homes have had the work done since the program's February launch. The former brigadier general of the Michigan National Guard describes a bogged-down infrastructure repair program hamstrung by lack of money and manpower.
"When we started, there was no city administrator, no chief of staff, no director of public works, no city engineer and only one purchasing officer," he said. "There was no capacity."
Eight months after President Obama issued a federal emergency declaration, inspiration and impatience walk hand-in-hand in Flint.
It is the recipient of an unprecedented-for-Michigan commitment of philanthropic largesse, with well over $150 million in government and charitable aid in the city now and at least three times that still on its way. Dozens of public service initiatives have launched or expanded to help city residents, from early childhood education programs to pop-up farmers markets.
But beyond the bottled water, progress in Flint is difficult to measure. Few of the pipes that leached lead into the drinking water have been replaced. And the success of efforts to counteract the brain-damaging effects of lead poisoning in Flint's children won't be known for years, if ever.
"The highest frustration is for the resident whose pipes still haven't been replaced," Horton said. "They hear about millions (in aid), and it sounds like a lot, but they're still dealing with infrastructure issues that are still very, very unresolved. "It's so hard for them to see so little positive, concrete good that has come about so far."
'Messier than we thought'
It's difficult to tally the dollars that in the past eight months have poured into Flint, which has been living under a state of emergency since January because of the impact of lead-tainted water.
Conservatively, the figure is about $600 million either already in Flint or committed to the recovery efforts in coming years, from sources ranging from government and philanthropies to pop star Beyoncé and kids selling t-shirts.
Ten large philanthropic foundations have pledged $122 million, with the Flint-based Charles Stewart Mott Foundation kicking in as much as $100 million over five years. Individual donations, many of them small, have accounted for at least another $10 million.
"It just brings me to tears," said Dr. Mona Hanna-Attisha, the Flint pediatrician who helped expose high levels of lead in Flint children, and who is now the city's best-known advocate for financial aid. On her desk at Hurley Children's Hospital are stacks of letters confirming donations and crayon drawings by thankful children.
"It just reaffirms your hope in humanity," Hanna-Attisha said. "Despite the political climate we're in, despite the chaos of what happened, the love that has come from the world is so reaffirming."
The bulk of the money awarded by foundations and donated by individuals is going to six broad causes: water system safety, health, early education, nonprofit capacity building, community engagement and economic revitalization.
Examples can be seen across the city. A program that doubles the value of federal Supplemental Nutrition Assistance Program (SNAP) dollars for low-income families buying fresh food is funded by several foundations. Newborns will get a book delivered to their home each month until they reach age 5. This fall there will be community school directors and health navigators at 11 Flint schools. After-school programs have been expanded. The federal Head Start and state Great Start Readiness programs for children ages 4-5 have both been expanded, along with the Early On program for infants and toddlers.
For foundations accustomed to working at a deliberate pace, the money is arriving at lightning speed. Before the water crisis, C.S. Mott had budgeted $25 million in grants in Flint for 2016, but is likely to spend close to $60 million on everything from water filters to a high-quality after-school initiative.
The Kellogg Foundation awarded $7.1 million in grants in August, $2 million more than it expected to commit to Flint just three months earlier. The Kellogg grants focus on community engagement and leadership development – things that will pay over the long haul. "We do not believe we are fixing Flint by any stretch of the imagination, nor do we think we can," said Kellogg President La June Montgomery Tabron. "All of philanthropy can't put a dent in replacing those pipes." (Disclosure: Mott and Kellogg are funders to The Center of Michigan, which includes Bridge).
The Kresge Foundation has committed $2.5 million, the majority of which has yet to be awarded.
A federal waiver that allows about 15,000 more Flint families to qualify for Medicaid benefits will provide about $180 million in health care benefits over five years, and an expansion of food assistance eligibility is worth another $27 million.
There are initiatives to increase the rate of breastfeeding, teen employment and college readiness.
"I'm an absolute optimist, and you need to be, because our families are at wit's end," said Hanna-Attisha. "They are angry, stressed, traumatized, they have lost hope in government and everyone who was supposed to protect them. They hear brain damage on TV. The entire city has post-traumatic stress disorder. You have to have hope for these families."
Community leaders say they believe the dozens of initiatives aimed at thwarting the impact of lead poisoning and strengthening the economic, educational and leadership fabric of Flint will have a huge impact on the city over time.
"We're working on a 20-year timeline," said Hanna-Attisha.
That's a tough sell for residents who still don't have safe drinking water.
"We all thought, let's go, we can make some immediate change," said C.S. Mott President Ridgway White. "And we have had impact. But ...it's been messier than we all thought."
For example, the United Way of Genesee County received $3.8 million in water crisis donations and has spent $2.3 million addressing emergency needs, from water filters for homes to a refrigerated truck for a food pantry. United Way Director Jamie Gaskin said he worked seven days a week from October 2015 through March 2016. Yet, "I'm still brushing my teeth with bottled water."
"It's not like a tornado came through and we need to replace a roof," Gaskin said. "These things are complicated. You have people who won't answer the door (to take free water and water filters) because their house doesn't meet code and they're afraid of being kicked out. You have a city that is so understaffed that everything takes three or four times as long as it would in other cities.
"You start to peel the onion, but it's an onion inside an onion inside an onion."
Money for some things, but not others
One of the difficult dynamics of Flint recovery efforts is the chasm between lofty philanthropic support and the slow replacement of the city's lead pipes.
"It's very frustrating for the citizens of Flint hearing about all this money, and they'll come to city hall and ask, 'where is the money?'" said Steve Branch, Flint city chief of staff. "That $125 million (in foundation funding announced in May) is great, but it's not helping me with infrastructure issues."
Other than $4 million the C.S. Mott Foundation ponied up in the fall of 2015 to help switch the city's drinking supply from the corrosive Flint River back to the Detroit Water and Sewerage system, little foundation money has been given for water system repairs.
"We've done the initial things, the things that foundations know how to do," Mott's White said.
"The government has approved certain dollars, but it is sometimes seems slow to be implemented."
The state has anted up $25 million for pipe replacement. That's less than half what Branch says the city needs, but could provide a good start. That money is stuck in limbo, however, because the state placed a limit of $5,000 per home on pipe replacement, and Flint's lowest bid for the work is over $6,000.
Flint water czar McDaniel said he hopes to rev up pipe replacement this fall with another pot of $2 million the state gave to Flint with fewer strings attached. Mayor Karen Weaver announced Friday that the city plans to replace service lines for 200 to 250 homes by the end of September.
Some of the reason, though, for the slow pace of pipe replacement is that there are too few city employees to get the work done.
"These things are complicated. You have people who won't answer the door (to take free water and water filters) because their house doesn't meet code and they're afraid of being kicked out. You have a city that is so understaffed that everything takes three or four times as long as it would in other cities." – United Way Director Jamie Gaskin
Foundations have funded one position (water czar McDaniels) for a year, and will pay the salary of public health director beginning in September. But the American city with perhaps the most serious water infrastructure problems doesn't have a public works director.
"We're having a hard time finding qualified people to work in our water treatment facility," Branch said. "These people are well-paid in the positions they have in other cities, and we're asking them to take a pay cut to live in Flint and be under all the scrutiny in the world. We budgeted a salary of $105,000 (for a public works director), we went out and interviewed, and asked for salary requirements, and the lowest was $150,000. We couldn't do it."
The city doesn't have enough people in its human resources department to recruit qualified employees. It lacks the manpower to send out property tax bills in a timely fashion; the latest round were mailed to residents just a week before they were due.
"There are two people in the purchasing department and they are overwhelmed," Branch said. "We submitted a grant for a firefighter because we have one side of town without an operating fire station because we don't have the manpower."
"We have to rely on grants to increase capacity, but we don't have the money to hire a grant writer," Branch said. The city also doesn't have the money to hire a lobbyist to push for more recovery funds.
"It seems like everyone is waiting to see what the other guy is going to do before they do something," Branch said.
Waiting game
"The city says it's a state problem," Hanna-Attisha said. "The state says it's a federal problem. And foundations say they're going to wait for the dust to settle to see where the gaps are. So, there's a lot of waiting."
And while everyone is waiting, Flint residents are in year three in which their water is unsafe to drink. "People think it's fixed and it's not fixed," said Hanna-Attisha. "It is mind-boggling. It is absolutely surreal, and it needs to be part of every conversation."
But the story is fading from headlines. And though the pediatrician-hero of Flint is an optimist, she said she knows how hard it will be to keep money flowing into the city that's needed for recovery.
"This disaster is something we're going to have to deal with for decades if not generations," Hanna-Attisha said. "We do not have the resources for that 20-year commitment. Much of this (aid) is state budget cycles. Additional school nurses (part of state aid), that's a one to two-year thing; Head Start expansion, one year; the Early On (infant and toddler) program, two years; the Medicaid waiver, five years. So what's going to happen after that? Because these children are going to see the consequences of this for years and years to come."
The Community Foundation's Horton estimates the Flint Child Health and Development fund, the primary general-purpose fund for long-term efforts, needs $100 million over 20 years. Flint Chief of Staff Branch said the city needs $60 million for pipe replacement.
"The funding so far is a good start," Hanna-Attisha said. "It's not going to guarantee recovery. These kids did nothing wrong besides live in a poor city that changed its water and didn't treat it properly. We owe it to them."
Only donate if we've informed you about important Michigan issues
See what new members are saying about why they donated to Bridge Michigan:
"In order for this information to be accurate and unbiased it must be underwritten by its readers, not by special interests." - Larry S.
"Not many other media sources report on the topics Bridge does." - Susan B.
"Your journalism is outstanding and rare these days." - Mark S.
If you want to ensure the future of nonpartisan, nonprofit Michigan journalism, please become a member today. You, too, will be asked why you donated and maybe we'll feature your quote next time!