Welfare reforms put care-givers in a wrenching bind
Todd Stafford has an uncontrollable neurological disorder that causes him to beat himself in the head hundreds of times a day. The beatings have made him blind and caused his head to "look like Frankenstein," he says. His wife, Tina Stafford, doesn't have a job because someone needs to be at their St. Joseph County home in case Todd injures himself seriously.
Elizabeth Weaver's son has cerebral palsy and a rare skin cancer. She stays at their Bay County home to care for the 6-year-old, who cannot feed or clothe himself.
Brian McFalls has brittle diabetes, end-stage renal failure and is legally blind. His wife Tammy stays home to give him medications and monitor him for insulin reactions.
These are the situations legislators had in mind when they exempted families caring for sick and disabled spouses and children from the state's massive welfare reform last year.
Yet those families lost their benefits anyway -- to the surprise of state political leaders.
While state law protects families of the disabled from being cut off by Michigan's 48-month cap on cash assistance, that exemption isn't spelled out in the federal 60-month cap
The result is that about 700 Michigan families are facing a heart-wrenching choice between tumbling deeper into poverty by staying home to care for their loved ones, and endangering the health of disabled family member by going to work.
"I've seen stories on how (welfare reform) has impacted people who have the ability to work, but there are not many stories about how it affects those who cannot," said Tammy McFalls. "If I go to work, I put my family at risk -- my husband could die. Where does this leave us?"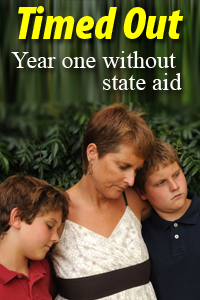 The plight of those 700 families is a microcosm of a growing debate over the role of government in the lives of the poor. Michigan is among states that are tightening requirements for receiving aid. Reform advocates see the removal of as many as 15,000 families from cash assistance and another 15,000 from food stamps as a way to nudge the state's needy into the work force, while also dumping families advocates such as DHS Director Maura Corrigan believe are scamming the system. Critics of reform view welfare reform as an attempt to balance the books on the backs of the state's most vulnerable.
Last year, Michigan enacted a sweeping welfare reform aimed at getting families off the dole. Legislators passed legislation that set a 48-month lifetime cap on cash assistance, banning more than 11,000 families from welfare in October, when the cap went into effect. Since then, the number of families removed from welfare after reaching the lifetime cap has grown to an estimated 15,000.
The measures passed by the House and Senate and signed into law by Gov. Rick Snyder exempted some of the state's most vulnerable citizens, including senior citizens, pregnant mothers, domestic violence victims and adults who are physically or mentally incapacitated. Also excluded from the 48-month cap were families in which the only able-bodied adult was needed at home to care for a disabled family member.
Such families had been exempted from welfare work requirements before the reform. Several families told Bridge that DHS workers had told them that it was cheaper for taxpayers to provide cash assistance (which averaged about $400 a month) to have the able-bodied adult stay at home than for taxpayers to pay for a health-care worker to come to the home while the able-bodied adult went to work.
But those exemptions weren't handed out easily. The disabled family member had to qualify for federal Social Security disability for the family to be considered for the exemption. Families had to be certified by a doctor annually that there was a need for around-the-clock care.
Such families account for a small percentage of all cash assistance cases – less than 2 percent before welfare reform began in October. But because many of the disabilities were permanent, the families tended to stay on cash assistance a long time.
A shock from the mailbox
The Stafford family thought they were going to be exempted from the new welfare time limits. That's what legislative leaders were saying to the media, and what the reform bills spelled out.
But in late August 2011, the Staffords and about 700 other Michigan families received letters from the Department of Human Services declaring that they had "reached your lifetime limit for cash benefits and are no longer eligible."
The Legislature had exempted caretaker families from the state's new 48-month time limit on cash assistance, which, by all historic references, would have been the final word. There was a federal 60-month limit, but Michigan had always ignored it.
However, when state welfare reform passed, DHS decided to begin enforcing the federal welfare cap. States are allowed to pick and choose any groups they want to be exempted from the cap. DHS chose to exempt single-parent families in which the parent is disabled, and children who live under guardianships.
Notably absent from the exemptions were caretaker families.
"I was told I would always be exempt, even if there was a cutoff point, because of my child's needs," said Weaver, 30, whose son cannot dress or feed himself and who has had multiple surgeries for a genetic skin cancer.  "My child is completely reliant on me."
Weaver lost about $500 in cash assistance, and now struggles to pay her bills with the $600 her son gets in disability each month. She qualifies for more food stamps than she used to because of a lower monthly income. Those additional food stamps help -- but don't pay utility bills.
"I don't want to sit on welfare. But my son is sick a lot. Jobs won't let me take off whenever he's sick. I'm between a rock and a hard place."
DHS did not provide Bridge with an exact number of families caring for disabled loved ones who lost cash assistance because of the enforcement of the 60-month federal time limit. But there were about 700 fewer caretaker families on cash assistance in January than in the month before the time limits were put into place. DHS officials assume that the vast majority of those 700 families were timed out of the system.
Todd and Tina Stafford have appealed their loss of benefits. While they await a hearing, the family continues to receive cash assistance. If they lose their appeal (as is almost certain – no appeals have been won, according to The Huffington Post), they must repay the money they've received since they were supposed to be cut off in October.
Todd Stafford gets $693 a month in disability payments; Tina Stafford gets $828 a month in cash assistance (the family has five children). When that money is cut off, the family's monthly income will drop by 55 percent.
"It's life and death for us," said Todd Stafford. "When we lose this money, we're homeless."
Kathleen Dygas stays at her Macomb County home to care for two children who have a variety of ailments. Without cash assistance, "I've got to find some kind of employment," Dygas said. "But how do I split myself in two so I could work a full-time job and the other me can take care of (her kids)?"
A difference of opinion in Lansing costly to families
Michigan is one of 11 states that don't exempt disabled caretaker families from time limits.
Brian Rooney, deputy director of public policy and compliance at DHS, emphasized that cash assistance isn't the only support caretaker families receive. Families receive federal Social Security disability payments. Most receive food stamps.
But so do families with a disabled head of household, and they continue to receive cash assistance.
All told, about 10,000 Michigan families continue to receive welfare checks even though they've been in the system for more than five years. Exemptions for guardian cases (children who aren't living with either parent) are required by the federal government.
But families with a disabled head of household can thank Gov. Snyder.
"The governor told us he wanted disabled folks exempted," Rooney said. "I'm a former Marine, so you go with the commander's intent and he said, broadly speaking, that I'd like to have disabled folks exempted from this."
By contrast, DHS didn't see the Legislature's exemption for disabled caretaker families as representing legislative intent -- an interpretation disputed by some lawmakers involved in the writing and passage of Michigan's new welfare rules.
"I'd be shocked if anybody anticipated this," said Rep. Rick Olson, R-Saline. "It's clear what the intent was.
"I work in a (House Republican) caucus with a number of conservative members," Olson said. "If the intent of the Legislature was to cut them off, we would have cut them off."
Dick Posthumus, senior adviser and legislative lobbyist to Snyder, said it's not unusual for things to "slip through the cracks" in large legislative packages. "To my knowledge, nobody even discussed" the possibility of disabled caretaker families being exempted only for the state cap, but not for the federal cap, Posthumus said.
"It's clear what they wrote," countered Rooney. "It's clear what the TANF (the federal welfare cash assistance) law says. If they didn't read the TANF law in conjunction with their own law, I can't help that. I can only enforce the law that is given to me by Congress and the state Legislature."
Gilda Jacobs, president of the Michigan League for Human Services, is incredulous that DHS didn't understand what the Legislature wanted. "The intent of the Legislature was very clear that they did not want these people cut off," Jacobs said. "You'd think that would be the guiding principle."
Several families that spoke with Bridge said they were frustrated by comments made by DHS Director Corrigan, who called welfare reform a battle of "the vulnerable against the gamers" -- with the state focusing its limited dollars on the truly needy while kicking off those who Corrigan believes have been gaming the system.
"People think anyone getting welfare is lazy and lowly," Dygas said. "They made the poor and the disabled into scapegoats for society. People don't understand what hurdles people face trying to care for the disabled."
Disabled caretaker families should be considered among the most vulnerable, argues Donna Pavetti, welfare policy director for the Center on Budget and Policy Priorities in Washington, D.C. "Families that reach time limits often have significant employment barriers (such as) caring for a child with a serious medical conditions," Pavetti said. "When families are cut off without regard to their circumstances, we are denying families with very low chances of succeeding in the labor market the only stable source of support available to them."
As an aid recipient, Weaver agrees in principle to Michigan's efforts at welfare reform. "There are some people who want to take advantage of the state -- I understand that completely," she said. "If I could have found a way to do that with the hand I was dealt, I would have."
"It's not like we're proud of being on welfare," said Stafford, who worked as an engineer before his disability forced him to quit. "It's a stigma. I would trade anyone in an instant to have my sight back and not get hundreds of blows to my head every day."
Dygas doesn't hold out much hope for the policy to be changed. "If you don't have money to fight, nobody cares," she said. "That's why this was allowed to happen. They didn't take money away from the rich. Let's just blame the poor."
Senior Writer Ron French joined Bridge in 2011 after having won more than 40 national and state journalism awards since he joined the Detroit News in 1995. French has a long track record of uncovering emerging issues and changing the public policy debate through his work. In 2006, he foretold the coming crisis in the auto industry in a special report detailing how worker health-care costs threatened to bankrupt General Motors.
Only donate if we've informed you about important Michigan issues
See what new members are saying about why they donated to Bridge Michigan:
"In order for this information to be accurate and unbiased it must be underwritten by its readers, not by special interests." - Larry S.
"Not many other media sources report on the topics Bridge does." - Susan B.
"Your journalism is outstanding and rare these days." - Mark S.
If you want to ensure the future of nonpartisan, nonprofit Michigan journalism, please become a member today. You, too, will be asked why you donated and maybe we'll feature your quote next time!