Editor's note: Gov. Rick Snyder joined Canadian Prime Minister Stephen Harper last Friday to announce a formal deal to start construction on a second bridge linking Detroit to Windsor, Ontario.
Snyder announced his support for the span in his first weeks as governor in 2011. Michigan's share of the construction costs -- $550 million -- will be initially covered by the Canadian government and recouped via tolls levied on vehicles crossing the bridge.
The "interlocal agreement" sidesteps the Michigan Legislature, which had chosen not to act on the bridge proposal, which has been strongly opposed by the Moroun family, owners of the Ambassador Bridge, the only span now linking Detroit with Windsor.
The Canadian government estimates truck traffic will triple over the next 30 years.
The Detroit-Windsor corridor carries about 25 percent of the trade between the U.S. and Canada each day.
In December 2011, at the height of the political debate over the proposal, Bridge Magazine asked business and trade experts about the case for a second Detroit-Windsor span:
The governor wanted a bridge. The business community said it would help the economy. Studies were ordered and a bridge authority formed.
The bridge opened for traffic – 23 years later.
The Mackinac Bridge, joining Michigan's two peninsulas and associated so closely with the state that its image is emblazoned on license plates and a U.S. quarter, may seem like a no-brainer today, but not for much of the last century.
Such stories make Trien Ngyuen philosophical about the squabbling over construction of another bridge, a second span to link Detroit with Windsor,Ontario. "Like any big public works projects," said Nguyen, economics professor at the University of Waterloo in Ontario, "there's always resistance because different groups have different interests."
The proposed bridge -- now known as the New International Trade Crossing -- is the most visible piece of a complex economic puzzle that many business and political leaders hope will reshape Michigan's economy. This week, Bridge Magazine (no relation to the proposed bridge) examines a variety of proposals that have the same goal: increasing Michigan's role in global trade "by land, by sea, by air."
About this project
A second Detroit-Windsor bridge may be the most famous, or infamous, transportation proposal in Michigan at the moment, but it is most certainly not the only one. A constellation of business interests, academics and state and local entities are trying to reshape SE Michigan's connections to the globe and, in the process, make the area a global nexus for trade.
Coming Thursday: What is an 'aerotropolis?'
Is Michigan's future prosperity dependent on the dockyard cranes of Nova Scotia?
How tall does a railroad tunnel need to be these days?
What's unusual about the bridge is that those fighting each other have the same interest -- building a new span across the Detroit River.
Gov. Rick Snyder and business groups support a public bridge, paid for primarily by the U.S. and Canadian governments, and located to the southwest of downtown Detroit. Ambassador Bridge owner Manuel "Matty" Moroun and his family want to build and own the second span, constructed next to the Ambassador. The Canadians have said they do not want a second span at the Ambassador site, preferring the NITC location on the grounds of relieving traffic congestion in Windsor.
Moroun has fought a years-long battle with Govs. Jennifer Granholm and Rick Snyder and much of the state's business community over a second span, spending heavily on TV ads and lobbying in Lansing. Earlier this fall, a Senate committee killed bridge legislation, ending, at least for now, efforts to build the span with public dollars. After that vote, Snyder said both sides needed a "cooling down" period to find "common ground."
Bridge Magazine did not contact Moroun or Snyder for this story. Instead of rehashing the political debate, Bridge decided to focus on a more basic question: What role would a second bridge play in the growth of international trade?
Michigan has more trade with Canada than any other state. In September alone, the value of trade between Michigan and Canada, shipped by truck and rail, totaled $5.9 billion. Imports were up 13 percent from September 2010, and exports up 9 percent.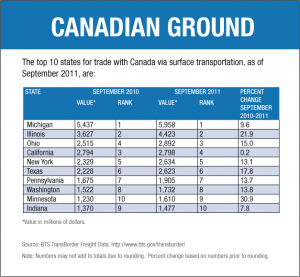 Much of that trade comes and goes from Michigan on 18 wheels. Detroit is the top truck border crossing in the nation; Buffalo-Niagara Falls is second; and Port Huron's Blue Water Bridge is third. About 25 percent of all freight traffic between Canada and the United States drives across the Ambassador Bridge, 7,300 trucks a day in 2010.
Delays at the Ambassador can create a bottleneck for Michigan's auto plants, which rely on just-in-time delivery. Border crossings are vital to Michigan's auto companies, which ship parts back and forth across the Canadian border multiple times during the manufacturing. In 2010,Canada shipped $29 billion in automotive parts (and assembled vehicles) toMichigan; and Michigan sent $13 billion to Canada.
"Plants don't keep more than 3-4 hours of inventory," said Sean McAlinden*, of the Center for Automotive Research in Ann Arbor. "If new inventory doesn't arrive on time, they shut down." (The official NITC advocacy site lists Chrysler, Ford, General Motors, Honda and Toyota among supporters of its plans.)
GM used to have a seat manufacturing plant in Canada that supplied an assembly plant in Hamtramck. The company used to station a worker on the roof of the factory with binoculars to watch for backups on the Ambassador, recalled McAlinden. GM also rented barges along the Detroit Riverto move parts from Canadato the United States, in case the bridge shut down, McAlinden said.
The fear of those kinds of delays has been a major argument used by those supporting a new bridge. But delays on the Ambassador costing GM, Ford and Chrysler money? McAlinden doesn't know.
"We've asked the auto companies and we can't get the information," he said. "Short of standing on the bridge with a stopwatch, there's no good way to find out."
McAlinden suggests that bigger delays occur from the "14 traffic lights and two Tim Hortons" on the Canadian approach to the bridge, as well as from security checks.
Transits decrease
A second span isn't needed at the moment to handle extra traffic – the number of cars and trucks crossing the Ambassador Bridge has dropped by almost 40 percent since 1999.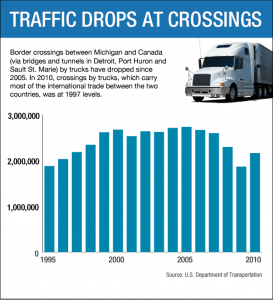 Day travel plummeted after 9/11 when more identification was needed to cross the border. The Detroit-Windsor tunnel, which primarily carries passenger vehicles, has seen its traffic count cut by more than 50 percent.
Truck traffic, though, was barely affected by 9/11. Trucks crossing Michigan's four links to Canada (the Ambassador Bridge and Detroit-Windsor Tunnel in Detroit, the Blue Water Bridge in Port Huron and the Sault Ste. Marie International Bridge) continued to inch upward through 2005, despite new security, according to statistics from the U.S. Department of Transportation. Since then, though, truck traffic has dropped 20 percent, with traffic now at 1997 levels.
If freight traffic crossing the Ambassador is lower, and there's no reliable data on the cost of delays, why is a new bridge (with a price tag of $2.2 billion for the proposed public bridge and $500 million for the Moroun bridge) needed?
One good argument is a look at the Ambassador itself. The Ambassador is 82 years old. That's long in the tooth for a bridge. By comparison, the two spans of the Blue Water Bridge were opened in 1938 and 1997.
"I'm not worried about it falling into the river. But it's been there for 82 years, and it's not the easiest way to transport goods any longer," said Andy Johnston, vice president for governmental affairs for the Grand Rapids Chamber of Commerce, which has been an outspoken supporter of the public bridge option. Adding a second span, he said,  "is critical to our national security and economic security."
Doug Smith, senior vice president of strategic programs at the Michigan Economic Development Corp., argues that Michigan needs to take the long view of the value of a bridge that would take years to build and could be in use for the rest of the century. "The bridge is really long-term infrastructure," Smith said. "It's an opportunity to build off one of our assets – international crossings."
Those crossings are likely to become busier in the future as Canada expands its port in Halifax, Nova Scotia, so that it can service the next generation of mega-container ships that carry cargo around the globe. Much of that freight will be headed for the United States, and Michigan wants to maintain its status as the primary U.S. entry point from Canada.
"The more free-flowing the traffic, the more traffic we'll get," Smith said.
"People think they don't cross the bridge, so they don't need it," said Gregg Ward, vice president of the Detroit-Windsor Truck Ferry, which moves hazardous materials across the border that aren't allowed on the bridge. "They should care, because it affects them economically. The more efficient our transportation, the more efficient our economy."
Ward's argument for second bridge in Detroit is redundancy: If one bridge is shut down, by an accident or for repairs, traffic can be rerouted to the other span.
"You need redundancy in your transportation to attract companies," Ward explained. Without it, "you're asking a company to make an investment in our area and be dependent on one privately owned company."
Ken Boyer, a professor of economics at Michigan State University, noted the second bridge can't be justified by traffic levels.
"The automobile industry is by far the biggest industrial user of the bridge, and its shrinkage is primarily responsible for the reduction in truck traffic," Boyer said. "My sense is that the major reason that the Michigan manufacturing community wants a publicly owned bridge is that they do not want future investments in the area to be at the mercy of a private individual making profit-maximizing calculations for the use of a critical piece of infrastructure. A rational investor would be wary about committing capital under those circumstances."
Pushing bridge as state asset
As they assess the claims and counter-claims, Michigan residents need to remember they live in a "cul-de-sac state" -- traffic is not going to flow through Michigan without a good reason. The exception is Michigan's international crossings.
"Anything that can be done to facilitate border crossing -- through lower tolls, faster customs clearance, less congestion -- would help to diminish some of drag on the economy that we get by not being as well-connected to the rest of the world as Chicago or Louisville or Kansas City or Memphis," Boyer explained.
Even the legislature in Ohio, a state that sends and receives goods across the Ambassador Bridge, passed a resolution urging Michigan to build a second bridge in Detroit.
Delray neighborhood has hopes, worries for a new bridge
"This isn't rocket science – it's not a big deal to build a bridge," Ward said. "But we've made it a big deal."
The Michigan public, which was targeted by millions of dollars in ads opposing the NITC bridge,  isn't as sold on the idea as business leaders. A recent poll found that 59 percent of Michigan residents were opposed to the NITC plan, with only 30 percent in favor.
"People (in Michigan) don't see how (trade with Canada) affects their lives," said Smith. "Canadians are much more knowledgeable about how much of their economy is driven by international trade. Americans are less aware. We're in a global world. We haven't educated people about what that means."
In a state that took 23 years to build a bridge to join its two peninsulas, that may take some time.
* Correction: Sean McAlinden's name was misspelled in the original post of this story.