Nicole Chubb is executive director of special education for Lincoln Park Public Schools
Autism Spectrum Disorder affects nearly 20,000 students across Michigan, including across Wayne County and Lincoln Park Public Schools. With that in mind, Lincoln Park Public Schools launched the Mixter Institute of Transition during the 2009-2010 school year to support post-high school students with moderate to severe autism.
Our post-high school program is a transition and work skills program for students between the ages of 18 and 26 years old. Our main goal is to provide vocational and life skills that will prepare our students for meaningful employment and to live as independent adults.
How do we do this?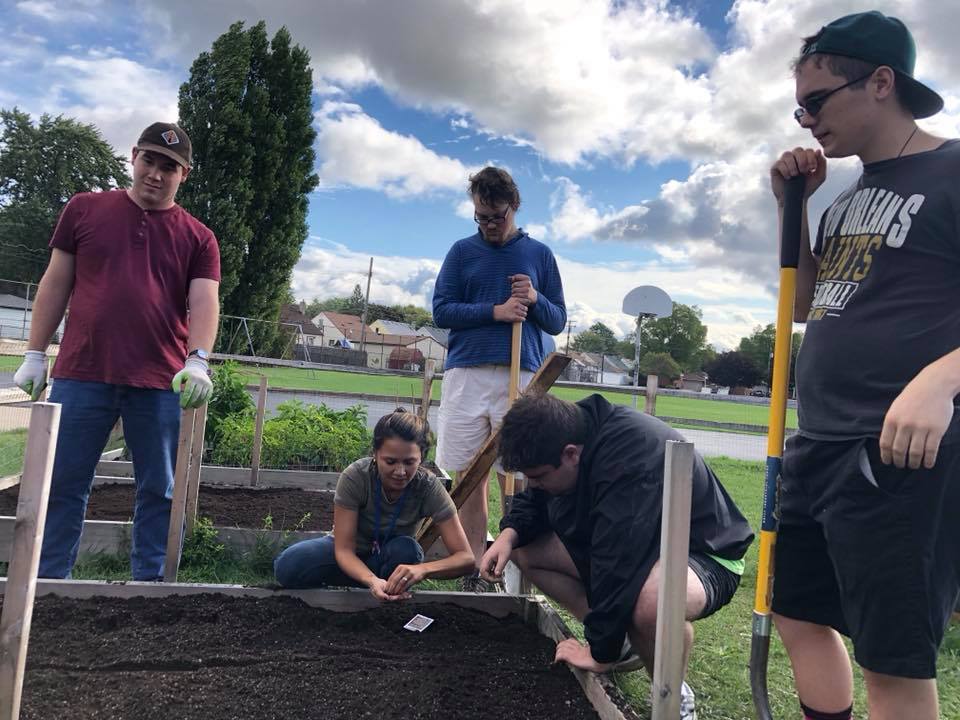 Students in Lincoln Park's program for autistic young adults work in a garden in a photo taken last summer.
We currently have partnerships with nearly 20 local businesses that provide job site opportunities for our students to help them gain valuable hard and soft employability skills. Thanks to several new courses and our community garden, our students can now learn about landscaping and horticulture while also learning what it's like to be a successful entrepreneur.
For students with other interests, we also offer courses such as cooking, woodshop, pre-employment skills, life skills, social skills, sewing and crafts, and health.
The garden has been a valuable addition to Mixter. The opportunities it provides our students are countless. Thanks to the vision of Chandra Bonnau, teacher of students with autism, our students are learning about horticulture, growing and harvesting crops, healthy living and nutrition, and teamwork.  
The garden sits behind Mixter and has the potential to expand across a 2.5-acre plot of land. We are hopeful to add a greenhouse during the next school year.
The garden features 19 raised vegetable beds built by Mixter students and a pumpkin patch. Students grow green peppers, jalapeños, butternut squash, tomatoes, lavender, cabbage, cucumbers, green beans, cauliflower, Brussels sprouts and eggplant. There is also a sensory garden that incorporates sight, sound, smell, and touch to help meet our students' sensory needs.
The garden was made possible by fundraising and donations. Mixter garden sponsors include Keep Growing Detroit, Buckets of Rain, the Wayne County Community Action Agency and the Detroit Resource Program.
Every week from 9:30 a.m. to 2:15 p.m., students operate "Market Fridays" and they sell produce, baked goods, body scrubs and student-made crafts including jewelry and corn hole boards. Mixter Institute of Transition is located at 3301 Electric in Lincoln Park.
If you're ever in Lincoln Park on a Friday, make sure to stop by Mixter and support our young entrepreneurs and see an inspiring program that lifts up and empowers students with autism.