Tom Herbon is a Troy resident and a retired engineer
The cost of Michigan automobile insurance is often debated.  Unfortunately, I have yet to see a single complaint about the Michigan vehicle registration fee structure.  This is extremely disheartening because the current Michigan vehicle registration fee schedule severely penalizes drivers of older vehicles.  
The problem with the current system is that vehicles newer that 1983 calculate license plate fees based on original base manufacturer suggested retail price.  As a result, drivers of older vehicles can, and often do, pay a higher license registration fee compared to drivers of newer more expensive vehicles. In many cases, much higher.  Consider this example: I recently purchased a 2008 Cadillac for $4,500. My license plate renewal cost is $168, or 3.7 percent the cost of the vehicle. In contrast, my daughter recently purchased a 2016 Chrysler minivan for $22,500. Her license plate renewal was $162. That is six dollars less, and a mere 0.7 percent of the total vehicle price. How can Michigan justify a vehicle costing 5 times another vehicle having a lower license fee?  Drivers of newer, more expensive vehicles should never pay a lower license plate renewal fee than drivers of older, less expensive vehicles.
The current fee structure uses a vehicle depreciation schedule that stops after four years.  This means if you buy plates for a car that is eight, 10, 12 years old, you still pay license fees as if the car is four years old.  House Bill 5705 (introduced by Rep. Martin Howrylak, R-Troy), corrects this problem by applying a more accurate depreciation over 10 years which better matches National Automobile Dealers Association used car estimates.  With HB 5705, license fees will be calculated on a better estimate on what a vehicle is actually worth, not what it cost 10, 15 or even 20 years ago.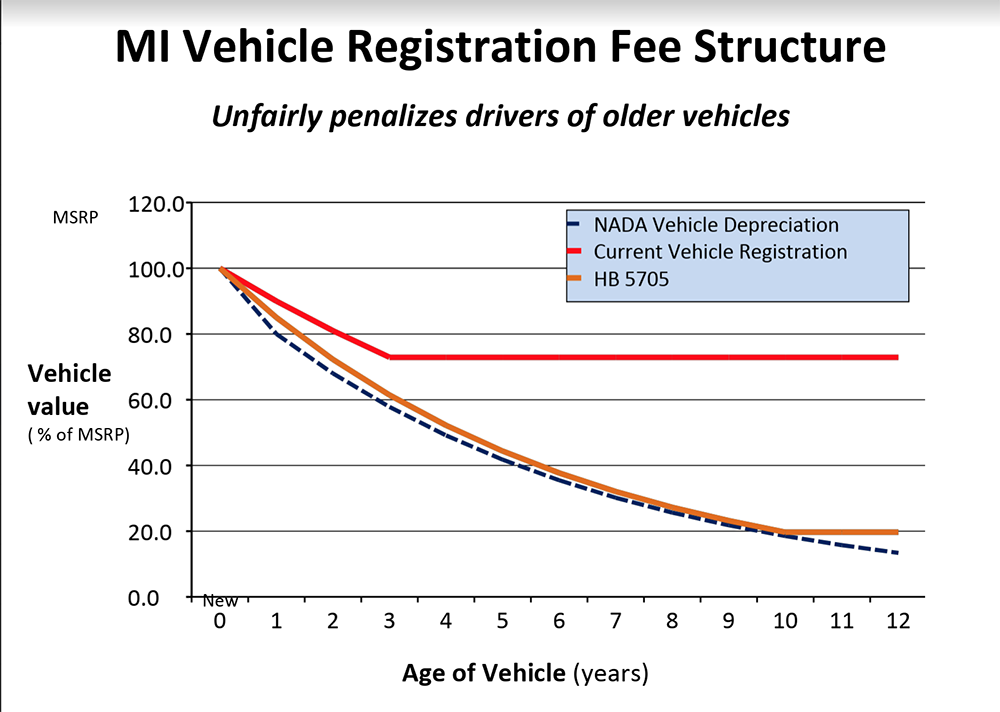 Michigan drivers of older vehicles need pay a fair amount for vehicle registration fees.  Until something changes, drivers of older vehicles will continue to pay an unfair share. This is not right.  
Similar legislation was introduced last year and never made it out of committee.  This year, the Michigan legislature needs to debate and approve HB 5705. I encourage all readers to contact their own representative and Rep. Triston Cole, R-Mancelona (chair of the transportation committee) and demand HB 5705 get out of committee and passed.  If vehicle registration fees continue to be based on "value" then they should be based on the true value.