Tom Porter is a retired venture capitalist and executive in residence at the University of Michigan's Ross School of Business. He now runs the Porter Family Foundation and serves on the board of the Michigan Climate Action Network.
The University of Michigan and Michigan State University work hard to lead the Big Ten in many things – football and basketball among them. They should add clean energy to that list and be a leader on solutions to climate change – the most important issue of our time.  
It only makes sense that the transition to clean, less costly renewable energy should be led by the educational institutions that do the research on sustainability, technology and energy economics.  
K-12 schools in Michigan and throughout the country have been adding solar panels to their roofs and saving energy costs in the process. About 4 million children in the U.S. attend schools with solar. Also, the business community is way out in front of education institutions in establishing clear, measurable plans and strategies to be powered by clean energy. At least 131 major companies have set 100 percent renewable energy goals to reduce costs, minimize climate impacts, and be the sustainable businesses their customers want to support.
Our state's research universities should strive to be "leaders and best" in the Big 10 to lower the carbon footprint on their campuses and in their communities. The table below shows where UM and MSU stand in comparison to their peer institutions in the Big Ten: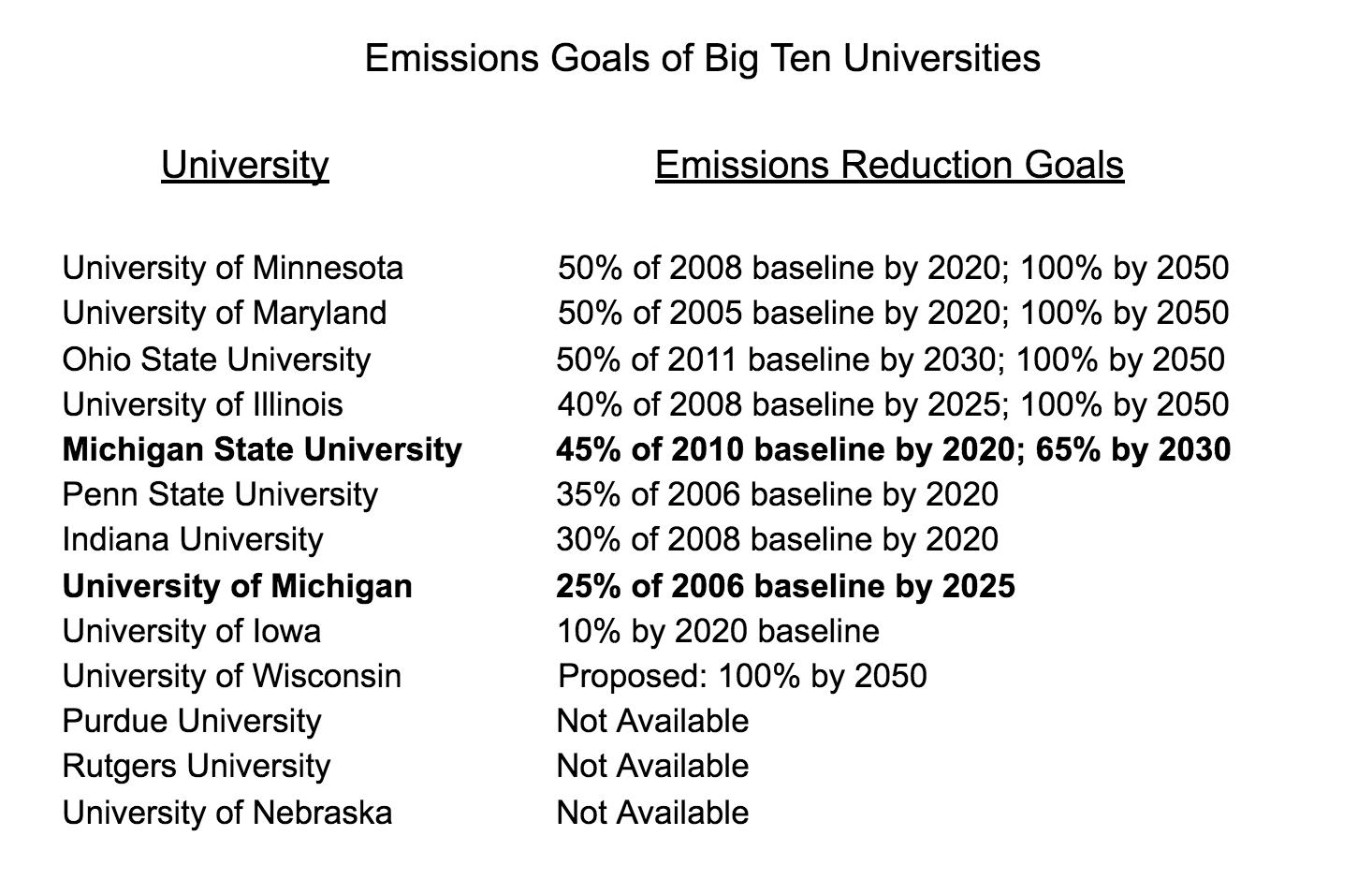 While MSU is competitive in the Big Ten, UM does not even compete as it ranks near the bottom. Moreover, a recent piece in The Michigan Daily argued that UM is not likely to meet its modest goal of a 25-percent reduction in emissions by 2025.  
MSU and UM not only lag their peer universities in the Big Ten but they also lag the other eight colleges and universities in Michigan that have set emissions goals. Small colleges with more limited resources like Calvin, Aquinas and Kalamazoo College as well as larger institutions like Grand Valley State, Wayne State University, and Western Michigan University all have adopted more aggressive goals than MSU and UM.
Perhaps it is because when U-M and MSU established their goals, the costs of renewable energy were much higher than the costs of coal and other conventional sources of fossil fuels. The idea of reaching carbon neutrality at that time would have been daunting. Yet other colleges and universities were willing to take on the challenge. And today the costs of renewables are less than all of the fossil fuel alternatives as shown below.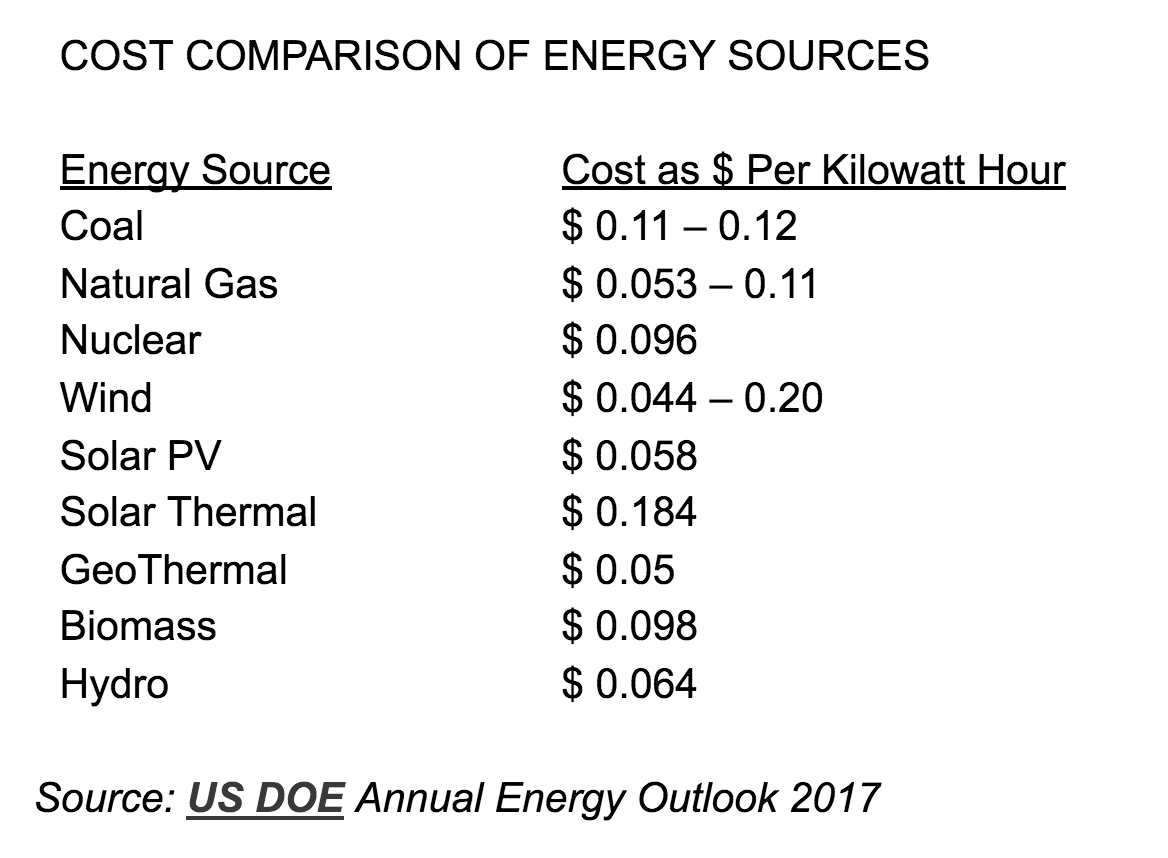 Research analysts at Morgan Stanley contend that renewable energy like solar and wind power are "hurtling towards a level of ubiquity where not even politics can hinder them. Renewable energy is simply becoming the cheapest option, fast." Globally, in countries with favorable wind conditions, the costs associated with wind power "can be as low as one-half to one-third that of coal- or natural gas-fired power plants. We project that by 2020, renewables will be the cheapest form of new power generation across the globe. By our forecasts, in most cases favorable renewable economics rather than government policy will be the primary driver of changes to utilities' carbon emissions levels."  
With renewable energy costs projected to fall even more, isn't it time for Michigan's universities to update their sustainability plans?  Updating sustainability plans is a straightforward way for our educational institutions to save money and lower the cost of delivering education. One recent solar installation at MSU is expected to save the university $10 million over 25 years, which the university says will help keep tuition costs down.
Additionally, the finance industry has now developed numerous ways to partner with colleges and universities to help finance the kind of infrastructures that will enable a rapid change to renewable energy.
And, of course, it is the right thing to do to give their students a brighter future.