The revolution has started. Now Michigan must lead it.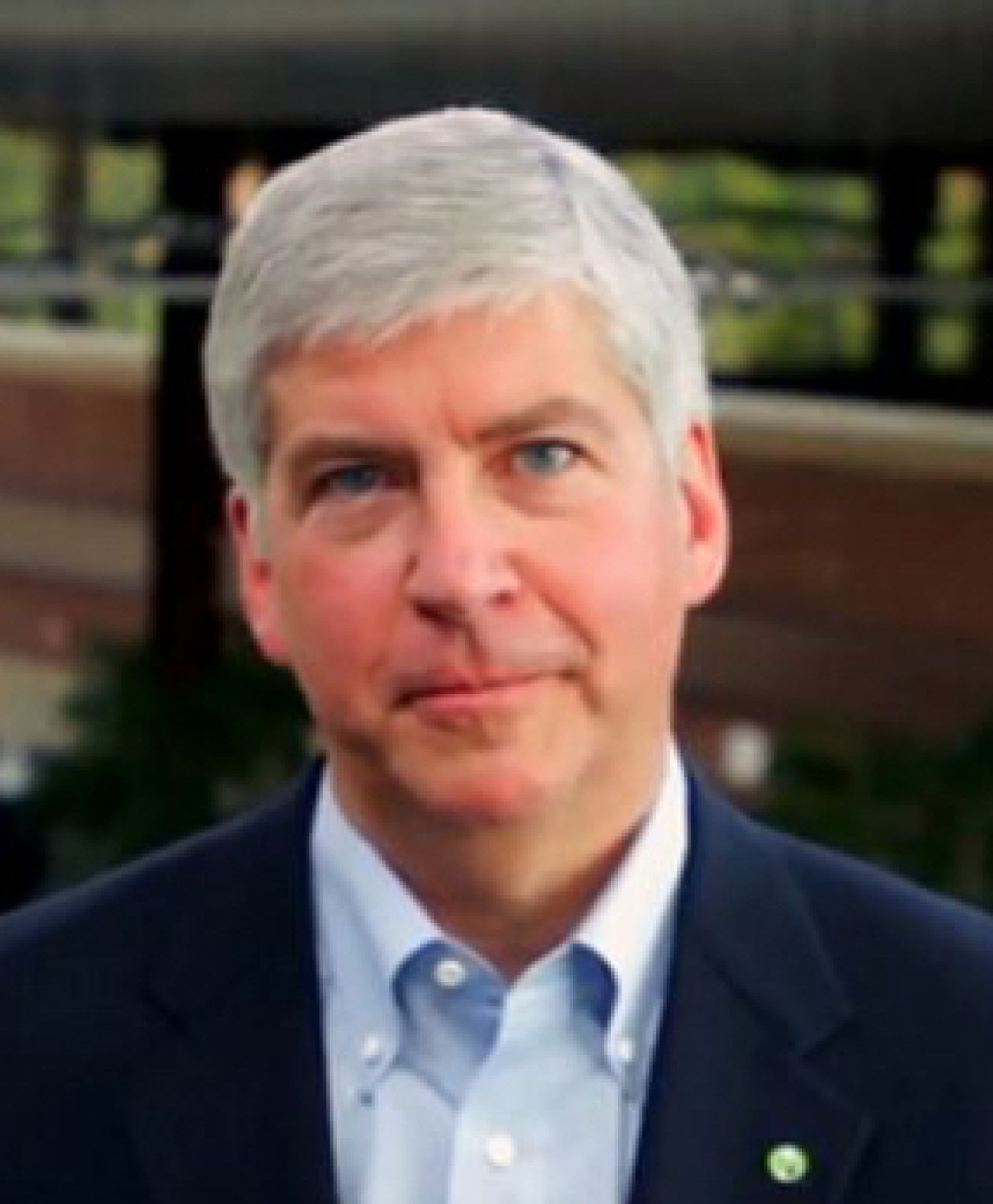 Revolutions in our world don't always involve countries at war; sometimes they are economic, societal or both. The world economy changed dramatically during the Industrial Revolution and again during the more recent information revolution. Transportation evolved from horse to rail to automobile. Our greater longevity is attributable in part to massive revolutions in the medical field.
Over the past two decades, we began a new kind of revolution, a convergence of many traditional economic fields with technology. This convergence will transform our educational system and dramatically impact where the jobs of the future will be and no longer be. This revolution will be more challenging than those of the past since it involves multiple parts of our lives. Adjusting to change is difficult for most people. But the revolution is now underway and we must decide as a state to either lead it or feel victimized by it.
The current educational system in our nation is way overdue for a massive transformation. Although this transformation will be very challenging, it is our opportunity to create a more engaging educational system that leads to well-paying careers in high-demand jobs. ‒ Gov. Rick Snyder
I believe our choice is clear.
Let's begin by reviewing some of the convergences that are taking place. In Michigan, the most visible is the convergence of the automotive industry with the information technology industry to form the age of mobility. Individuals owning and driving their vehicles is transforming into people going from Point A to Point B using different modes of travel including autonomous vehicles in ride-sharing services. This change will profoundly affect our daily lives in addition to its overall impact on our economy.
Convergence is also happening in several other areas. In retail, we see the convergence with logistics and IT. Our purchases are increasingly done online and delivered to our homes or businesses within a day or two, instead of the traditional shopping model. In the medical field, we are seeing medicine and IT come together to move toward personalized treatments based on genetics or a person's bio-profile. In entertainment, we are watching things on demand rather than through traditional scheduled programming. We may not even know whether we are looking at real people and objects or computer-generated characters and digitally enhanced images.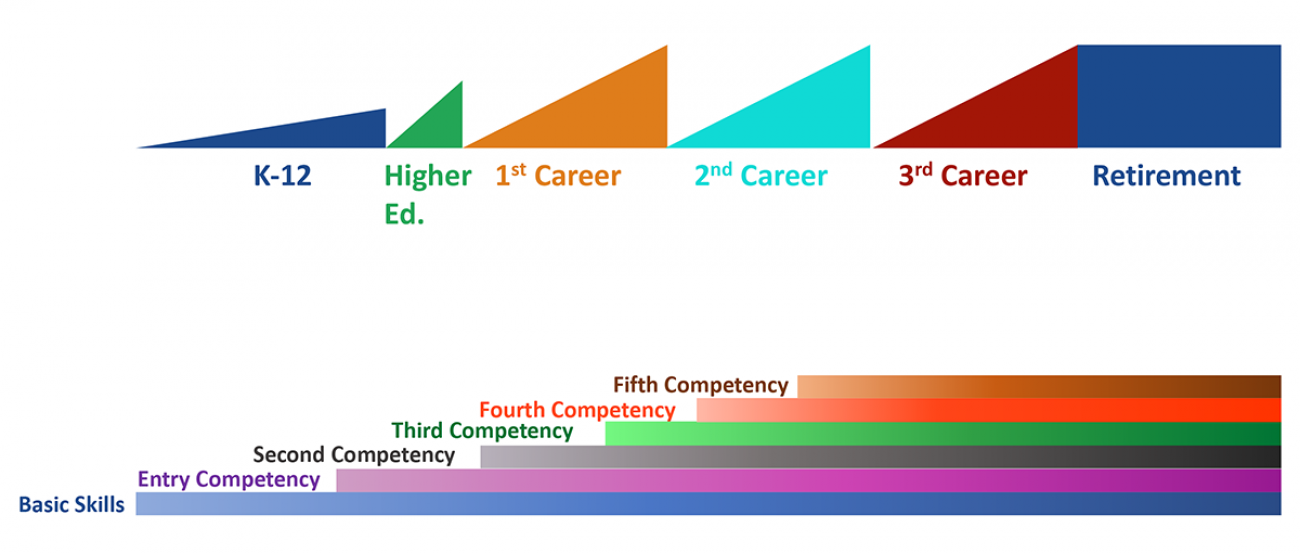 To make things even more challenging, we must use two operating assumptions. First, the rate of change and knowledge sharing in the world is only going to continue to accelerate. Second, the globalization of the world is going to continue. What happens in one place will likely expand to other parts of the world very quickly. This will also be true regarding economic competition.
I could write an entire book about the convergences above and how they will transform these areas of our lives, but right now I will focus on how it will change our educational system.
The current educational system in our nation is way overdue for a massive transformation. The new revolution of convergence will finally drive it and Michigan must be behind the wheel when that happens. Although this transformation will be very challenging, it is our opportunity to create a more engaging educational system that leads to well-paying careers in high-demand jobs. It also will give us the opportunity to address some of the dysfunctional elements in our current system.
For example, there is very high demand for many professional trades and yet we live in a society that does not encourage young people to enter career technical education programs to gain the necessary and important skills to meet these needs.
Our current educational system is still based on a model from the 1800s. We still have summers free – originally intended for kids to join their parents working in the fields. At the K-12 level, it is an instructor-based model of discrete classes providing information on different subjects. After completing the first phase of the educational system, we start over again by going into a college model that generally lasts for two to four years of similar, instructor-based learning focused on various subjects. Upon completion, we transition from the educational world to the working world where we will spend the next 40-plus years. In short, we complete a collection of start/finish experiences trapped in a series of silos.
But change is happening, and the revolution has begun. There are four key elements to the transformation:
First, learning will move to a competency-based model where completion and success will be measured by demonstrated achievements of particular skills. This is common sense. In the working world, people are rewarded and promoted based on their competency, not where they got their degree or even their field of study. In today's high-demand fields, some employers are already hiring students into high-salary jobs without waiting for the granting of a degree, because those students are demonstrating competency in their abilities.
Second, learning will move to the four categories of "any" – any pace, any place, any time, any way. We need to have a system that is much more flexible; that allows someone to go as fast as they can achieve or to go slower and take the additional time needed to master a topic before being propelled forward. Also, young people today may want to learn or work on a project online or in person, or a combination of the two.
People have different learning styles and abilities, and we should allow people to follow the path that is best suited for them. This element also would encourage much more experience-based learning. Many of the best learning experiences are the result of apprenticeships, an internship, or activities like FIRST Robotics, a team-based, after-school program for high schoolers. Incidentally, it is one of today's saddest ironies that quite often we do not give any educational credit for these types of hands-on experiences that job providers see as beneficial.
Third, the traditional silo model will dissolve. Currently, we have the K-12 silo from ages 5 to 18, the higher education silo from 18 to 22, and the work silo from 22 through retirement. The new model will be a continuum of learning from birth through one's lifetime supported by various public-private partnerships.
Too often, we impose institutional constraints on learning. We need to give our young people access to advanced learning experiences as soon as they want to try them. Many of us have a story or two of young people who use information technology far beyond what we can do at our age. We should leverage opportunities for providing advanced learning experiences and engage employers much earlier in our education process. This will give young people an understanding of what careers they may or may not want to pursue.
Fourth, instead of a model based on educational silos, learning will be a cumulative achievement of various competencies over the course of a lifetime. Our current model is a series of starts and finishes. Once you earn your way to the top level in a school, you start at the bottom in the next school. Ultimately, the same thing happens when you leave school and go to work. You start at the bottom, expand your competencies and skills in your area of expertise and get promoted. Eventually, you may be plucked from the ranks and designated as a manager ‒ where you start over in a field you have yet to master.
Doesn't it make sense to have education be an accumulation of knowledge and competency where you don't have ups and downs? Shouldn't we be continually building new strengths to supplement what we already achieved? And shouldn't we recognize these achievements with many different combinations of certificates, degrees, and experiences based on what worked best for each individual person and their career?
Before continuing to discuss these elements, let me address several huge concerns that are probably already popping into the minds of many.
First, what about our teachers?
They are still critical and they should have more rewarding careers under this new model. Again, our current mainstream model is an instructor-based classroom of lecture and discussion. The education transformation would move us to a coaching-based model of promoting success and helping students overcome barriers. It is ironic that we have seen this model used for decades for some of our youngest and oldest students and yet we minimize the success it brings.
The Montessori method is a great illustration that benefits many young children. We also provide a similar model for our doctoral students, where the professor is there to support their research and learning on the way to obtaining a Ph.D. We also have many great illustrations in our career technical education programs. If you want to see a high school student smiling while mastering geometry, go to the carpentry class where they are learning angles as they construct roofs, walls, and cabinetry.
Second, what will happen to our educational institutions?
They will still be critically important but play a different role, especially at the level of higher education. Currently, our higher education institutions base much of their existence on a two- or four-year education model that leads to a degree, but not necessarily a career. In this new world, it will be more about collecting certificates in various competencies, both in hard and soft skills.
Degrees will mean less in the future since employers will hire students once they achieve the appropriate certificates and competencies. While this will present challenges in the current higher education model, this transformation will give institutions opportunities to provide lifelong training for people in their twenties to beyond retirement. What is called "continuing education" now should rise dramatically in importance and stature.
Third, what about the students?
Currently, they work to achieve a degree. With a high school degree, their prospects are very limited. With a post-secondary degree, their prospects are much better. But it is still very hit or miss regarding the opportunity to move into a well-paying job depending on the area of study and other variables. Our current system does a poor job of providing students useful information regarding the connection between fields of study and well-paying careers. A positive exception that does better than most is career technical education. It often provides the appropriate competency for a well-paying job at either the high school or college level. But as a society, we push college degrees and tend to diminish the value of CTE.
A system of collecting competencies and accompanying certificates will provide more direct paths into exciting employment opportunities. Employers want to find good people who can walk into a position and get right to work. Employers also have a responsibility to encourage lifelong learning since their most important resource is a motivated, loyal, hard-working employee. Investing in their employees' growth is a smart move. It also will likely be a required investment. With our fast-changing world, most employees will likely need to undergo extensive retraining at various times during their career.
One of the enormous challenges of post-secondary education today is the issue of cost. It is expensive to solely go to school for two, four or more years of education. Staggering student debt is something that causes many not to finish or significantly burdens those who complete their programs.
With a competency-based certificate model, students can move into well-paying jobs within a year or two in many cases, and with much less financial burden. We can no longer assume that when people start working their learning stops. Instead, they should continue earning additional certificates while employed – an excellent answer for both the employee and employer in which everyone wins. Employers should even design their work settings and programs to encourage further education with resources to support people financially and with time to learn. People on this path can still select to work toward degrees as well as certificates to meet their personal learning goals.
I am certain someone will say this plan is just turning our education system into giant trade schools. This is an ironic concern. Most of us have spent our lives talking about encouraging young people to aspire to attend certain schools to enter specific careers. We go to medical school to be a doctor, law school to be a lawyer, engineering school to be an engineer, dental school to be a dentist, business school to be a business person, or education school to be a teacher. All schools should help students achieve success in a trade.
Besides, learning should not stop after earning that first certificate or two and entering the workplace. Lifelong learning should become the new norm whether that is an education in a person's field or learning the history of art. The difference from the old model is that a person is learning because they want to versus being in a program where they are forced to. And it could also be done without significant financial debt.
In addition to the transformation of our educational system, there is going to be a massive transition in the career opportunities of the future. If you still question the importance of being proactive in adopting the new educational model, this point will reinforce the importance of going to a competency-based system of lifelong learning.
For example, the new mobility industry will create a large demand for software developers, engineers, human interface specialists and all new categories such as mobility technicians. It also will cause a substantial shrinkage in the openings for taxi drivers, delivery drivers, truck drivers and even ride-sharing drivers. While the new opportunities are exciting and well paying, the shrinking categories are scary for people in those fields today, and for all of us. But we cannot freeze the world in place; these changes are coming.
We need to be responsible when addressing the challenges ahead. Building an effective system of lifelong learning is essential for our people and our society. We need to be supporting people who face diminished opportunities with priority access. We need to ensure everyone has an opportunity to learn new competencies and continue their working life in a rewarding career.
This new model is a huge transformation over the present. It won't happen overnight but rather over many years. Rest assured, though; it will happen. It will follow the usual adoption curve for technology with early adopters, fast followers, the mainstream middle, and the laggards. Employers are already struggling to find people with the necessary competency in fields as diverse as information technology, manufacturing, healthcare and the professional trades. Job providers are hiring people who have the skills but not a degree.
Michigan must lead the charge in this latest revolution. We need to build competency-based certificate programs to help young people get their first full-time job at an attractive and sustainable wage. Simultaneously, we need to develop a lifelong learning system which embraces marketplace change to help people who will need to learn new skills to thrive in the future. We are in a fast-changing world that may soon look like a place some of us may not yet even be able to imagine. But as we travel this path, we must lead the way for the sake of our children and grandchildren.
Bridge welcomes guest columns from a diverse range of people on issues relating to Michigan and its future. The views and assertions of these writers do not necessarily reflect those of Bridge or The Center for Michigan. Bridge does not endorse any individual guest commentary submission. If you are interested in submitting a guest commentary, please contact
David Zeman
.
Click here
for details and submission guidelines.
Only donate if we've informed you about important Michigan issues
See what new members are saying about why they donated to Bridge Michigan:
"In order for this information to be accurate and unbiased it must be underwritten by its readers, not by special interests." - Larry S.
"Not many other media sources report on the topics Bridge does." - Susan B.
"Your journalism is outstanding and rare these days." - Mark S.
If you want to ensure the future of nonpartisan, nonprofit Michigan journalism, please become a member today. You, too, will be asked why you donated and maybe we'll feature your quote next time!