How Michigan State University helped 77 Afghans escape the Taliban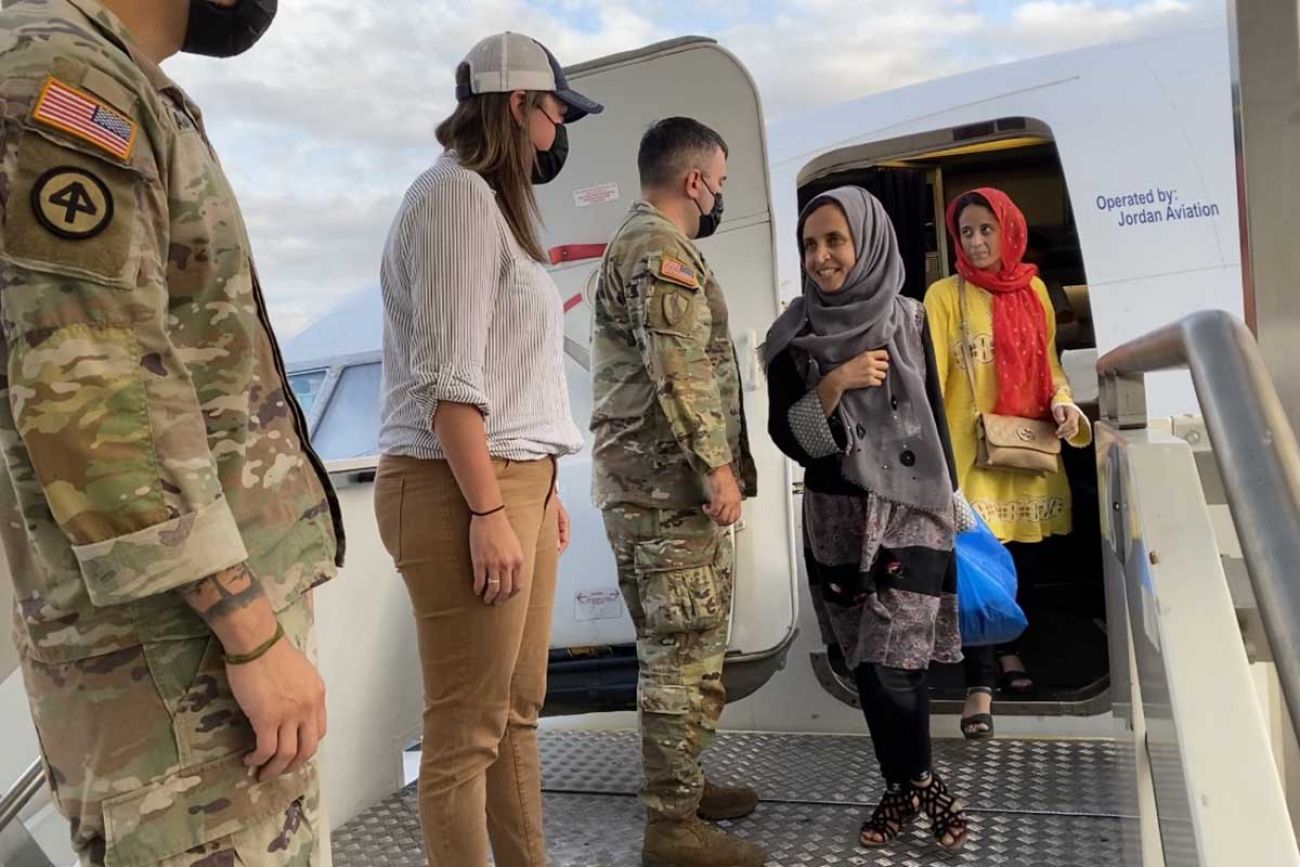 GRAIN scholars Lina Mohammadi, left, and Latifa Salangi, right, step off a plane in Albania in late August, after being evacuated from Kabul as the Taliban seized control of Afghanistan. (Photo courtesy of Spirit of America)
When Sara Qaderi enrolled in a Michigan State University program designed to train Afghan wheat researchers at Kabul University, she thought she was destined for a career helping farmers cope with Afghanistan's arid climate.
It's important work in a country where wheat shortages are a leading cause of hunger and economic instability. Qaderi never imagined it would put a target on her back.
But in July, as the U.S. military was withdrawing from Afghanistan, Taliban forces were already surging through the country's outer provinces, and had begun to single out women like Qaderi.
Related:
The religious fundamentalist group saw Qaderi's affiliation with MSU's Grain Research and Innovation project, or GRAIN — which is funded by the United States Agency for International Development — as a threat.
"We know that you're working for USAID," read a letter tucked behind the door of the 24-year-old's home. "You will pay the cost of that, and we will kill you."
The threat was one of many early warnings of a looming Taliban takeover. Warnings that would culminate in an obscure group of food researchers at MSU playing a key role in extracting 77 people from Afghanistan before the last U.S. troops left. Those familiar with the effort say they believe the scale of the rescue was unmatched by any other U.S. university that ran programs in Afghanistan.
A narrow escape
When Qaderi received the letter in July, President Biden was still insisting that Afghanistan's fall to the Taliban was not inevitable.
MSU officials weren't so sure. So in early August, they began submitting visa applications for 23 GRAIN staff, scholars and former staff.
"We thought we had months," said Kurt Richter, the program's director at MSU and a professor in the Department of Community Sustainability.
Then the Taliban entered Kabul on Aug. 15, and the MSU team's email inbox began to flood with desperate pleas for help. The escape window had narrowed to mere days.
Richter understood the stakes. Having been evacuated from South Sudan in 2013 when civil war broke out while he was meeting with Sudanese agricultural scientists, Richter said he "knew how important it was for somebody outside of the situation to fight for you to get a seat on a plane."
The MSU group also knew it needed help from Congressional leaders. So Jessica Garrels, GRAIN's program manager, created postcards to stuff lawmakers' inboxes with pleas for assistance.
Then, a stroke of luck: Richter knew someone who had worked with Holly-based U.S. Rep. Elissa Slotkin's office on pandemic response efforts, and was willing to make a connection. Slotkin, a former U.S. intelligence analyst who served three tours in Iraq, had been lobbying the U.S. government to provide clearer pathways to evacuate Afghans who supported the U.S. mission.
She wanted to help the MSU group. She'd already received pleas for help from more than 1,000 people, and "basically decided that my team was going to become very operational. We were going to do everything we could for as many Afghans as we could."
Those with a Michigan connection would come first, which put the MSU group near the front of the line.
$250,000 and a chartered plane
GRAIN is one of many international projects within MSU's Global Center for Food Systems Innovation, which uses science to address food shortages around the globe.
The project was specifically focused on training women researchers in the country — a mission at odds with the Taliban's oppressive policies toward women.
When the Taliban last controlled Afghanistan, in the mid-1990s, women were banned from schools, subjected to strict dress codes, and permitted in public spaces only if a male relative accompanied them. The regime enforced those rules with violence.
"It doesn't take much imagination to anticipate how warmly received these educated women were going to be by the Taliban," Richter told Bridge Michigan in an interview this week.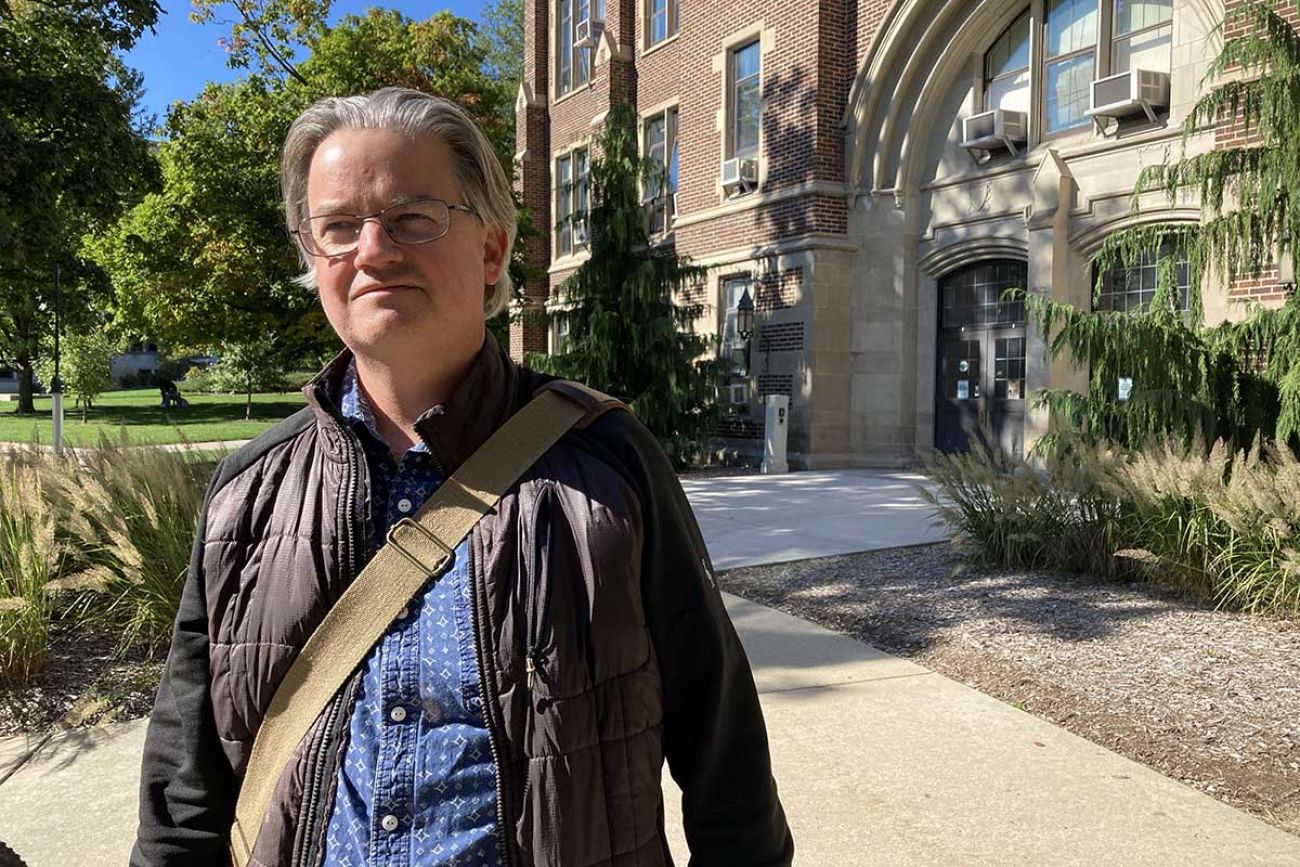 Kurt Richter, the GRAIN program's director at MSU and an associate professor in the Department of Community Sustainability, helped coordinate an effort to rescue 23 MSU-affiliated Afghans and their families as the Taliban took control. (Bridge photo by Kelly House)
The average Afghan gets half of their daily calories from wheat, yet the country has never managed to grow enough to meet its needs. Repeated droughts have intensified that mismatch between supply and demand, causing food shortages that played a role in the country's decades-long political upheaval.
Those pressures are worsening as climate change warms Central Asia faster than the global average. The Afghan scholars and staff, who had been working to insulate their country from these dangers, were now considered enemies of the controlling regime.
Over nearly two weeks following the fall of Kabul, the MSU team and Slotkin's staff coordinated a harrowing rescue effort, as first documented in the Washington Post.
Fearing the Taliban would use the GRAIN program's website to identify their Afghan colleagues, the MSU team scraped evidence of the program from its website and deactivated a Facebook group associated with the project.
Meanwhile, the group coordinated with Slotkin's staff in a frantic search for exit routes through the Taliban-controlled city and into the airport held by U.S. troops.
"There were many sleepless nights," Richter said.
Slotkin used her connections in government to clear the GRAIN group for evacuation and secure space on a plane bound for Albania, whose government had agreed to take them in.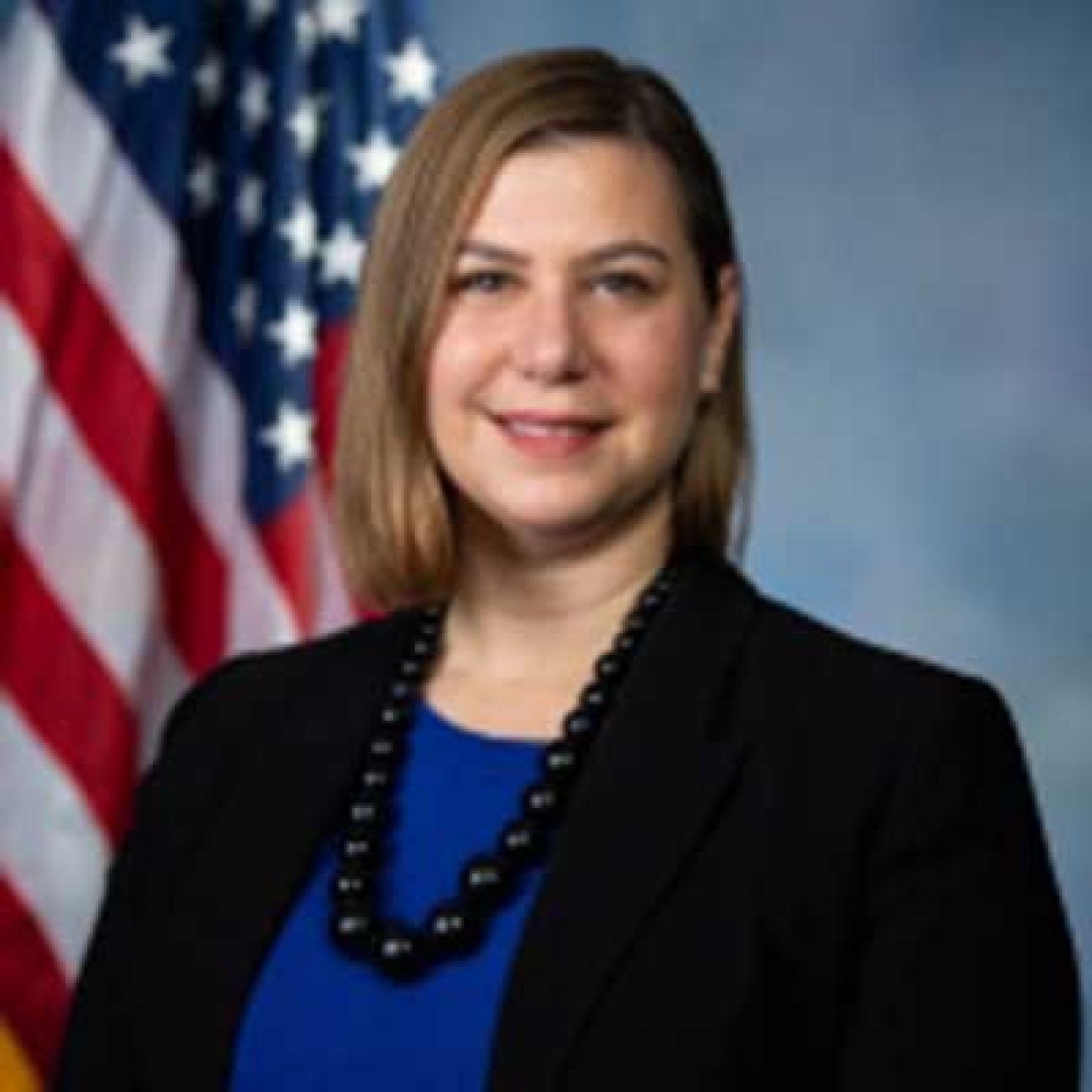 U.S. Rep. Elissa Slotkin agreed to help MSU researchers get their Afghan associates out of the country before they could be punished by the Taliban. (Official photo)
She took to Twitter to press U.S. officials to hold the Kabul airport as long as necessary to get Afghan refugees out of the country, even if it meant extending the deadline for U.S. withdrawal.
"The American handshake," she said, "has to mean something."
But amid a chaotic U.S. withdrawal and rapid Taliban takeover, the mission at times appeared destined to fail.
After receiving an email from the State Department on Aug. 18 instructing him to go to the airport, GRAIN's leader in Afghanistan arrived on foot with his wife and five children, only to find an impassable crowd of thousands at the gate and Taliban bullets whizzing through the air.
"I was afraid I would lose my kids," Ahmad told Bridge (Ahmad is a pseudonym to protect his family from Taliban retribution). After hours in the crowd, the family turned back.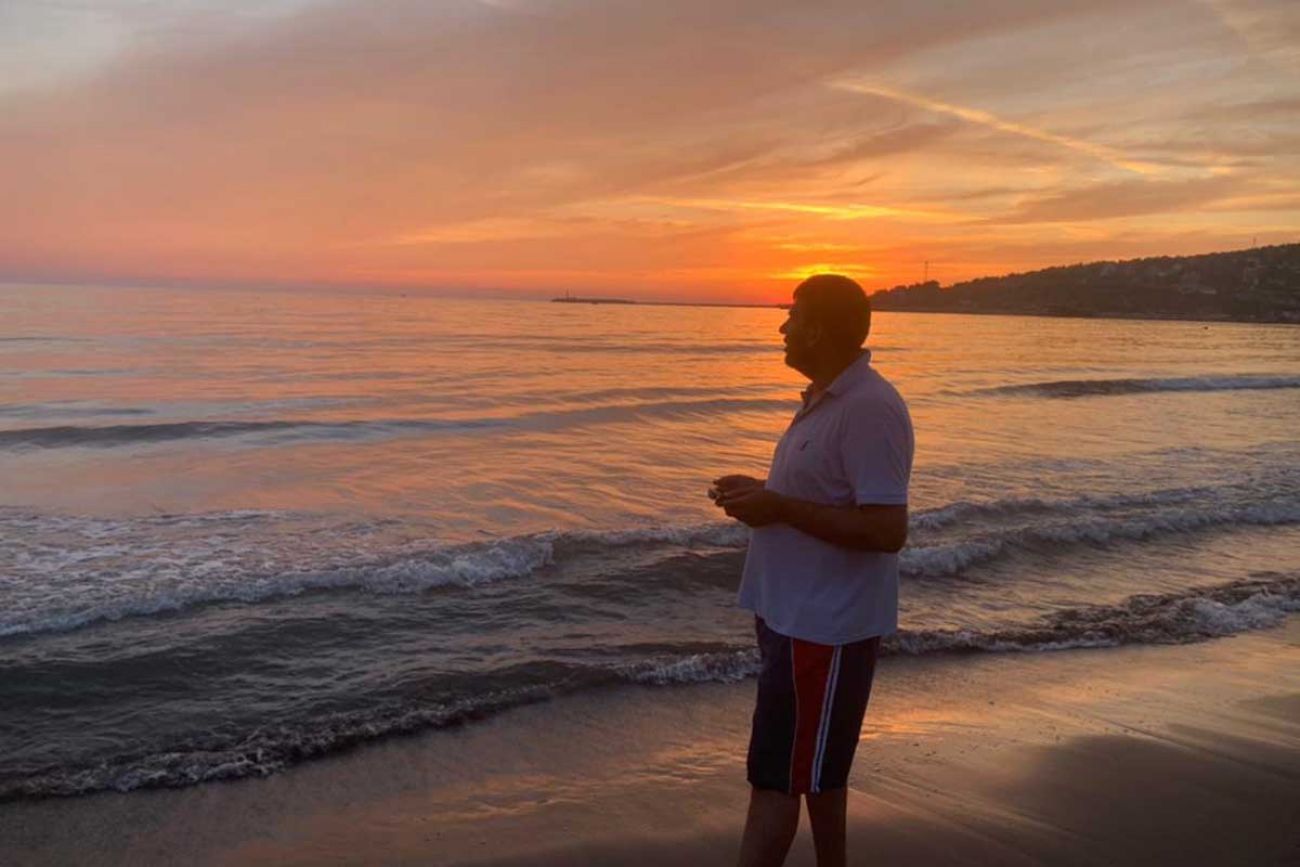 GRAIN leader Ahmad stands on the shoreline in Albania, where he and his family are living in a hotel while awaiting U.S. visas. (Courtesy photo)
A few days later, the wider group of MSU-affiliated evacuees were packed into a convoy of buses in another effort to reach the airport. It took nearly 24 hours and multiple attempts before they made it through the airport gates.
Once inside, the 77 evacuees, including the 23 GRAIN affiliates and members of their immediate families, were awaiting biometric health screenings when a suicide bomb exploded at the airport, creating chaos that separated the group.
Some were whisked onto a plane bound for Qatar. Others wound up in Germany. That led to a second scramble by MSU officials to reunite them in Albania.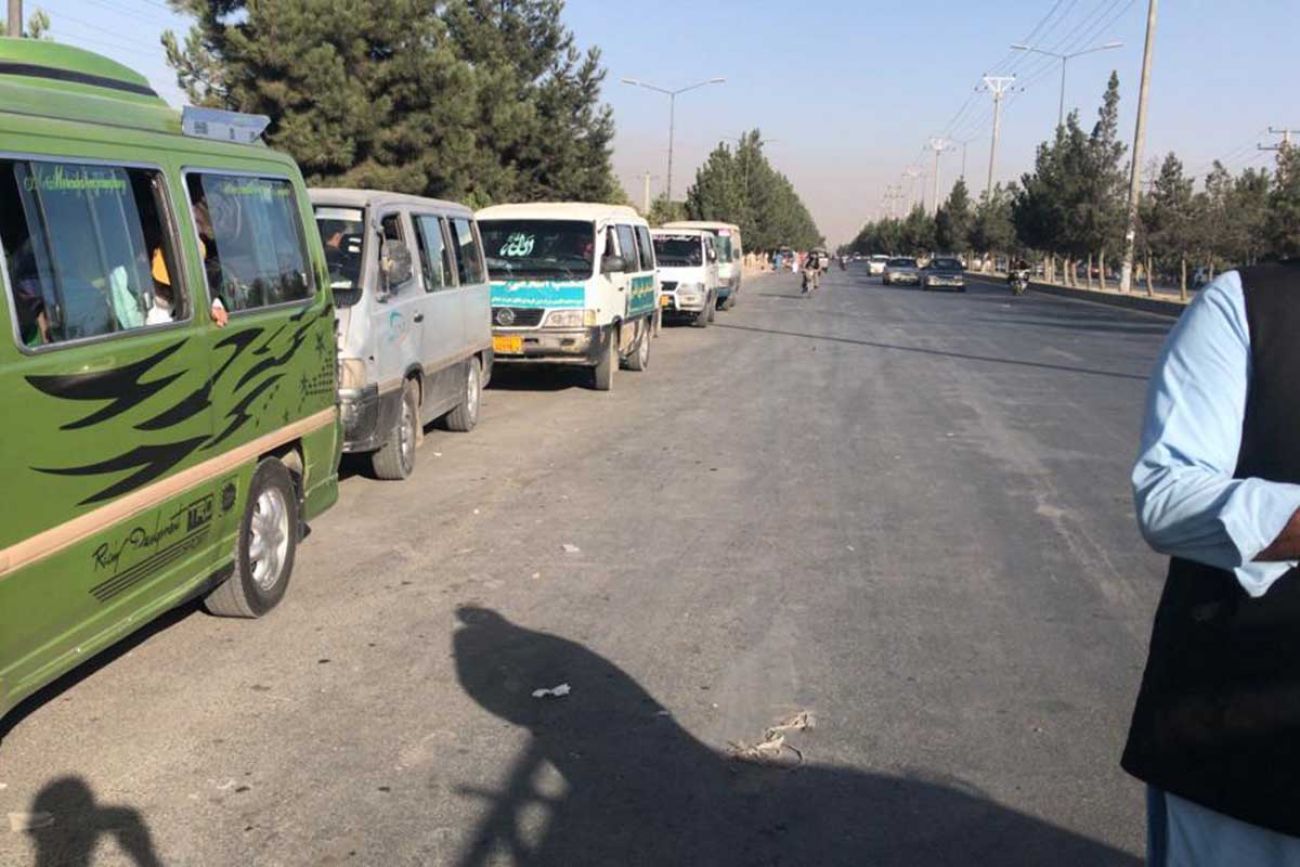 Afghan researchers and their families piled into a series of buses destined for the Kabul airport, where they evacuated on a flight to Albania. (Courtesy photo)
Universities are notoriously bureaucratic. Even routine purchases often require multiple price quotes and a lengthy review process before checks can be written. But by now, word of the emergency had reached MSU's highest brass, who shoved bureaucratic barriers aside.
"It was a Friday night at like seven o'clock, and I'm speaking with the highest fiscal officer at MSU, paying for a $250,000 charter airplane on a (credit) card," said Tracie Carr, who at the time was the GRAIN project's fiscal officer.
'Building a bridge' to life in the U.S.
The group's first days in Albania were marked by relief to be alive, and safe. But now a month into their stay at a hotel near the capital city of Tirana, it's becoming hard not to dwell on their uncertain future.
They have applied for U.S. visas, but are told the process could take up to two years as the U.S. government works to place an initial wave of nearly 37,000 refugees in U.S. host communities, including 1,280 in Michigan.
On a zoom call with the group shortly after they had arrived in Albania, Slotkin broke the news of the lengthy vetting process ahead, and the likelihood that the refugees would remain in Albania for quite some time.
"They asked us, 'How can we use the time?'" Slotkin said.
The GRAIN refugees join countless other Afghan scholars and other workers whose personal and professional lives are now in limbo.
An international nonprofit, Scholars At Risk, which helps academics escape persecution in their home country by relocating to sponsor universities in the U.S., has received more than 800 applications for assistance since August, said Joyce Pisarello, the group's director of membership and university relations.
That's more applications than the organization typically processes in an entire calendar year.
"The numbers and the influx have just been overwhelming," Pisarello said.
The group is calling upon the State Department to expedite visa processing for Afghan scholars with connections in the U.S., and waive other requirements that can slow down the visa approval process. Slotkin, too, has called for faster visa processing and more assurances that Afghans will receive assistance to help them get started in the U.S.
The MSU team, meanwhile, has shifted its focus, Richter said, to "trying to build a bridge for people that allows them to prepare for life in the United States."
But that, too, is fraught with complications.
GRAIN's U.S. funding was tied to the food research work in Afghanistan. So the MSU team is working to get special clearance from USAID to continue paying staff while they are in Albania.
Those who were midway through their master's program at Kabul University will likely have to start over. The MSU team is looking for alternative programs in Albania, but many of the GRAIN scholars will need intensive language training before they can study in an English-speaking classroom.
Resettlement in the US will bring new challenges.
"We are confused about the future," Qaderi, the targeted researcher, told Bridge. "We don't know how much time it will take to process our cases, or when we will get to America."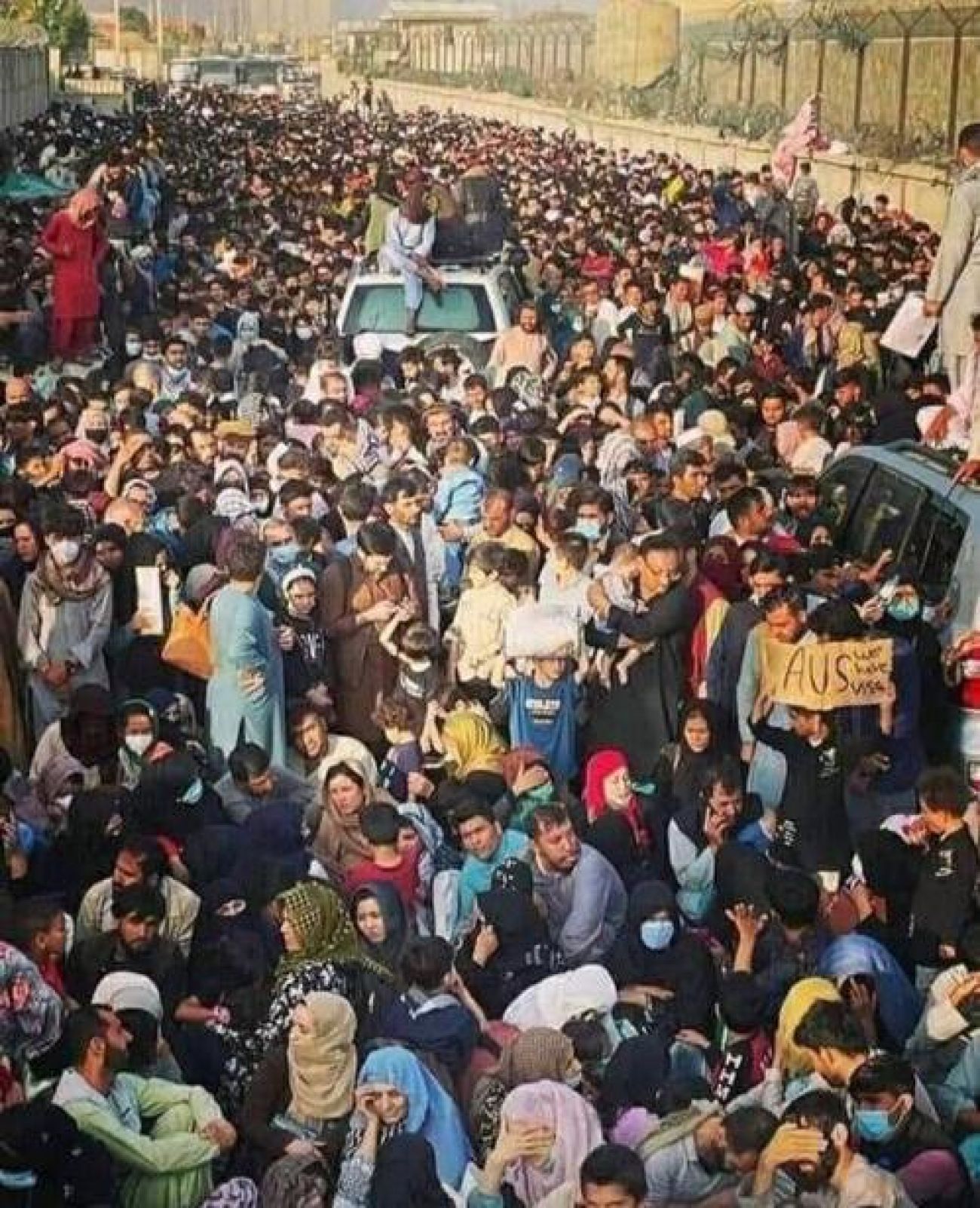 As U.S. troops prepared to withdraw from Afghanistan, throngs of people traveled to the Kabul airport hoping for a flight out of the country. (Photo courtesy of Sara Qaderi)
Refugees often arrive traumatized and in need of services to help them manage the adjustment to life in a foreign country. Yet they typically get 90 days of government assistance, said Erika Brown Binion, executive director of Lansing's Refugee Development Center.
That makes getting a job — any job — a high priority. And it means highly-skilled scientists could end up doing hourly labor.
"Initially, a lot of folks end up in a low-skilled job just to start making a living," Brown Binion said.
Hoping to avoid that outcome for the GRAIN scholars, Richter is negotiating with USAID, outside funders and nonprofits in hopes of creating a system to help train refugees for employment in the U.S. while they await their visa overseas.
It's not just an MSU problem, he said.
"Every major U.S. land grant (university) that does work internationally has been in Afghanistan," he said, and they all have an obligation to their Afghan colleagues.
About 30 people connected to the MSU project remain in Afghanistan, according to Richter and Garrels. With no clear pathway to evacuate them, Richter said MSU staff are focused on "managing expectations."
Research lost
The GRAIN project was expected to run through next September, at which point MSU was to hand off the program to the Afghan government.
"Our whole program was about building local capacity," Garrels said.
Instead, the scientists who would have run the program have left the country or gone into hiding.
Meanwhile, Afghanistan is facing another devastating drought. International aid groups estimate that the country has lost 40 percent of its wheat crop this year. One-in-three of the country's residents are going hungry.
Unless Afghanistan's agricultural sector can adjust to a changing climate, the GRAIN researchers worry that ever-worsening food shortages will only exacerbate the country's political strife. Climate change is a "threat multiplier," known for creating or worsening conflicts that, at their core, are often about resource scarcity.
Qaderi and Ahmad say they both hope to continue their research to help their homeland from afar. They're holding out hope that, one day, they can safely return to Afghanistan and use their expertise to help the country move forward.
Michigan Environment Watch
Michigan Environment Watch examines how public policy, industry, and other factors interact with the state's trove of natural resources.
Michigan Health Watch is made possible by generous financial support from:
Our generous Environment Watch underwriters encourage Bridge Michigan readers to also support civic journalism by becoming Bridge members. Please consider joining today.
Only donate if we've informed you about important Michigan issues
See what new members are saying about why they donated to Bridge Michigan:
"In order for this information to be accurate and unbiased it must be underwritten by its readers, not by special interests." - Larry S.
"Not many other media sources report on the topics Bridge does." - Susan B.
"Your journalism is outstanding and rare these days." - Mark S.
If you want to ensure the future of nonpartisan, nonprofit Michigan journalism, please become a member today. You, too, will be asked why you donated and maybe we'll feature your quote next time!