How you can help Michigan's bats amid a deadly epidemic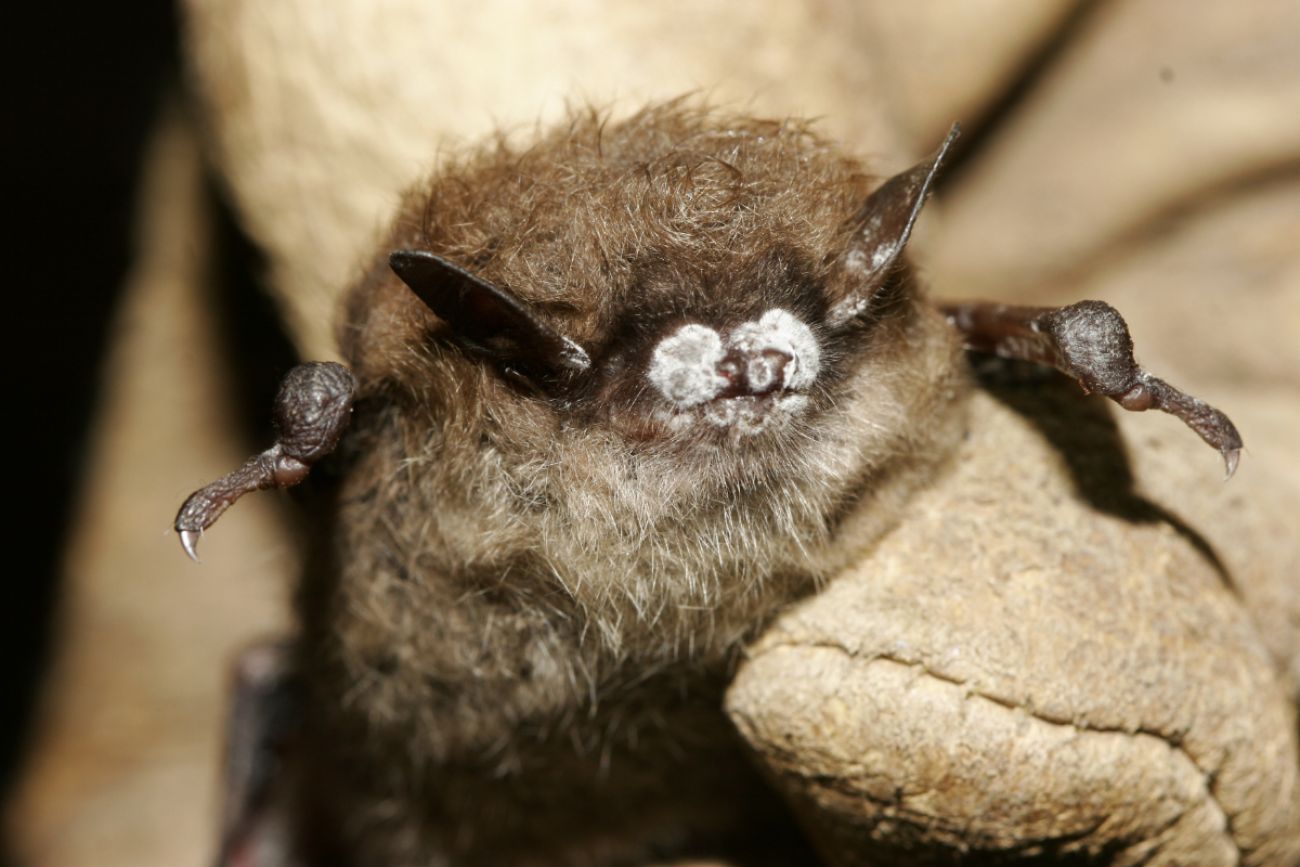 Bats across North America are being wiped out by white-nose syndrome, a deadly fungus likely imported to the U.S. by humans who unwittingly picked up spores in Europe or Asia. (U.S. Fish and Wildlife Service)
White-nose syndrome has killed millions of bats, driving some species to near extinction
Humans can help bats by avoiding caves and mines, preserving bat habitat and avoiding insecticides
---
One of the troubling facts about white-nose syndrome, a deadly fungal disease that has devastated North America's hibernating bats, is that there's little humans can do to keep it from spreading.
But humans can and do affect bats in other ways, said Jenny Wong, a U.S. Fish and Wildlife Service biologist who leads the agency's efforts to conserve federally-listed bats in Michigan.
"Anything that kills or injures bats is going to have an added impact," Wong said.
Bridge Michigan recently documented how a Michigan hydroelectric dam offers a glimmer of hope in the fight to save bats from white-nose.
Related stories:
Tippy Dam in the Manistee River contains the only known hibernating bat colony that appears to be thriving despite the disease. If scientists can figure out why, they may be able to apply lessons from Tippy to save North America's bats. But answers could be years away.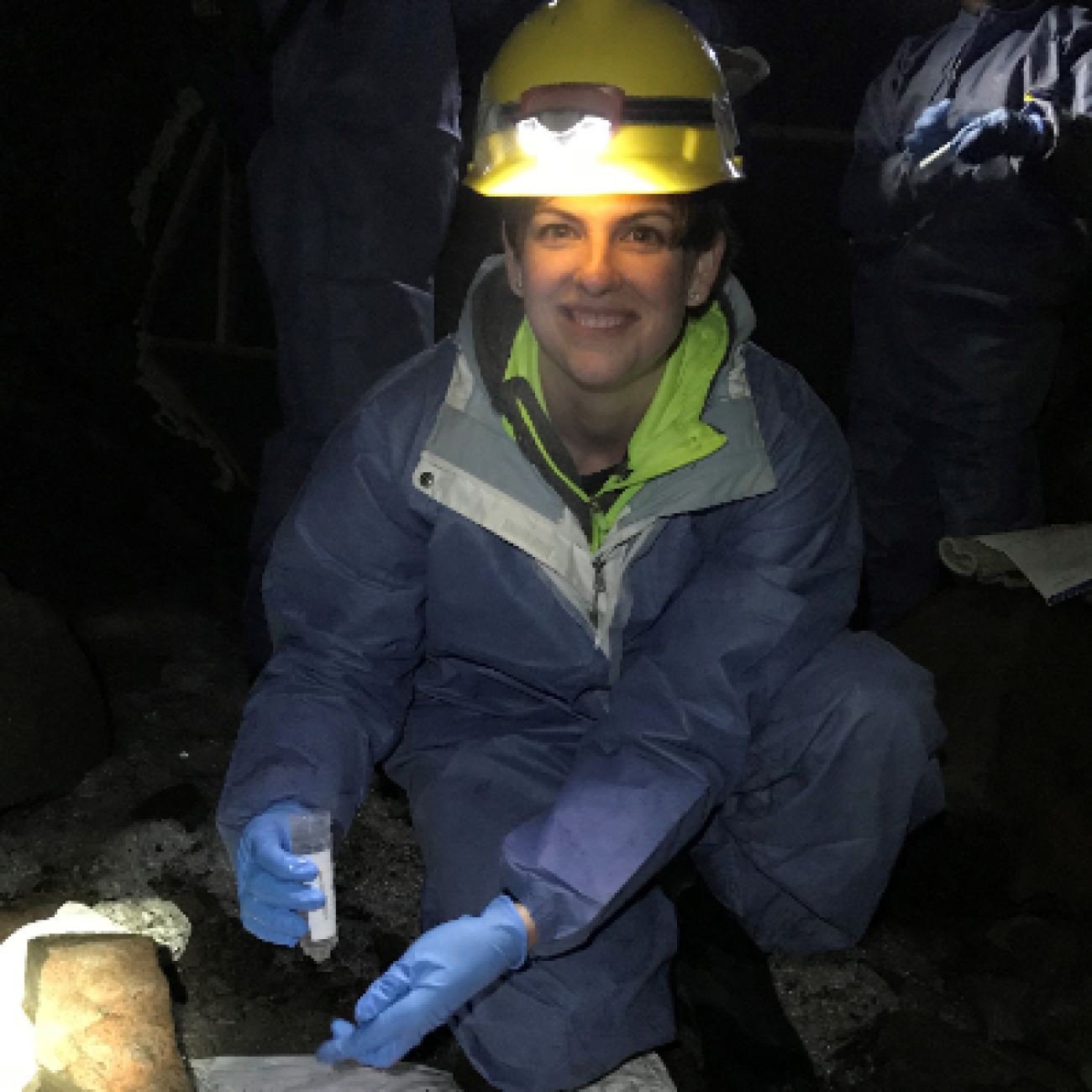 Jenny Wong is a biologist at the U.S. Fish and Wildlife Service Michigan Ecological Services Field Office. (Courtesy photo)
Bridge spoke with Wong about why white-nose syndrome is such a devastating illness, what other threats North American bats are navigating, and how everyday Michiganders can help buy scientists time to find an effective weapon against the disease.
Wong's answers have been edited for clarity and length.
First, can you give readers a sense of why white-nose syndrome is so difficult to combat?
Certainly among North American bats, it's the most severe, immediate threat we've seen.
It's also challenging because typically, we see threats to species that are very anthropogenic (related to human activitiy) and we can recommend conservation measures that really directly address the threat. For instance, if habitat loss is a main threat, we can put restrictions on activities that cause loss of habitat.
But when a fungal disease is the main issue, and bats are the main carriers and main mechanism for continued spread, and we have not yet developed a cure or a really practical management technique, it's much harder to manage the impacts of the disease.
What are the other big threats to bats?
One is wind energy. On the one hand, it's this green, renewable type of energy that provides benefits to bats in the form of climate mitigation, because climate change is another threat.
But depending where the facility is located and how it operates…it may have more or less risk to bats. For whatever reasons, bats don't seem to be able to detect spinning turbine blades, and they run into them quite a bit.
Mortality is highest during the fall migration period, and the species most impacted by wind are migratory tree bats that aren't affected by white-nose syndrome. That said, the white-nose syndrome affected species like Indiana bats, northern long-eared bats and tricolour bats, are all susceptible to wind energy mortality as well.
So to help with that, we encourage wind energy facilities to take operational measures such as feathering turbine blades, which is changing the angle of the blades so they're not (spinning) when they're not generating electricity. That can save a lot of bats on its own.
If a facility is at risk of (harming) a threatened or endangered bat species, we recommend that they get an incidental take permit to cover their take. (The Endangered Species Act generally prohibits harming listed species. Private parties that might inadvertently hurt or kill a listed species must get a permit or face possible legal consequences.)
One of the challenging things about white-nose is that the bats are spreading it themselves. Is there anything humans can do to slow the spread?
We recommend that people limit their activity in caves or mines where bats hibernate at any time of year. But especially try to stay out during hibernation season, because the main way white-nose syndrome affects bats is it causes them to arouse from hibernation more frequently, which decreases their winter fat stores. So if humans are going in and disturbing bats and causing them to arouse more often in addition to the increased white-nose syndrome arousals, that decreases the chances they'll make it through the winter.
Another thing humans can do is just be really conscious about bringing potentially-contaminated clothing or gear from one site to another. We have Fish and Wildlife Service decontamination protocols that people can follow if they do frequently go into caves or mines.
Lastly, there's a lot of research still being done to better understand the fungus and to test different potential treatments. So supporting that type of research is also beneficial.
What can humans do to conserve bats more generally?
The biggest thing is to protect their natural habitats. A lot of white-nose vulnerable species rely on forest habitats. They'll roost in dead and dying trees, so something as simple as leaving dead trees standing on your property can help, as long as those trees aren't posing a danger to human life or property.
You can also limit use of chemical pesticides, especially insecticides. Our native bats are insectivores, so insecticides expose them to a compounding threat when they're already struggling to cope with white-nose syndrome.
Lastly, some of our vulnerable bat species do use bat boxes (which are artificial wooden roosts). So that's another potential conservation tool that people can contribute to provide shelter for bats. Especially if you're trying to exclude bats from your home or barn, it offers them a new place to move that's similar to their existing roost.
White-nose syndrome has already killed millions of bats, and it feels like the bad news just keeps coming. Is there hope?
Our best hope is that we either find a really effective large scale treatment that works, or bats start developing some kind of natural resistance and are able to rebound their populations. Right now, we're not quite sure about either of those. But there are some promising treatments (being studied). And maybe it's just going to come down to using a combination of different strategies in different areas to keep affected species extant for long enough that they can rebound their own populations.
That said, a lot of them are now at small proportions of their pre-white nose syndrome populations, and they're such slow-reproducing species (the most vulnerable species only have one or two pups each year), it's going to take a while to build back those populations.
White-nose appears to be a crisis caused by humans, who likely brought it to the U.S. from Europe or Asia. What advice do you have for those of us who'd rather not unwittingly cause the next invasion?
With globalization and how frequently we travel, it's hard not to pick up things and introduce them to new places.
But our general recommendations are to thoroughly clean your gear and equipment before you introduce it into a new site. Just try to be conscious that we could be spreading invasive species, and we could be spreading microorganisms we're not even aware about.
Michigan Environment Watch
Michigan Environment Watch examines how public policy, industry, and other factors interact with the state's trove of natural resources.
Michigan Health Watch is made possible by generous financial support from:
Our generous Environment Watch underwriters encourage Bridge Michigan readers to also support civic journalism by becoming Bridge members. Please consider joining today.
Only donate if we've informed you about important Michigan issues
See what new members are saying about why they donated to Bridge Michigan:
"In order for this information to be accurate and unbiased it must be underwritten by its readers, not by special interests." - Larry S.
"Not many other media sources report on the topics Bridge does." - Susan B.
"Your journalism is outstanding and rare these days." - Mark S.
If you want to ensure the future of nonpartisan, nonprofit Michigan journalism, please become a member today. You, too, will be asked why you donated and maybe we'll feature your quote next time!