Injuries, rescues plummet at Sleeping Bear Dunes. The secret: orange-shirt volunteers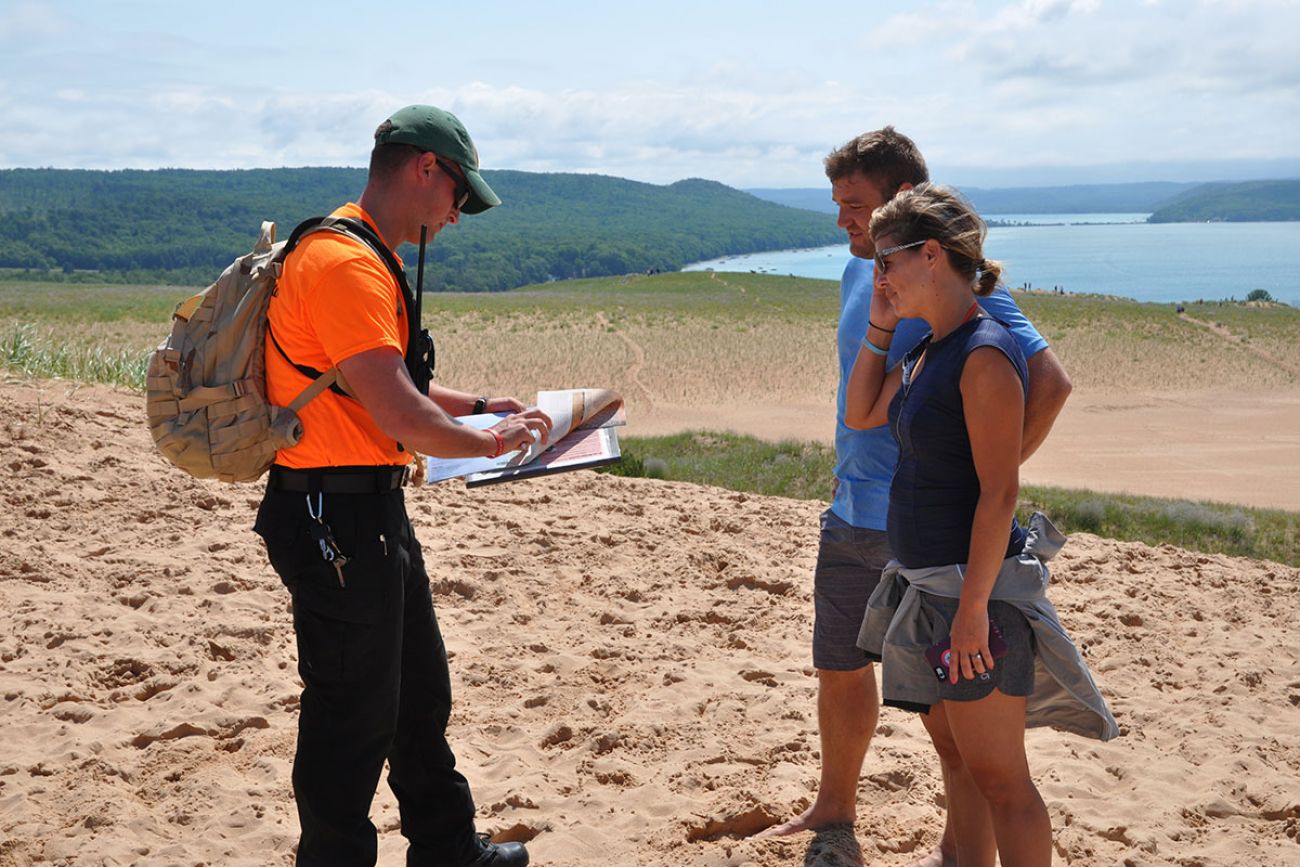 An orange-shirt PSAR volunteer helps visitors at Sleeping Bear Dunes navigate the Dune Climb. (Courtesy of National Park Service)
It was not quite 11 o'clock when Kerry Kelly filled his backpack with First-Aid supplies, water and snacks before heading out the door of his Traverse City home on June 21. It was the first day of summer, and the 69-year-old nicknamed "the grandad of the Sleeping Bear Dunes" by park staff knew it would be one of the hottest of the year so far. A high of over 90 degrees meant the sand on the dunes could reach temperatures of 120 degrees, hot enough to inflict second-degree burns on the bottom of his feet.
Still, Kelly spent hours standing in the blazing sun in his bright orange volunteer shirt to offer support to park visitors at Sleeping Bear Dunes, a national park that covers 4 square miles on the eastern shoreline of Lake Michigan near Traverse City. For the past five years, Kelly has volunteered with the Preventative Search and Rescue (PSAR) program.
Equipped with nothing but orange shirts, hiking supplies and a head full of "dune safety" knowledge, Kelly and his fellow volunteers have single-handedly cut the number of search and rescue calls by more than half in the past couple of years. They're saving park visitors money, and quite possibly a trip to the hospital.
Related:
The summer before PSAR launched in 2017, there were 31 search and rescue operations at two especially precarious spots in the park — the Dune Climb, near the parking lot of the park, and the Lake Michigan Overlook which is 450 ft. above lake-level.
At that time, there were more search and rescue calls at Sleeping Bear than at Yellowstone, the second-most visited park in the nation. Sleeping Bear employees said search and rescue operations are typically called in for broken bones, twisted ankles, heat exhaustion or for any other reason visitors may be unable to complete a hike.
A study reported that there were 47 search and rescue operations at Sleeping Bear in 2014, compared with 37 at Yellowstone which gets almost three times as many visitors a year. Each rescue costs hundreds to thousands of dollars – a cost that is passed along to the person being helped – and takes emergency personnel away from the communities surrounding the park.
"Sleeping Bear Dunes had one of the highest call frequencies of any of the National Parks back in those days," Kelly said.
In just five years, Leelanau District Ranger Andy Blake reported that the number of search and rescue operations at those two pivotal locations has dropped by 54 percent, down to 14 last summer — almost exclusively because of PSAR volunteers.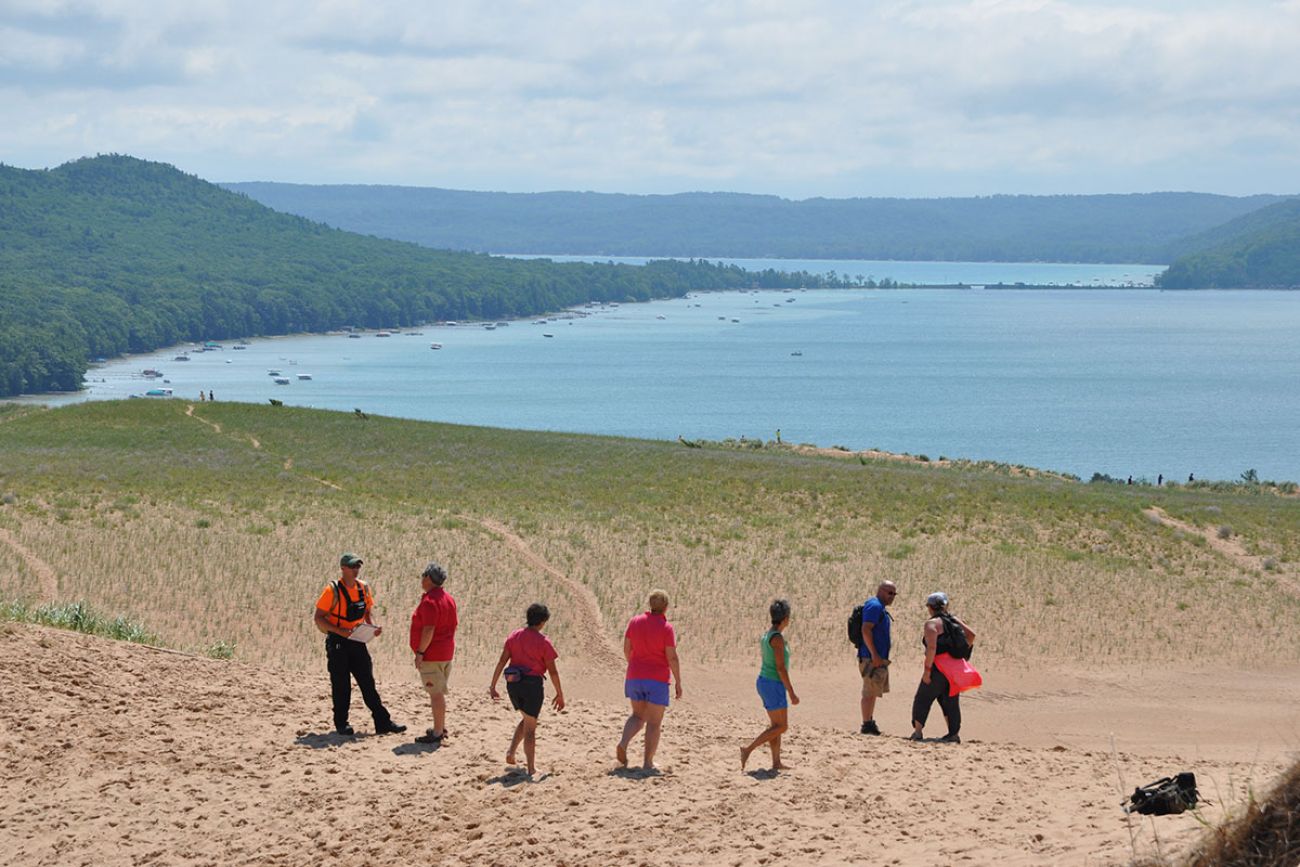 Volunteers advise visitors on safety and preparedness techniques as they make the over 3-mile trek from the parking lot to the Lake Michigan shoreline and back again. (Courtesy of National Park Service)
There are around 12 "orange-shirt" PSAR volunteers who are stationed at the Dune Climb and the Lake Overlook throughout the week, depending on their individual schedules.
A day in the life of a volunteer includes talking with an average of 100 park visitors to make sure they are prepared to climb up and down the different dunes – a trip that can take several hours. According to Jesse Lewit, PSAR coordinator at Sleeping Bear, volunteers connected with over 25,000 visitors between Memorial Day and Labor day last summer.
PSAR volunteers also ask climbers whether they are properly equipped with food, water, sunscreen and the proper shoes to carry them through an over 3-mile hike through the park. If they forgot something essential, a volunteer has their back.
"The key word in our program is preventative," Lewit told Bridge Michigan. "We try to station our volunteers at areas that we think are high-risk and talk to as many people as possible to make sure that they are prepared for whatever adventure they're seeking on the dunes."
There have only been four search and rescue operations called in so far this year at the two locations where PSAR volunteers are stationed, meaning the national park is on track for one of its safest summers on record.
Kelly said he receives positive feedback on a daily basis from the hikers he talks to. He has sent families back to their cars to get water or put on shoes, and has helped others avoid taking a physical risk that they were not confident about.
"People are generally really receptive to our advice and thankful that there's somebody to save them the trouble of getting lost out there," Kelly said.
Canton resident Evan Good stopped to talk with Kelly Tuesday after completing the dune climb with his family. Good said being able to talk to a PSAR volunteer who was knowledgeable about the safest and most efficient routes through the park was a plus.
"They gave me the quickest route to the lake so that saved us some time," Good told Bridge. "They're super helpful."
Though the PSAR volunteers do not lead search and rescue operations themselves, Kelly said he also asks visitors to keep their eyes out for anyone who is struggling to complete a climb. Kelly said he has been able to solve problems on several occasions — saving the park a 911 call and the individual a hefty rescue bill.
"Occasionally, I will get somebody to say 'yeah, there's somebody that looks like they're having a real hard time,' and so then I'll pick my pack and hike back there," Kelly said.
The PSAR model originated in 1997 at the Grand Canyon National Park, which has the most search and rescue efforts annually. Yosemite and Glacier national parks have also implemented PSAR programs. Beyond Sleeping Bear, none of the six other national park sites in Michigan have followed suit.
Michigan's state parks haven't launched similar volunteer injury-prevention programs, according to Ron Olson, chief of parks and recreation for Michigan's Department of Natural Resources — though state parks in Northern Michigan independently reported a rise in injuries last summer.
In lieu of a formal PSAR program, Olson urged visitors to state parks this summer to do their own "preventative" preparation. Just like Kelly and the other Sleeping Bear volunteers do, Olson suggested packing extra food and water, preparing for weather conditions and researching the layout of the park beforehand.
"Do background in the area you choose to go to if you've never been there," Olson said. "Go on our website to understand the landscape. Look up on the trails and the kind of activity you are choosing to do."
Michigan Environment Watch
Michigan Environment Watch examines how public policy, industry, and other factors interact with the state's trove of natural resources.
Michigan Health Watch is made possible by generous financial support from:
Our generous Environment Watch underwriters encourage Bridge Michigan readers to also support civic journalism by becoming Bridge members. Please consider joining today.
We're not just a news organization, we're also your neighbors
We've been there for you with daily Michigan COVID-19 news; reporting on the emergence of the virus, daily numbers with our tracker and dashboard, exploding unemployment, and we finally were able to report on mass vaccine distribution. We report because the news impacts all of us. Will you please support our nonprofit newsroom?