Walleye love perch too much. So Michigan is expanding walleye fishing.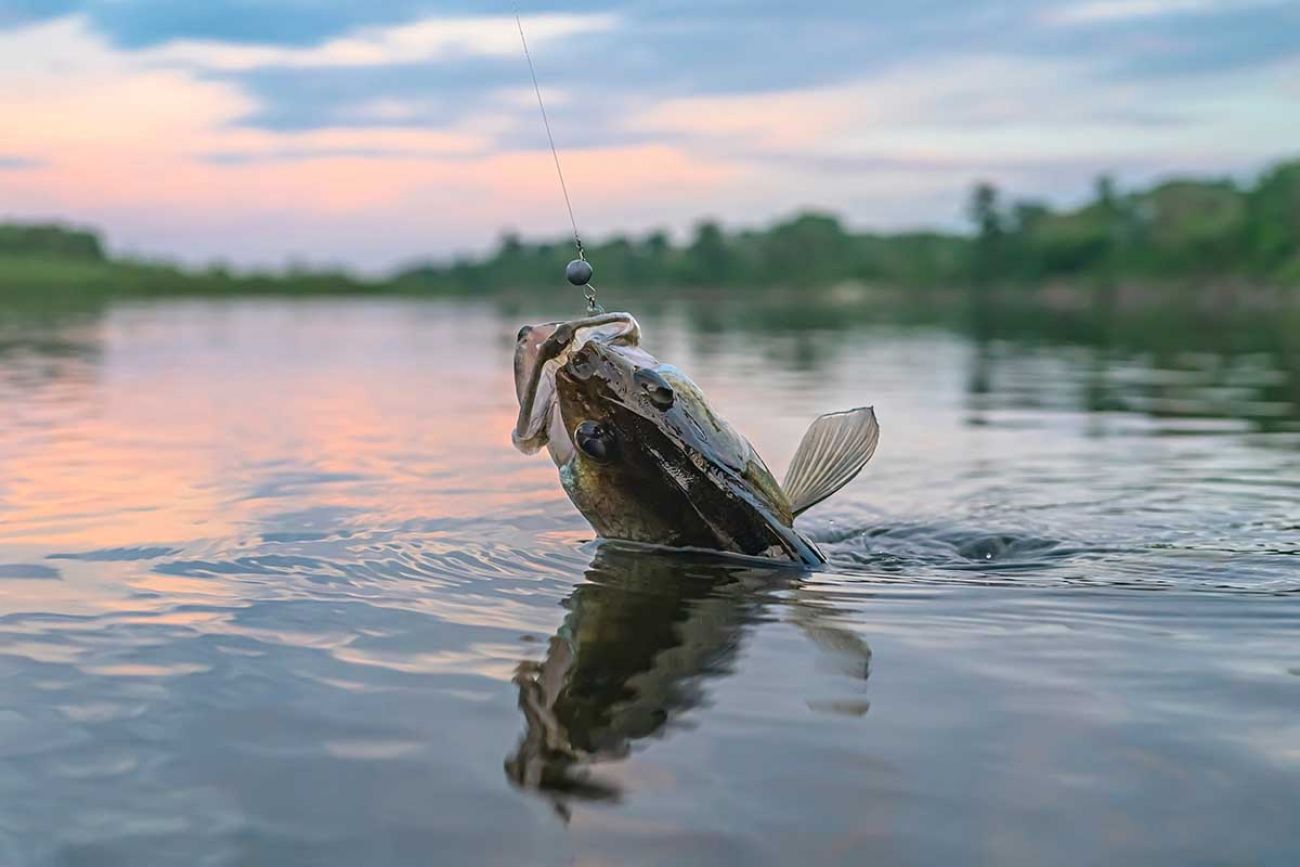 Wildlife officials and advocates say growing walleye populations are contributing to a decline yellow perch in Saginaw Bay, prompting new fisheries regulation (Shutterstock)
The state's Natural Resource Commission is making walleye season year-round on the Saginaw River in hopes that anglers will help reduce the population of the fish, which has been gorging on yellow perch in Saginaw Bay.
The order, which passed last week, opens the Saginaw River for an additional 45 days of walleye fishing in the early spring beginning in 2023. The newly opened walleye fishing window — between March 15 and the last Saturday in April — is when walley typically travel through the Saginaw River to spawn.
The decision comes at a time when the Department of Natural Resources is implementing new measures to balance the walleye and yellow perch predator-prey relationship.
Related:
Fisheries advocates say the commission's decision encourages anglers to harvest more walleye, which may allow for more yellow perch to reach maturity. But biologists worry about the unknown impacts of catching spawning walleye when they are vulnerable.
Commissioner David Cozad introduced the new regulation after hearing about the walleye's impact on yellow perch mortality at an August Lake Huron Citizens Fishery Advisory Committee meeting. Cozad amended the regulation to provide the department a year to educate anglers on the impacts it could have on walleye.
Based on DNR data, Cozad said the benefits of opening Saginaw River's walleye season year-round have significant benefits that outweigh any concerns.
"The potential risks are very small," Cozad said. "The (walleye) population is at 5 million. There is a large cushion. We also have the ability to look at the data each year and make a quick adjustment if necessary."
Frank Krist, chair of the Lake Huron Citizens Fishery Advisory Committee, said its members support opening the walleye's spawning season to anglers because the growth in walleye is harming yellow perch's opportunity to mature and liberalizing the bag limit for fishing for walleye did not help.
"They are eating the yellow perch at such a high rate even though we know there are a lot of yellow perch hatching each year," Krist said. "Let's reduce the walleyes somewhat so that the yellow perch have a better chance of surviving."
The decline and rise of walleye in Saginaw Bay
Saginaw Bay was an ideal habitat that balanced abundant yellow perch, walleye and cisco populations before the 1950s. Randall Claramunt, the Michigan Department of Natural Resource Fishers Lake Huron Basin coordinator, said walleye and cisco population took an unfortunate downturn when pollution degraded the lakes and invasive species, like alewife, were introduced.
By the 1970s, the cisco population was extirpated and the walleye population was headed in the same direction. Invasive species were outcompeting the walleye, making it extraordinarily difficult for the fish to reproduce.
"The population went down to a point where they weren't reproducing and (became) unviable in Saginaw Bay," Claramunt said. "The DNR, along with our stakeholders, had a decades-long effort of stocking walleye back into Saginaw Bay in hopes of recovery."
The DNR stocked Saginaw Bay with 700,000 walleye fingerlings annually. The Bay's surface area is about 728,000 acres, depending on the water levels, so the stocking rate was approximately one walleye fingerling per surface acre. Claramunt said stocking fingerlings was not the primary reason walleye populations are high today; the Bay changed again in the early 2000s.
Invasive species like zebra and quagga mussels filtered Saginaw Bay's waters, changing the entire foodweb and destroying certain habitats where invasive fish laid their eggs. Claramunt said species that were once harmful to walleye, such as alewife, crashed.
"The mussels changed the ecosystem so much that it led to recovery," Claramunt said.
"Because we'd already built up the population through stocking, and then the conditions changed, the populations jumped from half a million then to five million today."
The DNR stopped stocking walleye fingerlings in 2006 and three years later, the department reached the species recovery rate.
Despite the abundance of walleye in Saginaw Bay, the total number of fish harvested has decreased. In 2017, anglers harvested 350,000 walleye but since then, the number has decreased to less than 150,000 in 2020. But Claramunt said low rates are not indicative of reduced angler efforts.
"There is a pretty complex relationship between the fish population and the fisher's ability to catch and it is not always that a more efficient lake or river means more catch," Claramunt said.
"Last year, fishing efforts didn't change. The same number of people fished on Saginaw Bay, the same number of hours, but they caught almost half as many fish."
Andy Gorski, who runs the fishing department at Frank's Outdoors in Linwood, said the same amount of customers still pass through to buy gear and bait to fish on Saginaw Bay. Gorski's grandfather opened the popular outdoors store in 1945.
The store gets a lot of customers during the ice fishing season, Gorski said. In previous years, ice fishing walleye has contributed significantly to Saginaw Bay's yearly harvest. In 2017, it contributed to more than a third of the year's harvest but its contributions have declined. In 2020, the ice fishers contributed a sliver of the year's walleye harvest. This winter's ice fishing harvest will take place between January and March.
"Everybody's got an opinion about the walleye," Gorski said. "Some people are really concerned with the limits but I don't think anyone has the right answer. But speaking for myself, I would leave it the way it is."
Bryan Burroughs, executive director at Michigan Trout Unlimited, supports opening Saginaw River to walleye fishing year-round because he is concerned that, without new regulations, the fish population will keep growing. According to Burroughs, having a lot of walleye is not the worst thing in the world, but people do have concerns for the yellow perch fishery.
"The big thing is by running the walleye population that high, we're choosing not to have much of a yellow perch fishery," Burroughs said.
Bringing the yellow perch population up
Historically, yellow perch are a popular sport and commercial fish in Saginaw Bay. Ecological changes in the Bay have resulted in a suppressed abundance of the fish. While several species prey on yellow perch, David Fielder, a DNR Fisheries Research Biologist, said walleye are its keystone predator.
"They are the single most abundant predator," Fielder said. "It is preventing us from getting more older yellow perch and that is impacting both the sport and commercial fisheries."
DNR data shows that in 2002, when walleye populations recovered, the amount of mature yellow perch began declining. That year, the DNR found that a 10-minute tow, used to measure recovery rates, captured more than 2,000 yellow perch under a year old, but less than 50 yellow perch that were older than one year.
In 2020, more than 400 young yellow perch were caught per 10 minute tow compared to less than 50 mature yellow perch caught.
Observing the declining rate of mature yellow perch in Saginaw Bay, the state's fisheries department expanded the walleye daily bag limit from five to eight fish in 2015. Fielder said the department's goal of increasing yellow perch mortality through liberating the bag limit did not work because while the rate of mature walleye slightly stabilized, the overall population continued to grow.
"This has really motivated us to say it is time to reevaluate all these current management paradigms," Fielder said. "The question of opening the river and further liberalizing a walleye harvest is coming in the middle of us taking a fresh look at the current management regulations."
Noticing the declining yellow perch population, the Michigan House of Representatives passed a trio of bills that would have stopped all commercial yellow perch fishing in the state's Great Lakes in 2019. Those bills died in state senate committees in 2020.
Thomas Goniea, a DNR commercial fish program specialist, said the market for commercially fishing perch is there but the number of fish are not. In the 1970s, the commercial fish harvest of perch was between 150,000 to 200,000 pounds. Goniea said that's decreased to 20,000 to 30,000 pounds in the last decade.
"They're just another in a long line of failed attempts to change commercial fishing laws since 1968," Goniea said.
Similarly, a bill that would have allowed the commercial fishing of walleye died in committee. Walleye were commercially fished until 1970, when the population was struggling to reproduce. Goniea said allowing walleye to be commercially fished is controversial because of tensions between recreational and industry stakeholders.
"The sport's fishing community views the walleye as belonging to them," Goniea said.
Sports anglers became really involved in bringing the walleye population up in Saginaw Bay when the state began stocking the fish in high numbers. Money from recreational fishing licenses significantly contributed to funding those stocking efforts.
"It laid the foundation for the walleye population that we have now," Goniea said.
Unlike the walleye, Claramunt said stocking yellow perch will not improve the yellow perch's population. Even at relatively low densities, yellow perch populations are more abundant than walleyes. The issue is that while yellow perch spawn in large numbers, walleye are feeding on many of those young of the year before they reach maturity.
Instead, the DNR has implemented several methods to balance the walleye and yellow perch populations. In 2019, the statewide daily bag limit for yellow perch was reduced from 50 to 25. The department has also conducted large scale habitat improvements.
Additionally, Claramunt said the state has been reintroducing cisco into Saginaw Bay three years ago. Since then, three million cisco have been introduced. Cisco are another fish walleye like to prey upon. Fisheries experts hope reestablishing a cisco population will lessen walleye's predation on yellow perch.
"This is the first year that some individuals can mature, come back, and spawn," Claramunt said. "In two years we should have a strong indication of whether or not the Bay is as conducive to cisco as it is to walleye. Within five years, we expect all those cisco to be sexually mature."
It is uncertain how opening Saginaw River's walleye season year-round will impact the department's current efforts to manage the fishers, according to Claramunt.
Michigan Environment Watch
Michigan Environment Watch examines how public policy, industry, and other factors interact with the state's trove of natural resources.
Michigan Health Watch is made possible by generous financial support from:
Our generous Environment Watch underwriters encourage Bridge Michigan readers to also support civic journalism by becoming Bridge members. Please consider joining today.
Only donate if we've informed you about important Michigan issues
See what new members are saying about why they donated to Bridge Michigan:
"In order for this information to be accurate and unbiased it must be underwritten by its readers, not by special interests." - Larry S.
"Not many other media sources report on the topics Bridge does." - Susan B.
"Your journalism is outstanding and rare these days." - Mark S.
If you want to ensure the future of nonpartisan, nonprofit Michigan journalism, please become a member today. You, too, will be asked why you donated and maybe we'll feature your quote next time!