The 2012 August primary continued a long trend in Michigan -- of voters abandoning the ballot box.
The unofficial statewide turnout of 1,498,100 voters -- or just 20.4 percent of those registered. Since 1978, the turnout in summer primaries has ranged from a low of 15.1 percent in 1990 (a gubernatorial election year) to a high of 24.4 percent in 1982 (also a gubernatorial election year).
Election after election, though, about 80 percent of registered voters just don't even bother
"I had estimated that we'd see 17 percent to 20 percent turnout in this year's primary, and that's not a big number. I had hoped it would not go much lower, and in fact, had hoped that even more people would turn out," said Douglas B. Roberts, director of Michigan State University's Institute for Public Policy and Social Research.
Top 10 counties by turnout percentageOscoda -- 39.5
Leelanau -- 36.6*
Luce – 36.5
Benzie – 35.0
Iron – 34.4
Missaukee – 34.2
Montmorency - 33.9
Mackinac – 33.5
Mason – 32.9
Ontonagon – 30.3

Bottom 10 counties for turnout percentage

Menominee – 12.9
Muskegon – 13.7
Houghton – 13.9
Kalamazoo – 14.1
Isabella – 15.4
Kent – 15.8
Ionia – 15.9
Calhoun – 16.0
Washtenaw – 16.2
Kalkaska – 16.2
"Why would people not show up at the polls? If the reason is apathy, that's truly unfortunate," he added. "The primary is where many questions and many offices are going to be settled. Those local questions, like local transportation and local education millages, will not come up again in November. Those primary decisions have a large impact on county, on city offices and on local judgeships. I repeat, these local ballot questions will not come up again in November.
"If you think your vote does not count, you're wrong. One vote can make a difference."
In Oscoda County, nearly 40 percent (39.5) of registered voters turned out Aug. 7, about double the statewide rate and probably driven heavily by a list of six separate county millage proposals. Four of the six proposals were approved by the voters; one that failed, regarding ambulance equipment lost by nine votes out of 2,415 cast (unofficially), going to Roberts' point about every vote counting.
A similar theme is found in Montmorency County, which had the sixth-highest turnout rate, at 33.9 percent.
Cheryl Neilsen, clerk in Montmorency, noted that almost all of the county offices were contested in the primary. Voters there also had two millage renewals, plus a new millage proposal to fund operations for the sheriff's department. The sheriff levy passed by 200 votes, out of 2,538 cast in unofficial results.
Menonimee County, on the western shore of Lake Michigan, had the "distinction" of being last in voter turnout in 2012 (at 12.9 percent) and in 2010 (at 9.6 percent).
A key legislator on election rules does not see this month's results as evidence for big action in Lansing, however.
"I don't think you necessarily do too much," said Rep. Pete Lund, chairman of the House Redistricting and Elections Committee. "Right now, I think we have made it pretty easy to come out. Media do good job. It's just unfortunate that so many don't come out."
Roberts did see one silver lining in the cloud of poor statewide turnout:
"I'm very proud that in this primary, 17 of our Michigan Political Leadership Program graduates will appear on the November ballot seeking state House seats. This is an especially large number -- second-highest in MPLP history."
* Correction: Leelenau's results were left out of the original version of the Top 10 list.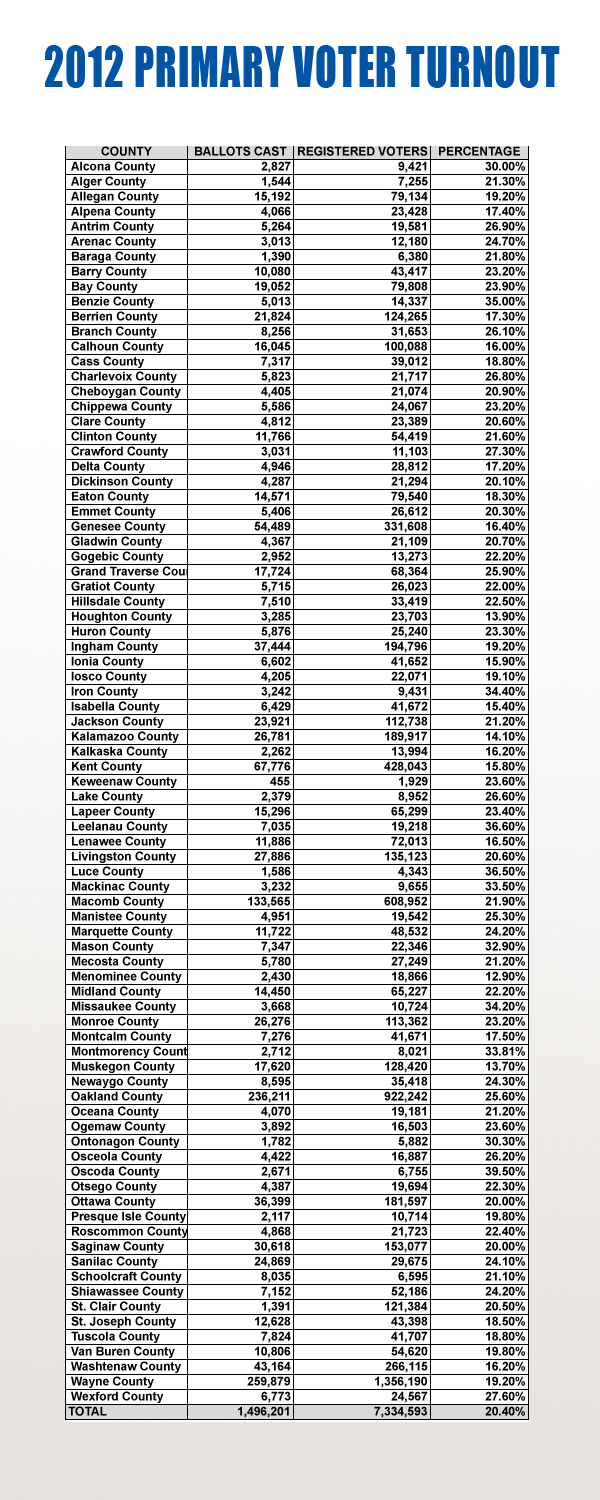 Senior Editor Derek Melot joined Bridge Magazine in 2011 after serving as an assistant editorial page editor, columnist and reporter at the Lansing State Journal, where he covered state and local issues extensively, earning awards from the Associated Press and Michigan Press Association. The Oklahoma native moved to Michigan in 1999.