After generations of confusion, Michigan, Indiana to finally settle border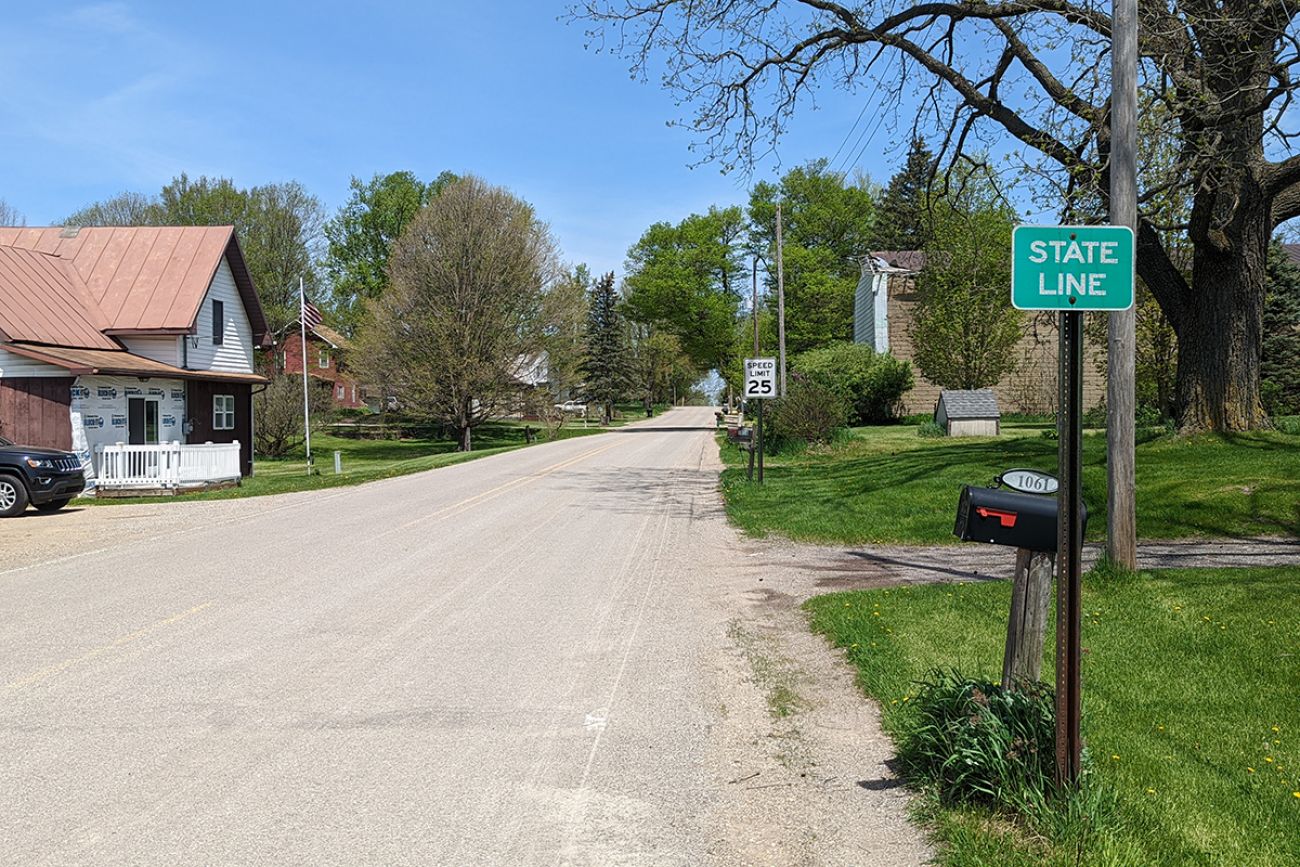 A "state line" sign delineates the Michigan-Indiana border in Ray, an unincorporated community about 30 miles east of Sturgis split between the two states. (Bridge photo by Lauren Gibbons)
RAY, MICHIGAN/INDIANA— Bob Harrington has lived in the same house straddling the Michigan-Indiana border for decades. Without moving, he's technically lived in two separate states.
Harrington's house is squarely in Ray, Michigan, now, with a Michigan address to match the Michigan taxes, the Michigan phone number and the Michigan roads he insists are worse than those of his Indiana neighbors.
But at one point in his life, he says he had a Michigan driver license with an Indiana address on it.
"You don't have to move around here, they'll move you," he joked.
Related:
Like much of the Michigan-Indiana border, the unincorporated community of Ray is set in pastoral farm land in Branch County, about 20 miles south of Coldwater. Blink, and you might miss the small "state line" sign delineating the two pieces of the small town, split half and half between Michigan's California Township and Indiana's Fremont Township.
However blurry Ray's lines are, though, they're more defined than most of the roughly 110 miles of Michigan-Indiana border, which hasn't been officially revisited by surveyors since the early 1800s.
Michigan residents of yore once threatened war over state boundary lines with Ohio. They later took a border dispute with Wisconsin all the way to the U.S. Supreme Court. As a result, those borders are pretty clear.
But when it comes to Indiana, the border line was never so controversial as to cause a fight. The wooden border markers left by a 19th century federal survey have largely rotted away, and it's been left up to a small group of passionate surveyors to determine the dividing line between Michiganders and Hoosiers.
Efforts in Michigan's state legislatures to set aside funding and resources for resurveying the border are poised to become law, however.
Last week, the final versions of two bills establishing a state commission for resurveying the border were sent to the governor's desk with wide bipartisan support. A $500,000 appropriation for the project is expected to be included in the upcoming state budget.
Indiana officials approved similar legislation in 2019.
Pending Gov. Gretchen Whitmer's signature, Michigan could soon follow in Indiana's footsteps and create a commission aimed at putting the matter to rest.
The quiet border
Start asking about the porousness of the Michigan-Indiana border, and you'll get directed to Jack Owens, a longtime licensed land surveyor based in Roscommon who has led efforts to clean up the state boundary.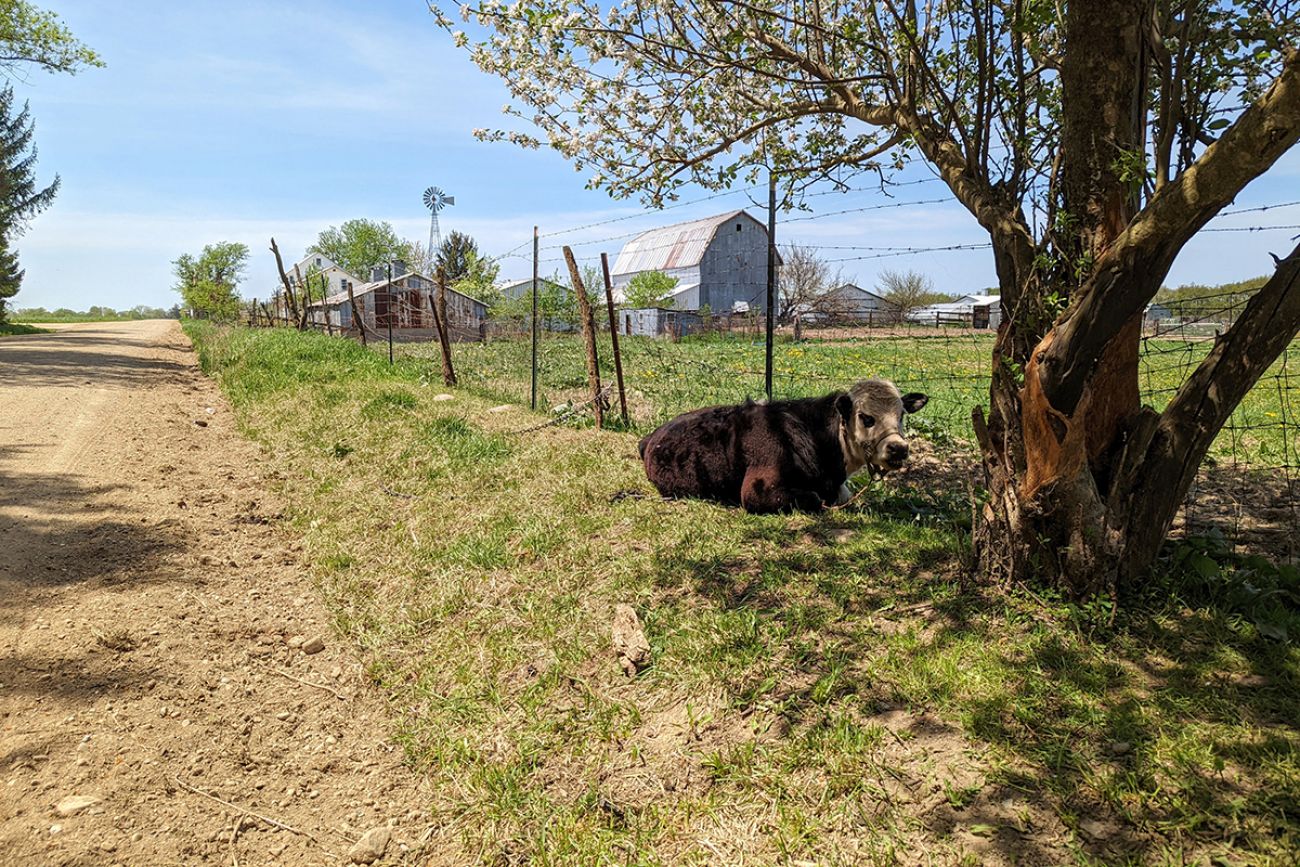 A cow lays in the shade near the Michigan-Indiana border. (Bridge photo by Lauren Gibbons)
He calls it "the quiet border" because most of it isn't marked by a road or other noteworthy boundary, and the wood posts used as mile markers during a federal 1827 survey of the border have long since been lost to nature.
Property owners and locals typically have a decent idea of where the line is, Owens said. But without the official posts, it's a technically guessing game, meaning the generally agreed-to border could be off by a few feet in some areas.
Since most of the border stretches across farmland, it wasn't much of a priority to keep up on the surveys, Owens said, calling it "a story of benign neglect."
Owens began researching the subject in the early 2000s, and eventually assembled a group of volunteer surveyors to meet up a few times a year to see what traces they could of the old mile markers.
"If you actually go look, what you find is when you dig down the corner…you'll see a black smudge, organic stain, which is a remnant of the stake," he said. "It'll be maybe 2, 3 inches across."
Hunting for remnants of the stakes is costly and time-consuming, and some of them are likely wholly lost to history. When Owens and his colleagues realized their volunteer efforts would likely take them hundreds of years at the pace they were going, they sought help from state governments.
After two decades of advocacy, it appears a more formalized effort to find the historic marker remnants and make adjustments where necessary will soon be underway.
Clearing up confusion
The legislation aimed at getting it done was sponsored by Republican state Sen. Kim LaSata, whose district shares a border with Indiana — Niles, where she resides, is 11 miles from South Bend, Ind.
Although resurveying the lines isn't expected to result in major boundary movements, having a clearly defined border would prevent confusion and legal or property disputes in areas that don't clearly belong to one state or the other.
"This is the only area of the state that still does not have a clearly outlined and properly surveyed border," LaSata said in a statement, later adding, "Once completed, a formal survey along with updated, clearly identifiable monuments will finally establish a clear border between the two states."
Contentious border-based disputes along the Michigan-Indiana line are relatively rare, although not unheard of. Owens recalled an incident where an attorney contacted him about a car crash north of South Bend where it was unclear whether to file a lawsuit in Indiana or Michigan.
Other states have also gone back to resolve their historic borders in an effort to avoid litigation — including North Carolina and South Carolina, where efforts to reestablish the 334-mile long border were conducted between 1995 and 2013 after a dispute cropped up between two border counties. As a result of that resurvey, 47 residences were split, and 19 residences changed states.
According to South Carolina's Revenue and Fiscal Affairs Office, that process was started in part to avoid costly, time-consuming litigation that cropped up between South Carolina and Georgia over 25 miles of state boundary. The South Carolina-Georgia dispute cost South Carolina $10 million and involved the U.S. Supreme Court and Congress.
For those used to life on the edge of Michigan, fluidity between the state and Indiana hasn't caused many noticeable problems.
Ray resident Inez Gipple has a clear view of Indiana whenever she steps onto her front porch. The large Michigan state flag fluttering in her yard clears up any confusion about what side of the border she's on.
She acknowledged living so close to the edge has been a little confusing at times during the 50 years she's spent in Ray, particularly when she used to have an Indiana P.O. box despite living in Michigan.
But she loves living in Ray for its tight-knit, small-town feel, which she said isn't impacted by state rivalry.
"We don't fight or anything," she said. "It's never been an issue."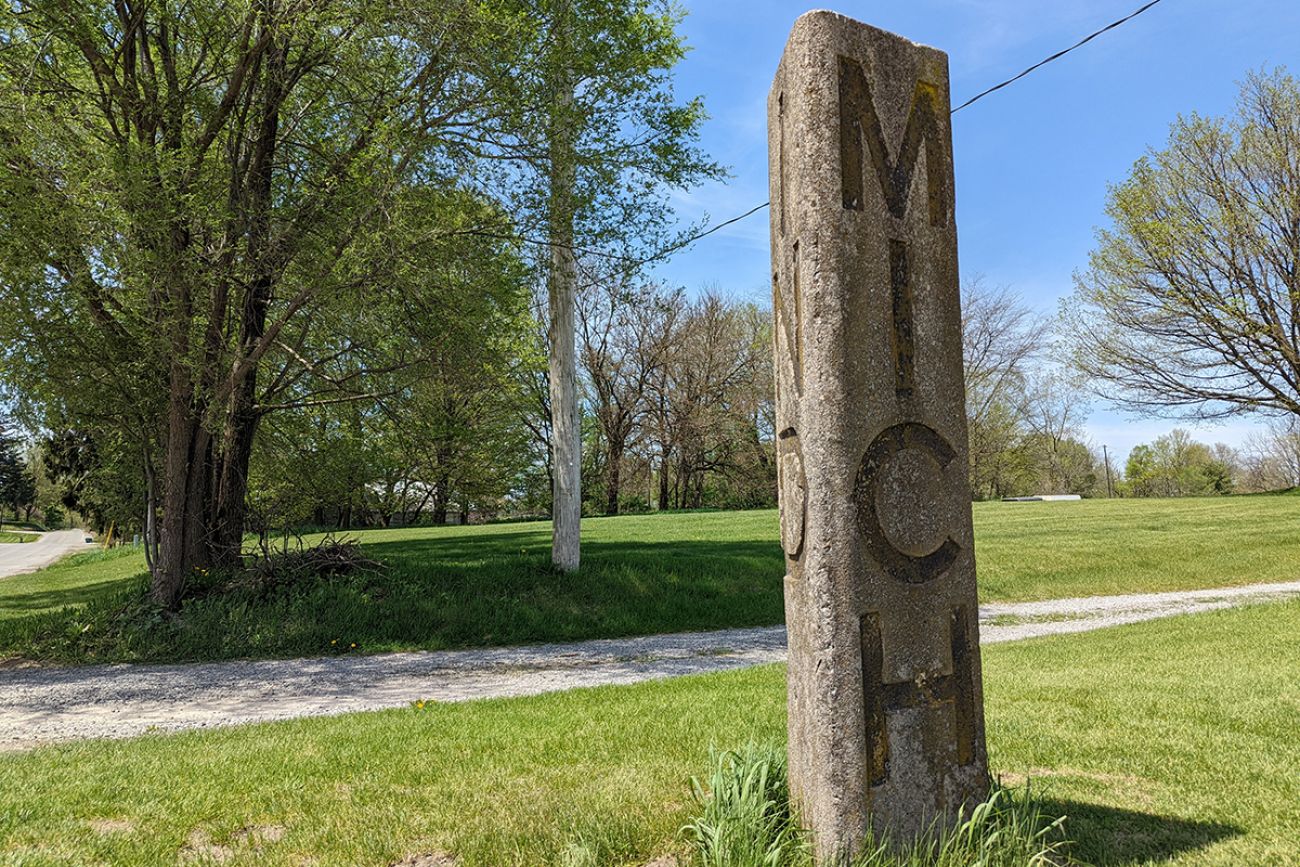 A marker delineating the Michigan-Indiana border in Ray, an unincorporated community split between the two states (Bridge photo by Lauren Gibbons)
A full border review
The Indiana border isn't the only Michigan boundary under scrutiny.
Michigan is also in a decades-long process of going through a full review of its historic county borders, a process known as remonumentation that also is necessary to clear up any legal or property disputes.
County remonumentation programs have been an ongoing project aimed at shoring up local borders, said Michelle Batora, executive director of the Michigan Society of Professional Surveyors.
The program, which began in the 1990s, is overseen by the State Boundary Commission and is funded by an additional $4 fee included in recording fees for deeds, mortgages and other official documents for each county. In 2020, $6.42 million was deposited into the state's remonumentation fund, $6 million of which was appropriated for local grants.
A state of Michigan flag flies at a residence at the very edge of Michigan's border with Indiana in Ray. (Bridge photo by Lauren Gibbons)
There's a sunset on that funding set for 2023 that would slice the additional fee for remonumentation in half to $2 per transaction, although the hope is that the deadline could be extended, Batora said.
According to a 2021 report on the program from the state Department of Licensing and Regulatory Affairs, eight of Michigan's 83 counties were "in maintenance," or at a point where all of the borders have been remonumented. The money currently collected for the fund "is the minimum amount needed for the program to progress at an acceptable rate," the report reads.
Progress on remonumentation was significantly hampered by the pandemic, and it could take 24 years to complete the remonumentation in all counties if each year was equivalent to 2020, according to the report.
Once remonumentation of the entire state is complete, the state estimates the perpetual amount to maintain the boundaries will require roughly $6.5 million per year to maintain all of the boundaries on a 40-year cycle.
Good boundaries make good neighbors
The current legislation pending to update Michigan's southern edges isn't even the first time it's been tried.
Both Indiana and Michigan legislatures had approved similar commissions in the early 2010s, but progress languished over a lack of funding, Owens said.
Once it gets going, the process will be labor-intensive, especially in areas where the old wooden markers are nowhere to be found. At that point, both state commissions will have to study survey results and come to a consensus on where the border falls.
But once finished, Owens said, the location of the border line will be known down to the nearest couple of centimeters — and with the installation of new, more permanent markers, won't get lost again anytime soon.
For Owens, who has spearheaded the project as a labor of love for two decades, it's about time a project government officials haven't prioritized for centuries finally gets done.
"I guess I'm a little bit feeding off of Robert Frost - he said, 'Good fences make good neighbors,'" Owens said, citing the poet's well-known piece "Mending Wall."
"I think good boundaries make good neighbors."
Only donate if we've informed you about important Michigan issues
See what new members are saying about why they donated to Bridge Michigan:
"In order for this information to be accurate and unbiased it must be underwritten by its readers, not by special interests." - Larry S.
"Not many other media sources report on the topics Bridge does." - Susan B.
"Your journalism is outstanding and rare these days." - Mark S.
If you want to ensure the future of nonpartisan, nonprofit Michigan journalism, please become a member today. You, too, will be asked why you donated and maybe we'll feature your quote next time!