Amid jeers, Michigan Republicans select a supreme court justice who strayed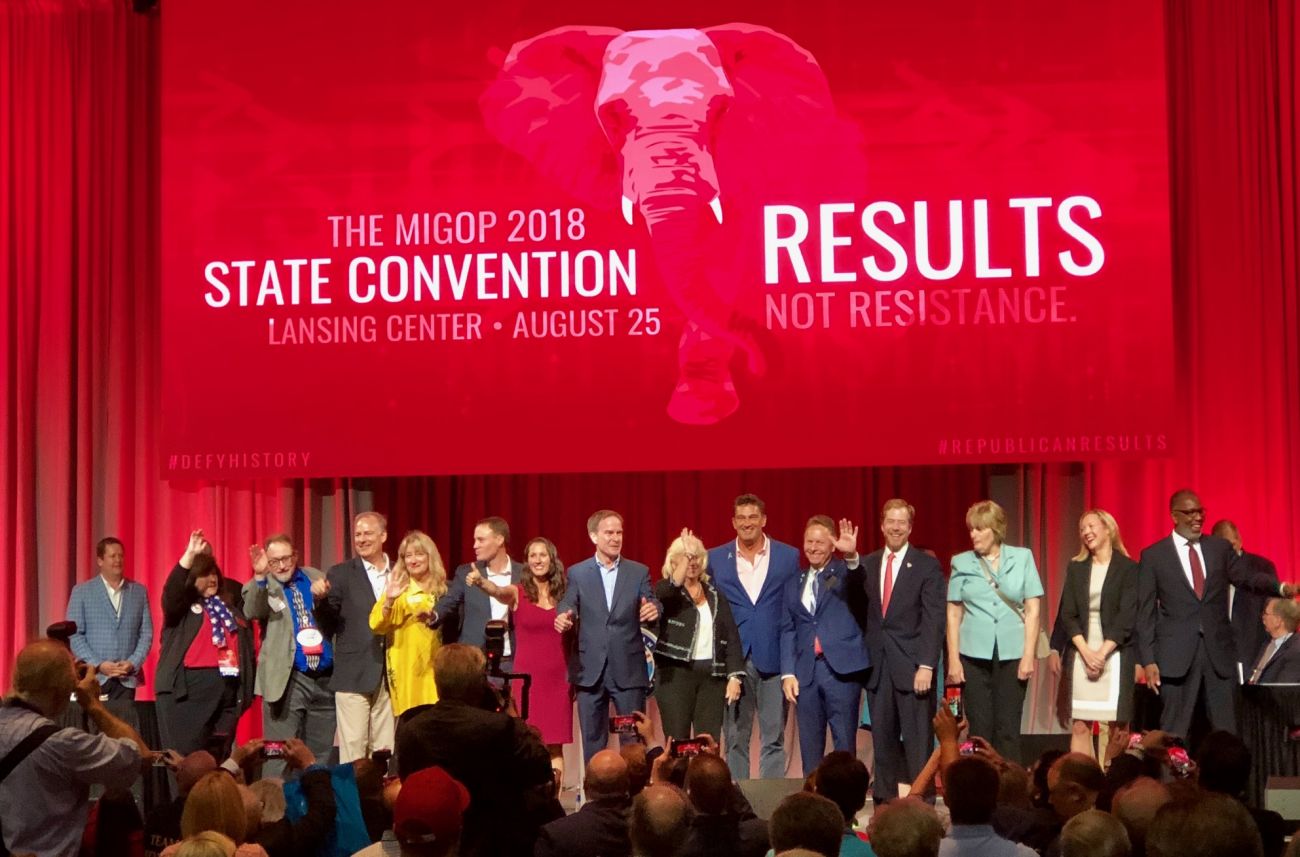 Michigan Government
Amid jeers, Michigan Republicans select a supreme court justice who strayed
Update: Michigan Supreme Court up for grabs after 2018 election
Update: Michigan's Republican black-sheep justice is winning some unlikely allies
"She's a liberal!" arose from a din of boos and jeers on the Lansing Center convention room floor Saturday as a speaker shouted into a microphone, attempting to finish his nomination of Michigan Supreme Court Justice Elizabeth Clement as the party's nominee at its convention.
"Over the past 20 years few have been as strident, few have been as supportive of our party as Beth Clement," Victor Fitz, the Cass County Prosecutor, said as some delegates shouted "no!" back at him.
But despite protests in pockets throughout the room, Clement ‒ who was nowhere to be seen on the floor before the vote ‒ was approved by voice vote to run alongside Justice Kurtis Wilder for reelection in November under the Republican flag.
Related: Will Michigan Republicans take down Justice Clement? If so, here's how.
In the weeks leading up to the Michigan Republican Party Convention, some party insiders had attempted to find a challenger to replace the incumbent Clement, who angered activists by twice voting with Democrat-nominated justices to allow schools to ban carrying guns on school property and, in another decision, allowing a citizen proposal that would create an independent commission to control redistricting decisions to appear on the November ballot.
The main possible challenger to Clement, attorney Donna Nakagiri, declined an insurgent invitation to run. An organized effort to oppose Clement at Saturday's convention failed to materialize and no one called for a suspension of the rules, which would have given delegates the opportunity to mount a challenge.
Clement could not be reached for comment Saturday and did not attend the press conference with the winning Republican statewide nominees.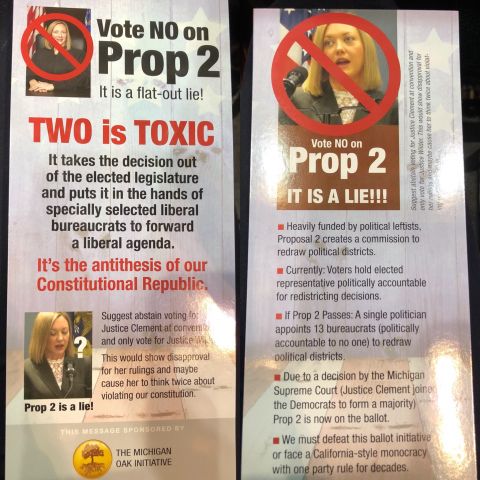 While delegates who spoke with Bridge ahead of the vote didn't sense an insurrection was imminent, ire over the Voters Not Politicians redistricting proposal remained visceral Saturday.
Mark Gurley, Republican Party Grassroots Vice Chair, stood outside the convention center handing out flyers early Saturday paid for by the Michigan Oak Initiative that said "Vote NO on Prop 2" and "TWO is TOXIC" in bold letters, referencing the Voters Not Politicians initiative.
In smaller letters near the bottom, the flyer also suggested delegates "abstain voting for Justice Clement at convention and only vote for Justice Wilder."
Gurley said a formal challenge to Clement was "not going to happen, so this is just a shot across the bow to tell people not to vote for it," he said of the flyer.
Joel Fulton, a Republican delegate from Battle Creek, said he disapproves of Clement because she "has not strictly applied the law."
"Clement can go pound sand," he said.
Other attendees, though, said they don't mind Clement's redistricting decision. Multiple people said it should be up to the people to decide on the initiative, not the court.
"I'm a traditionalist," said Greg Childs, a delegate from Macomb County, in explaining his lack of outrage over the redistricting ruling.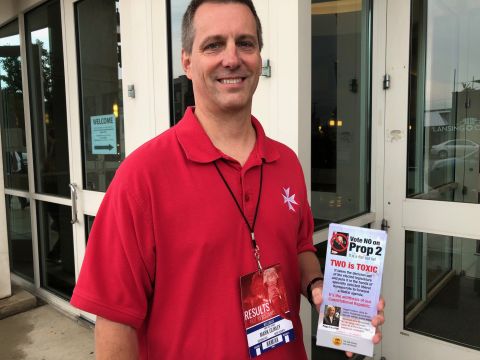 In a 4-3 decision in July, Clement cast the deciding vote that the Voters Not Politicians ballot proposal was appropriate to go before voters. Challengers to the initiative had argued the measure was too broad and could only be enacted by constitutional convention.
Currently, Michigan legislators redraw district lines every 10 years following the U.S. Census, with the most recent boundaries drawn by Republican consultants in 2011. Whichever party is in power during that process ‒ which in 2011 was Republicans — can greatly influence how those lines are drawn, which has led to accusations of partisan gerrymandering.
If the proposal passes in November, the drawing of legislative lines for House, Senate and Congressional seats in Michigan will be placed in the hands of a 13-person board of citizens: four Democrats, four Republicans and five people who don't identify with either majority party.
The Michigan Chamber of Commerce has heavily funded opposition to the ballot initiative, and it is opposed by many Republicans, including Bill Schuette, the party's nominee for governor.
Near the end of Saturday's convention, an animated video paid for by newly-formed group Protect My Vote cast the proposal as an "Obama gerrymander" that would skew maps in favor of Democrats.
"You won't be able to hold your representative, governor or supreme court accountable," the video said.
Katie Fahey, director of Voters Not Politicians, was at the convention talking with attendees about the proposal.
"I'm just thankful that (Clement) did review things knowing that there was political party pressure," Fahey said. "And I trust that the majority of people in the party also want the law to be upheld over party even if they might be passionate about their personal party."
Neither Clement nor Wilder spoke to the crowds or to the media in the immediate aftermath of their nomination — a marked absence in a day full of fanfare and speeches from most of the winning candidates.
"Historically, the entire convention would have been enthusiastic about hearing from these nominees," said Lansing political commentator Bill Ballenger. "Yet it was completely taken away from them because of the embarrassment and the trouble it would have caused, both to the candidates and to the party itself."
We're not just a news organization, we're also your neighbors
We've been there for you with daily Michigan COVID-19 news; reporting on the emergence of the virus, daily numbers with our tracker and dashboard, exploding unemployment, and we finally were able to report on mass vaccine distribution. We report because the news impacts all of us. Will you please donate and help us reach our goal of 15,000 members in 2021?