Among rural Trump supporters, an America that has lost its way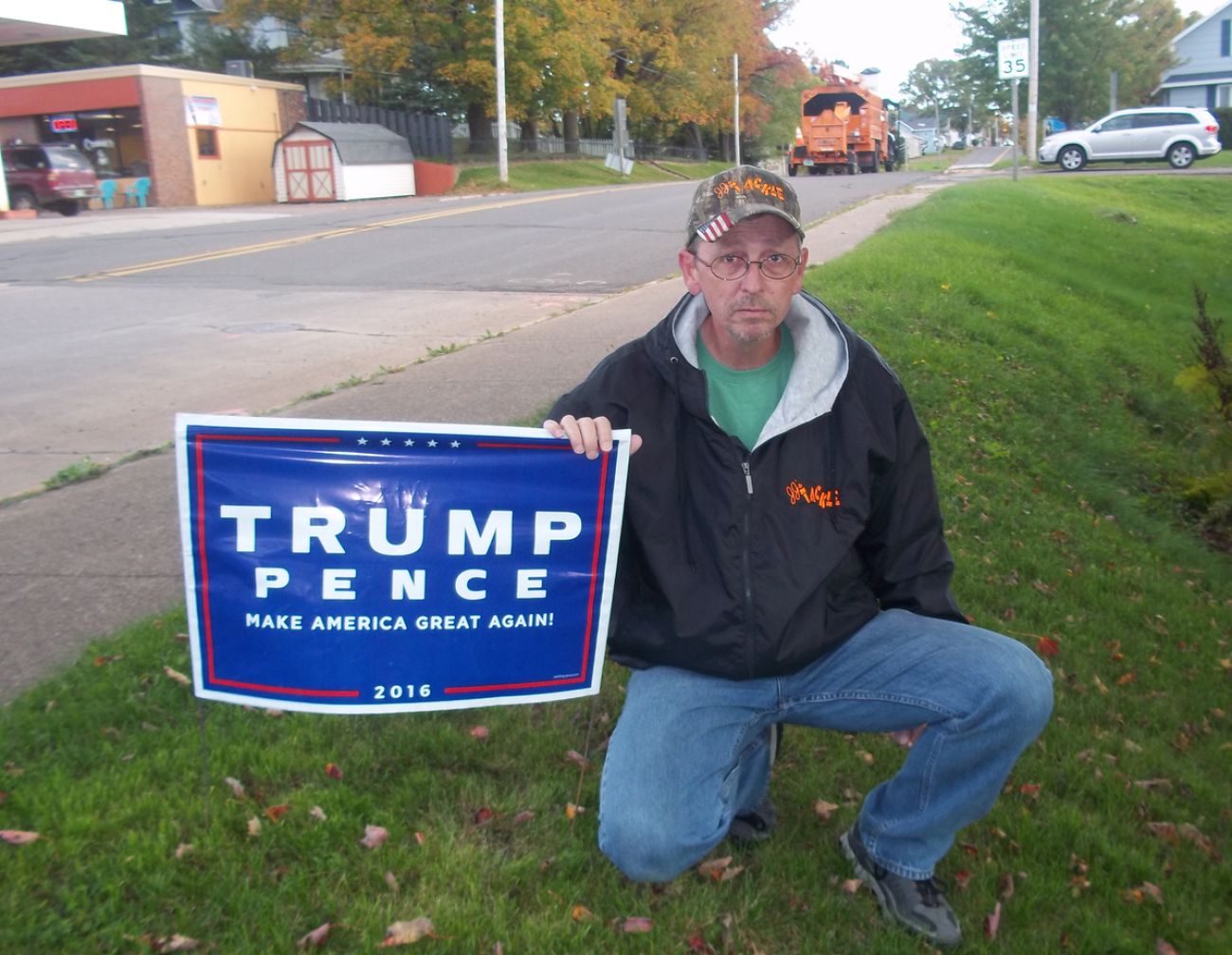 Tucked in the northwest corner of the Upper Peninsula, Ontonagon County residents know a thing or two about survival, whether it's the long and harsh winters that are a UP trademark or a brutal local economy.
Marine Corps veteran Bill Johnson, 54, could be considered fortunate among the populace in one respect: He doesn't need a job to pay his bills, dependent instead on disability from his military service from 1979 to 1985 that left him with bad knees and back problems. He also collects Social Security disability.
But Johnson is much like many other residents of his region, in that he sees a declining America that cries out for leadership. With a building sense of rage about things as they are, he finds that leadership in GOP presidential nominee Donald Trump.
"We have lost our way as Americans," Johnson said.
"I don't agree with everything Trump says or does. But the man has balls. That's all there is to it."
More coverage: Young voters feel they're 'screwed either way'
In the March 8 GOP presidential primary, Trump beat second-place finisher Ted Cruz by 28 percentage points in Ontonagon County – one of the largest margins in the state. Judging by results elsewhere, it was like home turf for Trump.
"I don't agree with everything Trump says or does. But the man has balls. That's all there is to it." -- Marine Corps veteran Bill Johnson of Ontonagon County
Indeed, he posted his strongest margins in large swaths of the U.P., as well as in rural counties scattered across the middle and northern Lower Peninsula. That lines up with national polls that show Trump leading in rural areas by as much as 20 percent.
But those numbers in Michigan might speak as much to a sense of economic distress as they do to partisan politics, with segments of the state scrambling to keep pace with a changing world. These are areas marked in spots by sagging homes on backwoods roads, struggling small towns, and in many cases poverty, high unemployment and stagnant or falling population.
On the eve of Wednesday's final presidential debate, polls point to a possible blowout Michigan win by Democratic nominee Hillary Clinton. An Oct. 12 poll by the Detroit News found Clinton leading Trump by 11 percent in a four-way race with Trump, Libertarian nominee Gary Johnson and Green Party nominee Jill Stein. If that comes to pass, it seems likely these rural Trump loyalists will feel even more alienated come the day after the election.
These places are also largely white, with a relatively high percentage of residents without a college degree. To those who live in metro areas like Detroit or Lansing or Grand Rapids, they might as well be another world.
And while the zeal of rural residents for a New York City billionaire who jets around in his personal Boeing 757 might seem contradictory, it makes more sense when one weighs the message they hear from him.
Where some accuse Trump of racism for saying Mexico was sending criminals and rapists across the border – or for his since-rescinded ban on all Muslims entering the country – Johnson sees strength. He backs his call for law and order.
"We need someone to stand up for this nation," Johnson said.
He dismissed the significance of the recent, widely played 2005 video of Trump making comments about grabbing and kissing women, saying, "I don't know any man that doesn't talk about women like that. We are just humans."
He gives no credence to the series of women who have since come forward to allege Trump assaulted them or kissed them inappropriately.
"That's all a slam on him. They never reported it to police. I don't believe it."
Dour outlooks, bad times
Susan Demas, publisher of Inside Michigan Politics, a Lansing political newsletter, said the Trump campaign has exposed fault lines in the electorate that were apparent with the onset of the Tea Party movement in 2009.
"The Tea Party was more focused on economics and getting the government off your back. Trump is more nativist and nationalistic, this idea of strength," Demas said.
Demas made a trip this summer to rural northern Michigan and the U.P., to take the pulse of voters on state and national issues.
"All they wanted to do is talk about Trump," Demas said. "He has definitely tapped into something. I think he has a very basic message that appeals to a lot of people – this idea that we are going downhill and he's the only person to fix it."
Scott Loveridge, a Michigan State University economist who is expert in rural economic development, noted that much of the U.P. has suffered with the decline in the mining industry and elements of the forest products industry. Parts of the northern Lower Peninsula have seen small manufacturing plants tied to the auto industry shut down.
"There is a history in several counties in the U.P. with net population loss. It doesn't leave you with a good feeling if your town is emptying out. People are very distressed by that, especially if you have lived in the county your whole life and you get to middle age and you see how it's changed."
Ontonagon County has lost 43 percent of its population from 10,548 in 1970 to an estimated 6,007 in 2015.
In the past 20 years, the county has absorbed two major economic blows. In 1995, the White Pine copper mine closed, ending an operation which employed 3,000 workers at its peak in the 1970s. In 2009, officials at the Smurfit-Stone Container Company announced they would close the paper plant in the village of Ontonagon by year's end. The decision cost 182 jobs and shuttered a mill that was once the county's largest employer.
In 2012, 54 percent of voters cast ballots for GOP presidential nominee Mitt Romney, to 45 percent for Democratic President Barack Obama.
In 2015, Ontonagon County – which is about 97 percent white – ranked 79th of 83 counties with an unemployment rate of 9 percent, compared with the state average of 5.4 percent. Its median income of $35,365 ranked 78th. Less than 16 percent of those over 25 had a college degree, compared to 26.4 percent statewide.
The apparent allegiance to Trump in this county fits with an analysis of six national polls by the New York Times that found Trump leading among non-college-educated whites 58 percent to 30 percent.
To be sure, there is analysis that suggests the picture of Trump supporters is considerably more complex than this rural narrative. An examination of exit polls by FiveThirtyEight, an election analysis web site, found that the median household income of Trump voters in early primaries was $72,000, above the national median income of $56,000. The median income figure for Trump was partly a reflection of the fact that Republican voters tend to be more wealthy – for example, supporters of GOP Ohio Gov. John Kasich had a median income of $91,000.
The same report found that 44 percent of Trump backers have college degrees, higher than the 29 percent of Americans overall, but lower than 50 percent for Texas Sen. Ted Cruz and 64 percent for Kasich.
Where is the love for Alcona County?
In Alcona County, a place of dense forest, small towns and just under 11,000 people 80 miles north of Bay City, Carrie Mullins is trying to piece together a future from a dog-sitting business she started in her mother's house in 2005.
She lives in a county in which nearly 8 percent were unemployed in 2015, while just 13.5 percent of those over 25 had a college degree – about half the state average. Its median income of just over $38,000 ranked 68th in Michigan. It is about 99 percent white.
The county voted 59 percent to 41 percent for Romney in 2012, while Trump carried the Republican primary this year by 30 points.
"It's pretty good right now," Mullins said of her business.
To save on expenses, Mullins, 40, still lives in the home of her mother, a retired licensed practical nurse, though she pays rent and buys most of her own groceries. She has an associate's degree in biology.
Mullins recalled a rough couple or three years during the Great Recession, when her business – called Carrie's Critter Camp – took a dive. There were days she had no business at all.
"People just stopped taking vacations," she said.
And though business is much better now, Mullins said she still has little money to spare. She recounted how she had to save several months to be able to afford to replace her 30-year-old mattress.
"As far as money for retirement, I don't have any. Not even remotely."
Mullins said she has much more faith Trump will be able to improve middle-class lives than Clinton.
"He can be abrasive, but he has grown on me. He has a very strong history and strong leadership in business."
Mullins, who volunteers as secretary of the Alcona County Republican Party, followed those thoughts with an email the next day: "Here in northern Lower Michigan, we often feel forgotten, lied to, neglected and ignored...It is time that political correctness, inaction and the betrayal of the Constitution and the American people be swept aside. We need to resurrect the country our forefathers designed. Trump is most suited to do that."
Earlier this month, Lake County resident Laura Burbank said she wasn't quite yet all in for Donald Trump. But she was getting there, in a county that voted 52 percent to 47 percent for Obama in 2012. Trump won the March primary here by nearly 27 percent.
Sitting outside the restaurant earlier this month where she has a part-time waitress job, Burbank, 45, said she worries not just about her own future but that of America. Somewhere along the line, she said, things went wrong, at home and abroad.
"I'm very disappointed at what's happening in America. This was a place where dreams came true and now we're a laughingstock. People will talk crap about us and what can we do to defend ourselves?
"It looks to me like our best days are behind us."
Like many in this wooded county 90 miles north of Grand Rapids, Burbank has to scrape to keep things together. In addition to her waitress work, she is paid through Medicare as a home health care provider for her mother- and father-in-law. She mows lawns and does yard work. She cuts wood. She was painting the interior of a house for some additional cash.
"I have to put money away, because winter is coming on," she said.
Of those over 25 years old in Lake County, 9.2 percent had a college degree – last among Michigan counties. Its unemployment rate of 8.2 percent ranked 75th, while its median income of just under $29,000 ranked last. About 87 percent of its population of approximately 11,500 is white.
Burbank expects no miracles from whoever wins the presidential race. But she said she was leaning Trump's way even though she previously voted for Obama.
"What I do like about him is that he is honest," she said of Trump.
"I like his strength. I don't like pushovers."
Storm clouds ahead
At JJ's Tackle Shack in Ontonagon County, that pretty much sums up the stated beliefs of Jill Johnson, 49, wife to Marine veteran Bill Johnson.
Jill Johnson said her husband urged her to buy the business a couple years ago, as a cushion for retirement. Located on the Ontonagon River just off Lake Superior, the shop sells fishing gear, ice, live bait, T-shirts and snack items like pop, beef jerky, chips and candy.
It hasn't really made any money yet.
"I think we could be headed for another civil war." – Bill Johnson, Ontonagon County
"It's pretty much an even. Last year was a minor loss. But we knew it was going to be rough the first few years. We're looking to grow," Johnson said.
Johnson said most local customers who come through the shop are for Trump. She said she sees far more Trump yard signs around town than those for Clinton.
But those Trump signs are sprouting in a county that might as well also fly an economic distress flag.
When the paper mill shut down in 2009, Johnson said: "Most of the people that did work there left town to find work somewhere else. Some went to school to become prison guards. The working-age men around here have pretty much left."
At the same time, she said, some in the county have turned to dealing drugs like heroin or methamphetamine as a means of earning money.
But, she said, things could always get worse.
"If Hillary wins, we are done," she said.
Marine veteran Johnson is still hopeful Trump can pull it out. Noting that he has two years of college himself, Johnson says Trump supporters "are not all a bunch of high school dropouts."
Still, he is bracing for an alternate ending.
"Most people up here are gun owners and we have Hillary saying we are going to have an executive order and ban weapons. (Trump claims, falsely, that Clinton has said she wants to abolish the Second Amendment. Clinton says she supports individual gun rights but wants a ban on the sale of assault weapons and "reasonable" restrictions to keep guns from dangerous or unstable people.)
"I have a friend who heard about that and he just bought an AR-15," Johnson said, referring to a type of assault rifle.
"I have an AR-15 myself and I am well supplied. If you look on Facebook postings, there's a lot of people who believe it's the end of our nation if Hillary wins. There's a lot of people with guns.
"I think we could be headed for another civil war."
We're not just a news organization, we're also your neighbors
We've been there for you with daily Michigan COVID-19 news; reporting on the emergence of the virus, daily numbers with our tracker and dashboard, exploding unemployment, and we finally were able to report on mass vaccine distribution. We report because the news impacts all of us. Will you please donate and help us reach our goal of 15,000 members in 2021?