Michigan Attorney General Bill Schuette has picked former state Rep. Lisa Posthumus Lyons as his running mate for the governor's race this fall.
Lyons, who currently serves as the Kent County Clerk, is considered by many to be a unifying choice for Michigan Republicans after a bruising primary season; she has deep ties in West Michigan and both a personal and family legacy that may draw in more moderate conservatives to support Schuette's bid for governor.
Related: Get to know Garlin Gilchrist II, Gretchen Whitmer's pick for Lt. Governor
Lyons is also a Republican who unambiguously criticized then-presidential candidate Donald Trump back in 2016 for crude comments he had made about women. Similar criticisms by the current lieutenant governor, Brian Calley, were harshly criticized as disloyal to the president by Schuette during the Republican primary.
In a series of stops across the state Wednesday, Schuette said Lyons' personal compatibility, conservative values and legislative experience made her a great choice.
"She knows how to win elections, she's terrific that way," Schuette said to an audience in Lansing. "She's smart, she's articulate, she's determined, she's strong. These are all ingredients of success."
Lyons represented Michigan's Grand Rapids-area 86th state House district from 2011 to 2016 and was elected to a four-year term as Kent County clerk in 2016. As a representative, she chaired committees on education and elections and ethics.
Lyons has deep ties in the Republican community — her father, Dick Posthumus, was the lieutenant governor alongside Gov. John Engler and now serves as chief of staff to Gov. Rick Snyder, who has had a difficult relationship with Schuette.
Richard Czuba, pollster and owner of the Lansing-based Glengariff Group, said the pick may indicate that Schuette is "trying to bring Gov. Snyder into the fold to some degree" after a primary race in which the governor backed Calley.
Steve Mitchell, chairman of East Lansing-based consulting firm Mitchell Research & Communications, said Lyons is "a tremendous pick" as she grew up seeing how the job is done through her father. Plus, the Posthumus name is "extremely well respected" in the west Michigan voting areas that are critical for conservative wins.
Lyons disavowed President Donald Trump in 2016 after the "Access Hollywood" tapes were released — something that may not sit well with Trump Republican voters. What's more, Schuette just spent months castigating his former opponent Lt. Gov. Brian Calley over similar remarks. When asked about it in Lansing Wednesday, Lyons reiterated her current support for Trump but would not address how she voted in 2016. (Bridge audio by Riley Beggin)
Leading up to the August primary election, Schuette hammered Calley over his choice to renounce President Donald Trump in October 2016 after the "Access Hollywood" video revealed Trump talking about sexually touching women without their consent.
Lyons made a similar condemnation in 2016, which resurfaced Wednesday in light of the pick. While steadfast Trump supporters may take umbrage with Lyons' rebuke of the president, Czuba said her pedigree makes it unlikely the party's right wing will try to unseat her at the party convention later this month, as they once attempted to do with Calley.
When asked by reporters several times Wednesday whether Lyon voted for Trump in 2016 and how Schuette squares the pick in the wake of his attacks on Calley, the candidates repeatedly deflected and reiterated their support for the Trump administration.
The selection of Lyons drew criticism from Democrats Wednesday. The Michigan Democratic Party cast Lyons as a "hand-picked candidate" of U.S. Education Secretary Betsy DeVos and her family who has made harsh attacks on public school teachers.
If they make it past the convention successfully, choosing Lyons will likely bring in "disaffected Republicans who aren't necessarily huge Trump supporters," Czuba said. "She helps send a signal to those Republican voters that there's still a place for them."
While Lyons' roots in west Michigan and ties to Republican power brokers are likely to help the pair come November, the pick also leaves cards on the table with equally critical southeast Michigan voting blocs, Czuba said.
Both Czuba and Mitchell said it is likely state Rep. Laura Cox and former U.S. Rep. Candice Miller — two other favorites for the nomination from southeast Michigan — said they weren't interested in the position.
"(Schuette) does not have metro Detroit whatsoever locked down... And I think the Republican ticket is in need in strength in that area," Czuba said.
People are unlikely to be significantly swayed by a lieutenant governor in a race where all eyes are on the top of the ticket, Czuba and Mitchell said. But lieutenant governor nominees often help pull in voters from around the margins, and the west Michigan bloc is an important one.
"One, two or three percent can be the difference between winning and losing," said Mitchell.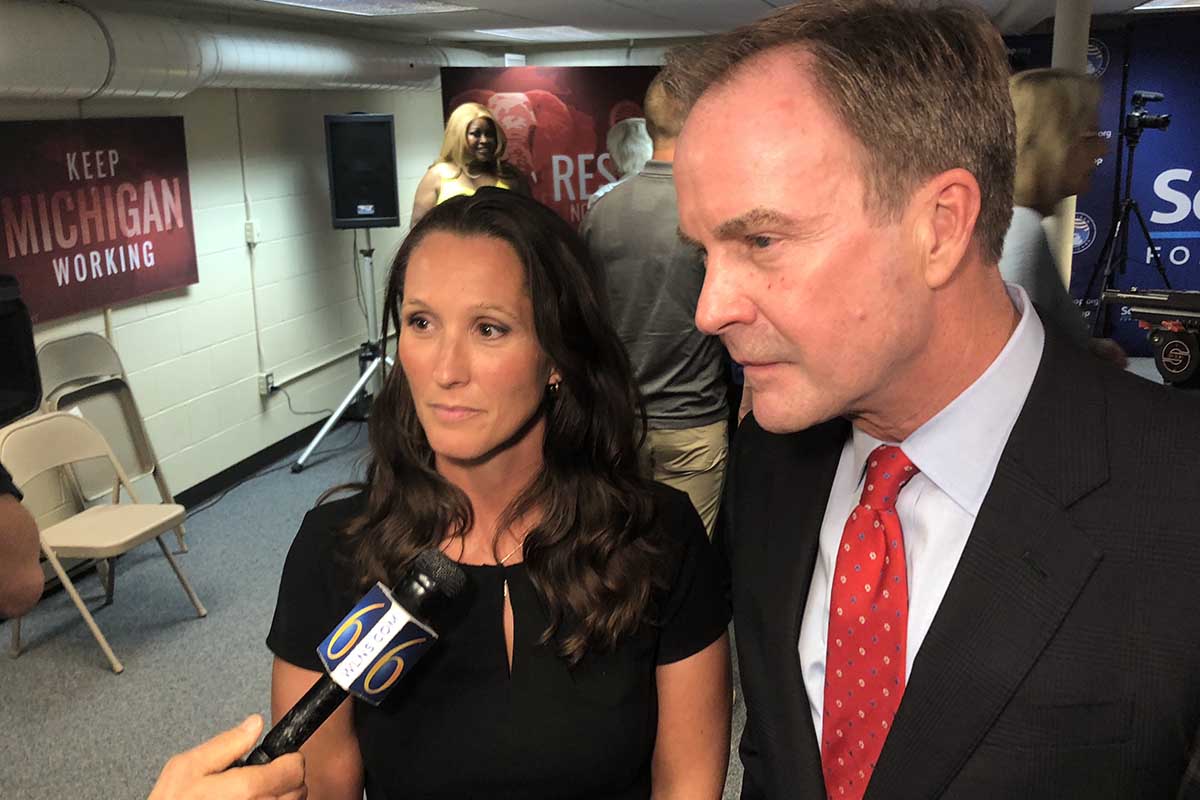 Republican nominee for Michigan governor Attorney General Bill Schuette announced he chose Lisa Posthumus Lyons, a former state representative and Kent County Clerk, as his running mate Wednesday. Schuette and Lyons speak with reporters about Lyons' former condemnation of President Donald Trump, who has endorsed Schuette. (Bridge photo by Riley Beggin)