Dear teacher: We want to hire you. Here's a huge pay cut. Sincerely, unions.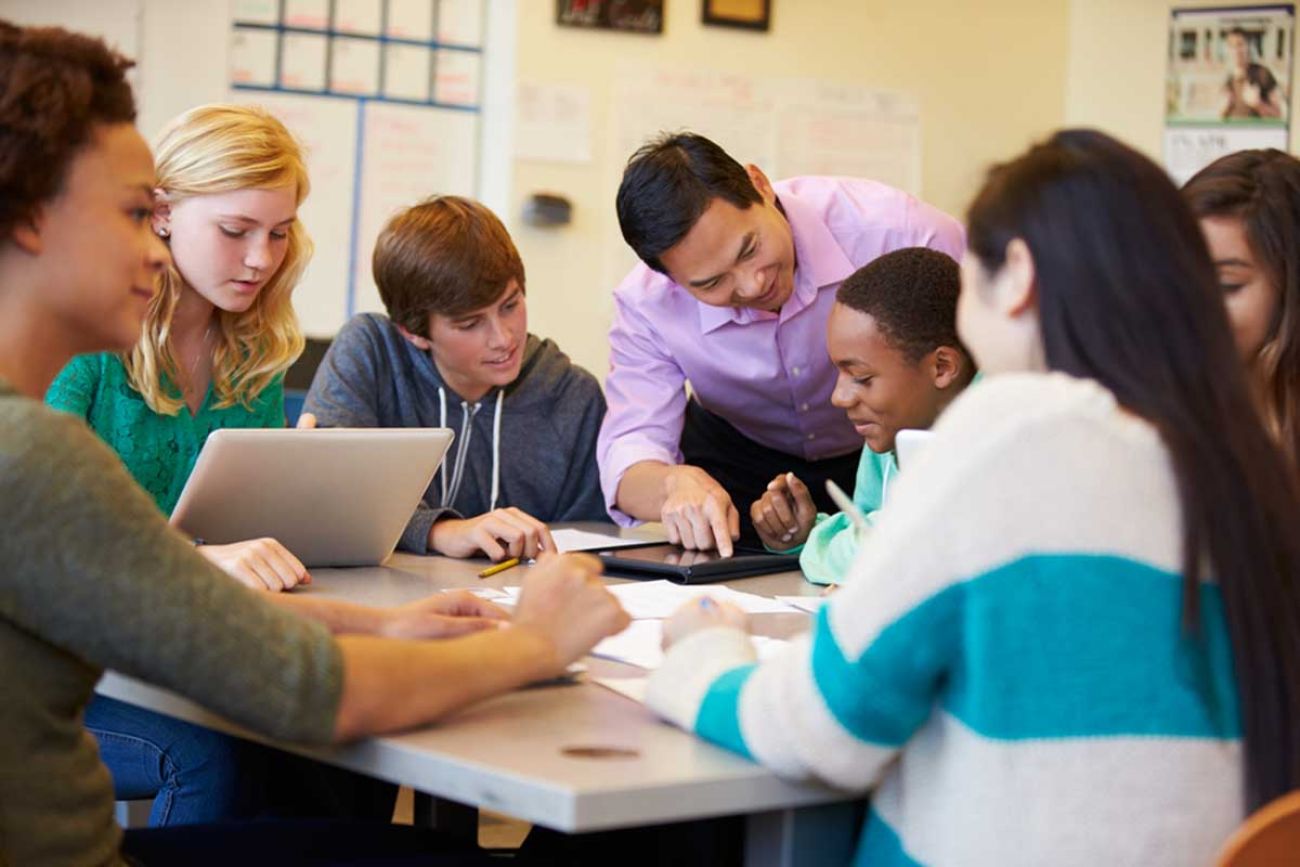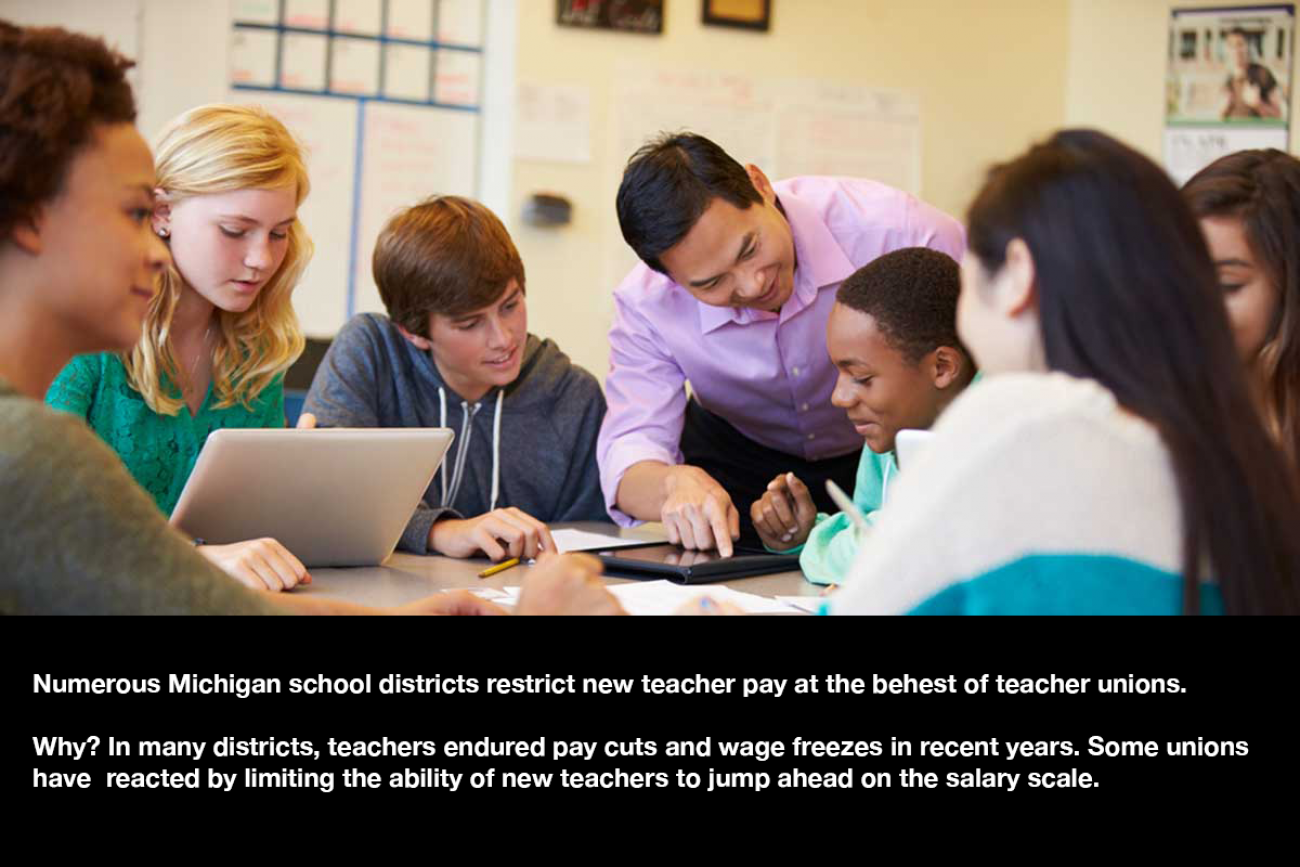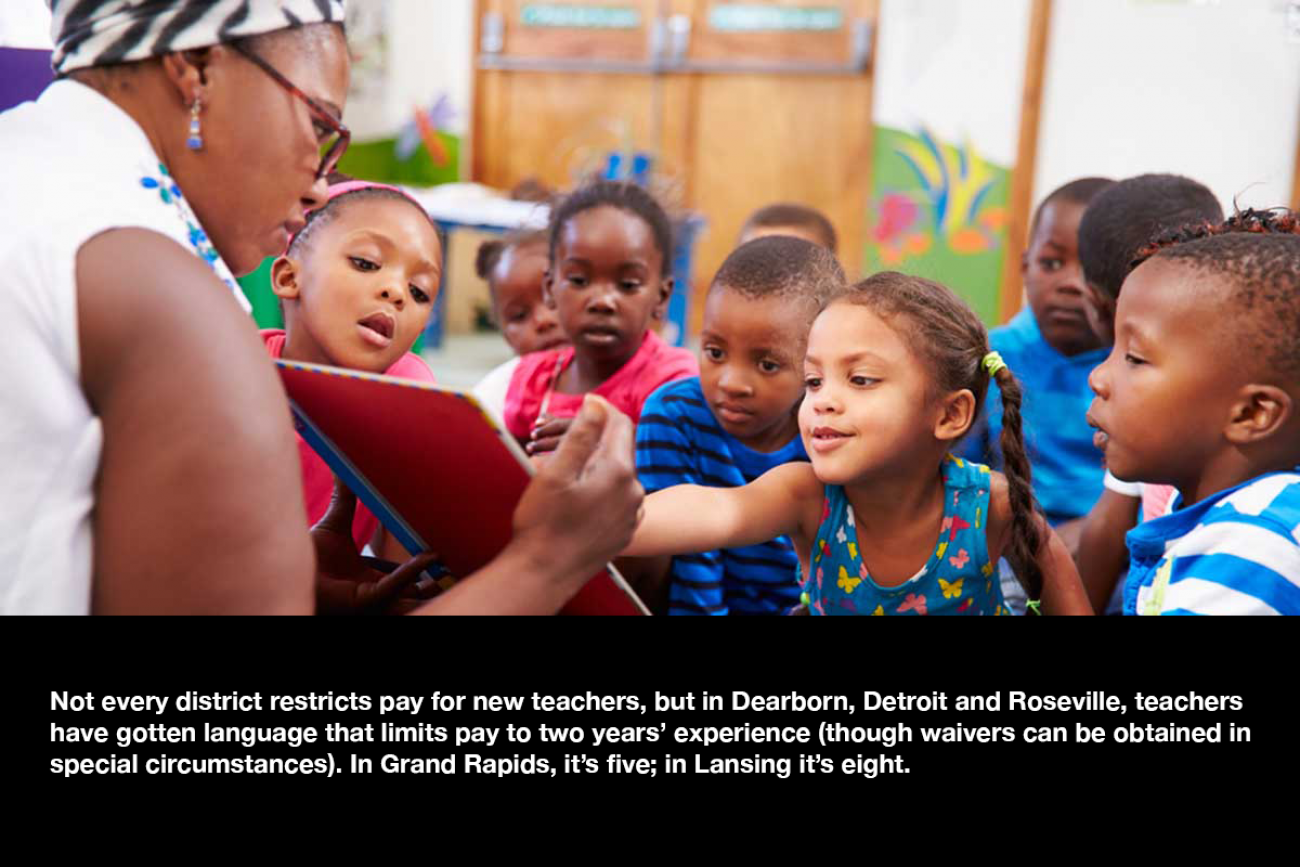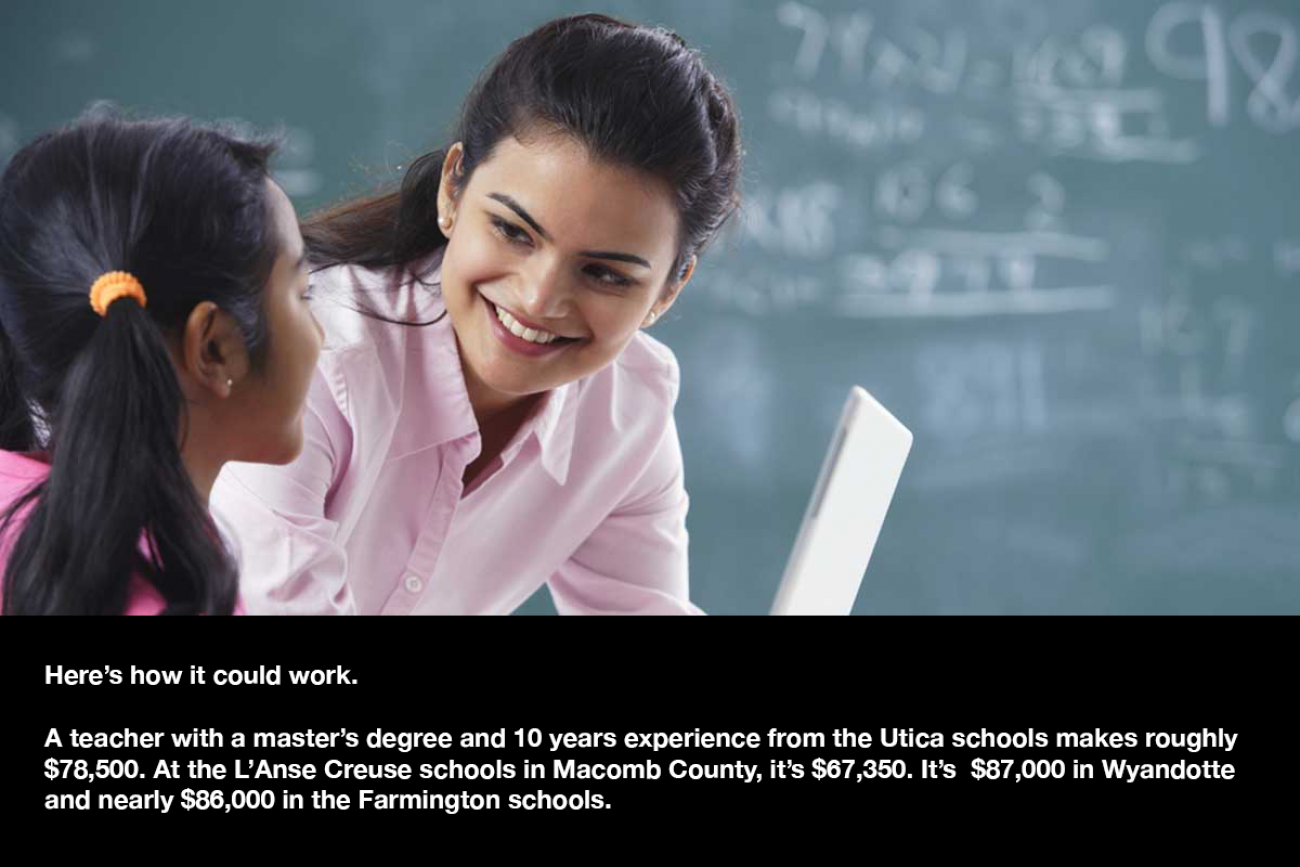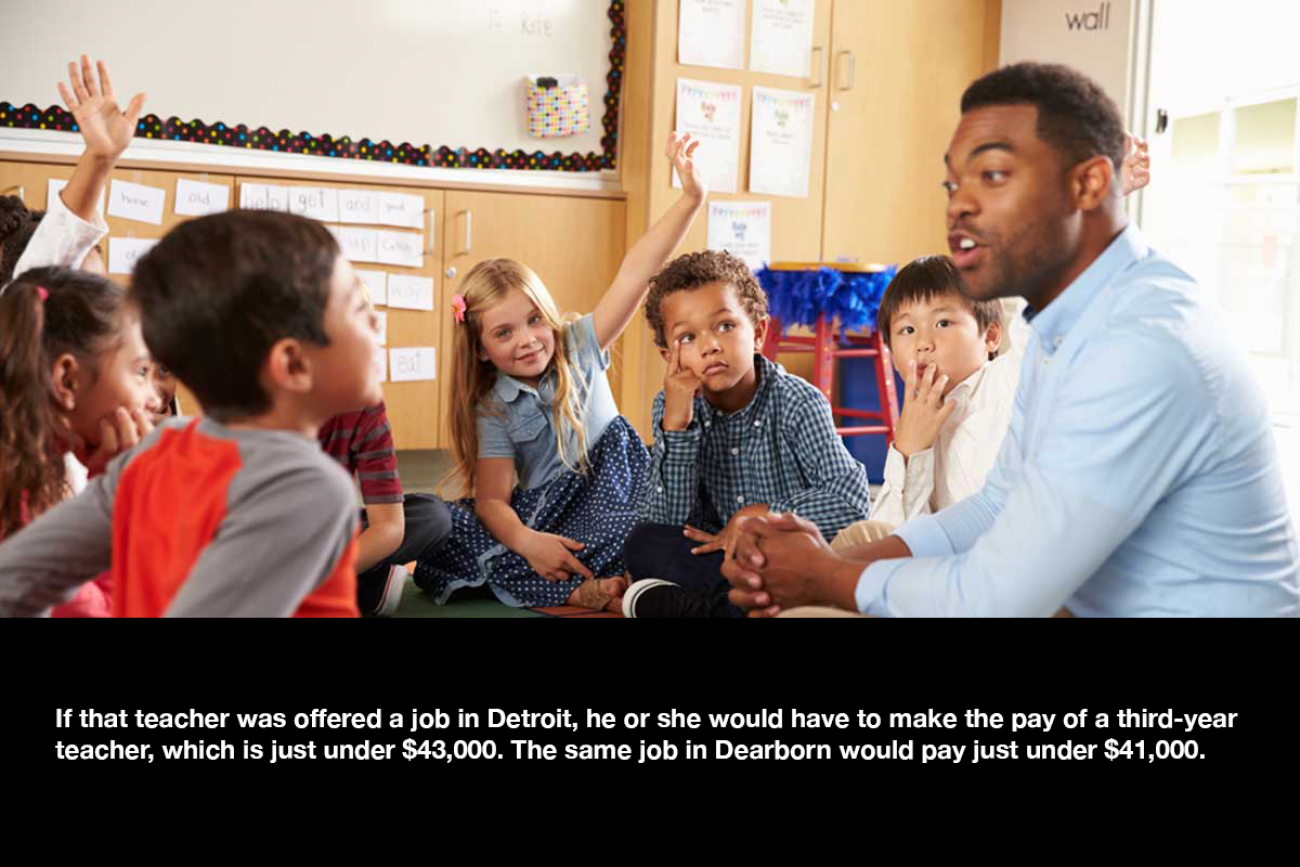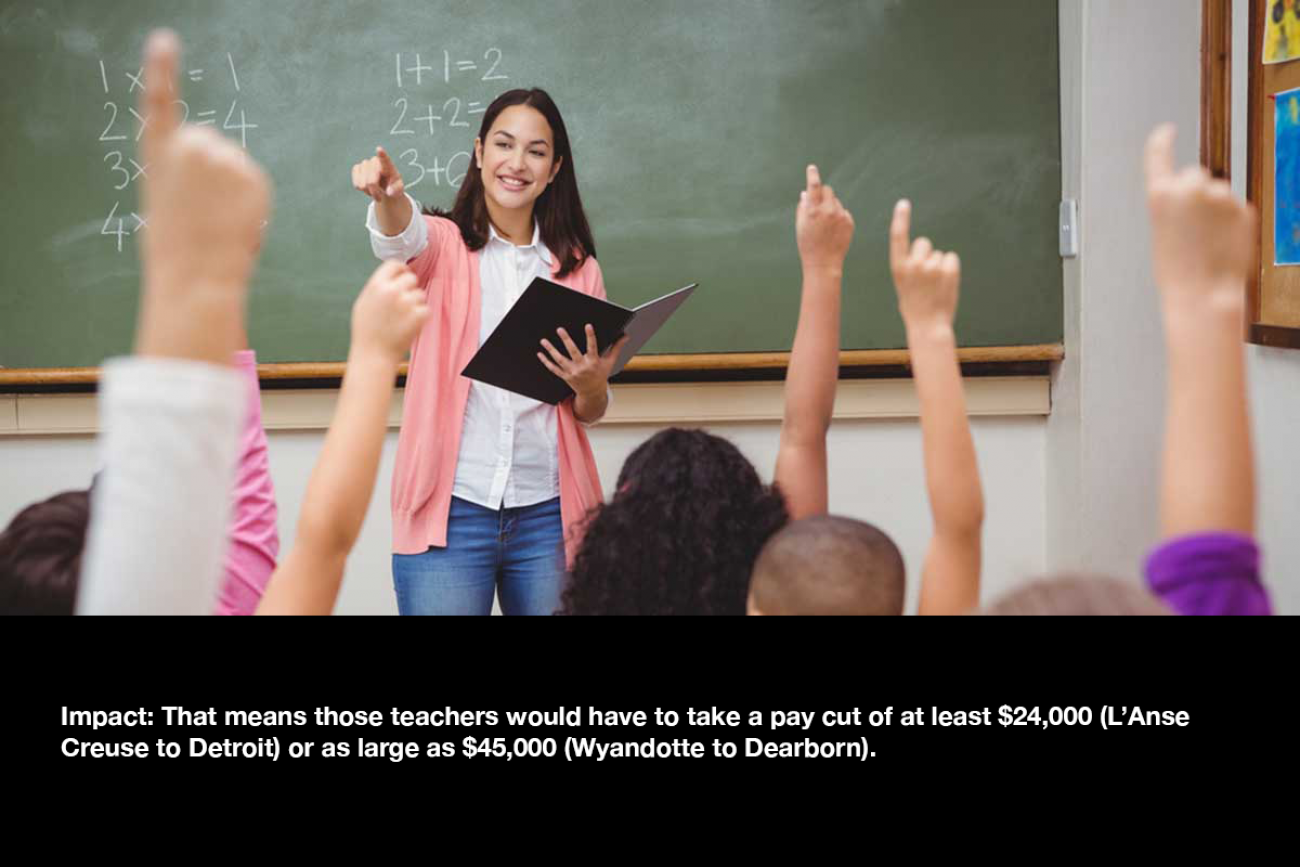 Michigan Government
Dear teacher: We want to hire you. Here's a huge pay cut. Sincerely, unions.
In Detroit, as many as 260 classroom teacher positions are unfilled in the state's largest district, prompting a shortage so severe that substitutes last year were the full-time solution in more than 100 classrooms.
And with fewer new teachers are graduating from college every year, pressure is mounting to find qualified teachers. The situation has left teachers working harder in overcrowded classrooms for underwhelming pay – they've seen their pay frozen and cut repeatedly in a district that's beset with problems both financial and academic.
Yet in the face of a supply and demand problem, the Detroit teachers, like their peers in numerous Michigan school districts, have bargained for contracts that severely restrict the pay of the folks who could help alleviate the shortage.
In Detroit, Dearborn and Roseville, new teachers can only get credit for two years' experience they accrued working in other school districts. In Grand Rapids it's five years, in Lansing it's eight.
It's difficult to gauge whether the restrictions affect teacher recruitment because they may scare away potential applicants. But for those who are considering a move, the impact is huge.
Say you're a teacher with 10 years' experience at Utica schools, which had layoffs last year. To work in Detroit, you'd have to accept nearly $36,000 less, going from more than $78,500 to just under $43,000 because eight years' of experience wouldn't count.
Detroit already pays less, with teachers topping out at $65,265 after 10 years, compared with well over $78,000 in most districts. But the restriction put in place by the teachers – and agreed upon by the administration – makes that cut even more steep.
Union rules
In a number of Michigan school districts, teachers have negotiated to limit the pay of new hires, ensuring they cannot get full credit for prior teaching experience. In other districts, those decisions are left to the administration. In most cases "max pay" refers to salaries of teachers with master's degree plus 30 additional hours of graduate education who have the maximum number of years of experience. Below are the 25 largest districts in the state. The restrictions were more common among the 21 districts that surround Detroit, with more than half calling for limits on credit for teaching experience.
| District | Maximum years of credit | Years to top of scale | Max pay |
| --- | --- | --- | --- |
| Detroit | 2* | 10 | $65,965 |
| Utica | full | 11 | $89,563 |
| Dearborn | 2* | 18 | $82,006 |
| Plymouth-Canton | 5* | 14 | $81,049 |
| Ann Arbor | full | 11 | $80,769 |
| Chippewa Valley | full | 12 | $89,443 |
| Grand Rapids | 5* | 12 | $68,042 |
| Rochester | full | 20 | $86,420 |
| Warren Consolidated | full | 12 | $94,700 |
| Walled Lake | full | 15 | $90,362 |
| Livonia | 7 | 12 | $84,595 |
| Troy | full | 14 | $92,400 |
| Kalamazoo | full | 25 | $76,881 |
| Wayne-Westland | 3* | 14 | $76,839 |
| Lansing | 8 | 22 | $76,850 |
| L'Anse Creuse | full | 16 | $84,386 |
| Farmington | 4* | 11 | $86,830 |
| Forest Hills | full | 28 | $84,590 |
| Traverse City | full | 20 | $74,819 |
| Waterford | 8 | 15 | $78,351 |
| Huron Valley | 5* | 17 | $75,915 |
| Port Huron | full | 13 | $69,831 |
| Kentwood | full | 26 | $80,403 |
| Portage | full | 30 | $88,808 |
| Grand Blanc | full | 12 | $73,588 |
*In some cases, the union contracts allow districts to acknowledge additional years of experience.
Source: Collective bargaining agreements.
There's little wiggle room because the collectively bargained contracts set salaries exclusively by experience and education. Critics say the restrictions put teachers' interests ahead of students.
"School districts that want to attract the best teachers… for their students would not want these kinds of policies," said Ben DeGrow, director of education policy at the Mackinac Center, a free-market think tank based in Midland. It has been frequent critics of teachers' unions.
Ivy Bailey, president of the Detroit Federation of Teachers, said the language has been in the contract for years and acknowledges those teachers who've suffered through years of pay cuts and freezes.
"You have teachers who stayed here and endured it all," she said. "They care about the children and they've stuck it out."
Bailey said the contract allows the district more latitude when trying to hire teachers in critical areas such as special education. Those specialty areas can salary credit for up to eight years' experience.
But if it's not in a critical area, no dice. And that's been a problem for principals wanting to fill vacancies such as Jeffrey Robinson, principal at Paul Robeson Malcolm X Academy on Detroit's west side.
"On three separate occasions, we got people who got past the onboarding process, right to the point where they were ready to sign the contract. Then they took a better offer because the salaries are just not competitive," Robinson told Detroit Journalism Cooperative reporting partner Chalkbeat Detroit recently.
MORE COVERAGE: Just another Tuesday for 37 first-graders with no music or art or gym
Despite the obstacles in pay and a push by officials some to consider uncertified teachers, district spokeswoman Chrystal Wilson said the district "is committed to hiring certified teachers."
Detroit is not the only district with restrictions. They are found in union contracts at districts large and small, wealthy and poor, urban and suburban and are the result of the anger stemming from pay cuts and freezes that have taken a huge chunk out of the earning power of teachers who have worked for years in troubled districts.
Not found everywhere
Bailey said it's common for teachers who change districts to get less than full credit for their experience.
"We can't do it when we go to another district, either," she said. "Nobody's going to give you all of your time."
But a survey of teacher contracts from more than 40 districts around the state show that many allow district administrators to grant full credit.
In Ann Arbor, Kalamazoo, Ferndale, Warren Fitzgerald, Warren Van Dyke, South Redford, Utica and others, a teacher could jump to the top of the scale without the teachers union contract prohibiting it.
In the Grosse Pointe schools, which pays among the best in the state, new teachers can be hired at the 13th of a 14-step salary schedule.
Yet in other places, teachers have put the brakes on salaries. Those that have are communities suburban and urban, wealthy and poor. In Oak Park, just north of Detroit, the teachers' contract has a provision that says all new hires should be hired at beginners' wages.
Hiring at higher levels "puts financial pressure on the district and creates an environment which disenfranchises staff currently restricted by contractual step freezes," according to the contract.
The Walled Lake schools in Oakland County, the 10th largest district in the state, had restrictions in prior contracts. But the union agreed to take them out a few years ago even though they continue to encourage the district to hire teachers at as low a step as possible.
Still, the union recognized the need to give the district more flexibility.
"It makes it really hard to have one blanket policy for every opening," said Daryl Szmanski, president of the teachers' union in Walled Lake. "As a teacher shortage looms, it's going to be harder and harder to get good candidates."
To be sure, restrictions on teacher pay for outsiders is hardly the only factor in teacher shortages in parts of the state. It's difficult to say if it's even a major factor. Stagnant state funding for education, a steep drop in enrollment in teacher preparation programs, and sometimes harsh public and political rhetoric directed toward public education almost certainly also play a role in the shortage. So too, there are far fewer substitute teachers available to fill in when permanent teachers are absent.
But for unions, the teacher shortage presents two bad choices: Be unhappy about crowded classrooms or be unhappy that new teachers make more money.
For the Mackinac Center's DeGrow, the decision should be easy: Door No. 2.
"This kind of policy is just an obstacle for getting the best talent in the classroom," DeGrow said. "The kids (in Detroit) are already as a disadvantage. Why would we want to make it harder to bring qualified teachers in?"
Need 'best teachers'
Brad Banasik, director of labor relations for the Michigan Association of School Boards, said he's not heard complaints about the contracts, but noted that he thinks "administrators would like the ability to hire some on the higher step (pay level)."
Some unions agree. Doug Hill is a veteran teacher who's now president of the Rochester teachers' union in Oakland County and he said he's aware of the painful cuts at other districts.
Hill's union decided in a recent negotiation to remove a restriction on pay for counselors who held teaching certificates. The district had seen positions go unfilled but now can hire teachers in at whatever level experience they want.
"I can see both sides of this," Hill said, but added "we're trying to get the best teachers to put in front of students."
Union officials say they asked for – and got – the restrictions because they say without it their veteran teachers would be demoralized by having new hires, who had not endured the same pay cuts and freezes, make more money doing the same work.
It would be hard to determine how often these provisions have hurt districts like Detroit and Dearborn. If teachers know they'd have to take a $20,000 or $30,000 pay cut, would they even apply? And they'd likely know: All Michigan districts are required to post their teacher contracts online; Bridge did its survey using this easily-to-access information.
"I think they're very aware of what's out there," Rochester's Hill said.
For Detroit and other districts, that may be a problem.
Only donate if we've informed you about important Michigan issues
See what new members are saying about why they donated to Bridge Michigan:
"In order for this information to be accurate and unbiased it must be underwritten by its readers, not by special interests." - Larry S.
"Not many other media sources report on the topics Bridge does." - Susan B.
"Your journalism is outstanding and rare these days." - Mark S.
If you want to ensure the future of nonpartisan, nonprofit Michigan journalism, please become a member today. You, too, will be asked why you donated and maybe we'll feature your quote next time!