Despite vows, Democrats do little to improve Michigan government transparency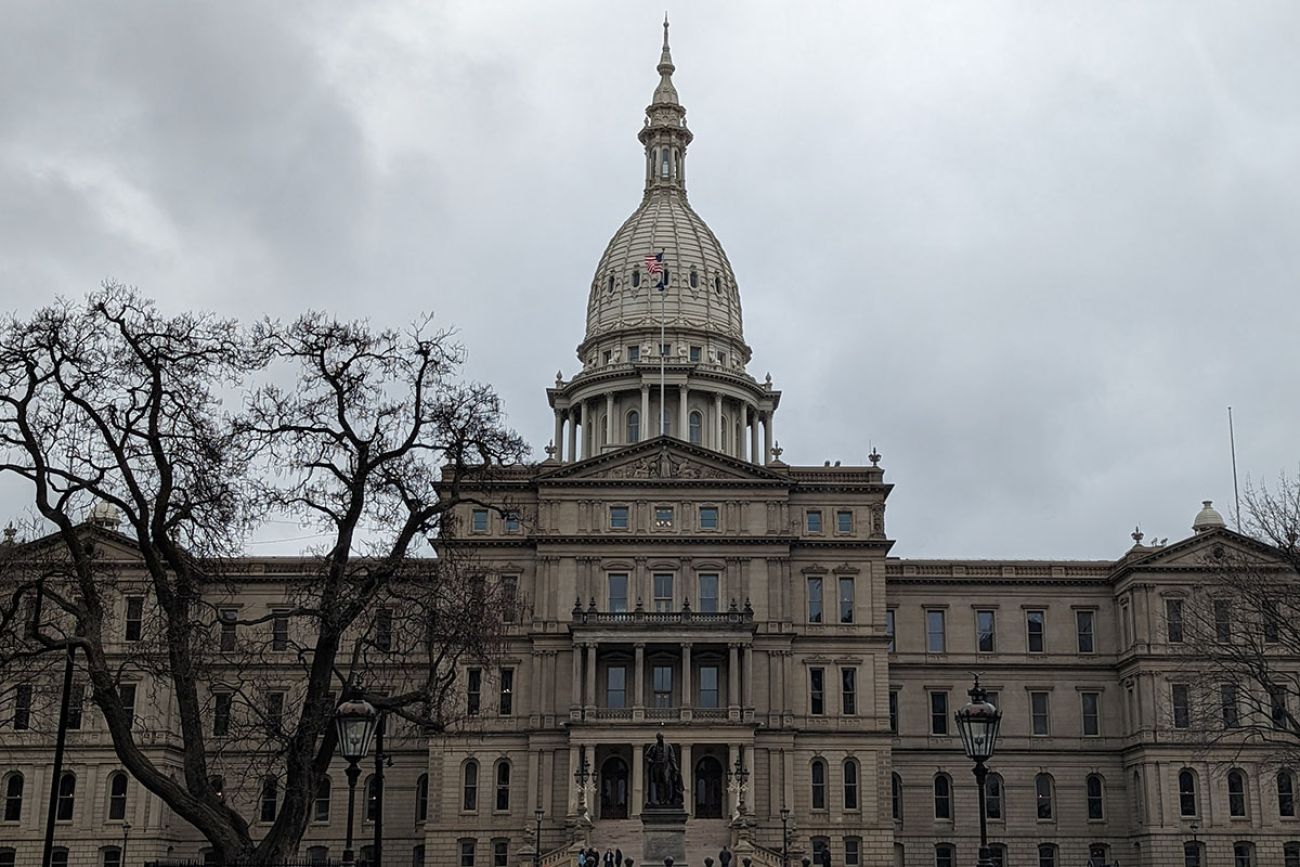 Michigan has frequently ranked among the lowest in the nation on government transparency issues. (Bridge photo by Lauren Gibbons)
Michigan Government
Despite vows, Democrats do little to improve Michigan government transparency
Democrats have yet to introduce a long-promised plan to subject lawmakers, governor to FOIA
Republicans say time for talk is over, blast Democrats for inaction
Much more to be done beyond FOIA expansion, transparency advocates say
---
Advocates for a more transparent government in Michigan have been waiting years for movement on legislation to expand public records access and improve state ethics laws.
They are still waiting.
Democratic officials who took power in Lansing in January have long voiced support for transparency reform measures like expanding the scope of the Freedom of Information Act, beefing up campaign finance rules and requiring more disclosure from public officials.
Related:
So far this term, though, they have introduced no bills to accomplish those goals. During a recent Senate session, Sen. Jim Runestad, R-White Lake, said "it's way past time for us to act."
"After years of tick-talking transparency to proverbial death, Democrats have finally seized the helm," Runestad said. "And now, for four months into the term of absolute control…they're hoping and they're praying and they're pondering on introducing the promised transparency bills."
Sen. Jeremy Moss, a Southfield Democrat and backer of government reform, said legislation is coming in a few months, telling Bridge there is "new energy for this on my end now that we're in a position to really get this thing done."
"We have been methodically executing an agenda of 40 years of policies that a Republican majority blocked from moving, including my work to expand our open records law.," Moss said.
"It's a bit unrealistic that we can enact everything overnight or even in our first 100 days, despite Sen. Runestad's criticism. "
But even Democrats are increasingly critical of the pace of change.
During a recent presentation in Traverse City, Attorney General Dana Nessel said taxpayers "deserve to know what we're doing and how we're doing it."
"While I'm hopeful that our new Legislature will address this…as it stands right now, Michigan is one of only two states in the entire nation where the law completely exempts the governor's office from the Freedom of Information Act," said Nessel. (Massachusetts is the other state.)
"That's pretty bad," she continued.
Expanding FOIA
At the top of the list for many transparency advocates is removing blanket exemptions for lawmakers and the governor from public records requests.
Since 2015, the state House has voted through four packages to include the governor's office under FOIA and subject lawmakers to a separate Legislative Open Records Act (LORA) that would operate similarly to FOIA, except that appeals of denials would be handled in-house by legislative council instead of going through the judicial process.
Three of those efforts have had unanimous, bipartisan support. All were halted in the Senate, where Republican leaders objected to opening lawmaker communications up to the public.
Democratic Gov. Gretchen Whitmer has said she supports expanding public records laws, but she has not yet honored her 2018 pledge to open her own office up to public record requests if the Legislature did not change the law.
Her stance differs from versions previously supported by lawmakers in that she wants the state's FOIA law to be "equally applied" to lawmakers and her own office.
Democrats in past legislative sessions have blamed the Republican-majority Senate for lack of movement on FOIA expansion and other reforms, but now that the shoe is on the other foot, some Republicans who supported changes have been frustrated with the lack of progress.
House and Senate Republicans last month reintroduced bills passed by the House last term that would subject the governor's office to FOIA and the Legislature to LORA.
The bills have no Democratic cosponsors.
Nancy Wang of Voters Not Politicians, an advocacy group focused on government transparency issues, told Bridge Michigan she's not concerned transparency isn't front and center. She said she's encouraged lawmakers take ethics issues seriously and sees the current session of the Legislature as a "really great opportunity" to move the needle.
"We're hoping it won't take very long for them to introduce the bills and then once they do to get them passed — we know there's energy," she said.
Fixing FOIA's flaws
As written, the state's Freedom of Information Act applies to local and state governments, including schools, universities, police departments, city government and state agencies, although there are many exemptions and oft-exploited loopholes.
Depending on the type of request and the agency in question, a person's experience with submitting a public records request can vary widely — from getting a requested document right away to waiting months and paying exorbitant bills for heavily redacted documents.
FOIA coordinators are allowed under law to charge fees for costs of producing the documents, including labor costs, and request extensions to fill records requests. If an agency denies a request, records seekers who want to appeal often have to start the process anew or turn to the courts for a final decision.
The law allows extensions and time to cull records, which can often turn fairly straightforward requests into months long odysseys.
More than three months after the Feb. 13 shooting at Michigan State University, for instance, Bridge Michigan and other media outlets still are waiting for Ingham County dispatchers to release more than the first 911 calls about the tragedy.
In contrast, 911 calls were released a day after a March 27 mass shooting in Nashville, Tennessee, a state with a far more expansive Freedom of Information law.
Transparency advocates say these hurdles make the process confusing and often prohibitive for residents to access government information.
"There's no standard way of doing a FOIA," said Nick Pigeon, executive director of the Michigan Campaign Finance Network. "And that keeps the average Joe from filling out these forms."
Some lawmakers have suggested revisiting the law to make public records more accessible — one proposal introduced in 2019 recommended doing away with public records fees entirely.
Like efforts to expand FOIA, however, those calls for change haven't had much luck in the Legislature.
Some Democrats this term are also interested in expanding public records rights to incarcerated people, who are currently excluded from filing FOIA requests.
House Bill 4427, sponsored by Rep. Stephanie Young, D-Detroit, would let incarcerated people file certain FOIA requests related to their criminal records or records involving their minor children.
Financial disclosure
Michigan is currently one of only two states where lawmakers don't need to disclose personal financial information.
That will change soon following passage of 2022's Proposal 1, which amended state legislative term limits and also requires future lawmakers and statewide elected officials to disclose certain financial information.
The ballot initiative stipulates lawmakers will have to disclose assets, liabilities, income sources, future employment arrangements, positions held outside elected office, outside benefits and payments or gifts from registered lobbyists.
Current lawmakers are tasked with implementing the new rules, so they go off without a hitch.
Rep. Erin Byrnes, D-Dearborn, chairs the House Ethics and Oversight Committee and recently said the financial disclosure piece is key to greater transparency in Michigan.
"Michiganders have every right to know potential conflicts of interest among their representatives so they can assess their actions and their votes accordingly," Byrnes said in a March statement.
The financial disclosure rules voters saw in Proposal 1 were watered down by the state Legislature from what backers initially sought when lawmakers voted to put the measure on the ballot last May.
For example, the original version would have required state public officials to disclose income, assets and payments received from anyone — a standard matching what is required of congressional members. Proposal 1 only requires lawmakers to disclose "sources" of income and assets and match gift reporting requirements for registered lobbyists.
Pigeon, of the Michigan Campaign Finance Network, said the passage of Proposal 1 is a big step for transparency in the state, but noted lawmakers could go further to make financial disclosure more robust, including expanding gifts disclosure to all gifts over a certain amount and more transparency around who is paying for public officials' travel expenses.
"For us to not already have those laws…is really quite striking," he said. "It's up to the Legislature to make that law effectual in terms of actual transparency, and not just on-paper transparency."
Campaign finance
Also under the microscope are the state's campaign finance laws. Although Michigan has rules around political giving to candidates and political causes, contributions from undisclosed donors — "dark money" — and the sheer amount of funds funneling to people in positions of power have drawn scrutiny.
Recent investigations into former House Speaker Lee Chatfield and an ongoing public corruption scandal that's resulted in four people, including former House Speaker Rick Johnson, admitting to accepting or receiving bribes while the state's fledgling marijuana industry was getting off the ground have also prompted additional calls for action.
During a Thursday campaign finance reform event at the state Capitol in Lansing, Hank Mayers, president for the nonprofit advocacy group Michiganders for Fair and Transparent Elections, called for the disclosure of nonprofit donor identities, the creation of a new government agency tasked with investigating campaign finance violations and enhanced penalties for those who break the law.
Legislators must be "forced" to reform the state's campaign finance laws, because more restrictions on campaign donations could mean less cash for lawmakers.
"It's a gravy train," Mayers said of the donations. "Nobody wants to be the leader of ending the gravy train."
Both Nessel and Secretary of State Jocelyn Benson have supported enhancing the state's campaign finance requirements and increasing penalties for those who run afoul of the law, and have advocated for additional investigation into how political nonprofits are used by public officials.
"Our residents have to be able to trust their elected officials will work for them, not the well-moneyed interests bankrolling them from the shadows," Nessel said in a recent statement. "Michigan is in desperate need of commonsense campaign finance laws to ensure that information regarding the donors who back our state's election ads, ballot initiatives, and candidate campaigns is being disclosed to voters."
Bridge Michigan reporter Yue Stella Yu contributed.
Only donate if we've informed you about important Michigan issues
See what new members are saying about why they donated to Bridge Michigan:
"In order for this information to be accurate and unbiased it must be underwritten by its readers, not by special interests." - Larry S.
"Not many other media sources report on the topics Bridge does." - Susan B.
"Your journalism is outstanding and rare these days." - Mark S.
If you want to ensure the future of nonpartisan, nonprofit Michigan journalism, please become a member today. You, too, will be asked why you donated and maybe we'll feature your quote next time!