Detroit Dems seek alternative to Gretchen Whitmer in Michigan governor race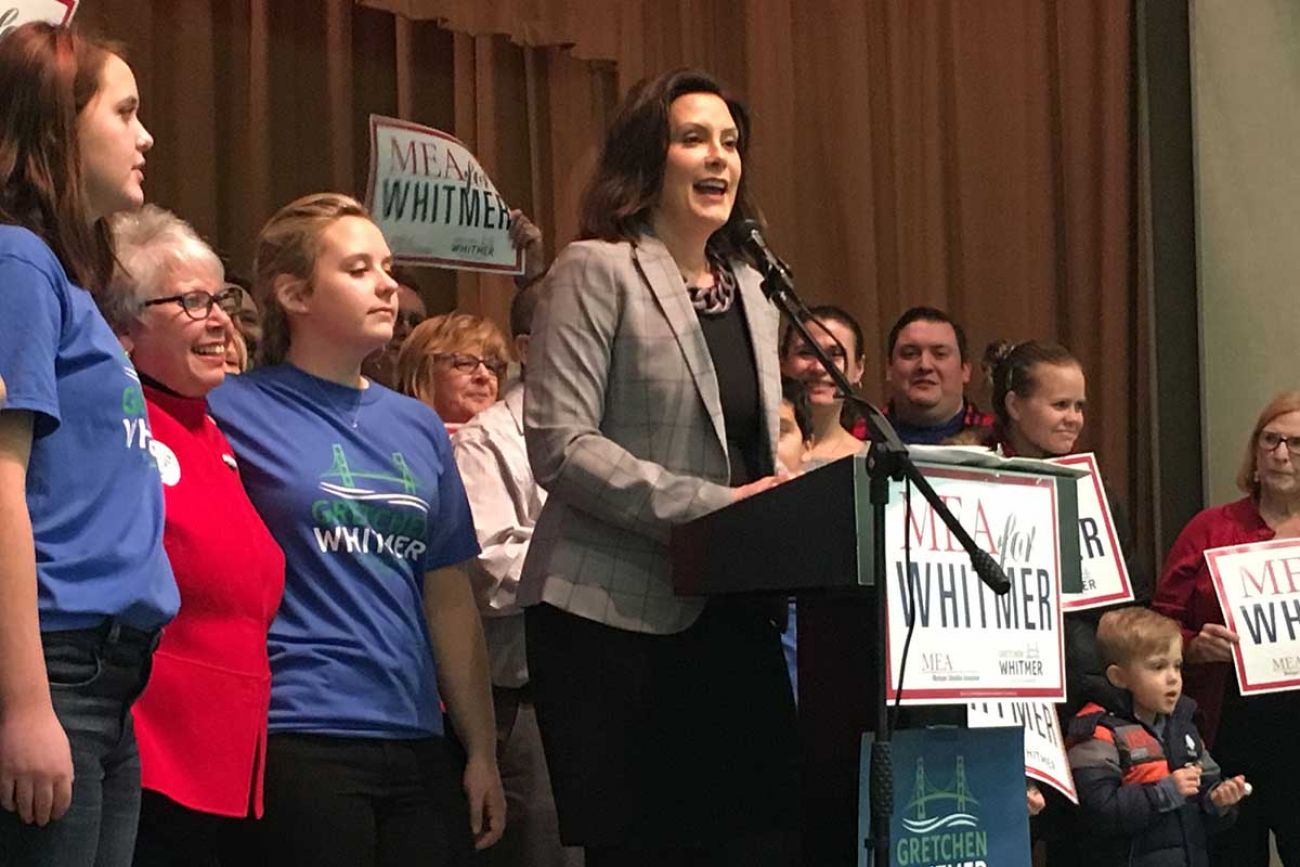 Michigan Government
Detroit Dems seek alternative to Gretchen Whitmer in Michigan governor race
August 2018 update: Gretchen Whitmer wins Democratic primary for Michigan governor
March 2018 update: After early doubts, UAW backs Whitmer for governor
February 2018 update: Duggan hits reverse, now supports Gretchen Whitmer
Detroit Mayor Mike Duggan and union allies are trying to woo another Democrat to campaign for Michigan governor amid concerns about the viability of front-runner Gretchen Whitmer, Bridge Magazine has learned.
This month, Duggan reached out to U.S. Sen. Gary Peters, D-Bloomfield Township, Bridge learned from six sources with knowledge of the effort, including three party officials. In a January meeting described by one observer as a "full court press," Duggan, United Auto Workers President Dennis Williams, other union leaders, and powerful Detroit pastor the Rev. Wendell Anthony tried to persuade Peters to enter the campaign, promising substantial help with fundraising, the sources said.
Peters turned them down. It's the latest in a series of backdoor overtures to recruit another Democrat into the race. Separately, sources also confirmed to Bridge on Monday that U.S. Rep. Dan Kildee, D-Flint, was approached within the past 10 days by Democratic operatives in southeast Michigan about entering the race.
RELATED STORY: Why Democratic candidates need Detroit to become governor
"People do, from time to time, try to get me to change my mind," Kildee told Bridge on Monday. "But that's not going to happen. I'm full-steam ahead doing what I'm doing in Congress."
Kildee declined further comment. Peters, a first-term U.S Senator, issued a statement late Monday through his communications director that did not specifically address his recruitment for the governor's race.
"Senator Peters is focused on his job as a United States Senator for the people of Michigan and will not be running for Governor," Amber Moon, his spokeswoman, said in an email.
Williams, whose union represents 400,000 active auto workers, confirmed through a spokesman he attended the meeting with Duggan and Peters.
"It was a great meeting. We talked about issues that affect Michigan and the United States," Williams said, declining further comment.
Duggan also wouldn't discuss the substance of the meeting, issuing a statement through his chief of staff, Alexis Wiley, saying the mayor "believes it is essential for Michigan to elect a Democratic governor … and has had positive meetings with Gretchen Whitmer as well as other potential candidates as part of the process."
The existence of the recruiting campaign, described by one as "the worst-kept secret in town," highlights growing concern among Democrats with Whitmer, and shifting currents within the state party less than 10 months before the election. Last year, a string of high-profile Democrats opted out of the race for governor, hoping the party would unite around Whitmer of East Lansing, the state's former Senate minority leader.
RELATED: You asked. We listened. Bridge boosts Lansing watchdog team.
Since last year, however, anxiety has increased about her campaign momentum, fundraising and name recognition, particularly in southeast Michigan, which is home to about half the state's voters.
"The bottom line is, because of polling numbers, Gretchen is (perceived as) not very strong in southeast Michigan, and the fear is if you can't win in Macomb County or Detroit, you can't win," said pollster Ed Sarpolus, executive director of the Target-Insyght firm in Lansing.
The worry among some Democrats is that, even if Whitmer were to prevail, it would be a low turnout election and hurt the party's chances in other state races in November, Sarpolus said.
Speaking Monday to Bridge after receiving the endorsement of the state's largest teachers union, the Michigan Education Association, Whitmer said she's heard "all sorts of things" and will "keep doing the work that I'm doing."
"We have broken every record of any campaign at this point in Michigan's history. If there's some sort of conversation going on in an echo chamber, we don't see it on the front line and that's all that matters." ‒ Democratic candidate Gretchen Whitmer, on concerns about her campaign
"We have seen an enormous level of excitement across the state: unprecedented fundraising; volunteer signups; I've been to 50 out of the (state's) 83 counties," Whitmer said following an event in Center Line in Macomb County.
"We have broken every record of any campaign at this point in Michigan's history. If there's some sort of conversation going on in an echo chamber, we don't see it on the front line and that's all that matters."
Michigan Democratic Party chairman Brandon Dillon did not return a message seeking comment Monday.
Whitmer isn't the only Democrat in the race. Also campaigning are Abdul El-Sayed, Detroit's former health department director; Ann Arbor businessman Shri Thanedar and businessman Bill Cobbs.
Republican candidates include Attorney General Bill Schuette, Lt. Governor Brian Calley, state Sen. Patrick Colbeck, and several others.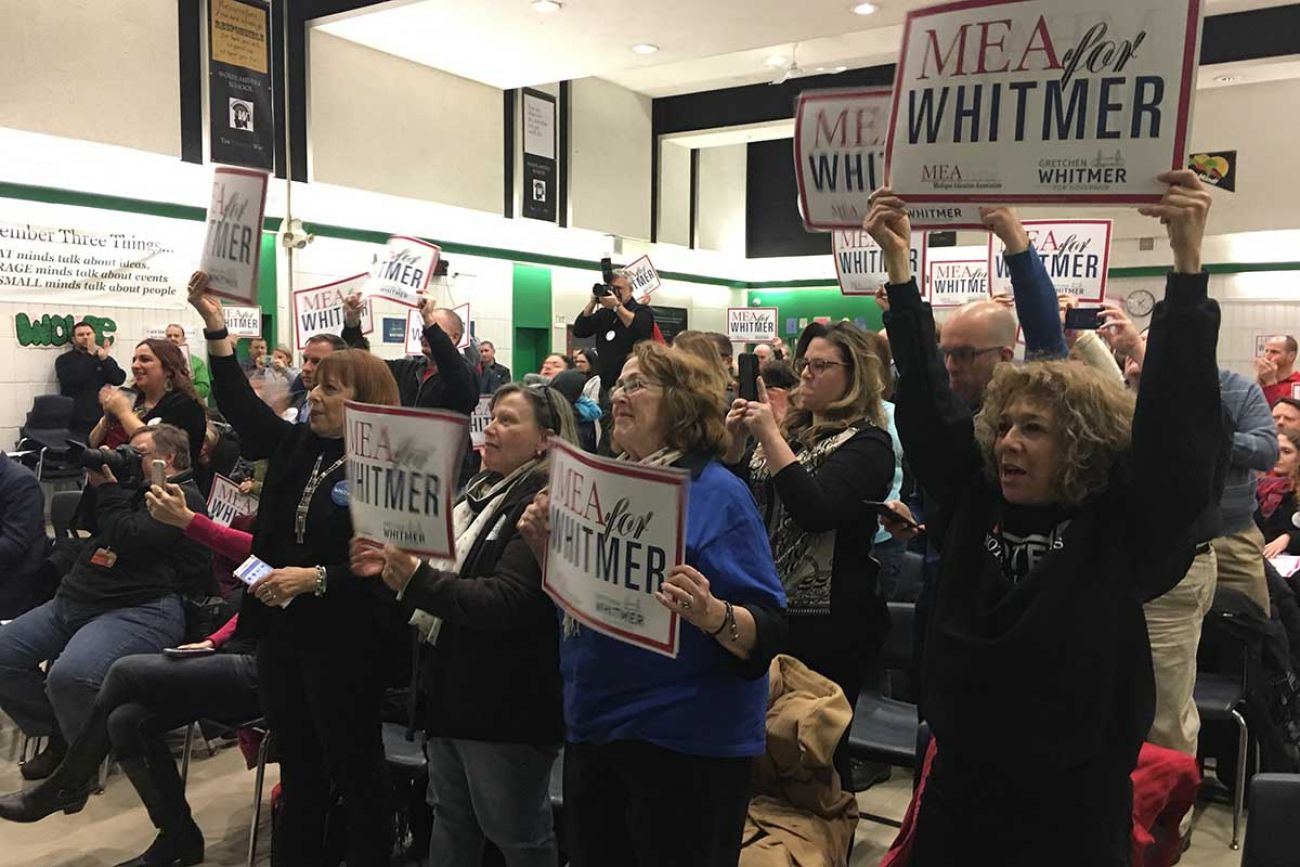 'A lot of hand-wringing'
For Democrats, the upheaval isn't exactly new. Similar, behind-the-scenes recruitment efforts preceded campaigns of Jennifer Granholm in 2002 (she won), and then-Lansing Mayor Virg Bernero in 2010 (he lost).
But several high-profile Democrats told Bridge they'd hoped for smoother sailing this year, considering Republican President Donald Trump's low approval ratings and outgoing, term-limited Michigan Gov. Rick Snyder, whose second term and overall popularity were battered by the Flint Water Crisis.
"It's a mess right now. Honestly," said one Democratic leader from southeast Michigan. Like others in this article, he has participated in party discussions concerning Whitmer but spoke to Bridge only on background, citing the sensitive nature of the behind-the-scenes maneuvering.
"The stakes are so high for Democrats, but there's a lot of tensions. There's well-intentioned institutional Democrats, insurgent Berniecrats (who supported Bernie Sanders in his bid for president in 2016) and other traditional stakeholders. And it's all colliding with fears of gender bias in getting someone (other than Whitmer) to enter this race. There's a lot of hand-wringing right now."
At least three Democratic leaders who spoke to Bridge used the same phrase in discussing Whitmer's campaign: "It hasn't gained traction." Two others described a "lack of enthusiasm" they fear would depress turnout.
"The feeling among Democrats with Whitmer is 'I'm going to fall in line. I'm not going to fall in love,'" one high-ranking Democrat from suburban Detroit told Bridge.
Another high-ranking Democrat bemoaned "we should have a clear advantage this year. Now the race is a jump ball, and it shouldn't have been."
Steve Hood, a Detroit political consultant, said the discussions reveal overall frustrations with what he called Whitmer's "lackluster" campaign.
"When Whitmer is Whitmer, and not a programmed robot by her people, she is awesome," said Hood. "But she's not firing up her base because she seems too programmed."
Whitmer, a former member of both the Michigan House and Senate, is running on traditional Democratic causes – expanding jobs, women's rights, protecting the environment and improving infrastructure. During the Monday event, she described herself as a fighter and strong advocate of teachers.
Heaster Wheeler, the former director of the Detroit NAACP, said any jockeying and "robust debate" within the primary may sharpen Whitmer's performance for a bruising general election.
"There's going to be a lot of conversation as to who is going to be the (nominee) and it's far from a foregone conclusion," Wheeler said.
Indeed, election history shows that Democrats from outside the Detroit region have difficulty in governor's races in Michigan. The last one without Metro Detroit roots: William Comstock of Alpena in 1932.
RELATED STORY: Why Democratic candidates need Detroit to become governor
In the past half-century, Michigan has elected only two Democratic governors, Jim Blanchard of southern Oakland County and Jennifer Granholm, who was general counsel to Duggan's former boss, the late Wayne County Executive Ed McNamara.
Blanchard lost-reelection in 1990 to Republican challenger John Engler in large part because of depressed turnout in Detroit, stemming largely from then-Mayor Coleman A. Young's dissatisfaction with Blanchard.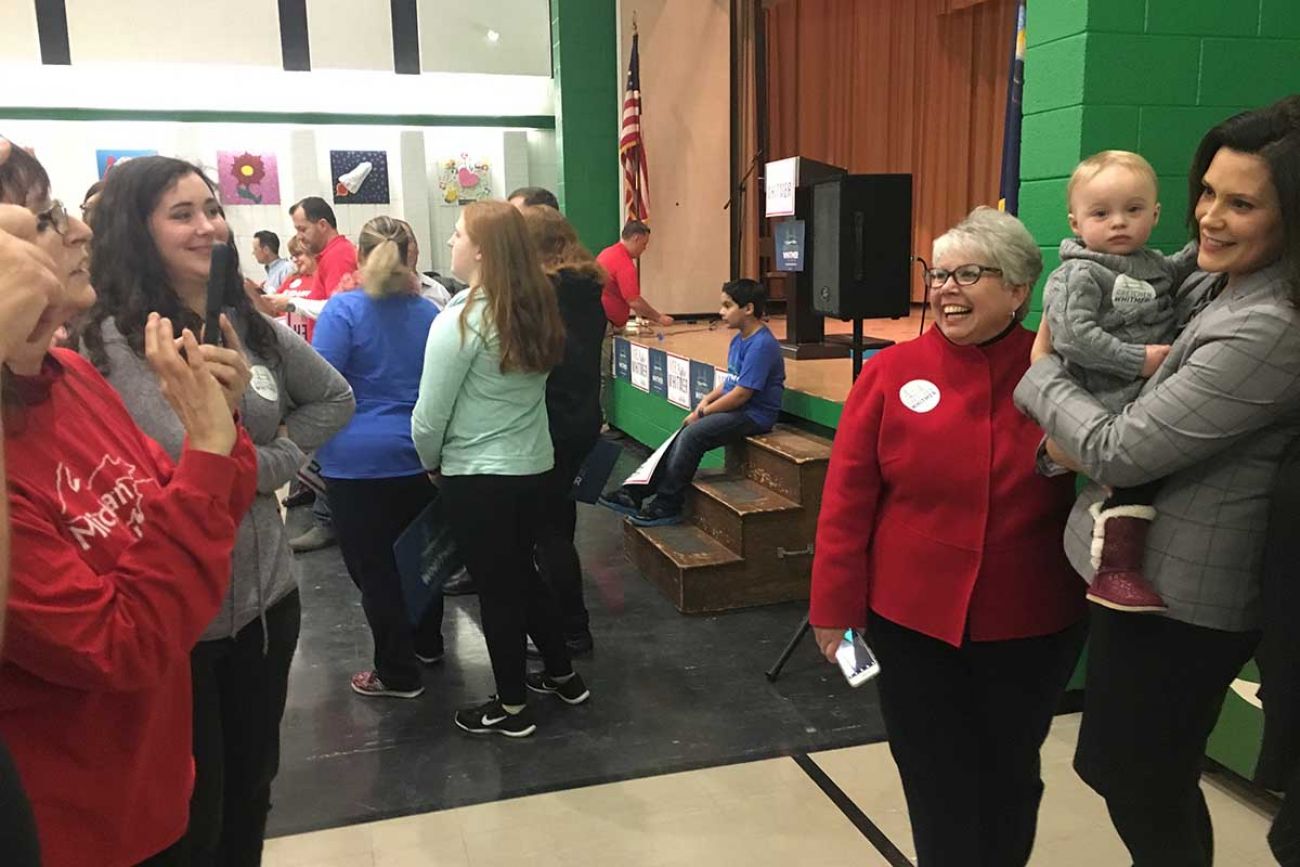 Sexism at play?
Others in the party and political operatives said the movement not only reflects divisions between southeast Michigan and outstate, but whether women candidates are still being held to an unfair standard.
Whitmer told Bridge she's happy with polling numbers and is "going toe-to-toe with a Republican who has been running since 1984," referring to Schuette, a former congressman. A December poll by EPIC-MRA showed Schuette with a 3 percentage point lead, a statistical dead heat.
"Name ID is going to be built quickly, and we have a lot of exciting things in the works," Whitmer said.
Several polls show Whitmer has a double-digit lead over others in the Democratic primary, and November poll from Target-Insyght showed she had a sizable advantage over hypothetical candidates including Duggan and Southfield attorney Geoffrey Fieger.
Whitmer also has a fundraising edge, raising $3 million through 2017, compared with Schuette, who took in $2.3 million.
Pollster Richard Czuba said he senses sexism is at the heart of any talk of finding new candidates.
"She's dead even with someone (Schuette) who's been in office for 30 years," said Czuba, president and owner of the Glengariff Group, a polling firm based in Chicago and Lansing. "That's a good thing; she has room to grow."
Czuba said any man entering the race now could backfire because of growing enthusiasm "amongst women who are wildly moving toward the Democratic side" nationally since Trump took office. Independent voters are "re-engaged and energized" by the Women's March in January 2017 and scandals involving Trump, Czuba said.
He pointed out that, at this stage in 2014, Democratic gubernatorial candidate Mark Schauer was trailing by a wider margin and there was "no conversation … of replacing" him," Czuba said.
Whitmer laughed when Bridge asked if she thought sexism was at play, saying she's "not going to guess" about the motives of any possible opponents.
One Democratic-friendly political consultant told Bridge that efforts by Duggan to reshape the race are too little, too late. Tired of questions about his own ambitions for governor, Duggan irritably told a reporter in 2015 that he would not be a candidate, adding, "Don't ask me again."
"He was the guy who could have played king-maker earlier," the consultant said, "but he didn't do it."
We're not just a news organization, we're also your neighbors
We've been there for you with daily Michigan COVID-19 news; reporting on the emergence of the virus, daily numbers with our tracker and dashboard, exploding unemployment, and we finally were able to report on mass vaccine distribution. We report because the news impacts all of us. Will you please donate and help us reach our goal of 15,000 members in 2021?