Potholes the size of a kitchen sink. Crumbling concrete falling onto freeways. The voters agree: Michigan's next governor needs to have a plan to fix roads.
How, the moderator asked, would Lt. Gov. Brian Calley pay for the expensive repairs needed to make the state's roadways safe?
"Clearly we have a lot of work yet to do with infrastructure," Calley began. He ticked through a two decade history of road funding efforts: Heavy debts, loan repayments and a funding mix drawn from various sources. "We have to fix our roads," he said. "This is not an option. It must, must happen."
Resolute. Reassuring. And entirely lacking in a practical solution for Michigan's decaying infrastructure. Calley's remark was in good company — it was typical of answers given by the four Republicans who gathered last week in Jackson to explain why they should be Michigan's next governor.
At another event Saturday, 40 miles away in Ann Arbor, four Democratic hopefuls laid out their visions for the future of Michigan's environment, education and workforce. But as with the Republicans, their big ideas often fell short of telling voters how they would translate promises into policy.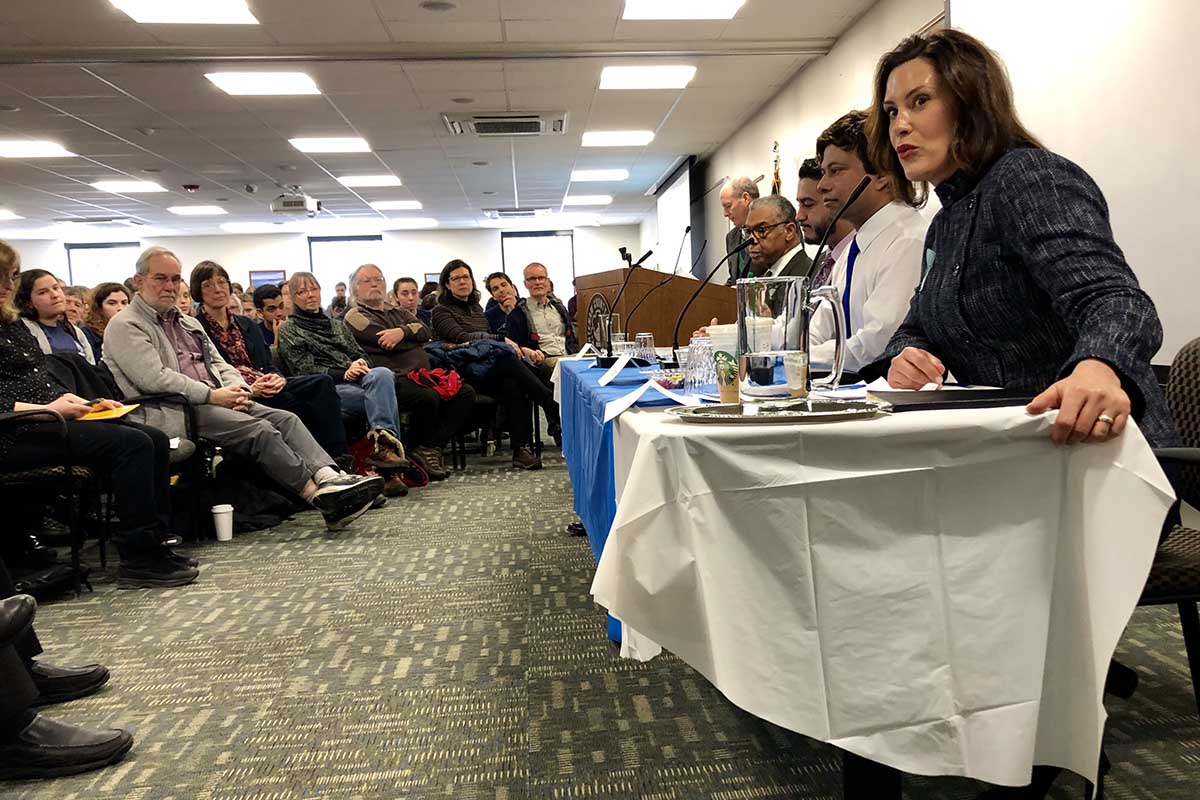 Democratic gubernatorial candidates Gretchen Whitmer, Shri Thanedar, Abdul El-Sayed and Bill Cobbs speak in front of a full house at the Washtenaw County Learning Resource Center in Ann Arbor on February 3. (Bridge photo by Riley Beggin)
Welcome to the early rounds of the 2018 race for governor, where prospective voters get a chance to lob questions at candidates in informal gatherings in towns like Jackson (birthplace of the Republican Party) and Ann Arbor (progressive politics HQ).
Bridge Magazine will be covering the race closely this year, watchdogging candidates to determine whether they're addressing the most pressing issues facing Michiganders and explaining in detail how they will succeed.  

In 2018, Michigan stands at a crossroads: The next governor will inherit a state with with an educational system among the nation's bottom-dwellers, aging infrastructure, threats to the environment, and businesses that can't fill skilled positions with Michigan talent.  
MORE COVERAGE:
The seven men and one woman who spoke before audiences last week had the energy and ideas to address some of Michigan's most pressing problems. But the forums were peppered with platitudes and often lacked specificity. Candidates on both sides proposed programs without describing ways to pay for them. On the whole, the Democratic candidates generally gave more detailed policy strategies than their Republican counterparts, but that was partly due to the format of the respective gatherings, in which Republicans fielded more questions but were given less time to answer.

Aaron Kall, Director of Debate at the University of Michigan, said he's inclined to give candidates a bit of slack, at least for now. It's common for candidates to be vague on policy at this stage in the campaign. Voters are still getting to know each candidate's personality, biography and ability to drive the public to their side — something that's important to get people to hear your message, he said.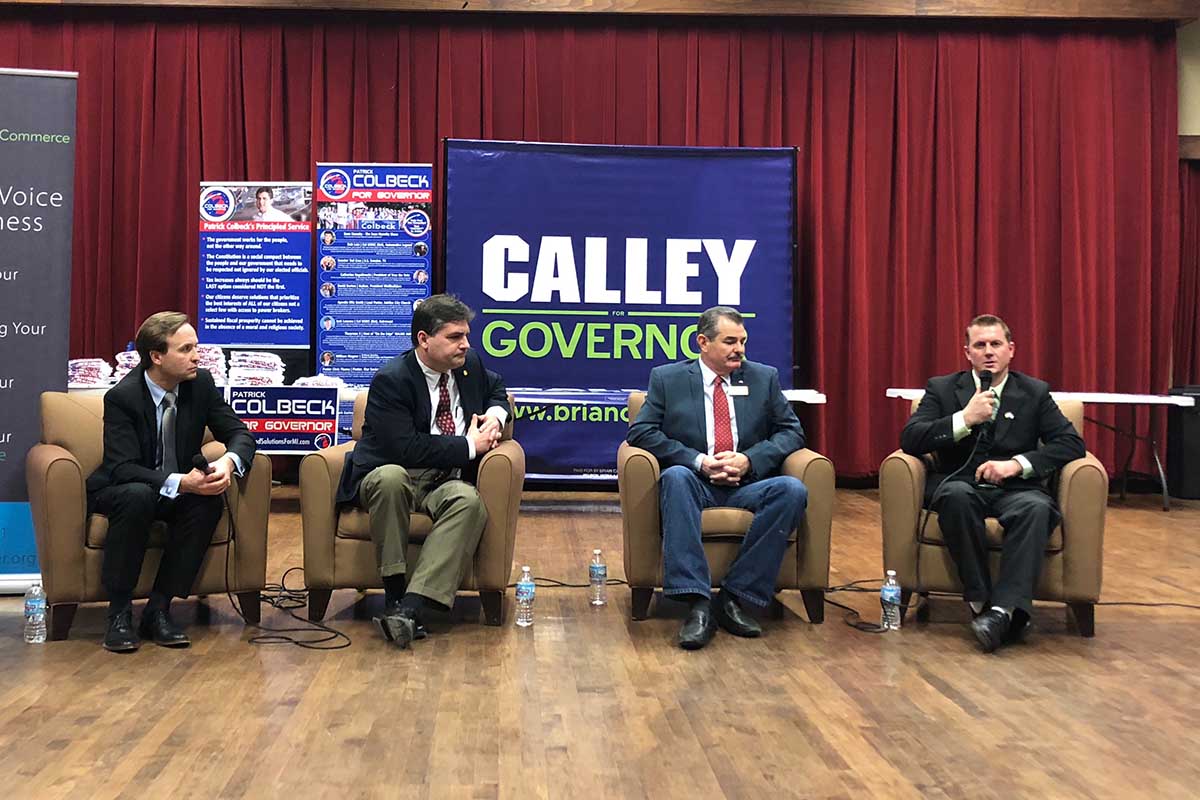 GOP candidates for governor Brian Calley, Patrick Colbeck, Earl Lackie and Evan Space took questions at a town hall-style Republican meeting in Jackson. (Bridge photo by Riley Beggin)
"Obviously policy issues are important," Kall said. "But nuanced positions, getting into the weeds of things, laundry lists, that's something that's a little more important when the field is focused down onto the final candidates."

In Jackson, Calley was joined by state Sen. Patrick Colbeck, R-Canton, a former aerospace engineer and Tea Party favorite who is serving his last term representing Michigan's 7th Senate District in Wayne County. Two other candidates, retired General Motors worker and small business owner Earl Lackie, and college student and Michigan National Guard member Evan Space, also attended.

The town hall-style event, hosted by the Jackson County Chamber of Commerce, took place in the downtown Jackson Symphony Orchestra performance space. Two major candidates, Republican frontrunner Attorney General Bill Schuette and family practice and OB-GYN doctor Jim Hines, did not attend.

In Ann Arbor, all four Democratic candidates in an already contentious race showed up: attorney, former state legislator and early frontrunner Gretchen Whitmer; former director of the Detroit Health Department and physician Abdul El-Sayed; scientist and entrepreneur Shri Thanedar; and retired Xerox executive and Navy veteran Bill Cobbs faced off at a forum held at the Washtenaw County Learning Resource Center, hosted by the Washtenaw County Democratic Party.

Here's how the candidates answered, or skirted, questions on some of the most important issues facing Michigan.
Business growth and innovation
Fostering an environment in which Michigan businesses can prosper was top-of-mind for attendees of both town halls. Both parties' candidates addressed questions centered on what Bridge reporting has established as one of Michigan's greatest needs: a highly skilled workforce.
Democrats were asked how to increase the competitiveness of existing businesses and diversify the state's manufacturing-heavy economy. They all mentioned expanding the state's talent pool as a cornerstone.
Whitmer said the state should develop a Department of the Great Lakes and Fresh Water, which would work to harness and protect the state's freshwater resources to create what she called a "blue economy," a term promoted by John Austin, former president of the state Board of Education, to describe water-based economic activity.
El-Sayed said the state should work to expand the number of jobs resistant to automation in areas such as development, construction, research and technology.
"Those are the kinds of jobs that are less likely to be turned into a machine in the long-term," El-Sayed said.
Thanedar said he would invest $1 billion in skilled workforce training and suggested implementing a system in which the state will forgive the debt of college graduates who start businesses in Michigan proportionally to how many jobs they create, though he did not say how he would pay for it. His website says vaguely that he would do so "by working with colleges and universities on fiscal challenges."
Cobbs wants to divert a portion of the Michigan Economic Development Corporation funds to small businesses.
Republicans addressed the state's role in creating educated employees who can fill job openings. The public-private partnerships and skilled trades programs Calley and Colbeck suggested would cost an undetermined amount of money, but neither talked about their plan to pay for it.
Colbeck offered his Enhanced Michigan Education Savings Program proposal, which he said could be used to promote public-private partnerships to teach kids specialized skills. Calley said the state should support nonprofit educational organizations such as FIRST Robotics and invest more in skilled trades programs. Lackie and Space both emphasized making higher education more accessible — Lackie wants to reduce the interest rate on college loans and Space said college tuition should be lower.
What did they miss?
While most candidates discussed the need for a more talented workforce, neither party's candidates spent much time discussing whether they would support or change the state's existing tax incentives for businesses, which may or may not impact the state's ability to compete.
What's more, many of the proposed programs would also require changes in funding structures. Republicans Colbeck and Lackie have said they would like to eliminate the state income and pension taxes.
Democrat Cobbs favors a constitutional amendment that would change personal income taxes from fixed rate to a progressive tax weighing most heavily on those with an income of more than $600,000 per year ‒ a heavy lift in a Legislature dominated by Republicans. Whitmer hinted at "eliminating tax breaks" in describing her education goals, but didn't specify which.
Education funding, Common Core and charter schools
The Democratic candidates agreed on one point: They'd like to increase state funding for public schools. How they'd get there, how much they'd invest and the finer details of their proposals varied quite a bit, or went unanswered. Though Whitmer said the state should pay teachers more and give them "the support that they need as professionals."
Whitmer also promised to "stop the raid on the School Aid Fund," a $14-billion education fund, and invest an additional $750 million in public education. The "raid" reference was likely a reference to times when Gov. Rick Snyder and his predecessor, Jennifer Granholm, diverted money from the School Aid to cover expenses in the general fund. The Department of Education currently operates on a budget of $350 million.
El-Sayed said the state should reinvest in public education, but did not offer a specific amount Saturday. In his urban plan, he said he would direct $200 million to the School Aid Fund generated from repealing the Transformational Brownfields Plan, legislation that provides tax advantages to developers who clean up and develop contaminated properties. He supports recreational marijuana legalization, and argues that half of the revenue created should go to schools. Also on his to-do list: A plan to buy schools that districts don't use and invest that capital in those they do, along with universal preschool funded by tax credits.
Cobbs said he is working on a ballot proposal that would change Proposition A, a 1994 state constitutional amendment intended to provide "property tax relief" and make funding across local school districts more equitable. He said he would move for a constitutional amendment that would implement a progressive state income tax rather than a fixed rate one.
Democratic candidates did align in some other notable areas. Thanedar and Cobbs agreed that "for-profit" charter schools should not receive state funding. Michigan has more charter schools than any state in the nation.
Whitmer, El-Sayed and Thanedar all mentioned plans to make college free for a segment of the population: El-Sayed's plan would guarantee tuition-free school for children who come from families making less than $150,000, Thanedar's for those from families making less than $120,000. Neither said during the forum how they would pay for these plans. But in an interview afterwards, El-Sayed told Bridge he would like to create a funding structure similar to California's Cal Grant program, a college aid program receiving $1.9 billion in funding from the California state government. 
Whitmer said she would revive her Michigan 2020 plan, which would provide free college tuition for all high school graduates by eliminating unspecified corporate tax credits "that simply do nothing to help grow our economy or create jobs."
Republicans agreed on one major point: Michigan should repeal the Common Core State Standards, a framework adopted by the state in 2010 to outline what skills students should learn year by year during their K-12 education. Common Core has been heralded by education reform groups who say it spells out the skills children need to compete in a knowledge-based global economy, while allowing parents to see how their children are learning compared with students across the state and around the nation. Some critics on the right and on the left oppose the standards, with conservatives arguing they restrict local control of schools.
"My passion is to make sure we return control of our classroom back to our teachers, back to our parents and back to our students," Colbeck said. "Those are the folks that can turn things around."
As Bridge has reported, Michigan's children are faring poorly on reading and math proficiency. Michigan is one of only five states that declined in reading performance since 2003, and the state's math performance rankings dropped from 34th to 42st in the same timeframe.
Calley said he would push for systems that require both academic rigor and promote skilled trades to fit the needs of individual children. Lackie called for increased educational investment to reduce the number of children in each classroom.
What did they miss?
With the exception of El-Sayed, none of the candidates offered their thoughts on early childhood education. Previous Bridge reporting shows child care costs are unaffordable for many Michiganders, about a quarter of an average household budget for low-income families. While there is general consensus on the benefits of early childhood education, statewide universal preschool — recommended by the Gov. Rick Snyder-appointed Michigan's 21st Century Education Commission — would cost Michiganders an additional $400 million per year.
Infrastructure and the environment
The Republican infrastructure discussion opened with an impressive show of interest: About a third of the questions submitted by the audience were about infrastructure.
In his State of the Union address the night before the debate, President Donald Trump called upon state and local governments to partner with the federal government and for the private sector to pitch in to fund infrastructure repair and development. Republican candidates were asked how they would assist local Michigan governments with this task and, more specifically, how they would fix the state's crumbling roads.
While Calley stuck with a look back on two decades of infrastructure policies and a vague commitment to fix roads, Colbeck returned to a strategy he's been pushing for at least a year: Reduce the long-term cost of repairing roads by using a cement sealant mix that costs 15 percent more than traditional materials but lasts up to four times as long. He contends the mixture could generate up to $770 million in savings for the state. Lackie also supports technology to make roads last longer, but also suggested investing 15 to 20 percent more in funding.
Space, the only Republican to support marijuana legalization, proposed regulating marijuana like alcohol and funneling 35 percent of tax revenue into roads. Though he didn't offer much detail, he also said he would work to implement railways throughout the state that would reduce the number of vehicles on the road.
Democrats were asked which steps they would take to protect the environment, most notably on the topics of hydraulic fracking and Enbridge Line 5, a controversial oil pipeline that goes from Canada through the Straits of Mackinac to Michigan. The candidates were opposed to both.
Whitmer told the audience not to be fooled by candidates saying they could turn off Line 5 on their first day in office, and that she has a strategy to effectively shut it down. "There is not a spigot in the governor's office," she said. "We need a real legal plan."
She identified several other environmental issues on her radar, including algae blooms, Nestle's water pumping operations and the continued threat of lead service lines, but did not say how she plans to address them. El-Sayed said his fundraising strategy would ensure he isn't beholden to corporate interests polluting the state.
Thanedar said he'd "hold corporations accountable" for their pollution, but did not specify what policies he would put in place to do so. Instead, he told anecdotes about how he has tested soil for pollutants in communities, which spurred governmental change. "I'm a man of action, and I'll come in and make things happen," he said.
Getting more funding for the Department of Environmental Quality's initiative to clean up Michigan's 7,300 toxic waste sites was Cobbs' first suggestion. Hundreds of sites rely on money from the fund to combat hazardous waste pollution, but that money will likely run out in the next few years. He also said he would put a five-year moratorium on fracking. Compared to other states, Michigan is not heavily involved in fracking: The state ranks 19th in crude oil production and 18th in natural gas production, and fracking is only one method for freeing up oil and gas.
On those who were missing
There are eight Republicans running for governor this year, and only four of them were at the Jackson debate. Frontrunner Schuette decided not to attend the Republican town hall tour, which he said was a ploy to hurt his candidacy.
"Bill Schuette looks forward to to the opportunity to answer questions and debate policies in the future, but these town halls were not organized to do that," Bridget Bush, Press Secretary for Schuette's gubernatorial campaign, said in an email. "Rather, they were conspired through a secret alliance to take down the lead candidate. While other candidates engage in political gimmickry, Bill Schuette is focused on his paycheck agenda to bring tax cuts, jobs, and growth to Michigan."
Neither the Calley nor Colbeck campaign contacted Schuette or his campaign staff before or after the tour announcement to invite him to participate, Bush said. In the meantime, voters can find the Attorney General's policy platform on his website.
AnneMarie Schieber Dykstra, Communications Director for the Colbeck campaign, pushed back.
"These dates were announced weeks ago and we've always been very open about it, he's welcome to come," she said. "There's nothing secretive about it and we would love it if he was there."
Jackson town hall audience members expressed dismay that Schuette was not at the debates.
"At the moment I'm favoring Colbeck, then Calley," said Marcy Jankovich of Jackson, an attendee and one of the co-founders of Jackson's "The Well Armed Women" chapter. "I might have been for Schuette, but I'm really mad at him because he won't come to these debates. I think it's not right, and I don't think it was right for him to call it a gimmick. Our committee works hard to put these things on and I think you should respect that."
Jim Hines, a family practice and OB-GYN doctor whose gubernatorial campaign is his first political run, also did not attend the Jackson debate citing work conflicts. His wife Martha Hines read a statement before the debate, saying her husband would be maintaining his medical practice until April 1, when he will begin campaigning every day. He did attend a GOP town hall Monday evening in Grand Rapids, where he discussed how he would serve younger voters, how to keep college graduates from leaving the state and how to combat PFAS chemicals in lakes.