Emails suggest Republicans gerrymandered Michigan to weaken 'Dem garbage'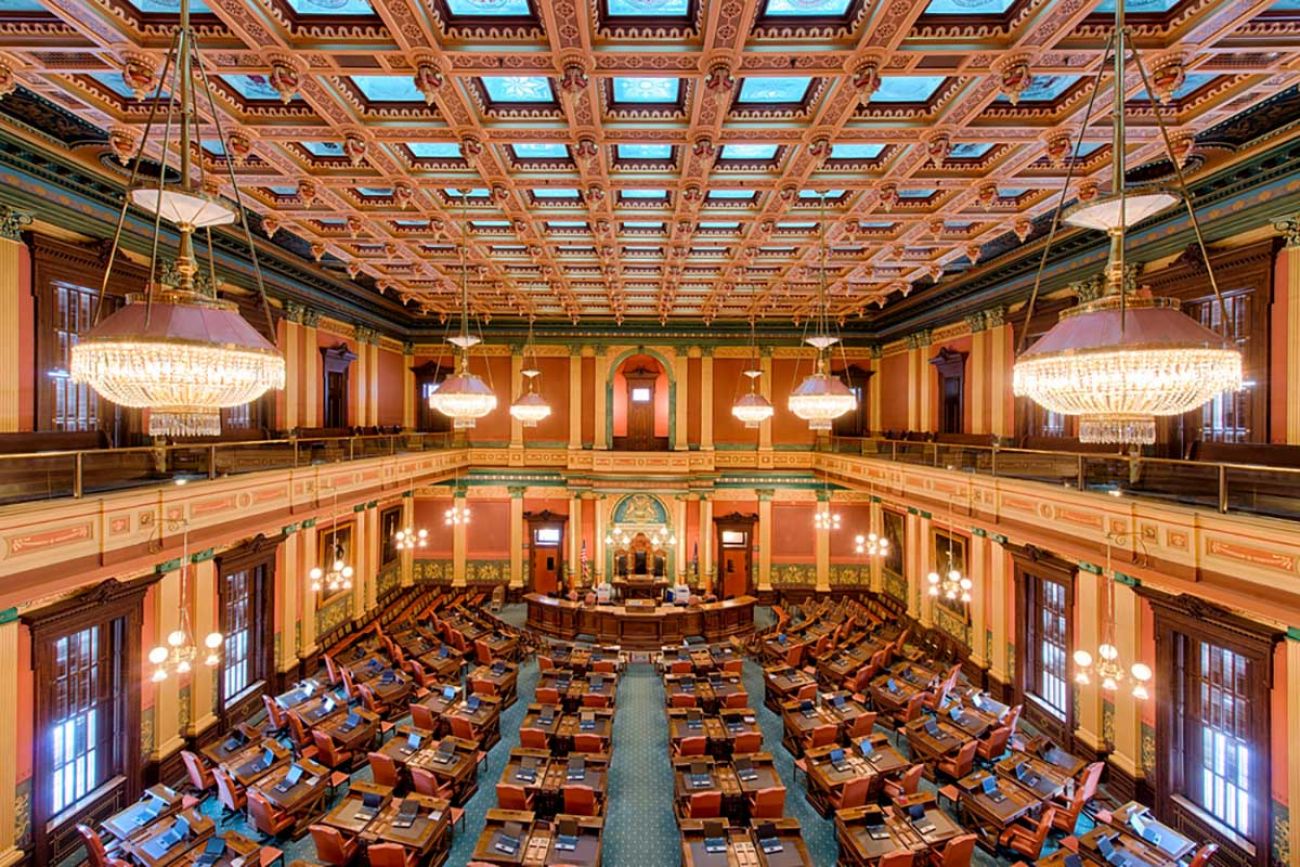 "We will accommodate whatever Dave wants in his district," wrote Robert LaBrant, who has since left the Michigan Chamber and is now a GOP consultant, on May 18, 2011, to two Republican consultants and a Camp staffer. "We've spent a lot of time providing options to ensure we have a solid 9-5 delegation in 2012 and beyond."
The emails were introduced this month as evidence in the League of Women Voters of Michigan's ongoing federal lawsuit alleging the 2011 state legislative and congressional maps are so gerrymandered they violate the U.S. Constitution.
The messages highlight the influence of the Michigan Chamber and GOP consultants in drawing districts favorable to Republicans — and lift a curtain on a process that both Democrats and Republicans had insisted for years was unbiased.
"All political parties' hands are dirty," said Eric Lupher, president of the nonpartisan Citizens Research Council of Michigan, which issued a report in June that used three statistical tests that revealed gerrymandering in Michigan legislative and congressional districts, which became worse when Republicans controlled redistricting in 2011.
"It's not something only Republicans do or Democrats do, but neither side wants to admit they are drawing districts to tip the scales," Lupher said.
The emails are becoming public as the Michigan Supreme Court is poised to decide whether a citizen initiative to create an independent commission to draw districts can appear on the November state ballot. The court heard arguments last week and could make a ruling at any time. The ballot measure is opposed by Republican candidates for governor, including Attorney General Bill Schuette, and groups such as the Michigan Chamber, which contends the proposal is overly broad.
The business group's political arm, Michigan Chamber PAC II, has donated at least $135,000 to a separate group, Citizens Protecting Michigan's Constitution, that filed suit to keep the measure off the ballot on claims the measure is so sweeping it requires a constitutional convention. The chamber has likewise been a heavy contributor to Republican-backed candidates to the state Supreme Court, which tilts 5-2 Republican.
The chamber has said publicly it only seeks fairness and doesn't support gerrymandering, even though LaBrant has long been recognized nationally as an expert in drawing districts to favor Republicans.
"Would I say that we participated in a gerrymandering effort? No. Have we been involved in discussions every 10 years about redistricting? Yes," Rich Studley, the chamber's president and CEO, told Bridge Magazine in an interview Monday.
But he and the chamber's executive vice president, Jim Holcomb, said the discussions followed the law and accepted standards to draw districts. They said they had not seen the emails cited in the federal suit that suggest otherwise.
Holcomb said, however, that the Michigan Chamber makes no secret of its preference for "a business-friendly majority in the U.S. Congress."
Jeff Timmer, a GOP consultant who drew many of the districts, is a participant in many of the emails made public by the lawsuit. He didn't respond to requests for comment this week, but defended the process at a conference this spring sponsored by The Center for Michigan, the nonprofit that publishes Bridge Magazine.
He said then that redrawn legislative districts must satisfy a host of requirements, including keeping community boundaries intact, ensuring minority representation, maintaining contiguous borders and equaling the population of districts.
"The fact that politics has politics involved in it is shocking to a lot of people," said Timmer, who is a former state Republican Party director.
Republican strategist Jeff Timmer, who drew many Michigan's existing voting districts, predicts the political climate should the Voters Not Politicians ballot initiative pass. He also suggests how to stop gerrymandering against your party.
'This is a screwy district'
The emails provide a rare public glimpse into the horse trading and overtly partisan negotiations of drawing districts.
In Michigan, political parties in control of the Legislature propose district lines that must be approved by the governor every 10 years after the Census. Because of population losses, Michigan's congressional delegation shrunk from 15 to 14 following the 2010 Census.
The emails were exchanged between GOP aides and consultants in the weeks before the new districts were unveiled in 2011. An early version of the map was drawn to give Republicans a 10-4 advantage in Congress, according to evidence in the lawsuit.
Not a good idea, suggested LaBrant, the Michigan Chamber's longtime senior vice president of political action and general counsel at the time.
"We needed for legal and PR purposes a good looking map that did not look like an obvious gerrymander," LaBrant wrote to Timmer on May 26, 2011, according to court documents.
Earlier, Timmer wrestled with how best to draw Camp's district, which ended up stretching nearly 150 miles from Roscommon County to just outside Lansing, while bypassing Democratic strongholds such as Bay City and Saginaw.
"We have three options now (1) Saginaw Twp and no Frankenmuth, (2) Frankenmuth and no Saginaw Twp, and (3) both Saginaw Twp and Frankenmuth," Timmer wrote to LaBrant on April 21, 2011.
In the end, half of GOP-leaning Saginaw Township was included in the district, whose border juts out 20 miles to include Frankenmuth, which is "98 percent Republican," said Paul Purcell, chairman of the Saginaw County Democratic Party.
"This is a screwy district," Purcell told Bridge this week.
"You knew they were gerrymandering. It doesn't surprise me at all. It's just interesting they would put it in an email."
But even before redistricting, the district was solidly Republican, last electing a Democrat in 1933. In 2016, incumbent U.S. Rep. John Moolenaar, a Republican, defeated Democrat Debra Wirth by a nearly 2-1 margin.
Camp, now a senior policy adviser with accounting firm PricewaterhouseCoopers, didn't respond to messages from Bridge seeking comment.
The Detroit News was the first to report on the existence of the emails, but several others have since been made public by the suit. Most provide little context and involve aides rather than elected officials.
Other emails referenced in the lawsuit show:
An aide to then-Congressman Thaddeus McCotter, R-Livonia, suggested tweaking borders in West Bloomfield in Oakland County and in Wayne County to satisfy "the obvious objective — putting dems in a dem district and reps in a gop district" and "increase the black population in the black districts."

"In a glorious way that makes it easier to cram ALL of the Dem garbage in Wayne, Washtenaw, Oakland and Macomb counties into only four districts. Is there anyone on our side who doesn't recognize that dynamic?" the same aide, Jack Daly, wrote to Timmer in May 2011. Daly did not return a call Tuesday from Bridge.

An unnamed GOP aide wrote that the proposed 9th Congressional District in southeast Michigan jutted up "between Mound and Vandyke (sic) down to 15 mile … perfect. it's giving the finger to sandy levin. I love it."
The emails refer to congressional districts, but the lawsuit by the League of Women Voters also alleges gerrymandering of state House and Senate districts as well as political payback directed toward legislators who objected to the new lines.
The suit alleges new methodologies of quantifying gerrymandering show Michigan has some of the most imbalanced districts in the nation.
"This is gerrymandering in all its ugliness," said Mark Brewer, attorney for the league.
Brewer, who is also former chairman of the Michigan Democratic Party, acknowledged that Democrats also have been guilty of gerrymandering nationwide.
"Both parties should stop," said Brewer, who led the Democrats when the current districts were drawn in 2011. "It's unfair to voters. It's grotesque and extreme."
LaBrant and his attorney, Gary Gordon, did not respond to requests for comment.
This spring, at The Center for Michigan conference, Timmer argued against the Voters Not Politicians ballot measure that would take redistricting out of the hands of politicians and leave those decisions to an independent citizens panel.
Timmer said that such a panel would prove rife with "corruption," "lobbying, politics and payoffs" and would attract court challenges claiming its members don't fairly represent Michigan.
"The morass of lawsuits and uncertainty that will arise from this is simply staggering," he said at the time.
He said those who don't like the process have "recourse, and it's called elections," adding that political districts merely reflect self-segregation, and not partisanship.
"The fact that we tend to segregate ourselves on partisanship or race is a reality," Timmer said at the time. "It's not necessarily a problem that can be fixed."
GOP consultant Jamie Roe was also involved in several emails, including the one in which LaBrant guarantees a 9-5 delegation.
"I don't recall (the emails at all)," Roe told Bridge. "That was seven years ago."
'When you have power, you exercise it'
The emails are emerging as the Michigan Chamber finds itself on the defensive over the Voters Not Politicians' redistricting measure.
It's the largest funder of the group fighting the ballot measure in court, and the chamber recently was the target of a provocative ad campaign and protests against Deloitte, whose Michigan managing partner, Mark Davidoff, is chairman of the chamber board.
LaBrant has been outspoken for years about drawing districts to help Republicans.
He was hailed as a "genius who first recognized — and fought for — every element of the modern Republican redistricting strategy" in the 2016 book, "Ratf**ked: Why Your Vote Doesn't Count" by David Daley.
"Perhaps no individual has done more than LaBrant to shape Michigan politics," Daley wrote of LaBrant's influence in the state over several decades.
In his own book, "PAC Man: A Memoir," LaBrant wrote: "When you have power, you exercise it. When you don't you try to take away the other side's advantage under the cloak of 'good government.'"
LaBrant retired from the chamber in 2012. Studley, the chamber's CEO, told Bridge his group is funding opposition to the Voters Not Politicians measure because it has questions about the measure's constitutionality.
"Gerrymandering has come to take on a very negative connotation to really be used as a pejorative," Studley said.
"I think it is not realistic or practical to think that you can take the politics out of what is essentially a political process."
Chamber leaders told Bridge they did not recall the emails involving LaBrant produced in the lawsuit. The chamber was subpoenaed in the case, and couldn't find any documents to turn over, said Holcomb, the chamber's executive vice president.
But Josh Silver, director of Represent.Us, a national elections reform group that bought the ad blasting the chamber, said the chamber's arguments don't pass the smell test.
"The fact is, the chamber supports the establishment status quo … which in 2018 is gerrymandering," Silver said. "Claims to the contrary are simply because they understand that gerrymandering is extremely unpopular."
Only donate if we've informed you about important Michigan issues
See what new members are saying about why they donated to Bridge Michigan:
"In order for this information to be accurate and unbiased it must be underwritten by its readers, not by special interests." - Larry S.
"Not many other media sources report on the topics Bridge does." - Susan B.
"Your journalism is outstanding and rare these days." - Mark S.
If you want to ensure the future of nonpartisan, nonprofit Michigan journalism, please become a member today. You, too, will be asked why you donated and maybe we'll feature your quote next time!