Former U.S. Rep. John Conyers Jr., a liberal stalwart, champion of Detroit and one of the longest-serving members in Congress, died Sunday at his home in Detroit. He was 90.
Elected in 1964 at the height of the civil rights movement, Conyers served 53 years and was the longest-serving African-American in Congress and was a founding member of the Congressional Black Caucus in 1969.
The Democrat spent decades pushing progressive causes, leading the fight for a national holiday to honor Martin Luther King Jr. and working to expand rights for minorities, create a national health care system, rein in the federal government's use of surveillance and reform the criminal justice system.
"He wasn't just the congressman from our hometown, he was enormously loved around the world," said Jonathan Kinloch, Democratic Party chairman of the 13th Congressional District, who has known Conyers since he was a teenager.
"He built a legacy of fighting for justice and equality for everyone. Before it became a popular phrase and political slogan, John Conyers fought for reparations for blacks, fair wages, civil rights and same-sex marriage. He was always on the forefront of what was right and had a moral responsibility to protect the weakest among us."
During his career, he was such a persistent critic of President Nixon that he was No. 13 on his "enemies list" and helped expose voting irregularities in Ohio following the 2004 presidential election. 
In a career often marked by being on the losing end of votes, he counted among his achievements the Violence Against Women Act, the extension of the National Voter Rights Act and Victims of Crime Act, as well as writing legislation to make the Environment Protection Agency a cabinet-level position.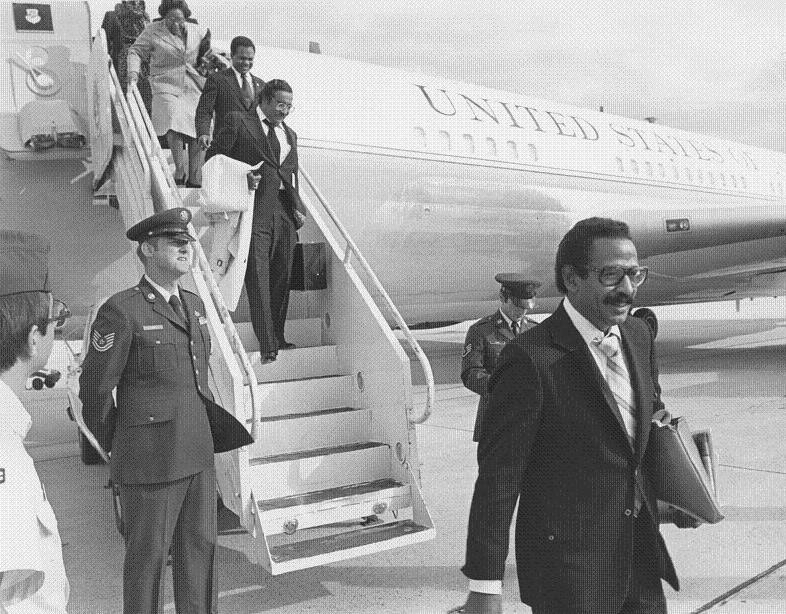 Conyers exiting Air Force One.
Conyers, though, left Congress in a cloud, resigning in December 2017 amid allegations he sexually harassed female staffers. He denied the claims, which came 11 years after he was caught up in another ethics controversy. In 2006, he accepted responsibility for violating congressional rules after a complaint surfaced that he used his staff to babysit and chauffeur his two children.
"My legacy can't be compromised or diminished in any way by what we're going through now," Conyers told a Detroit radio station in 2017, according to the Associated Press. 
"This, too, shall pass."
Born and raised in Detroit, Conyers was the son of a United Auto Workers organizer and served in the Korean War. A lover of jazz, he became one of Washington's most vigorous advocates of the arts, working to ensure that Motown musicians and other retired artists received royalties from digital radio stations.
Conyers employed Rosa Parks in his district office as a receptionist and secretary after she fell on hard times after refusing to relinquish her seat on a bus to a white passenger in Montgomery, Alabama. She worked for the congressman from 1965 until her retirement in 1988.
Conyers also employed Rosa Parks in his district office, after she fell on hard times for refusing to relinquish her seat on a bus to a white passenger in Montgomery, Alabama. She relocated to Detroit and worked for the congressman from 1965 until her retirement in 1988.
Conyers regularly won elections by 80 percent or more in one of the most heavily Democratic districts in the nation, and tried to broker peace during the 1967 civil unrest in Detroit, grabbing a bullhorn atop a car and urging neighbors to stop the violence, in a photo that has since become iconic. 
"One of my most special memories was spending time with him at Gordon Park on 12th Street and Clairmount on the 50th anniversary of the violence of 1967 as he recounted the story of his courageous efforts to calm the angry crowds," Detroit Mayor Mike Duggan said in a statement. "He has fought for a better Detroit for more than half a century."
The Rev. Horace Sheffield III, a longtime family friend who nonetheless unsuccessfully ran against the congressman in 2014 as concerns mounted about his health, said Conyers' heart was always in Detroit.
"He's obviously a hugely significant figure, internationally and in Detroit," said Sheffield, whose father was a UAW leader who worked with Conyers' dad.
"Our families helped open things up for people of color in this town. He's lived a long life. He's helped many people. Whatever we can do to help keep his name on people's tongues and in their hearts, we will."
On Twitter, the Rev. Jesse Jackson praised Conyers and said the MLK federal holiday wouldn't exist without him. Conyers' death comes just 10 days after that of another civil rights leader, the Rep. Elijah Cummings, D-Baltimore.
"It's just hard to believe," the Rev. Jim Holley of Little Rock Baptist Church in Detroit told Bridge. "With the deaths of Elijah Cummings and now John, you realize so much history is not only passing, but passing with those who made it."
Conyers' successor, Rep. Rashida Tlaib, was among the many who took to social media Sunday to laud the congressman. 
"He never once wavered in fighting for jobs, justice and peace," Tlaib wrote on Twitter. We always knew where he stood on issues of equality and civil rights and in the fight for the people."
She called for a moment of silence during a rally in Detroit on Sunday night with presidential candidate Bernie Sanders, according to social media accounts.
Gov. Gretchen Whitmer, a fellow Democrat, issued a statement saying his "impact on his state, whether by spearheading reforms in criminal justice and voting rights or through a lifetime of civil rights activism, will not be forgotten."
U.S. Rep. Debbie Dingell, D-Dearborn, wrote on Twitter that Conyers was a "civil rights champion" who will "be known for generations." Her deceased husband, former Rep. John Dingell, gave Conyers his first job in politics, employing him as an aide from 1958 to 1961.
Ultimately, Conyers would become the third-longest serving member of Congress, behind Dingell and Jamie Whitten of Mississippi, according to The Detroit News.
Conyers is survived by his wife, Monica Conyers, a former Detroit City Council member, and two sons, John III and Carl.