In the wake of the decision by the Legislature and Gov. Rick Snyder to cap land purchases by the Department of Natural Resources, Bridge contributor Christie Bleck interviewed some residents of the Upper Peninsula -- where state ownership of land is quite high -- to get their take:
* "I do not want the change and am not happy with it. It is a bad thing for landowners who own or could own land adjacent to large parcels of state-owned land because they could no longer have unfettered access to such parcels. However, the reason that I think it is a bad idea for Michigan is that it would make it more difficult for the state to preserve parcels for general use, to protect vulnerable or especially precious sites and/or to preserve unique wildlife habitat." -- Mike Mayhew, landowner in Marquette County
* "I would like as much land as possible to be put aside for public access and to be environmentally protected in all aspects. Assuming the state is a good steward of the land, there should be no limitations of the land and water they can own." -- Gretchen Preston, landowner in Alger County.
* "I seem to recall hearing about this in some form, but it did not get much play up here or we were gone when it did. Unfettered government ownership of land is as dangerous to freedom as no government ownership. We need to have a Yellowstone National Park, but it should not be the entire state of Wyoming. Marquette County covers 1,800 square miles and approximately 70,000 people live here. I am sure there are places downstate with that many in 18 square miles.
"Government ownership keeps property values high for those lucky enough to have adjacent land, but this ke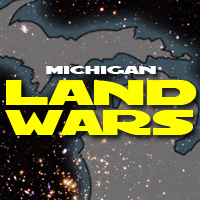 eps the average middle class citizen out of the market. Government ownership is like water; we need some for survival and quality of life, but in moderate amounts. When water comes in a flood widespread destruction and misery result." -- Bob Hanson, Marquette County landowner
* "I'm against it. Flat-out private ownership for development? No. I think our resources are limited and we need to preserve them for future generations to enjoy." -- John Bingel, landowner in Schoolcraft County
* "I think the state should be looking for choice pieces of property, not just willy-nilly going and buying property." -- Gary C. White, landowner in Marquette County
* "Concerning the land-cap legislation, I don't think it is ever a good idea for the Legislature to try and put a cap on land purchases. They should let professional staff make those decisions and keep politics out of it." -- Ron Sundell, landowner in Marquette County
Christie Bleck has worked for Michigan newspapers, such as the Lansing State Journal and Niles Daily Star, since the mid-1980s. She is now a freelance writer based in Marquette.