Lawsuits, ballot reform and sterile deer: A recap of lame duck's longest day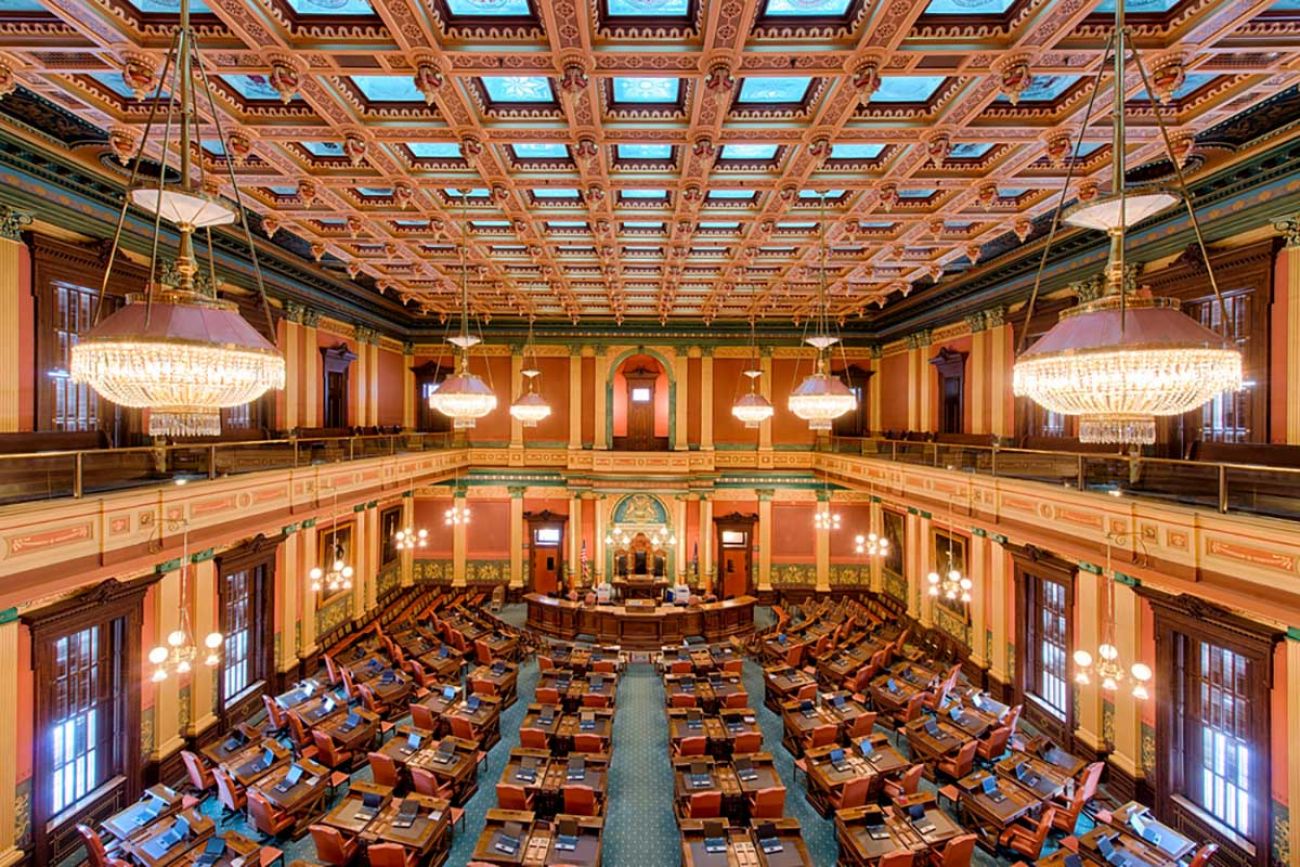 Michigan Government
Lawsuits, ballot reform and sterile deer: A recap of lame duck's longest day
In a frenzied lame duck, Michigan lawmakers doubled down Thursday and Friday, meeting for more than 21 hours and sending a host of measures to Gov. Rick Snyder.
Among other things, the term-limited Republican will consider measures to make it harder for citizen initiatives to reach the ballot, allow the Legislature to intervene in lawsuits and reduce the statute of limitations on campaign finance violations.
Dec. 21: That's a wrap! What bills passed, died in Michigan lame duck for the ages
Related: See what Michigan lame-duck bills we're tracking
Since the lame-duck legislative session began four weeks ago, hundreds of bills have flown through the lawmaking process. Legislators have worked through the night near sunrise; the din of liberal protestors has filled the Capitol rotunda; national media have turned their eyes to Michigan examine the chaos.
Here's a breakdown of which bills survived and will be considered by Snyder before the Republican's term ends Dec. 31.
A legislative voice in the courts
The state House and Senate may soon have the ability to intervene in lawsuits after HB 6553, cleared the Legislature early Friday morning.
Both chambers could intervene "to protect any right or interest of that body" when the constitutionality or validity of a law is challenged. That's far less than what was originally proposed, which would have allowed intervention in "any interest of (the) state."
The bill sponsor, Rep. Rob VerHeulen, R-Walker, has said the bill is important because many changes to state law are now being made in courtrooms.
"The Legislature has a distinct view and when its actions or inactions are being evaluated in a courtroom they should have the right to engage and have that view heard," VerHeulen told the House committee reviewing his bill in early December.
Democrats say the bill is a blatant attempt to take away power from Attorney General-elect Dana Nessel. She is among three Democrats assuming the state's top elected offices on Jan. 1, while the Legislature remains Republican.
Read more: Michigan bill allowing legislative lawsuits passes Senate
Ballot initiative bonanza
Less than two months after three ballot initiatives dramatically changed state elections and marijuana laws, Republicans want to make it harder to bring such measures to the ballot.
Update: Gov. Snyder signs bill making ballot initiatives more difficult
HB 6595, which requires that ballot initiative petitioners gather no more than 15 percent of their signatures from any one of Michigan's 14 Congressional districts, passed the state Senate on an 26-12 vote and is teed up for Snyder's consideration. The bill has been decried by both liberals and conservatives for making the ballot initiative process less accessible.
"It's so facially unconstitutional it's hard to believe," Chris Thomas, the former state director of elections, told Bridge last week.
The final day of lame duck not only brought legislation to affect future ballot initiatives, but also one that's already passed: In November, Michiganders approved a proposal to put a series of voting rights in the state constitution. Those new rights include, among other things, the right to no-reason absentee voting and same day voter registration.
A series of bills (SB 1238 and others) to implement those new voting rights are also on Snyder's docket after passing the House by a 57-51 vote and being approved in its final form by the Senate Thursday.
The changes would outline requirements for elections audits, implement automatic voter registration, define when and where citizens can register to vote, and other changes to state elections law.
Rep. Vanessa Guerra, D-Saginaw, spoke against the legislation on the House floor, saying it would bar voter registrations at satellite offices or local precincts on elections day.
"The passage of this will severely limit the constitutional rights" guaranteed by Proposal 3, she said.
"I think it's (Democrats') job to oppose these bills, but we do not change Proposal 3 one single bit" with the legislation, said Rep. Aaron Miller, chair of the House Elections and Ethics committee.
Representatives from the Secretary of State's office have said the bill language is "appropriate," though they are officially neutral on the bill.
Republicans also took aim at two other ballot measures, proposing bills to change the new recreational marijuana law and a citizen commission to redraw legislative districts. But both measures died this month.
Read more: Michigan lawmakers send Gov. Snyder bill to add hurdles to ballot drives
Major money changes
In perhaps the most dramatic development of the day, an eleventh-hour plan for what to do with extra state money took shape through three bills spanning more than $1.2 billion in spending.
One, HB 4991, began as a plan to prevent people wrongly convicted of crimes from having to pay taxes on state compensation and was amended in the Senate to fund toxic cleanups and road fixes by diverting millions of dollars of income tax revenue from schools. It passed the state House on a 56-51 vote around 2 a.m. Friday after passing the Senate late Thursday night.
Rep. Martin Howrylak, R-Troy, was the original sponsor of the bill. He opened his floor speech in the House with "apparently this is my bill. Emphasis on the word 'apparently.'"
He went on to detail a litany of concerns. "I love you Marty," shouted one Democrat during his testimony. Several Democrats also spoke against the bill before it passed, lamenting the loss of funding for schools. Eight of the 13 bill sponsors then requested to be removed.
Another, SB 601, includes $377 million from the state General Fund to pay for a wide variety of programs spanning more road funding, PFAS programs, "pork" projects for local districts and much more. The third, SB 149, directs nearly $80 million to education programs, including roughly $28 million from the general fund.
Read more: Michigan budget deal may shift money from schools for roads, cleanups
Wetlands and deer sterilization
Lawmakers passed bills to lift development protections on some wetlands, but the bill they passed is far more sweeping than an original proposal that would have removed restrictions on 550,000 acres of wetlands and 4,200 lakes.
The final version was expanded to protect many types of wetlands not covered under the original bill, including those over five acres and those that contain endangered species. Legislators passed that version close to 1 a.m. Friday with a 61-46 vote. No legislators spoke about the bill before the vote.
Meanwhile, there's good news, perhaps, for deer: Snyder signed legislation Thursday to temporarily bar state officials from issuing permits to sterilize deer.
The legislation was prompted by the City of Ann Arbor's program to do so, but the bill allows the city to continue its sterilization project that involves removing does' ovaries.
The program has sparked an uproar among hunters and others.
Read more: Michigan Gov. Rick Snyder gets bill to lift protections on small wetlands
Signs from Snyder
Curious as to whether any of this stands a chance of Snyder's approval? Join the club.
Snyder spokesman Ari Adler said via Twitter Thursday there's little chance he'll show his cards.
To all of the reporters asking about the potentially hundreds of bills coming to Gov. Snyder's desk, please feel free to copy and paste this into your stories as needed: "The Governor will carefully review the final version of the legislation and then decide whether to sign it."

— Ari B. Adler (@aribadler) December 20, 2018
We're not just a news organization, we're also your neighbors
We've been there for you with daily Michigan COVID-19 news; reporting on the emergence of the virus, daily numbers with our tracker and dashboard, exploding unemployment, and we finally were able to report on mass vaccine distribution. We report because the news impacts all of us. Will you please donate and help us reach our goal of 15,000 members in 2021?