Michigan Attorney General candidate Dana Nessel attacked by her own words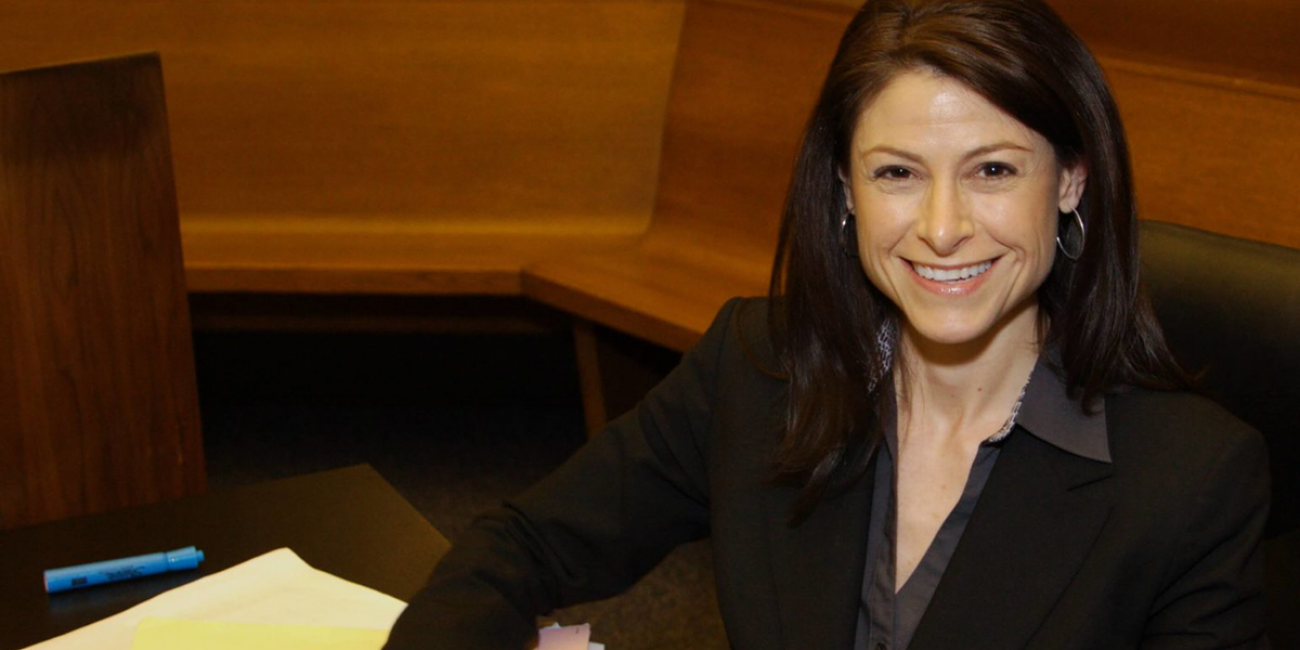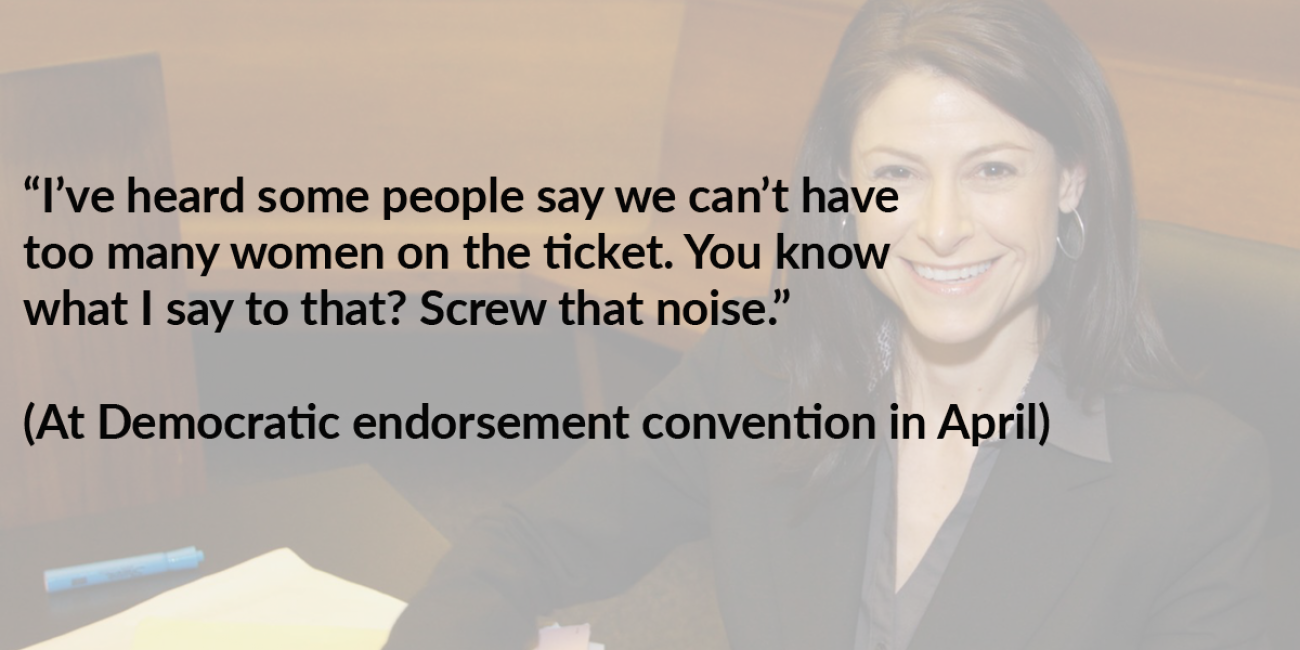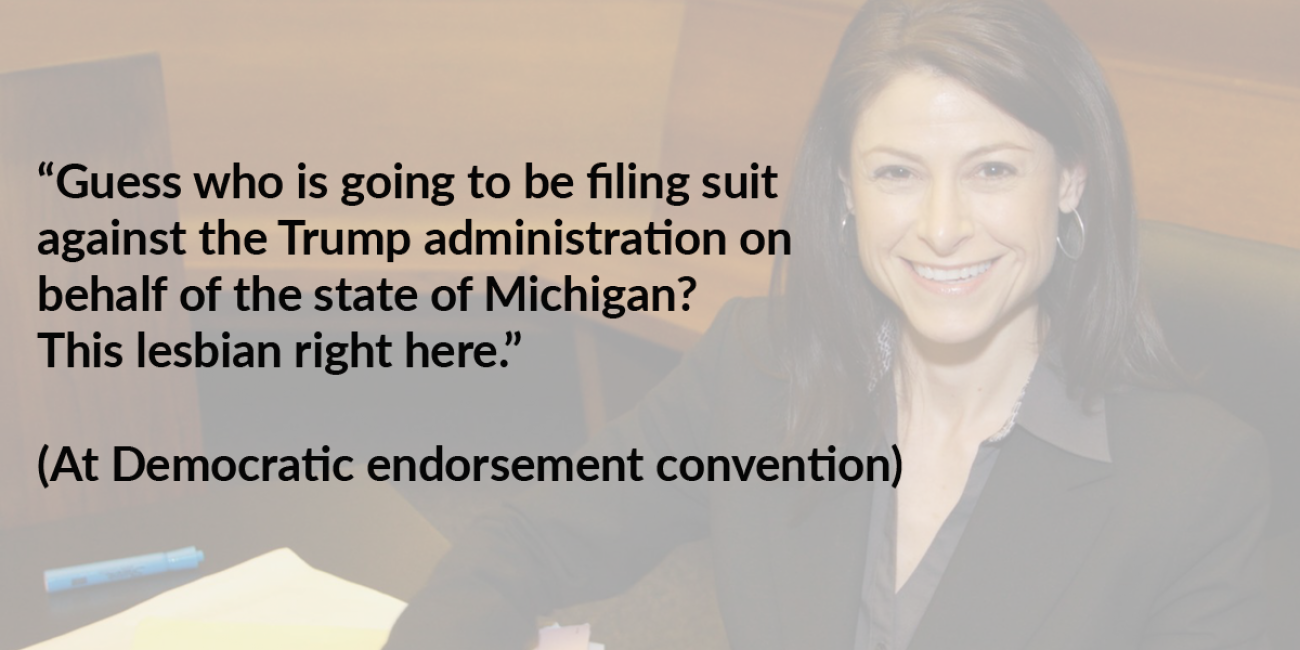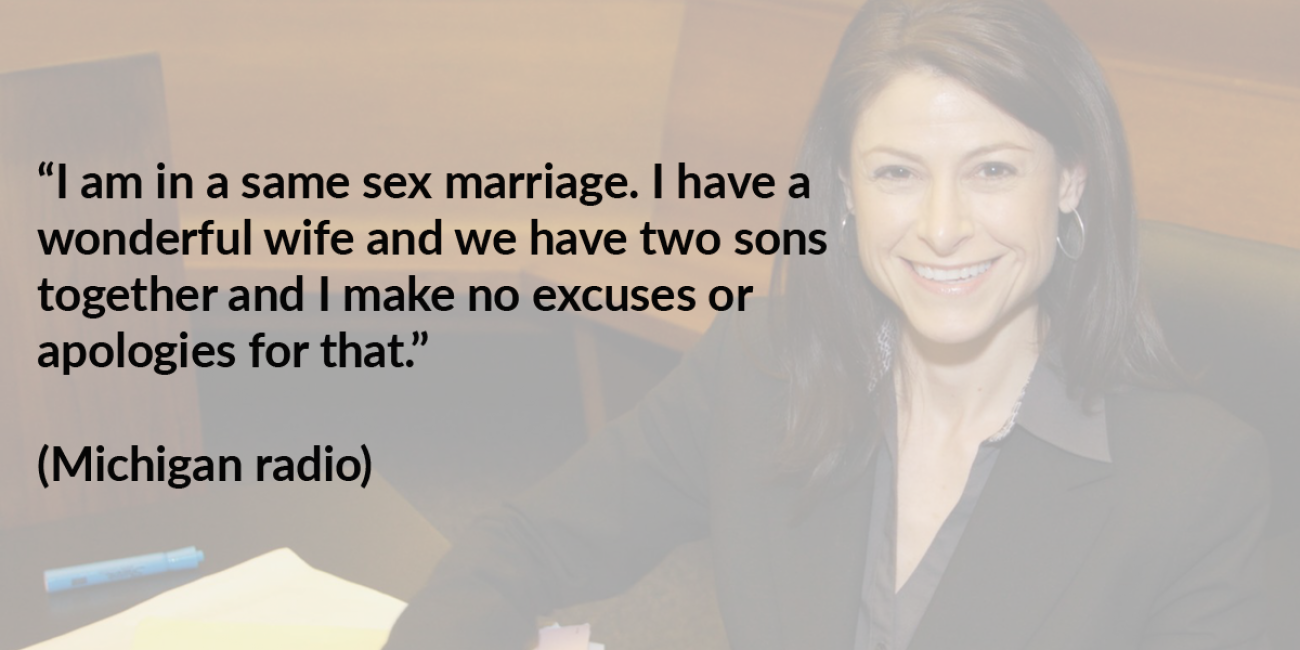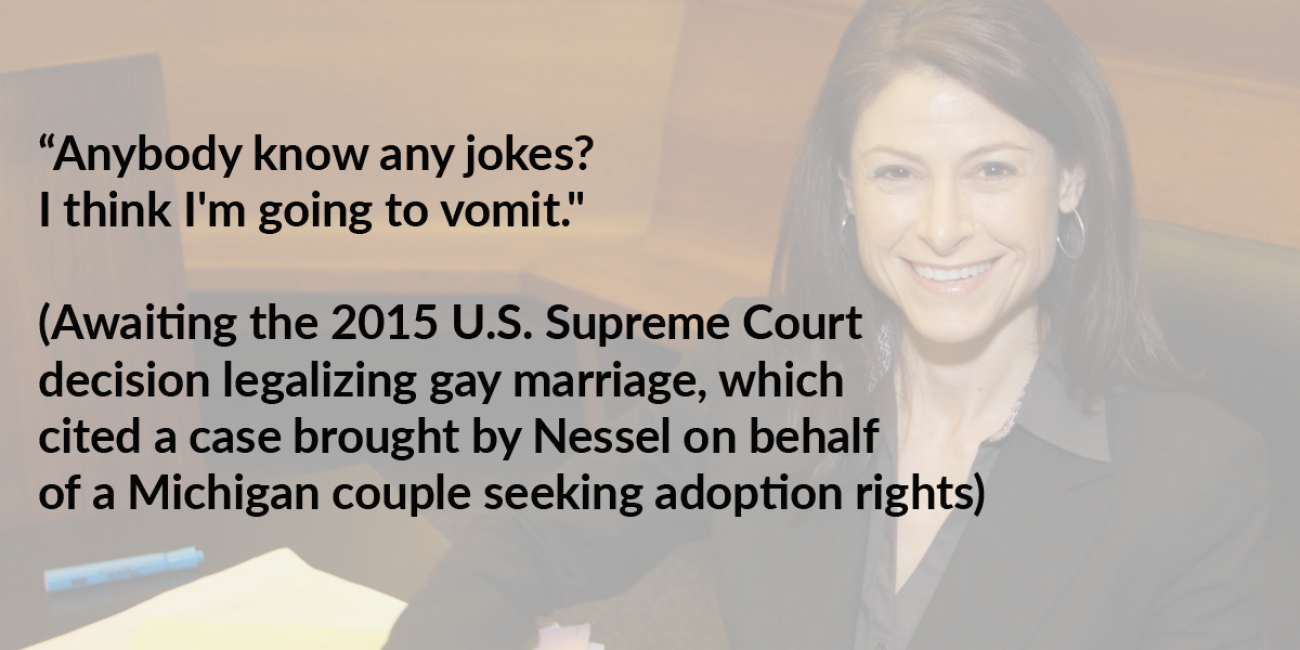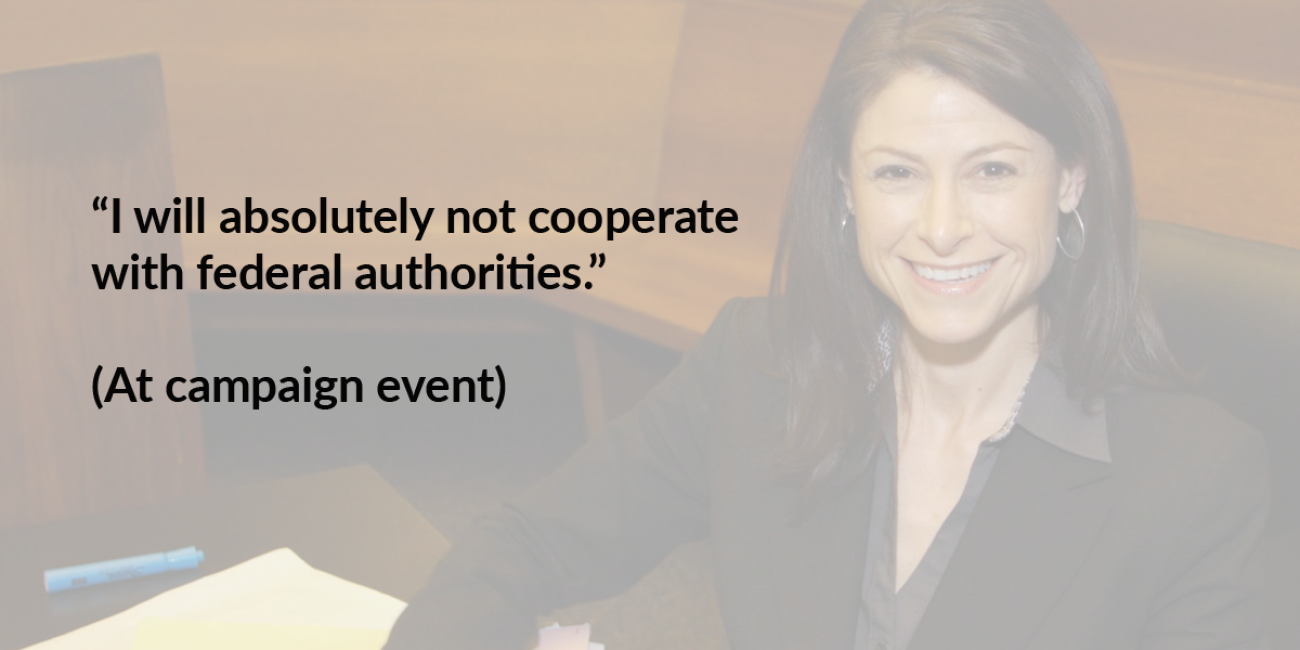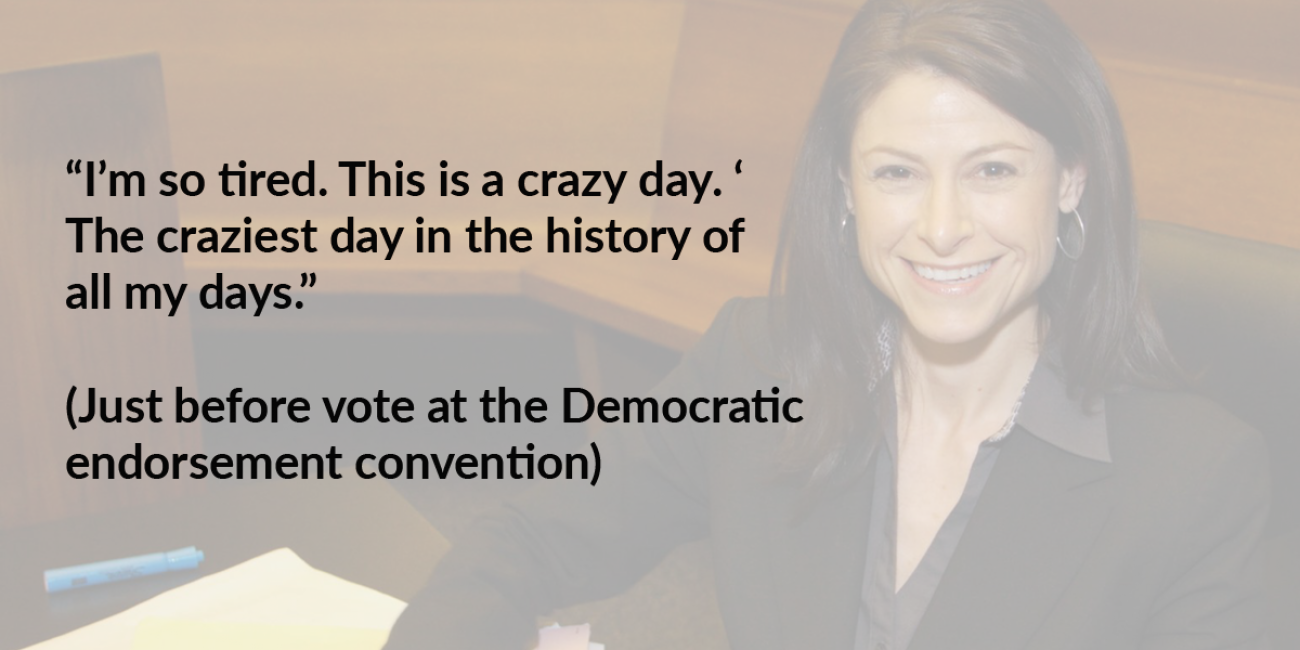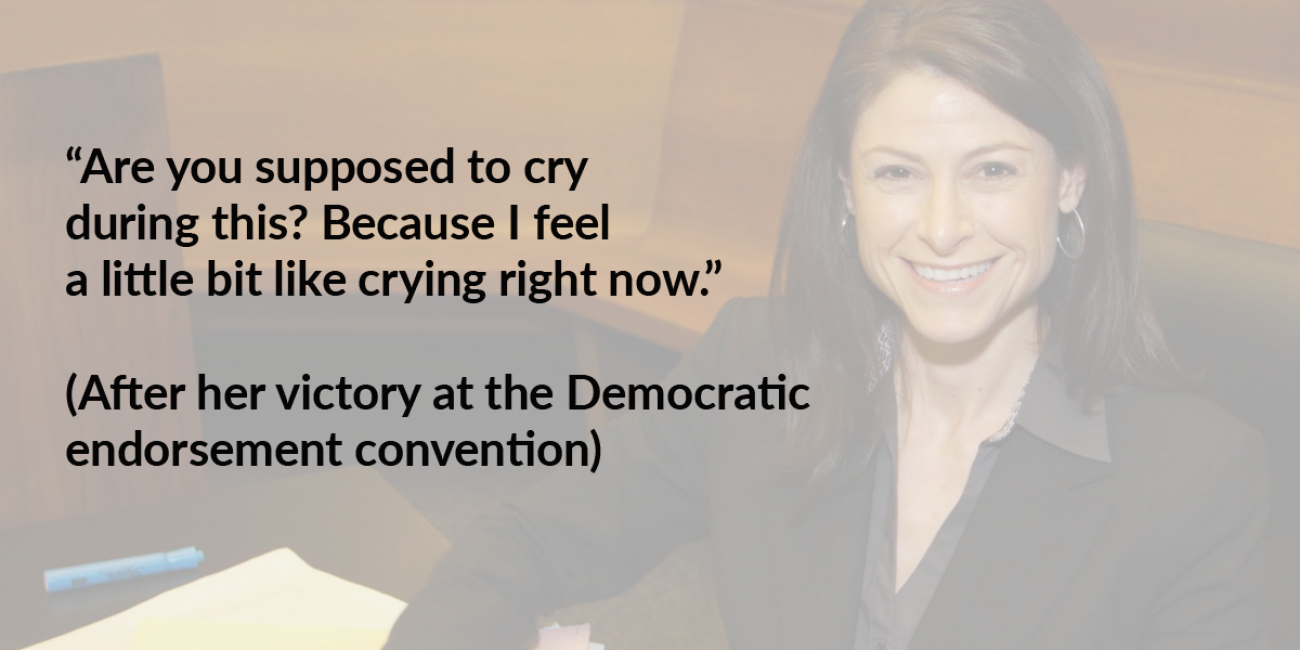 Oct. 31, 2018: Here's who has endorsed the 2018 Michigan Attorney General candidates
If nothing else, Dana Nessel has a talent for memorable sound-bites.
Whether that's a good or bad thing remains to be seen, as Republican forces seek to cast Nessel as a radical Democratic leftist unfit to be Michigan's next Attorney General – and that's even before she has a named opponent for November's general election.
Nessel gained plenty of notice, not all of it complimentary, last year when she ran an early campaign ad on the crest of the #MeToo movement touting herself as "the candidate who doesn't have a penis."
Related: Truth Squad: Republicans attack Dana Nessel for firm's defense on sex crimes
Now the Republican Attorneys General Association has launched a web video that captures the brash lawyer offering red meat to her progressive base at a series of campaign events:
"I will sue the Trump administrfation, all day, every day."

"How about shutting down all these scam pregnancy crisis centers."

"I am not going to defend unconstitutional laws that are passed by the state legislature."

"I would like to go back to a time in our nation…where it was not legal to have assault weapons."

"I will absolutely not cooperate with federal authorities."

"Jeff Sessions, I think when he was a kid, like his father beat him with a marijuana leaf or something.

"Have a good day, I love you, try not to get murdered at school today."
The clips – which play to goofy background music - appear to have been captured by a GOP operative at various Nessel stump speeches.
In a statement accompanying the video, RAGA Executive Director Scott Will said: "People expect the attorney general to approach the position with a seriousness that the job demands. Dana Nessel falls far short of that standard; she simply cannot be trusted."
Veteran Lansing political analyst Bill Ballenger said he believes Nessel – even in what many forecast to be a "blue wave" election favoring Democrats – could be vulnerable to such attacks.
"This is the first dose of it, frankly," Ballenger said. "I think it is pretty effective. Republicans don't have to say anything. All they have to do is show her in her own words."
Ballenger added: "There's never been a candidate for attorney general like Dana Nessel. The question is, will the voting public accept her? That's going to be the big question this fall."
Nessel pulled an upset at the Democratic endorsement convention in Detroit in April as she defeated the presumptive favorite, former U.S. attorney Pat Miles, who had the backing of the UAW and many establishment Democrats. Her nomination will not be official until the Democratic convention in Lansing in August.
Related: Two Michigan Attorney General rivals. One day to make their pitch
Photo slideshow: A dogfight at the Michigan Democratic Party convention
Nessel's victory delighted many on the party's left, who admire her blunt language and progressive policy stands. Indeed, it might be said that Nessel would not have beaten her establishment primary opponent had she not created such a buzz and excited her progressive base with her pugilistic remarks. This was never more apparent than in the frantic 10-hour endorsement contest at Detroit's Cobo Center, where true believers repeatedly shouted her name and gave her standing ovations.
Still, Ballenger said there was inside talk at the Detroit event that the party may have fumbled its chance to win the office by choosing Nessel.
The GOP battle to replace term-limited Attorney General Bill Schuette won't be settled until August. Delegates to the Republican convention in Lansing will choose between House Speaker Tom Leonard, R-DeWitt, and state Sen. Tonya Schuitmaker, R-Lawton.
Michigan Democratic Party chairman Brandon Dillon pushed back against the Republican line that Nessel's inflammatory comments on the campaign trial will render her unelectable in November.
"Dana is authentic," Dillon said. "What voters want out of their candidates more than anything else is authenticity. Dana is not constrained by typical notions of what candidates should and shouldn't say."
"The fact that they (Republicans) are out so early trying to spread this kind of nonsense – they know they are in for a really tough fight."
Nessel, a former Wayne County assistant prosecutor, is best known as the lead attorney in the case that challenged Michigan's same-sex marriage ban. In her speech announcing her candidacy in 2017, she set out her progressive bonafides, promising to: file suit to shut down the Line 5 oil pipeline under the Mackinac Straits; prosecute corporate polluters; stop prosecutions for marijuana;, expand LGBTQ protections, and ensure abusive cops aren't allowed to find new jobs in other departments.
Nessel is also the first openly gay person to run as a major party candidate for statewide office in Michigan.
Angela Vasquez-Giroux Wittrock, spokesperson for Nessel, told Bridge in a statement that Nessel won't be cowed by Republican attacks.
"This is a serious race," she wrote, "with serious implications for millions of people ‒ the office of Michigan Attorney General is the last line of defense against hateful policies that will harm our friends, neighbors, and families. Michiganders won't be fooled by a slapstick video full of wildly mischaracterized statements."
She added: "It's no wonder her candidacy rattles RAGA: Dana's shown that she can engage, motivate and unite a vast coalition of Democrats, Independents and, yes, even Republicans to support her now and in November."
Wittrock also offered a full-throated defense some of Nessel's attention-getting campaign lines:
To sue the Trump administration "all day, every day"
Democratic attorneys general "are the last line of defense against the Trump administration. To the extent you can use the office of attorney general to stop those policies from harming the state of Michigan, she will do that."
"Shutting down scam pregnancy crisis centers"
Wittrock referred Bridge to an article in the Huffington Post that said such centers, typically faith based, "rely heavily on misleading or outright lying to women about reproductive health care in order to dissuade them from having abortions."
"(N)ot going to defend unconstitutional laws that are passed by the state legislature."
Wittrock said that likely refers either to a teachers' union lawsuit that forced the state to return $554 million in pension funds the state had improperly deducted, or an ACLU lawsuit that seeks to bar the state from contracting with private agencies that turn away prospective foster and adoptive families due to their sexual orientation. Nessel has spoken out about both issues.
"I would like to go back to a time…where it was not legal to have assault weapons."
Nessel supports a ban on assault weapons.
She will "absolutely not cooperate with federal authorities."
Wittrock said the statement appears to be cut off in the video, so it's unclear what Nessel may have been referencing. She said it's either a reference to efforts by Immigration and Customs Enforcement to detain undocumented residents – which she said Nessel would not assist – or to federal efforts to prosecute residents on marijuana charges when they are in compliance with state law.
Wittrock said Nessel had traveled to 69 Michigan counties before her April nomination and, "without seeing the full clip of each remark," it's hard to know for certain the context of each statement in the video.
"Try not get murdered at school today"
Nessel delivered that line at a February march for stricter gun control legislation, reflecting her stand on the issue.
The father of U.S. Attorney General Jeff Sessions "beat him with a marijuana leaf" when he was a kid.
Wittrock called that a humorous barb aimed at Sessions' declared goal of enforcing federal marijuana laws against people who are in compliance with state marijuana laws. Nessel backs a ballot measure to legalize Michigan recreational marijuana use.
Lansing pollster Bernie Porn said it's hard to know at this stage whether this Republican line of attack will be effective against Nessel if it's funded as a major TV ad campaign.
"It's conceivable she may even shine with some of these outrageous comments," Porn said. There is, he said, a precedent for outrageous remarks actually helping a campaign. "Donald Trump has normalized a lot of this. You can't tell until it's connected to the candidate."
Porn noted that on some of issues the video indirectly raises – legalization of marijuana, immigration – polls suggest Nessel is on the winning side.
A 2014 poll by Porn's firm, EPIC-MRA, found 64 percent of Michigan residents supported immigration reform plan that passed the U.S. Senate offering a path to citizenship for millions of undocumented immigrants, though that was four years ago. A March EPIC-MRA poll found 61 percent favor legalization of marijuana.
House Speaker Leonard and Sen. Schuitmaker both oppose legalizing recreational marijuana. (Some Republican lawmakers are nevertheless pushing for legislative approval of legalization if only to keep it off the November ballot and potentially drawing more Democratic voters to the polls. The Legislature has until June 5 to act.)
Among those under age 35, Porn said, 87 percent support legalization.
"That," he said, "scares the hell out of Republicans."
And to be fair, Nessel isn't the only attorney general candidate who seems determined to run hard toward the base, rather than drift to the center. At a debate among the GOP hopefuls Thursday night in Oakland County, both Leonard and Schuitmaker vowed that they too will hold fast to their conservative views if they are the nominee.
"I will tell you this, when we compete against (Nessel) in the fall, we can't beat her by running to the center," Leonard told the crowd. "We've got to hit her punch for punch, pound for pound, whatever you want to call it... We've got to beat her by running to the right."
Even so, Republican pollster and consultant Steve Mitchell told Bridge he believes the Democratic Party muffed its chance at taking the AG race by nominating Nessel.
"The Democratic Party managed to snatch defeat from the jaws of victory," Mitchell said, adding that he believes Miles would have won the office had he been nominated.
"You have an African American who is popular in West Michigan where the Republican base is, who is running statewide. In short, he was a tremendous candidate."
Nessel may well win progressive votes ‒ but at the expense of traditional Democrats and independents that Mitchell says she will need to carry the race.
"You better believe she is going to get hammered on all these issues. She is running to be the chief law enforcement officer of the state and you say you are not going to enforce laws? You are going to have a difficult time with independents."
Only donate if we've informed you about important Michigan issues
See what new members are saying about why they donated to Bridge Michigan:
"In order for this information to be accurate and unbiased it must be underwritten by its readers, not by special interests." - Larry S.
"Not many other media sources report on the topics Bridge does." - Susan B.
"Your journalism is outstanding and rare these days." - Mark S.
If you want to ensure the future of nonpartisan, nonprofit Michigan journalism, please become a member today. You, too, will be asked why you donated and maybe we'll feature your quote next time!