Michigan county eyed criminal ordinance for books. Librarians fought back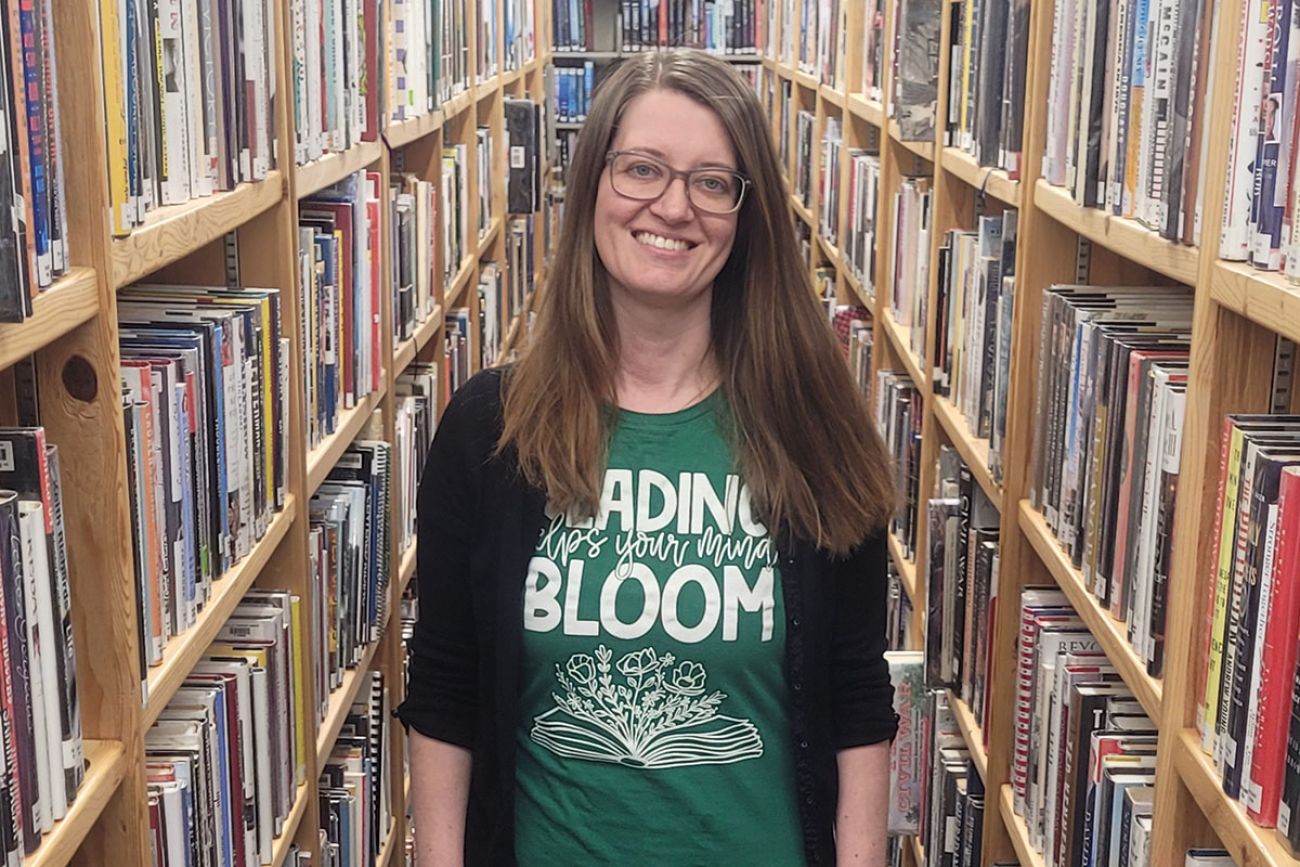 Patricia Buckhold, director of the Marcellus Township Wood Memorial Library in Cass County, was part of a librarian-led blitzkrieg that thwarted a proposal that threatened librarians with criminal charges. (Bridge courtesy photo)
Cass County was poised to consider a book ordinance that could put librarians in legal jeopardy
But the proposal was pulled from the county commissioner's agenda after public pushback led by librarians
The ordinance, if passed, would be the first of its kind in Michigan
---
A statewide network of librarians thwarted a proposed ordinance in Cass County on Tuesday that sought to criminalize the distribution of sexually "explicit" library books to children.
In a 24-hour political blitzkrieg, librarians and library supporters forced the board of commissioners in this conservative Southwest Michigan county to — at least temporarily — withdraw consideration of an ordinance that would subject librarians to possible arrest for keeping offending books on the shelves.
The successful effort emboldened librarians who say they've felt under attack for the past year and indicates how free speech advocates are adopting some of the tactics conservatives have used to wield political influence over what books are made available to children.
Related:
Conservatives may be mad as hell, but now the librarians are, too.
"Every library in the state of Michigan is going to be challenged at some point, and they have to be prepared," said Debbie Mikula, executive director of the Michigan Library Association. "And when they are challenged, they know other librarians are going to stand right next to them."
The "Cass County Child Protection Ordinance," a draft of which you can read here, would have been the first of its kind in Michigan, according to the MLA, and a dramatic escalation of the culture wars that have engulfed libraries and public schools in the past year over books with LGBTQ or racial themes.
The proposed ordinance attempted to set criminal penalties that could have been enforced against librarians. The proposal referenced a state law that states "a person is guilty of disseminating sexually explicit matter to a minor if that person knowingly disseminates to a minor sexually explicit visual or verbal material that is harmful to minors," or "exhibits to a minor a sexually explicit performance that is harmful to minors."
The ordinance defined material as "sexually explicit" if it contained "nudity, sexual excitement, erotic fondling, sexual intercourse, or sadomasochistic abuse."
The ordinance said books would be in violation if they are "patently offensive to contemporary local community standards," appeal to "the prurient interest of minors" in a "sexually explicit manner," but the draft included exemptions for "scientific text" or "any religious text," thus exempting the Bible.
If the ordinance passed, school and public libraries would have 30 days to sign notarized statements vouching that their collections contain no sexually explicit materials available to children.
"I want to make sure our kids are protected," Cass County Commissioner R.J. Lee, who sponsored the bill, told Bridge Michigan on Tuesday.
It was unclear from the proposal what criminal penalty could be imposed for violations. The ordinance references a state criminal law that is a felony and references the ability of law enforcement officers to make an arrest.
Lee said there were no specific books that prompted his "zero tolerance" proposal, which he said "isn't about banning books."
"My goal is primarily to create the opportunity for the public to discuss" whether an ordinance is needed, Lee said. "This isn't the done deal. I'm open to hearing (the views of residents)."
The proposal is the latest in a series of escalating battles over books in Michigan schools and public libraries, with conservative officials and parent groups objecting to popular LGBTQ-themed books, including memoirs that have passages or illustrations chronicling sexual experiences.
In Ottawa County, voters in Jamestown Township defunded their public library last year in a fight over a handful of LGBTQ-themed books. The Patmos Library remains open for now, through donations.
In March, the prosecutor of Lapeer County threatened criminal charges against the local public library over an LGBTQ-themed book if the library declined to remove the book, "Gender Queer: A Memoir," from its shelves. The library is currently reviewing the book, and it remains available to the public.
Monday afternoon, a librarian at the Cass District Library, one of three public libraries that would have been affected by the ordinance, saw the proposed ordinance in an agenda packet for the next board of commissioners meeting, which is set for 5 p.m. Thursday.
By Tuesday morning, word of the proposal had spread to librarians as far away as the Upper Peninsula, according to librarians who spoke to Bridge, through emails and list-serves and the coordination of the Michigan Library Association
Mikula, of the MLA, said librarians jumped into action because they considered the proposed ordinance an existential threat to public and school libraries, particularly if the ordinance spread to other counties. The ordinance appeared to leave it up to county officials to decide what material is sexually explicit. Many movies and romance novels, for example, have scenes with nudity.
There were also practical concerns for librarians.
"The ramifications if this passed would shutter the doors of many libraries," she said. "They would never be able to sign off on all the books and materials within their libraries. Some libraries have 200,000 books.
"These are acts of intimidation," Mikula said. "No one has the right to make rules about what other people read."
A librarian at the Library of Michigan helped research state law, Mikula said. MLA officials contacted the American LIbrary Association for advice, and passed a copy of the proposed ordinance to the Michigan ACLU and the state Attorney General's office.
Librarians across the state called media outlets (Bridge received emails Tuesday about the ordinance from three library officials in different parts of the state). Cass County librarians contacted library patrons and urged them to call and email county commissioners to express their dismay with the proposal because "all politics is local," Mikula said.
Cass County Board Chair Jeremiah Jones told Bridge his "phone was blowing up" with calls from reporters and from people objecting to the ordinance. Lee, the proposal's sponsor, said he'd also received numerous calls.
Late Tuesday afternoon, just 24 hours after librarians learned of the proposed ordinance, it was pulled from the board agenda. Jones told Bridge that commissioners weren't prepared for the ordinance to draw so much "attention."
Lee told Bridge he won't reintroduce the ordinance and insisted his actions were "not meant to be controversial. I just want what's best for the community."
But Jones left the door open to reconsideration, saying the ordinance needed to be "rethought," and may be reintroduced at a later date. Jones said he would advocate for the proposal to be reviewed by a local judge and the county prosecutor to "get it rewritten legally, ethically and morally" before it would be voted on.
"I don't want my 5-year-old granddaughter going to school and reading about things that are inappropriate (like) sexual transitions," Jones said. "It's not a Cass County problem, it's statewide and nationwide."
Patricia Buckhold, director of the Marcellus Township Wood Memorial Library in Cass County, turned to social media Tuesday on the library's Facebook page to encourage residents to contact their commissioners.
Lee, the proposal sponsor, called her Tuesday evening to apologize, both Lee and Buckhold told Bridge.
"He said he had some concerns (about some books) and was frustrated," Buckhold said. "He said he recognizes this ordinance was a little bit too aggressive and he apologized and said he didn't mean to threaten libraries or books."
Buckhold said she told Lee that librarians are going to feel threatened when they potentially face prosecution for doing their jobs.
Mikula said librarians have had to learn how to fight political battles in recent years — skills they weren't taught in college.
The state library association has a quick-action tool kit for handling controversies, and librarians are learning to fight back, Mikula said.
"When we see challenges to the values that libraries hold close — which are intellectual freedom, being welcoming places for everyone in the community, and a diversity of books for everyone — we've learned that we have to go from zero to 60 in a matter of seconds," Mikula said.
"It's been an education for libraries," said Kate Van Auken, director of the White Pine Library Cooperative in Caro, in Tuscola County. She said she drives to work each day past a sign in a lawn that says "Defund the library."
"If you have an issue (with a book), come talk to the librarian," Van Auken said. "Librarians are not evil people."
Andrea Estelle, director of the Otsego District Library in Allegan County and the director of the library cooperative region in which Cass County is located, said she's encouraging directors of libraries in her region to regularly check the agenda packets for local and county meetings to see if there is anything being discussed that affects their services.
"We need to be proactive in getting involved with local governments," Estelle said, because developing relationships with local officials can potentially head off ordinances like the one proposed in Cass County.
And if that fails, anyone who plans to try to censor books or turn librarians into criminals should know they'll now face organized opposition, Buckhold said.
"We'll fight back," said Marcellus Library director Buckhold, "and have the research to back it up"
Only donate if we've informed you about important Michigan issues
See what new members are saying about why they donated to Bridge Michigan:
"In order for this information to be accurate and unbiased it must be underwritten by its readers, not by special interests." - Larry S.
"Not many other media sources report on the topics Bridge does." - Susan B.
"Your journalism is outstanding and rare these days." - Mark S.
If you want to ensure the future of nonpartisan, nonprofit Michigan journalism, please become a member today. You, too, will be asked why you donated and maybe we'll feature your quote next time!