Michigan Legislature, Gov. Whitmer head for showdown on roads, redistricting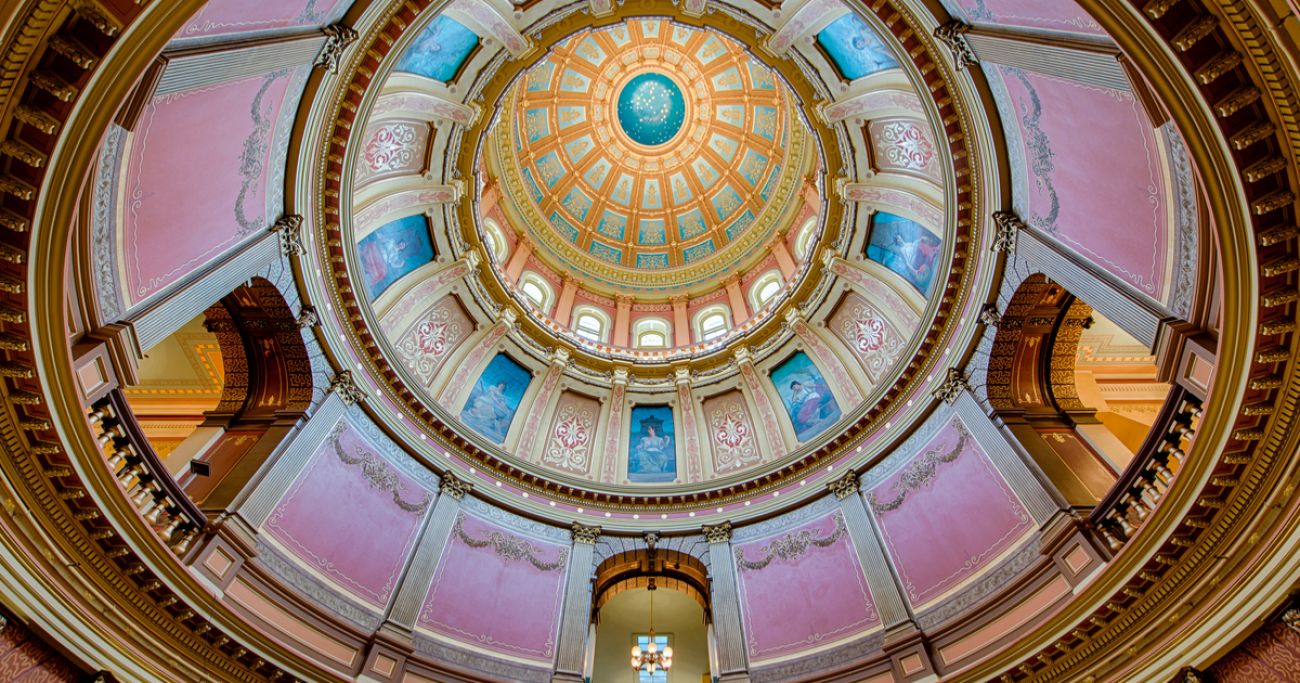 Michigan Government
Michigan Legislature, Gov. Whitmer head for showdown on roads, redistricting
LANSING — Michigan's Republican-dominated House and Senate kicked off the final stage of the state budget process on Thursday, including votes on multiple funding decisions likely to irk Gov. Gretchen Whitmer and other Democratic state officeholders.
The committee-level votes included cuts to Democrat Secretary of State Jocelyn Benson's office and the redistricting commission her office is creating. It also included onetime funding for road and bridge repairs far below the $2.5 billion annually experts say is needed for Michigan's battered infrastructure. Attorney General Dana Nessel, another Democrat, escaped budget cuts, but Republicans attached a proposal to track her lawsuits against the federal government.
Early Thursday, the Legislature, with a surprise boost from House Democrats, also passed an education budget for the 2019-20 fiscal year, which added an additional $30 million for special education students.
Thursday's proposals -‒ which the legislature and governor must agree to by Oct. 1 to avoid a government shutdown ‒ also included plenty of items where the two sides seem to have reached consensus: Millions in funds to compensate those who have been wrongfully imprisoned, for instance, money to monitor and respond to PFAS and other environmental contamination, and an increase in funding for child welfare programs.
Whitmer has reportedly remained out of direct negotiations with Republican leaders since talks broke down last week over wide disagreement over road funding. Senate Majority Leader Mike Shirkey and Speaker of the House Lee Chatfield said they will pass the committee-approved budgets on their chambers' floors next week.
Their fate after that is a bit of a mystery: Whitmer can veto specific items in each of the budgets, which would require a two-thirds vote in each chamber to override. That's unlikely because Republicans don't have the numbers to override her vetoes without help from Democrats.
Here are four big takeaways from the Legislature's Thursday budget bonanza:
$400 million in onetime road and bridge funding
Republicans proposed shifting $400 million in general funds to help fix the state's roads and bridges. That would increase funding for fixing Michigan's oft-complained about infrastructure.
But that's still a no-go for Whitmer, as it is far below the $2.5 billion she originally sought to fund necessary fixes and continues the practice of diverting general fund money from other expenses such as higher education and local governments.
"Today's action just proves that the Republican-controlled legislature is totally unserious about passing a long-term solution to address Michigan's infrastructure crisis," Whitmer said in a statement Thursday evening. "Until Lansing Republicans put a real long-term solution on the table that doesn't involve cutting teacher pensions to fill potholes, our roads will continue to get worse, putting drivers and our economy at risk."
Republicans say it's not their only proposal to fund roads and that they're still willing to discuss long-term fixes after the budget is passed.
Funding for Attorney General, but an explanation when she sues Trump
Democratic Attorney General Dana Nessel came out on top Thursday: House and Senate Republicans decided to reverse course on earlier plans to cut her budget by 10 or 15 percent. Her office ended up with a 1.3 percent general fund increase over last year.
But Republicans included a House provision that requires her ("not a designee of the Attorney General") to go before legislative committees to present why she decided to enter any lawsuit against the federal government and an estimate of how much it will cost the state ‒ a proposal they did not impose on her Republican predecessor.
Nessel, as promised during her 2018 campaign, has entered multiple lawsuits against Republican President Donald Trump's administration since taking office. The provision, if it becomes law, does not attempt to prevent Nessel from filing or joining suits.
"I think what we're really trying to do is continue to make sure we understand what it is and if there's a cost," said Sen. Jim Stamas, R-Midland, chair of the Senate Appropriations Committee. "If there's a cost to the people of Michigan, I think we want to make sure it's a known cost."
Cuts to Secretary of State and redistricting commission
Democratic Secretary of State Jocelyn Benson wasn't so lucky. GOP lawmakers proposed cutting her general fund budget by more than a quarter — the pool of money she can choose to use for whatever she likes. Thanks to added restricted funds (that have to be used for a required purpose), her overall budget came out fairly even.
The language in the redistricting proposal passed by state voters last November, however, requires funding for the new commission to be tied to the Secretary of State's general fund budget. By cutting Benson's discretionary money, GOP lawmakers, who generally oppose the new commission, would be able to appropriate $1.2 million less than Whitmer and Voters Not Politicians (the group that organized the redistricting proposal) had called for.
Curbing jail funding in "sanctuary" communities
Republican majorities kept a Senate-proposed plan to withhold certain funding from communities that have policies prohibiting "communicating or cooperating" with federal immigration authorities. As part of the Department of Corrections' budget for the new fiscal year, the proposal would stop reimbursement to jails that house convicted felons who would otherwise be serving time in state prisons under a 2011 program in areas with "sanctuary" policies.
MDOC opposes the proposal because it says it would require the department to reopen closed housing units and spend more money on overtime staffing. A MDOC spokesman said it could cost counties such as Washtenaw and Kalamazoo that have enacted "sanctuary" policies hundreds of thousands of dollars; the biggest impact would be on Kent County, which receives $1.1 million through the program.
"I think it's an important standard that we uphold that we want all facets of law enforcement to work collaboratively and cooperate together with one another, and this is a good motivator for them to do that," Senate Judiciary and Public Safety Appropriations Subcommittee Chair Sen. Tom Barrett, R-Potterville, told Bridge Magazine earlier this year.
We're not just a news organization, we're also your neighbors
We've been there for you with daily Michigan COVID-19 news; reporting on the emergence of the virus, daily numbers with our tracker and dashboard, exploding unemployment, and we finally were able to report on mass vaccine distribution. We report because the news impacts all of us. Will you please support our nonprofit newsroom?