White vs. black. Northern vs. southern. Rural vs. urban. Republican vs. Democrat.
The divisions are being exposed as Michigan lawmakers debate a bill that would require Medicaid recipients to work 29 hours a week.
That's sparked racial accusations because the bill would exempt residents who live in counties with unemployment rates of 8.5 percent or higher. Residents of cities with similar jobless rates, however, wouldn't be exempt.
Related Michigan Medicaid work requiremet stories:
Here's a look at maps that shape the debate. First, the 17 largely rural, largely white counties that would be exempted. Click on a county to see the unemployment rate and demographics.
But there are six cities, mostly African-American, that also have high unemployment rates. Those areas aren't being exempted because they are surrounded by counties with lower jobless rates. Click the cities to see their unemployment rates and demographics.
Some critics say the exemptions would punish urban poor folks and favor rural ones. The exempted counties, for instance, have a population of roughly half of all of Detroit.
Would be exempt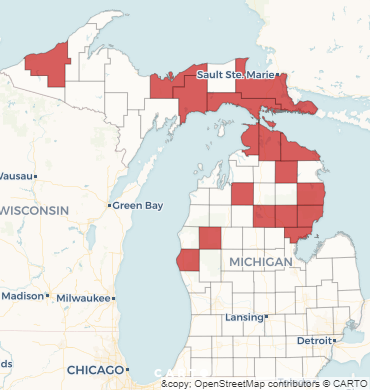 17 counties*
303,600 people
88.7 percent white
0.7 percent black
Unemployment: 11 percent
All counties represented
by Republican senators
Counties: Mackinac, Cheboygan, Presque Isle, Montmorency, Alger, Roscommon, Schoolcraft, Arenac, Ontonagon, Ogemaw, Chippewa, Emmet, Lake, Alcona, Iosco, Oceana and Kalkaska
Would not be exempt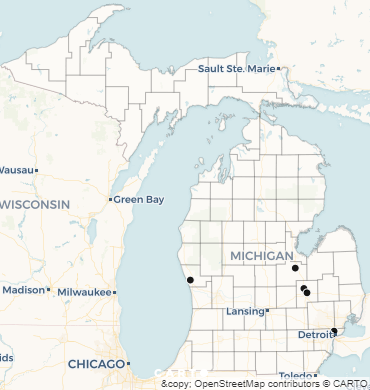 Six municipalities*
894,000 people
16.9 percent white
71.8 percent black
Unemployment: 9 percent
All but two represented
by Democratic senators
Municipalities: Detroit, Flint, Saginaw, Muskegon, Highland Park, and Mount Morris Township
The areas that would benefit most are areas that are represented by Republicans. Four of the six cities with elevated unemployment levels are represented by Democrats.
Sources: U.S. Census, Michigan Bureau of Labor Market Information and Strategic Initiatives