Michigan Republicans pitch absentee 'ballot harvesting.' That's not legal.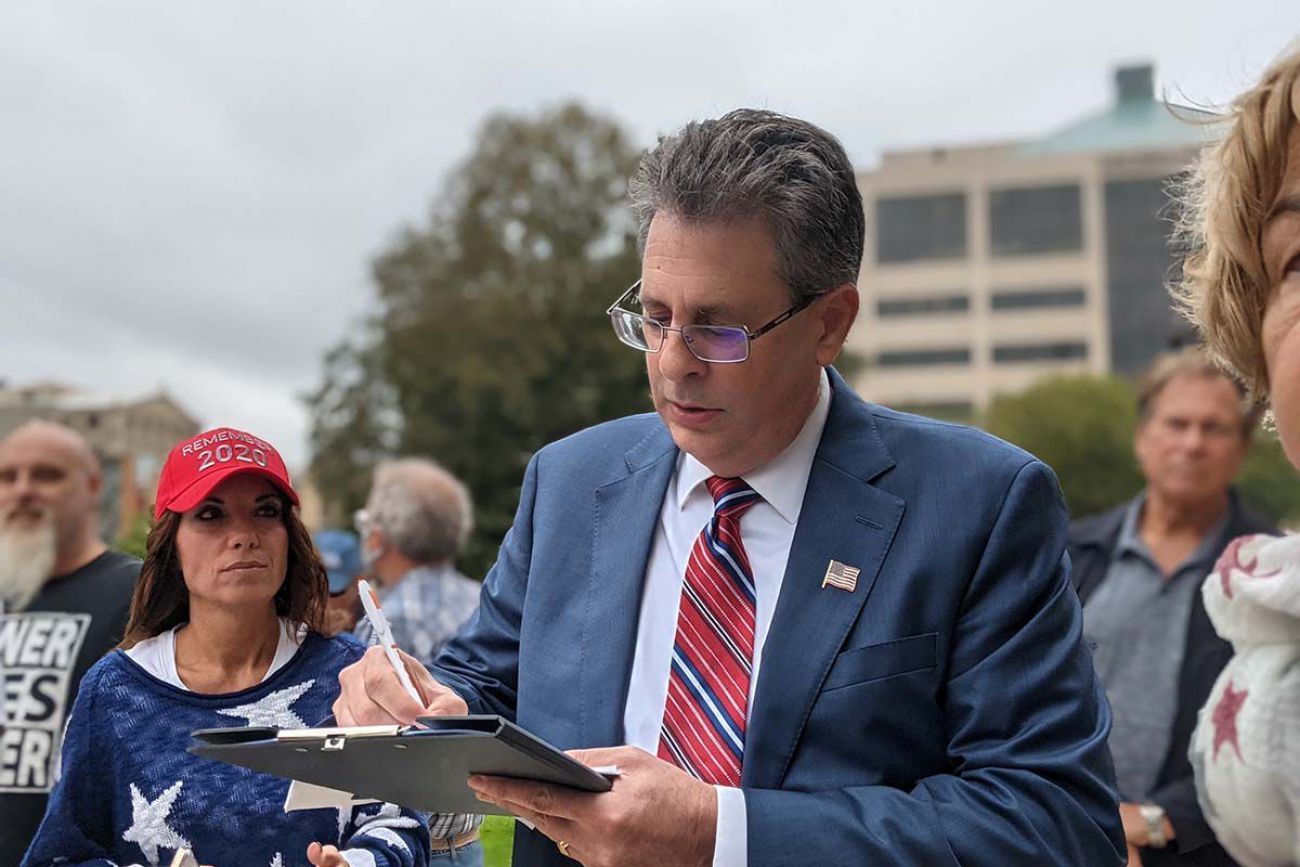 Michigan GOP chair candidate Matt DePerno has said the party is "going to collect absentee ballots" but told Bridge he actually just wants to explain how to mail them in. (Bridge photo by Jonathan Oosting)
Several candidates vying to head the Michigan GOP are pushing 'ballot harvesting' to better compete with Democrats
Some argue that the passage of Proposal 2 makes the tactic legal in Michigan, but election officials dispute that
Trump continues to oppose absentee voting, making it more difficult for Republicans to compete in places like Michigan
---
LANSING – As he campaigns to be the next chair of the Michigan Republican Party, Matthew DePerno is promising to be more competitive against Democrats by orchestrating "the biggest (absentee) ballot harvesting program this state has ever seen."
Fellow candidate Lena Epstein says that, under her leadership, the Michigan GOP would "pay people" to collect absentee ballots. Likewise, candidates Michael Farage and Kent Boersema both contend the party must focus on "ballot harvesting" to compete with Democrats.
The comments point to a growing awareness among Republicans that they must embrace absentee voting despite former President Donald Trump's continued criticism of the popular option, which he has scapegoated in his failed quest to overturn the 2020 election.
Related:
But the GOP rhetoric has also raised eyebrows because actual ballot harvesting — using political operatives to collect and return ballots from multiple voters — remains illegal in Michigan. Existing law generally makes it a felony crime punishable by up to five years in prison.
DePerno and other Michigan Republican Party chair candidates have suggested Proposal 2 — the election law measure approved by 60 percent of Michigan voters in November — made ballot harvesting legal. But that's not the case, according to the ballot committee and Secretary of State Jocelyn Benson, a Democrat.
"The law continues to state clearly who is eligible to vote and how they can cast their ballot," Jake Rollow, Benson's chief external affairs officer, told Bridge Michigan. "We refer for prosecution anyone who attempts to break our election laws."
Under Michigan law, an absentee ballot can only be returned by the voter who requested it, an immediate family member, someone residing in the same household or, in certain circumstances, an authorized assistant appointed by a local elections clerk.
Proposal 2, which amended the Michigan constitution, was designed to make it easier to return absentee ballots. In future elections, it will require the state to pay for return postage on application and ballot envelopes. Local governments will have to maintain at least one absentee ballot drop box for every 15,000 voters.
But the proposal "didn't touch the state law that says only certain people can even return applications, let alone ballots," said Mark Brewer, a former Michigan Democratic Party chair who worked as an attorney for the Promote the Vote 2022 ballot campaign.
"I don't know how they even define ballot harvesting, but whatever it is, it doesn't exist in this state," Brewer said. "We don't have people running around collecting ballots and turning them in either fraudulently voted or otherwise. It just doesn't happen."
Republicans have long accused Democrats of running ballot harvesting programs in Michigan and other states, unproven claims that escalated in 2020 as Trump blasted absentee voting as an avenue for potential fraud.
Benson's office last year debunked allegations of ballot harvesting "for lack of evidence and understanding of Michigan election law," including video clips promoted by conservative media that appeared to show at least two unidentified individuals dropping off several ballots at the same time.
"Michigan citizens voted in record numbers for candidates on both sides of the aisle in recent elections because they have well-placed faith in the integrity of the system and know there is zero evidence of widespread fraud," Rollow said Tuesday.
'We need to adapt'
Roughly 40 percent of all Michigan voters — 1.8 million out of 4.45 million — cast absentee ballots in 2022. That was a marked increase from 27 percent in 2018, when voters approved no-reason absentee ballots for future elections.
Among counties that break down results by ballot type, Democrats were significantly more likely to vote absentee, giving the party's candidates a big lead before Election Day even arrived.
Republicans now promoting ballot harvesting are doing so as a strategy to compete with Democrats who dominated statewide elections last fall, returning Michigan Gov. Gretchen Whitmer, Attorney General Dana Nessel and Benson to Lansing for second terms.
"We're going to knock on doors, we're going to collect absentee ballots and we're going to put them in the bank," DePerno said last week in Westland during a forum for candidates running to be the next chair of the Michigan GOP. "That's how we're going to win elections."
It would be illegal for political operatives to collect absentee ballots from voters, as DePerno has publicly proposed on multiple occasions. But he backed off the idea in an interview with Bridge Michigan Wednesday morning, saying he simply wants to facilitate returns by showing voters "how to mail them in."
"I think this term of ballot harvesting is not quite understood as to how people are using it," said DePerno, a Trump loyalist who alleged mass fraud in a failed 2020 election lawsuit before losing a 2022 campaign for state attorney general.
"The Republican Party needs to adjust and educate itself regarding elections and how elections work now in the modern day," he said. "We need to adapt."
Epstein, who is running for state party chair after losing her campaign for University of Michigan Regent, has a "different plan for ballot harvesting," she said in a recent Isabella County forum.
"Everybody's going to get paid for doing it, because it's legal now," she said, repeating false claims about Proposal 2. "We're going to pay people to ballot harvest. I don't like it, but it's legal, and if we don't play their game, they're going to just keep winning."
Farage, a west Michigan activist, told the Isabella County crowd that the GOP has to "harvest these ballots everywhere." Boersema, who serves on the Ravenna Village Council, identifies ballot harvesting as a top priority on his GOP chair candidate website.
Republican Party delegates will elect a new party chair at their next state convention, Feb. 17-18 in Lansing. Current Chair Ron Weiser and co-chair Meshawn Maddock are not seeking re-election.
DePerno is considered an early front-runner in the race, along with fellow Trump loyalist and former Secretary of State nominee Kristina Karamo. Also running are Scott Aughney, Drew Born, Mark Forton, JD Glaser, Scott Greenlee and Billy Putman.
'Unilaterally disarmed'
While election officials say actual ballot harvesting is illegal, the candidates' focus on courting absentee voters is a positive development for a party that had scaled back outreach programs amid opposition from Trump, said Jason Roe, former executive director of the Michigan GOP.
"It's nice to see these guys actually focusing on some of the mechanics of winning elections, rather than the conspiracy theories of lost elections," Roe said. "We've got to play by the rules that are set, and we have unilaterally disarmed ourselves from doing some of the things that the Democrats are doing and that's one of the reasons contributing to us losing."
Both major political parties have traditionally run absentee ballot programs, tracking expected voters who have requested ballots and then contacting them by mail, phone or door-knocking to encourage returns.
There's an "inherent cost-benefit" to absentee voter outreach programs because they allow parties and campaigns to direct their spending on voters who have not yet returned ballots or are expected to vote in-person on Election Day, Roe said.
"If people are sitting on their ballots, that means you're spending money talking to them, whereas you can take them off your mail list once they return the ballot and start saving money," Roe said.
Absentee voter outreach was part of the Michigan GOP's successful strategy in 2016, when Trump won the state by 10,704 votes. But Trump's subsequent criticism of mail-in voting put a damper on those efforts in 2020 and 2022, both in Michigan and in places like Georgia, where Democrat Raphael Warnock's narrow victories in his U.S. Senate races were attributed in part to the huge advantage Democrats enjoyed in mail and early voting.
Without evidence, the former president continues to claim absentee ballots are a vehicle for widespread fraud: "REMEMBER, YOU CAN NEVER HAVE FAIR & FREE ELECTIONS WITH MAIL-IN BALLOTS - NEVER, NEVER, NEVER. WONT'T AND CAN'T HAPPEN," Trump wrote last month on Truth Social, his social media network.
But some high-ranking GOP officials are beginning to break with Trump by endorsing absentee voting, including Republican National Committee Chair Ronna McDaniel, a Michigander who ran the state party in 2016.
"Our voters need to vote early," McDaniel said in a recent Fox News interview. "There were many in 2020 saying, 'Don't vote by mail, don't vote early,' and we have to stop that, and understand that if Democrats are getting ballots in for a month, we can't expect to get it all done in one day."
DePerno echoed those comments in an interview with Bridge, calling absentee ballots "an effective way to get our vote in and get it in early."
As for Trump's continued criticism of absentee voting?
"We'll figure it out and get on the same page," DePerno said. "He probably needs a better understanding – like we all do – of what the process is."
Only donate if we've informed you about important Michigan issues
See what new members are saying about why they donated to Bridge Michigan:
"In order for this information to be accurate and unbiased it must be underwritten by its readers, not by special interests." - Larry S.
"Not many other media sources report on the topics Bridge does." - Susan B.
"Your journalism is outstanding and rare these days." - Mark S.
If you want to ensure the future of nonpartisan, nonprofit Michigan journalism, please become a member today. You, too, will be asked why you donated and maybe we'll feature your quote next time!