Michigan's obesity straining more than waistlines
If Michigan took an honest look in the mirror, the reflected image would reveal far more than a few unsightly extra pounds.
Now ranked fifth in the nation in obesity, state residents are on track to rack up 1.4 million new cases of type 2 diabetes, 2.9 million cases of coronary heart disease and 2.6 million cases of high blood pressure over the next 20 years, a national study found.
According to the nonprofit Trust for America's Health, 31 percent of Michigan adults were obese in 2011. It projects that will climb to nearly 60 percent by 2030. An estimated 30 percent of children ages 10 to 17 are now overweight or obese.
In 2008, Michigan spent an estimated $3.1 billion on obesity-related medical costs. If trends continue, state officials estimate that will quadruple to $12.5 billion by 2018.
They warn that trajectory -- if not reversed -- will eventually overwhelm the health-care system's ability to pay.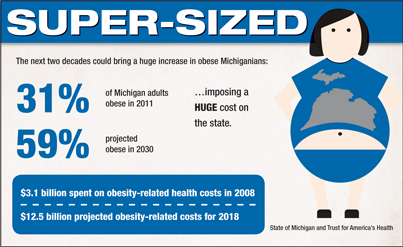 "People won't get services. The (insurance) premiums will be so high that companies will just stop paying," said James Haveman, director of the Michigan Department of Community Health.
That prognosis only underscores the stakes for Michigan's health-care network, given the fact it already leads the nation in the number of people dropped from employer-based health care in the past decade.
On Jan. 23, the state launched a publicity campaign to encourage overweight residents to lose 10 percent of their body weight.
"People can't wait. They need to start making decisions today," Haveman said.
Called MI Healthier Tomorrow, it is an outgrowth of a 2011 Lansing summit convened by Gov. Rick Snyder to develop strategies for reducing obesity. Among its key findings was the need to drive up public awareness of the serious health costs of obesity.
"Out of all of the messages we explored, the theme that focused on the very serious, very real consequences of obesity was the one that consistently resonated with people," Haveman said.
The campaign is enlisting partners that include Blue Cross Blue Shield of Michigan, Huntington Bank, Mercy Health System and YMCAs across Michigan.
But in the long run, Haveman said, it is up to individuals to change.
"All of the research I've seen is that this is a personal decision," he said.
It is an epidemic building for decades, as Americans eat more and do less.
Eating more, moving less
In 1970, the average American consumed 2,169 calories a day, according to the U.S. Department of Agriculture. By 2008, it was 2,674 calories. A 2011 report by the World Health Organization found that fast-food consumption increased fivefold among U.S. children since 1970. Consumption of carbonated soft drinks – now about 50 gallons per person per year – has increased tenfold since the 1940s.
At the same time, computers and automation took much of the physical effort out of the work place. Suburban sprawl made walking optional. Video games replaced physical games.
A 2007 academic study found that about 40 percent of U.S. schoolchildren walked or rode their bikes to school in 1969. By 2001, 13 percent did. From 1960 to 2000, the average daily levels of bicycling and walking to work fell by 67 percent.
A 2012 report commissioned by the Detroit-based Skillman Foundation found that 44 percent of Detroit children watched television three or more hours a day, a decline from previous years. But it also noted that "as children increasingly turn to computers and other mobile media platforms for entertainment, the decline in television viewership rates is to be expected and does not translate to more time exercising ..."
Health experts say that Michigan has no choice but to turn this trend around.
"This is the number one health issue in the country and in the state. We need to take action," said Dr. Kim A. Eagle, a cardiologist and a director of the University of Michigan Cardiovascular Center.
Eagle said it is inperative to alter the unhealthy habits of the young. The prevalence of obesity among U.S. children ages 6 to 11 tripled from 6.5 percent in 1980 to 19.6 percent in 2008.
"When you think about this as a society, we should start with children," he said.
In a 2010 study of Michigan sixth-graders, the center found that 58 percent of obese children had watched two hours of TV in the previous day, compared to 41 percent of non-obese children. Significantly fewer obese kids exercised regularly, took physical education classes, or were a member of a sports team.
Eagle considers the Healthy, Hunger-Free Kids Act of 2010 one step in the right direction. It is designed to create healthier school menus for the 31 million U.S. children who eat lunch through school programs.
He also noted the University of Michigan Health System is collaborating in a program that encourages 17,600 students at 27 middle schools to eat healthier foods and live more active lives. That includes a goal of exercising 150 minutes a week, cutting down on high-sugar beverages and fast food, eating more fruits and vegetables and reducing time in front of a video screen. Follow-up health screenings found improvements in cholesterol, triglyceride and blood sugar levels and measures of fitness.
Eagle believes it will take commitment from a broad cross-section of society – families, schools, communities, corporations and beyond – to win this battle.
"I'm optimistic we can make this move in the direction we want if we work together. It's going to take grassroots and legislation and everything in between."
Ted Roelofs worked for the Grand Rapids Press for 30 years, where he covered everything from politics to social services to military affairs. He has earned numerous awards, including for work in Albania during the 1999 Kosovo refugee crisis.
We're not just a news organization, we're also your neighbors
We've been there for you with daily Michigan COVID-19 news; reporting on the emergence of the virus, daily numbers with our tracker and dashboard, exploding unemployment, and we finally were able to report on mass vaccine distribution. We report because the news impacts all of us. Will you please donate and help us reach our goal of 15,000 members in 2021?