Militias, far-right groups recast selves as mainstream at Lansing gun rally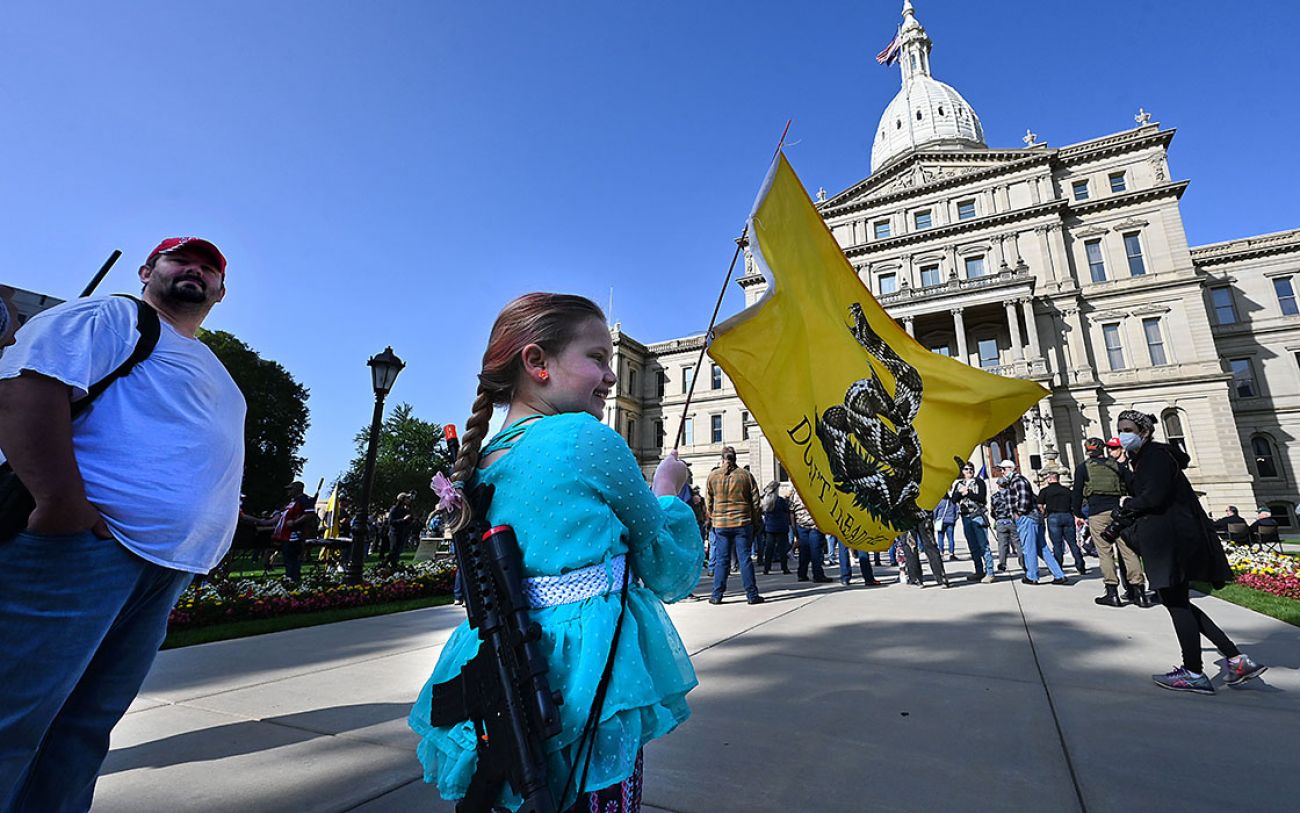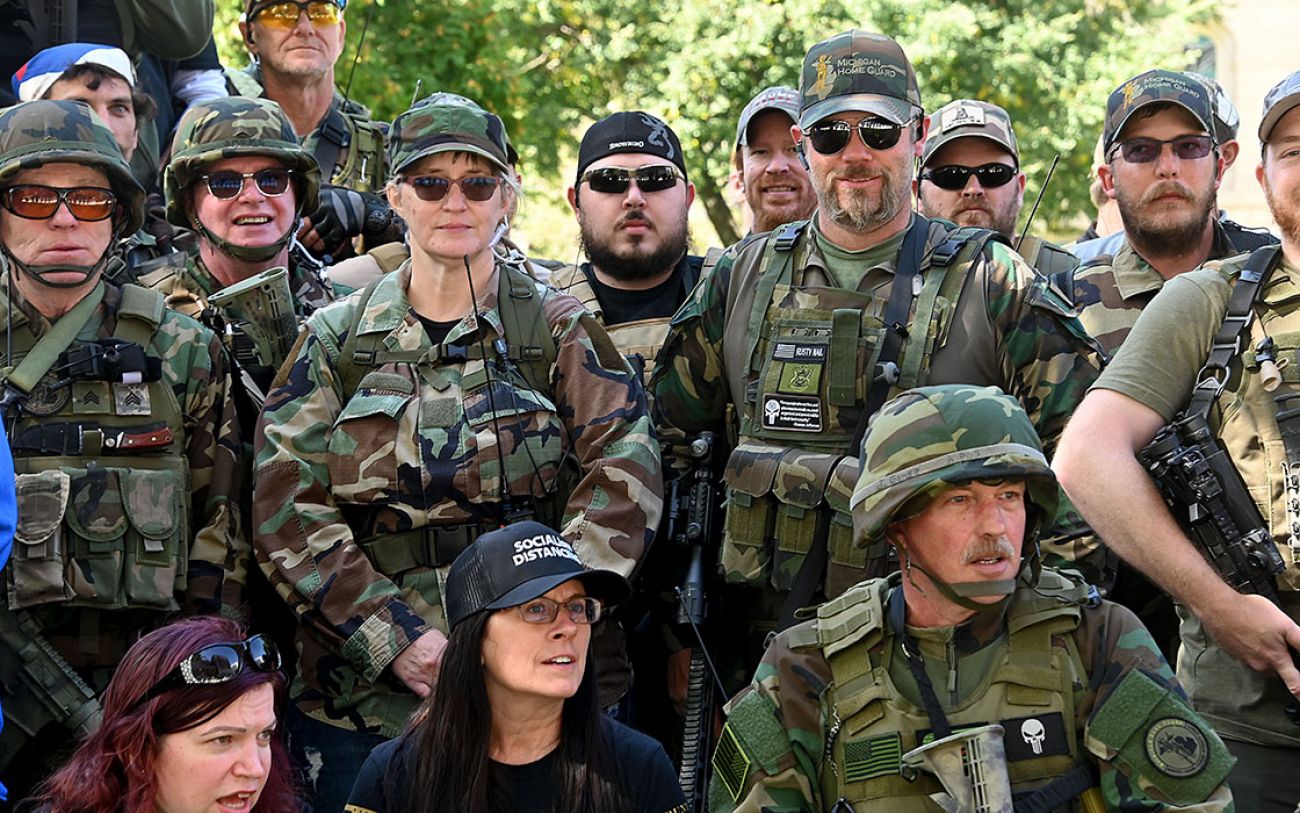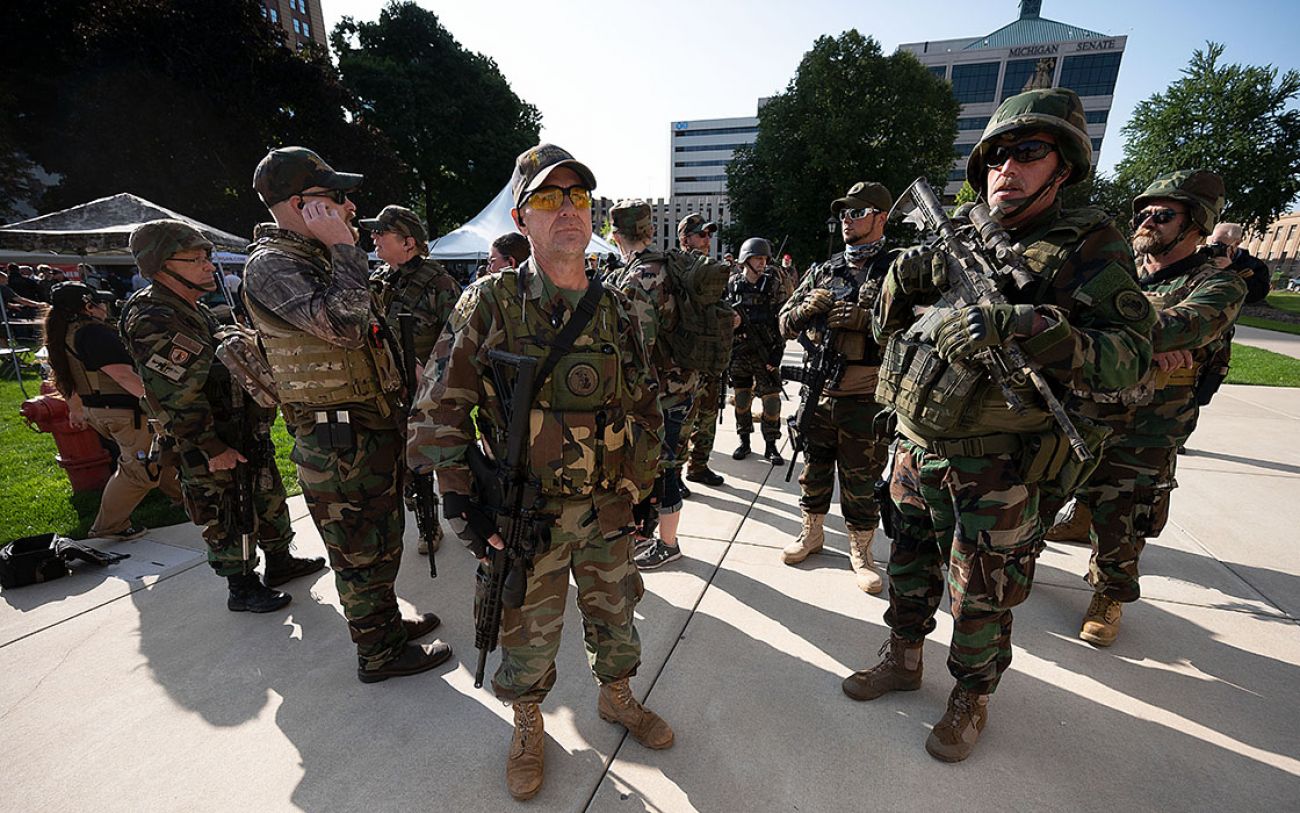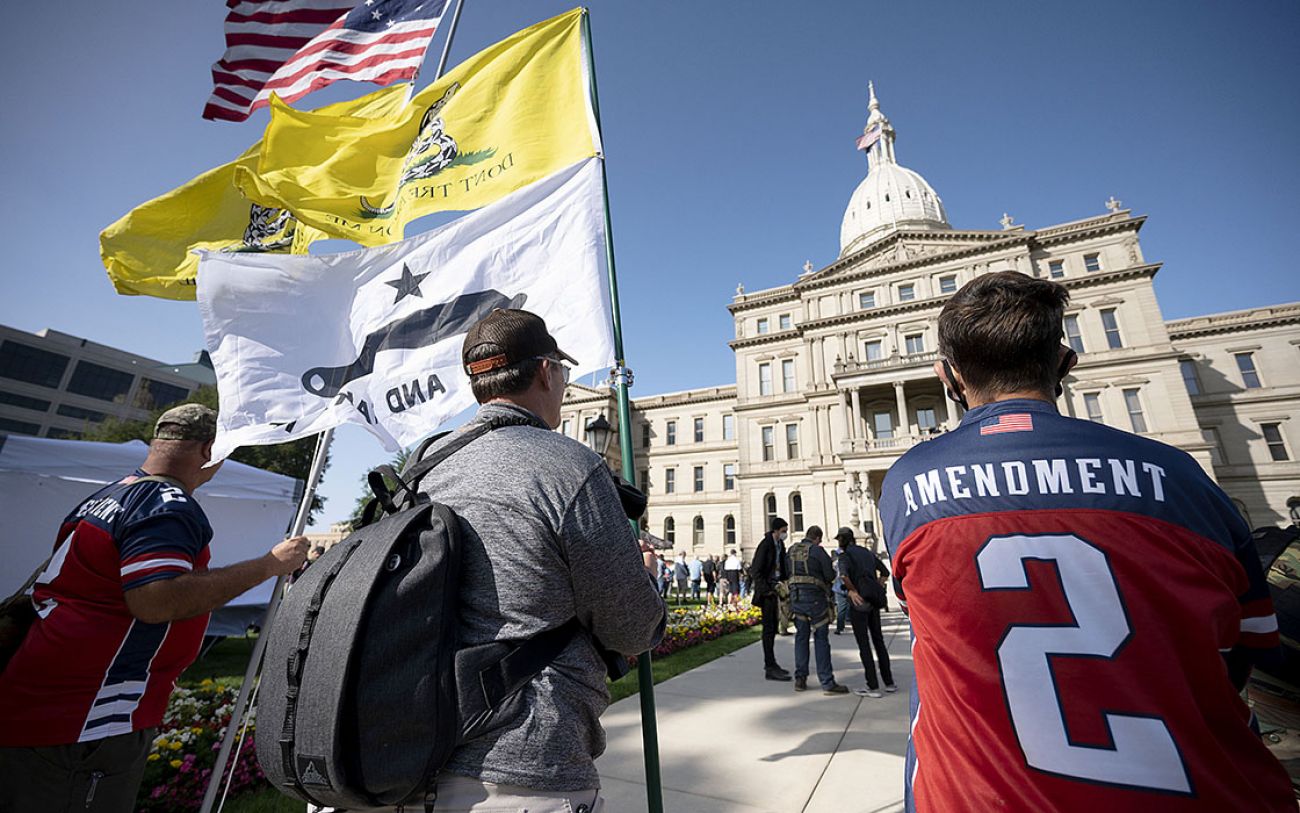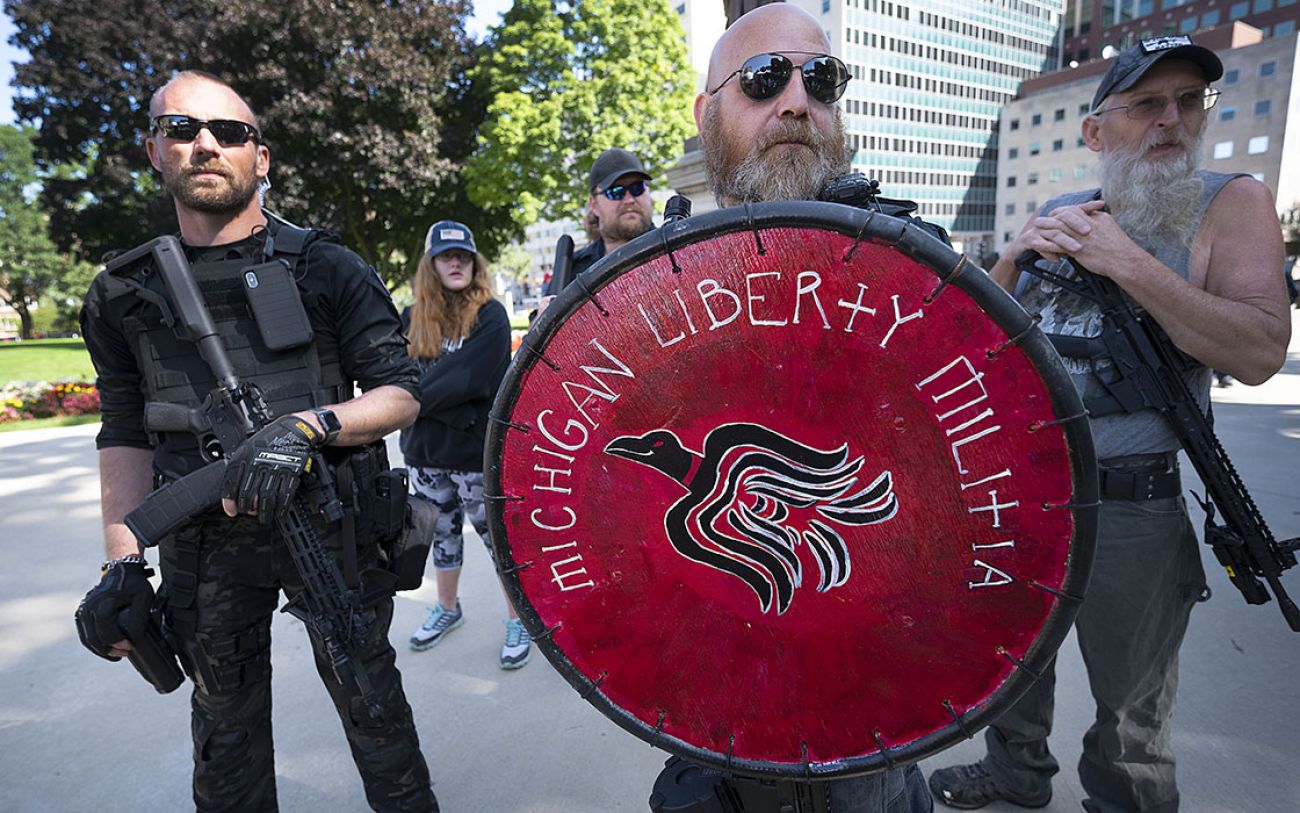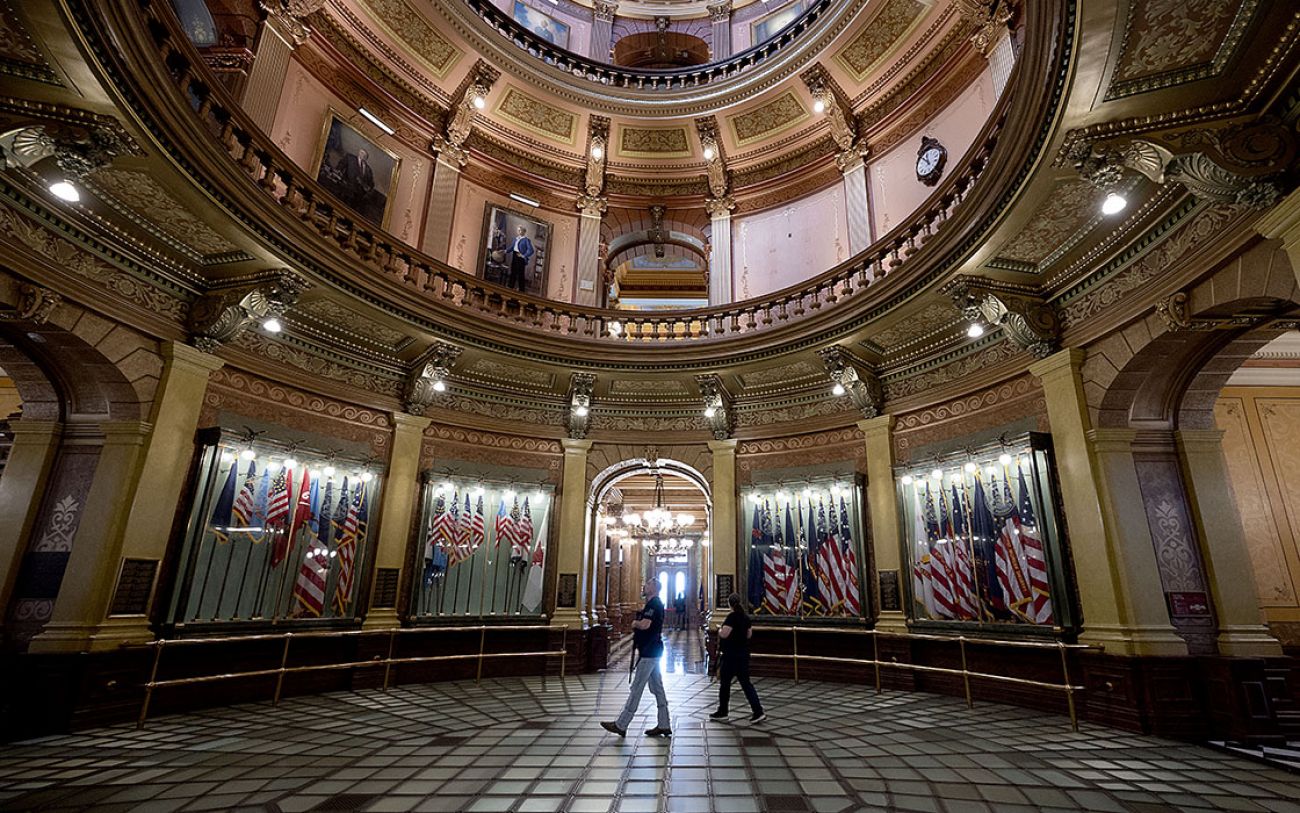 Oct. 8, 2020 stories:
LANSING — Michigan militia members say they are trying to take their movement mainstream, fashioning themselves as a private security force willing to defend against protests over racial injustice and police brutality that have turned violent in some parts of the state and country.
Dozens of armed members from various militias, most of them white, descended on the Michigan Capitol Thursday, mingling with other fringe groups like Boogaloo Bois and Proud Boys at an annual Second Amendment rally. Their public show of force would have been rare two decades ago, when militias largely operated in secrecy after two men with ties to the early Michigan movement bombed a federal building in Oklahoma City.
"Militias are finally starting to realize that we have an important role in the public eye," said Phil Robinson, a Barry County resident and co-founder of the Michigan Liberty Militia. "The time is not to hide in the shadows. The time is to get out and be vocal, be visible."
Robinson — sporting black fatigues, an AR-15 pistol modified to mimic a rifle, wooden shield and braided beard — has become the unlikely face of the Michigan militia movement.
In May, his group acted as an armed "security detail" at a rally in Lansing, where thousands gathered to protest Gov. Gretchen Whitmer's stay-at-home order for COVID-19. They reprised the role at a similar protest in Grand Rapids, and Robinson spoke at an "American Patriot Rally" at the Capitol in July.
Unlike some more closely guarded leaders, Robinson is open to media interviews and boasts that he was prominently featured in a recent New Yorker article on "the militias against masks."
"The government has one job, and that is to protect our rights — not to restrict them or infringe on them or make up executive orders," he told Bridge Michigan, going on to downplay the coronavirus that health officials say has killed more than 6,600 Michiganders since March.
"Honestly, I don't believe in this whole coronavirus shit anyway. I've been everywhere since this all started, and I've never worn a mask. I've been around thousands and thousands of people and I've yet to get any kind of illness."
The Southern Poverty Law Center in 2019 identified the Michigan Liberty Militia as one of 14 "extreme anti-government" groups operating in Michigan, including nine different militias.
"Generally, such groups define themselves as opposed to the 'New World Order,' engage in groundless conspiracy theorizing, or advocate or adhere to extreme anti-government doctrines," according to the annual SPLC report.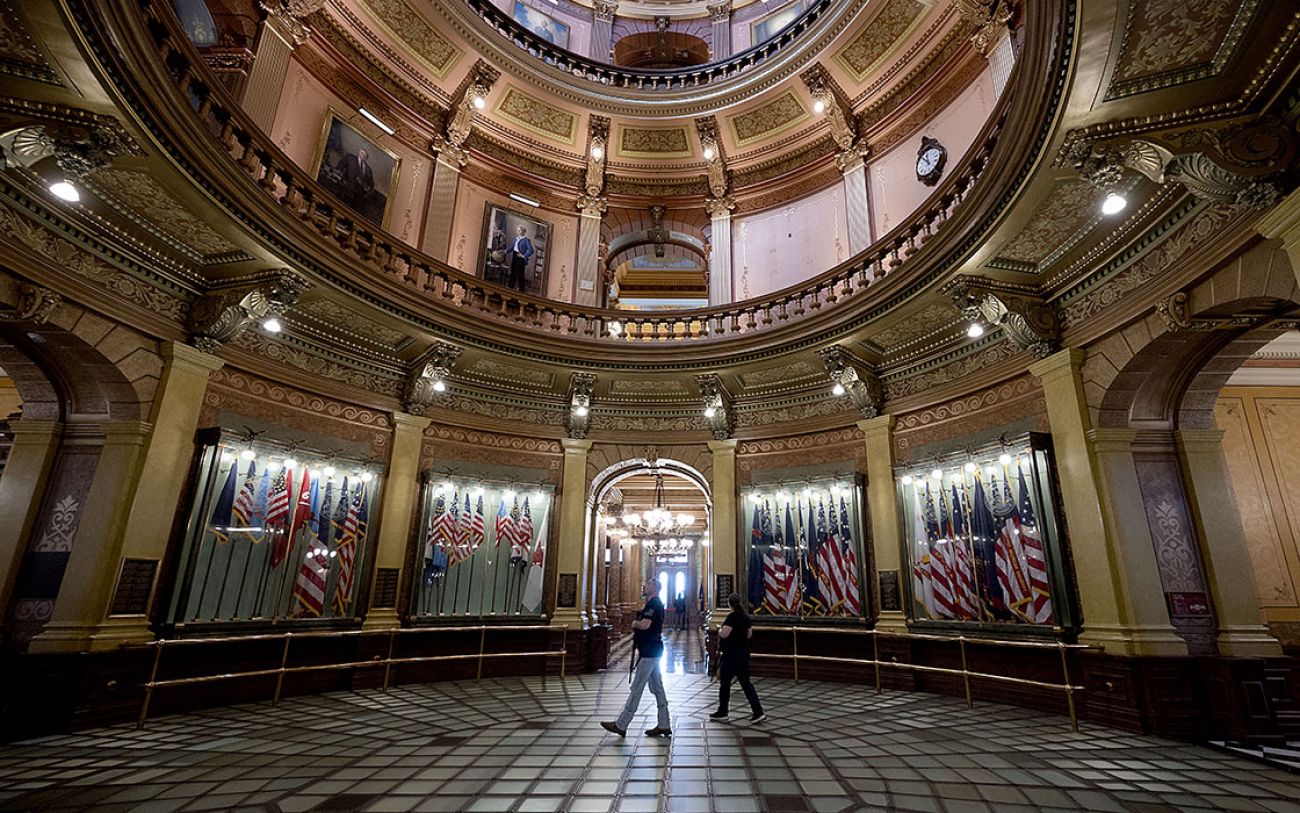 Robinson practices Odinism, an ancient religion that has recently spread among white supremacists, and wore an "In Odin We Trust" patch on his jacket Thursday. But he denies he or his group are motivated by hate, racism or animus.
"We are the peacekeepers," he told Bridge. "We are the constitutionalists. Everybody calls [the Constitution] a piece of paper, but it's not a piece of paper. It gives us all our inalienable rights."
Boogaloo bois
Experts don't know how many militias are currently operating in Michigan or if membership is growing. But Michigan Attorney General Dana Nessel's office has sounded alarms over the increasingly public militia activity this summer.
"Many militia groups are often anti-government, anti-law enforcement [and] they have these extreme ideologies," Solicitor General Fadwa Hammoud told WOOD-TV in July. "History has taught us that extreme ideologies like that often lead to mass violence."
Federal officials have also warned of a rise in violent extremism, including among militia groups. "Much of that is linked to white supremacist-type ideology," FBI Director Christopher Wray said Thursday in congressional testimony.
Organizers say militia membership is on the rise, especially in recent months as protests have erupted across the country following the police killing of George Floyd, an unarmed Black man in Minnesota.
"People want to protect their towns and cities," said Jason Maceyko of Macomb County and a member of the Southeast Michigan Volunteer Militia. "They want to protect their fellow citizens. As a militia, we feel an obligation to protect each other."
Michigan militias, in particular, have long worked to normalize their movement, said Amy Cooter, who has spent years studying militias and is a sociology lecturer at Vanderbilt University.
"Many genuinely see themselves as sort of civil servants," Cooter said. "They think it's their personal duty as good Americans, and mostly good American men, to protect not just themselves but their families and their communities."
But there is also significant overlap between militias and other fringe movements, she said, citing the QAnon conspiracy theory alleging that Satan-worshipping pedophiles who are part of the "deep state" are plotting against President Donald Trump.
Maceyko, of the Southeast Michigan Volunteer Militia, is part of another fringe group he said shares members with militias: The Boogaloo Bois, a meme-based online movement that is preparing for an armed insurrection against government tyranny.
Boogaloo "is the terminology we use for if and when the proverbial shit hits the fan," he said. It goes by various names online, including the "big luau," which explains the Hawaiian shirts that Maceyko and other adherents wore to the Thursday rally.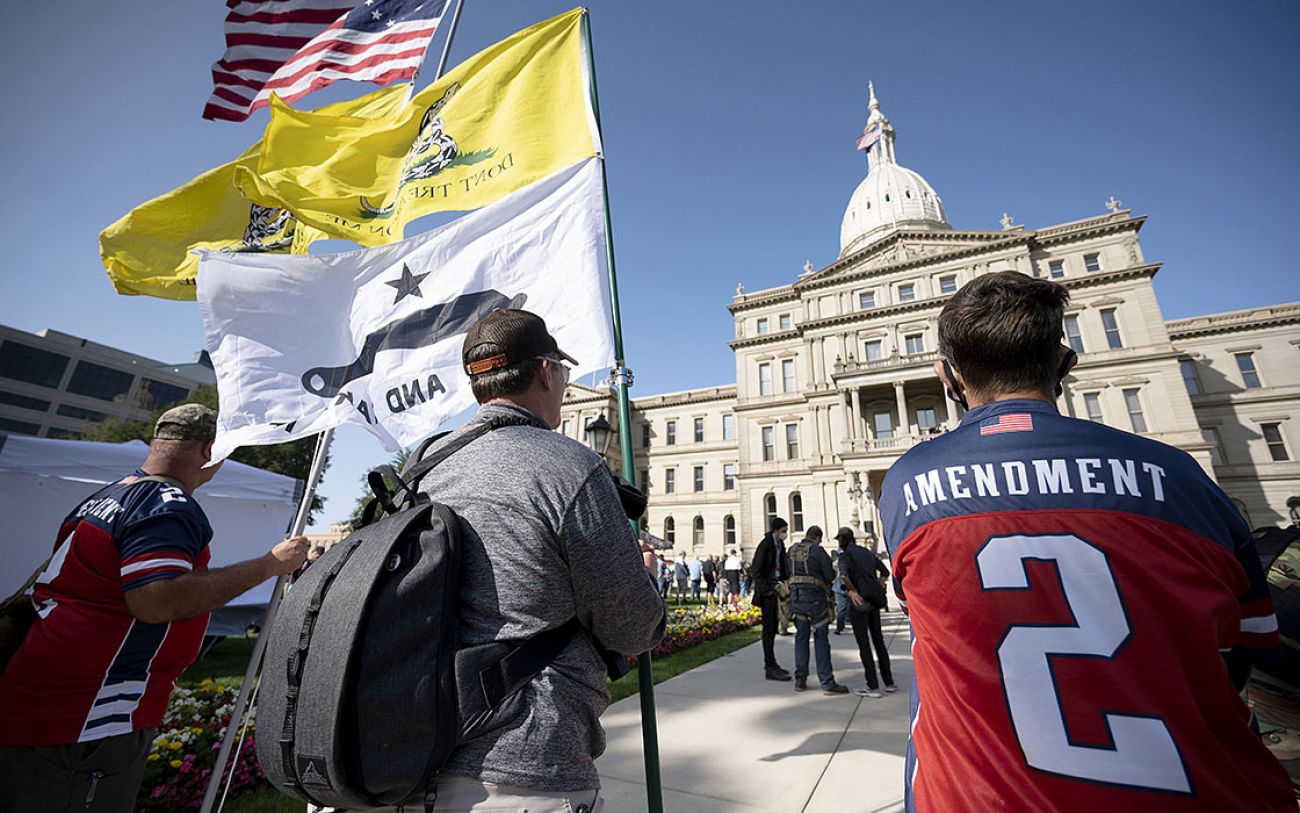 The meme first emerged in antigovernment and white power online spaces in the early 2010s, according to the Southern Poverty Law Center, which says the term "Boogaloo" was initially associated with racist violence and an "explicit call for a race war." Over the summer, at least seven people with Boogaloo ties were arrested for actual or attempted violence at racial justice protests.
"They don't have a lot of beliefs other than they really like guns, they really hate cops, and they want some sort of revolution," Megan Squire, a computer scientist who researches online extremism at Elon University, told The Trace.
Maceyko, however, described the term as relatively innocuous. It's kind of an "inside joke" that activists have run with, he said, comparable to Trump supporters that embraced the term "deplorables" after Hillary Clinton used it to describe them in 2016.
Still, the possibility of an armed insurrection is real, he said.
"I think the way society is going, it is rather inevitable it's going to happen," Maceyko said. "It's just a matter of when. The morals and values and virtues of the days of old have seemed to disappear with the younger generation."
Vigilante justice
While a majority of them are white, "most proper militia groups, by an academic definition, do not have racism as part of their group identity," said Cooter, of Vanderbilt.
"Groups in Michigan that I have contact with actually go out of their way to discourage racism, to watch out for it, to kick people out who are racist," she said. "It's not that they do a perfect job of that, but they are attentive at least to the overt form of it."
But many militias are actively opposed to the Black Lives Matter movement, which they contend has been hijacked by anti-facist activists for their own purposes, Cooter said.
Many militia members "believe that Antifa is all white, cares nothing about racial justice and just wants to stir up anarchy in some form or fashion," Cooter said. "And I think beliefs like that have the potential to go wrong if people feel that they're defending themselves or their communities against a threat that doesn't really exist."
That was the case last month in Wisconsin, when self-described militia members descended on Kenosha to battle back protests over the police shooting of Jacob Blake. There, 17-year-old Kyle Rittenhouse allegedly shot three people with an AR-15 weapon, killing two.
It's not clear if Rittenhouse was part of an organized militia, but he reportedly fashioned himself as private security and travelled from Illinois to protect Kenosha from civil unrest.
Nationally, about 93 percent of racial justice protests since Floyd's death have been peaceful and non-destructive, according to a recent report from Princeton University. That's been true in Michigan as well, where summer protests across the state were marked by only occasional violence in areas like Grand Rapids, Detroit, Lansing and Kalamazoo.
But Wayne Hodges of Dundee, a founder of the American Patriots of Michigan, said interest in militias like his are growing because of "rioting and looting and chaos" across the country.
"People want to be safe, so they get in with a group and everybody looks out for each other," he said. "They don't want their houses burned, their businesses burned, or anything else, so people call militias out to protect their stuff."
Hodges said he attended a "Michigan Patriots for Trump" rally in Sterling Heights last week and said several families came up to his militia asking to take photos with them.
That's quite a change from 20 years ago, when Hodges said he first "started hanging around with militias." That was shortly after the 1995 Oklahoma City bombing masterminded by Timothy McVeigh and Terry Nichols, who had reportedly attended early Michigan militia meetings.
"People thought militia groups were a bunch of crazy people running around in the woods plotting to overthrow the government," Hodges said. "That's not the case; 99 percent of militia guys support the police, they support the government as long as the government follows the constitution."
While he's a Trump supporter, Hodges said the militia movement is not political and that membership is not defined by party loyalty.
"None of us care what your beliefs are," he said. "If you want to be gay, you want to do whatever, that's fine. You got a right to say whatever you want to say. You don't have a right to riot and loot and burn stuff. That's when we get involved. We won't stand by and allow it to happen."
Proud Boys
While Thursday's rally was a Second Amendment March, attended by hundreds of non-militia members and ostensibly focused on gun rights and safety, the Capitol complex had the feel of a political rally. The ubiquitous Trump Unity Bridge float was parked nearby, red "Make America Great Again" hats dotted the Capitol lawn and speakers included an organizer for a recall Whitmer petition drive.
Few attendees wore masks.
Asked about the heavy militia presence, organizers with Michigan Open Carry Inc., said they have no official alignment with the groups.
"But anyone that supports the Second Amendment and is willing to stand for our freedoms, that's who we work with," said legislative director Tom Lambert.
"At MOC, the primary mission is to educate and empower with information, whether that's telling a militia how they lawfully carry or whether that's telling a housewife how to lawfully protect yourself or whether that's working with police to understand what the laws are of the state and how to interact with gun owners better."
State Sen. Jeff Irwin, an Ann Arbor Democrat who regularly stops by Capitol demonstrations, said the annual open carry rally typically focuses on "how responsible gun owners are not a threat to others, but this rally seemed to have a different flavor to it."
"It seemed to be more about politics and about promoting Trump and more about attacking the pandemic response than it was about guns," Irwin said.
"It was pretty heavy cosplay," he added, referencing costume play performance art where people dress up as characters from popular culture.
He noted the presence of "Proud Boys," roughly two dozen members of a far-right "western chauvinist" group that has been labeled a hate organization by the Southern Poverty Law Center because of links to white supremacism.
Former Proud Boy Jason Kessler, for instance, helped organize the 2017 "Unite the Right Rally" in Charlottesville, Virginia, that featured white supremacists and neo-nazis.
But the group has more recently made a public showing of expelling openly racist members and, according to Rob Nabers of Holt, one of the few African Americans at Thursday's rally, it is not a white nationalist organization.
Nabers said he met other Proud Boys at the same Second Amendment rally last year and has since joined the group, which he called "the best move of my life."
"They didn't spit in my face. They didn't say 'Get out of here n-word.' They embraced me," he told Bridge. "A lot of these guys are [military] veterans, and I'm a veteran myself, so it was all brotherhood."
Proud Boys countered racial justice protests last month by marching through downtown Kalamazoo, sparking a violent conflict with counter protesters who local police say were a "catalyst" for the ensuing brawl.
At the time, Public Safety Chief Karianne Thompson denounced what she called "hate-mongering" by the far-right group.
"The Proud Boys came to town and completed their mission by creating a divisive situation for the community then leaving, hopefully with the chaos continuing, which is their M.O.," Thompson said. "On social media later that night, they were joking about it, that they had created the chaos they had hoped to."
Nabers defended the Kalamazoo demonstration, saying "Proud boys don't start fights, we finish them."
The group promotes western culture but that is not a "euphemism for white culture," Nabers argued. "Everyone said immigrants built this country. All of us did. So that's what I mean by western chauvinism and extreme patriotism."
Only donate if we've informed you about important Michigan issues
See what new members are saying about why they donated to Bridge Michigan:
"In order for this information to be accurate and unbiased it must be underwritten by its readers, not by special interests." - Larry S.
"Not many other media sources report on the topics Bridge does." - Susan B.
"Your journalism is outstanding and rare these days." - Mark S.
If you want to ensure the future of nonpartisan, nonprofit Michigan journalism, please become a member today. You, too, will be asked why you donated and maybe we'll feature your quote next time!