No offense, Gov. Snyder, but here's Michigan's real 'State of the State'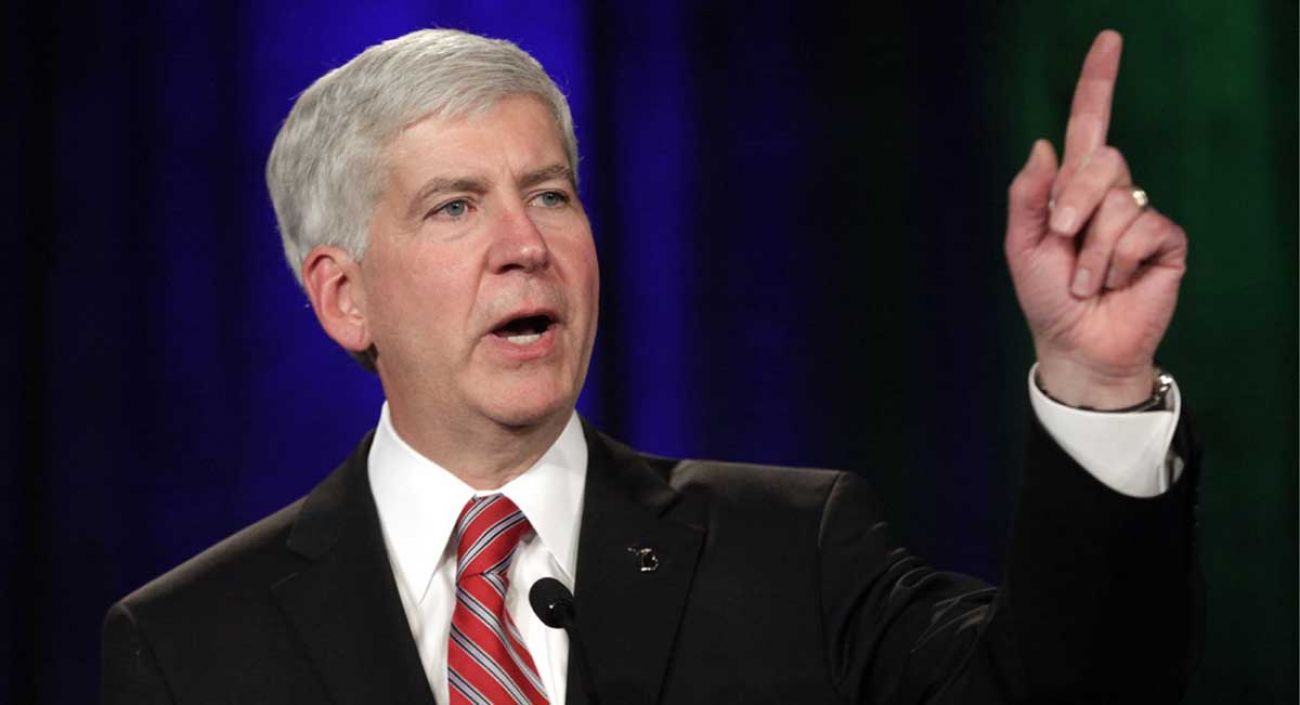 What's the state of the state?
You could listen tonight to Michigan Gov. Rick Snyder as he gives his eighth and final annual address to legislators, well-wishers and media. If it's like past yearly speeches, there will be applause and shout-outs and a few ambitious goals aimed at improving the lives of Michigan residents
But what's the real state of the state?
Update: Five big things Michigan Gov. Rick Snyder wants done. All of them iffy.
We have a steadily improving economy, pay less in taxes than most states, and saw employment grow nearly 10 percent between 2010 and 2015. But Michigan also has higher poverty rates; schools that lag behind most other states, with sub-par support for public universities, and higher tuition costs for students and their families. We smoke and binge drink more than residents of most states. And don't get us started on our roads.
Today, Bridge Magazine unveils a series of reports that establish where Michigan is as a state ‒ in plain, straightforward words and numbers. You'll find things in these reports that are surprisingly positive, and others that are frustratingly awful. You'll note that Michigan is improving in some areas, but that we have a long, long way to go in many others.Read our nonpartisan, just-the-facts reports on education and talent, economy and prosperity, quality of life and government.
Michigan fact roundup
In November, Michigan voters will elect a new governor and all 148 state legislators in the House of Representatives and the Senate – the first time that has happened since 2010. That gives residents a rare opportunity to make choices that will set the course for Michigan for years to come.
It's easier to make those choices when we have a common set of facts from which to begin debate.
Here, then, is the real state of the state, facts that inform the most critical issues we expect candidates for state office to address in their campaigns.
Economic good times (unless you earn a paycheck)
Michigan's economy is the 13th-largest in the nation, growing 2.2 percent in 2016 – significantly faster than the nation as a whole (at 1.5 percent).
That's the good news. The bad news is that when you look at the past decade rather than just one year, the national economy has grown four times faster than Michigan's.
For most families, the overall economic gains probably mean less than changes to their paychecks ‒ and by that measure, we're not doing all that well. The 2016 median household income in Michigan was $52,492; that's more than $5,000 below the national average, ranking us 34th.
Related: Michigan income growth hindered by lack of college graduates
Related: Michigan business climate improves, but educated workforce is shrinking
Seven in 10 residents own their own home in Michigan, ranking us 8th in the country, but those homes are worth 29 percent less than the national average.
And after eight years of economic expansion, few candidates will want to talk honestly about some economic headwinds that will put the squeeze on the state budget in the years ahead.
What's wrong with our schools?
A lot. Our students are trailing peers in other states, and we don't have enough college grads to supply the talent needed to turbocharge our economy. (As one example, see, Amazon rejection)
Michigan ranks 41st nationally in 4th-grade reading, and 37th in 8th-grade math.
Do we spend enough on K-12? It depends on how you spin the numbers.
Related: Michigan's K-12 performance dropping at alarming rate
We spend about four of every 10 dollars in state spending on education. But K-12 per-pupil spending dropped 7 percent from 2005 to 2014, the second worst rate in the nation. Even so, our per-pupil spending is just about average for the country, and the average teacher pay ($63,878) is 11th highest.
One problem, as two independent commissions have now pointed out, is that while leading education states tend to give more money to schools where students face extra challenges, Michigan's formula gives roughly the same amount per student. The latest study also noted funding disparities among some districts and between traditional districts and charter schools that need to be addressed.
Related: Many Michigan K-12 reform ideas are jumbled, broad, or wildly expensive
The Snyder administration and Republican lawmakers also want to make skilled trades promotion a priority, including improving career counseling, providing schools with access to equipment and a renewed emphasis on vocational training, such as by making it easier for private-sector professionals to instruct students without needing a teaching credential.
Top-tier economic states have high percentages of residents with college degrees. Among Michigan adults, 28 percent have a bachelor's degree or higher, ranking the state 36th.
One huge impediment to raising Michigan educational levels is the cost of higher education. We devote less money per capita to higher education than most states (Michigan ranks 35th). Perhaps as a result, students and their families end up paying 69 percent of college expenses (6th highest). In nearby Illinois, students and families pay just 32 percent of such expenses. Candidates need to address the high cost of tuition and rising levels of student debt.
Smoking, drinking and moving
With almost 10 million residents, Michigan is the 10th-largest state. Yet we remain dead last in population growth. While the state lost 1.6 percent of its residents between 2007 and 2016, it's a positive that we have shown small, but unmistakable, growth in the past six years.
The average Michigan resident dies seven months earlier than the national average. That may be partly because our residents have the 10th-highest rates of binge drinking and adult obesity, and the 11th-highest rate of smoking. We also have the 16th-highest rate of violent crime, though this rate has dropped more than 20 percent in the past decade.
Infrastructure is boring, until it is not
Who paid attention to old water lines before Flint? Turns out, Michigan utilities have an estimated 460,000 miles of lead service lines, trailing only two other states, according to an American Water Works Association survey. Gov. Snyder wants to pass the nation's strictest regulations aimed at keeping lead and copper out of the water supplies; it's an idea that could prove expensive.
Speaking of old, 2018 candidates will be talking about the Enbridge Line 5 oil pipeline that runs under the Straits of Mackinac. While the chances of an oil leak may be small, the environmental devastation of a large-scale spill would be devastating to the Great Lakes and Michigan's tourism economy.
Related: Michigan's Great Lakes are good, but water concerns include lead and Line 5
The state's aging network of sewer systems is probably not the first item on any politician's campaign platform. But its current state means billions of gallons of untreated or partially treated sewage flowing into rivers and lakes every year. And the state has flagged more than two dozen sites where toxic chemicals, known collectively as PFAS, have been found. That includes shoemaker Wolverine Worldwide's contamination of drinking water in Kent County, where folks worry about cancer risks.
And there's the small matter of paying for our crumbling roads, bridges, water and sewer systems, and communications infrastructure. According to a governor-appointed commission, that will cost Michigan at least $4 billion more each year for decades. How to pay for it? Where will the state revenue come from?
Taxes? What taxes?
If wealth is going to trickle down anyplace, it should be here – Michigan's business tax burden (as a share of the total state economy) is tied for lowest in the country.
Residents aren't overtaxed, either, compared with residents of other states. Michigan residents paid $3,744 per capita in state and local taxes in 2014. That's 17th lowest in the nation. That's context to consider as Snyder resists higher tax cuts proposed by the Michigan Legislature.
Related: Michigan gives more tax breaks than it collects for schools, government
Related: Big government? Michigan's state, local workforce 2nd smallest in nation
State government spending is up about 10 percent since 2010-11. But while "cutting fat" in government sounds good, it may be tough to do. In 2014, Michigan had the second-lowest ratio in the nation of state and local government employees to general population. We are spending more on roads now, but we still fall $4 billion per year short of what experts say is needed for infrastructure maintenance.
We remain generous in one area, however: The average state legislator salary is $71,685 – fourth-highest in the country.
One more thing for candidates in 2018 to keep in mind: Michigan voters like to vote, relatively speaking. In 2016, 64.7 percent of registered voters made it to the polls, the 13th-highest rate in the nation. So it's probably a good idea to think about the real state of the state.
We're not just a news organization, we're also your neighbors
We've been there for you with daily Michigan COVID-19 news; reporting on the emergence of the virus, daily numbers with our tracker and dashboard, exploding unemployment, and we finally were able to report on mass vaccine distribution. We report because the news impacts all of us. Will you please support our nonprofit newsroom?