Got a budget question?
Do you have a question about the Michigan budget? Email Capitol reporters Riley Beggin at rbeggin@bridgemi.com or Jonathan Oosting at joosting@bridgemi.com and it could be the basis of a future story.
LANSING — State officials are scaling back plans for an underground visitor center at the historic Michigan Capitol after Gov. Gretchen Whitmer vetoed an additional $15 million in spending for the project.
Michigan Capitol Commission members on Monday voted unanimously to use $40 million already allocated for the project to construct a smaller version of "Heritage Hall" after Whitmer's veto upended larger plans for a $55 million facility. 
Chairman Gary Randall called the revised project a "prudent" use of taxpayer dollars that will achieve many of the same objectives of the initial center, which will serve as a central entry point and educational hub for school groups, tourists and other visitors.  
"At first, when we realized the money had been vetoed, a real dark cloud kind of settled over the whole project," Randall said. "But I think this rework is good and I think in many respects gives us a better final product than the original."
Whitmer rejected the funding as part of a $947 million line-item veto spree designed to spur continued budget negotiations with the Republican-led Legislature. Lawmakers had sent the first-term Democrat a $59.9 billion spending plan for fiscal 2020 they developed without her input after negotiations broke down in early September.
The governor's office did not immediately respond to a request for an explanation of her decision to veto the welcome center funding. 
"We thought going into the budget process we were in great shape, and in fact, we were," Randall said. "But along with a lot of other agencies and entities receiving appropriations, we were vetoed."
Rather than pull the plug on the project or hold out hope for future funding, the Capitol Commission asked The Christman Co. of Lansing and Quinn Evans Architects to develop a less expensive design for Heritage Hall. 
While the State Administrative Board will still need to approve contracts for the revised plans, the commission wants to "put shovels in the ground as soon as we can," Randall said. 
The conceptual plan approved Monday morning would create a 35,000 square-foot facility one story below ground, rather than two stories at 55,000 square feet. A multi-purpose exhibition space replaces plans for a larger auditorium with enough space and seating to host the governor's annual State of the State address. 
A shallower dig will eliminate a lot of "non-value added construction," including the type of foundation needed, the size of the storm water management system and the amount of concrete and waterproofing that would have been necessary, said Christman project executive Chad Clark. 
While smaller, the redesigned project will still have "nearly all of the other benefits" of the original, he said, noting a bus entrance planned for the north side of the Capitol, along with multiple internal exhibits and orientation spaces inside. 
"It's going to take the wear and tear off the Capitol, which was one of the other main objectives for the project," Clark added.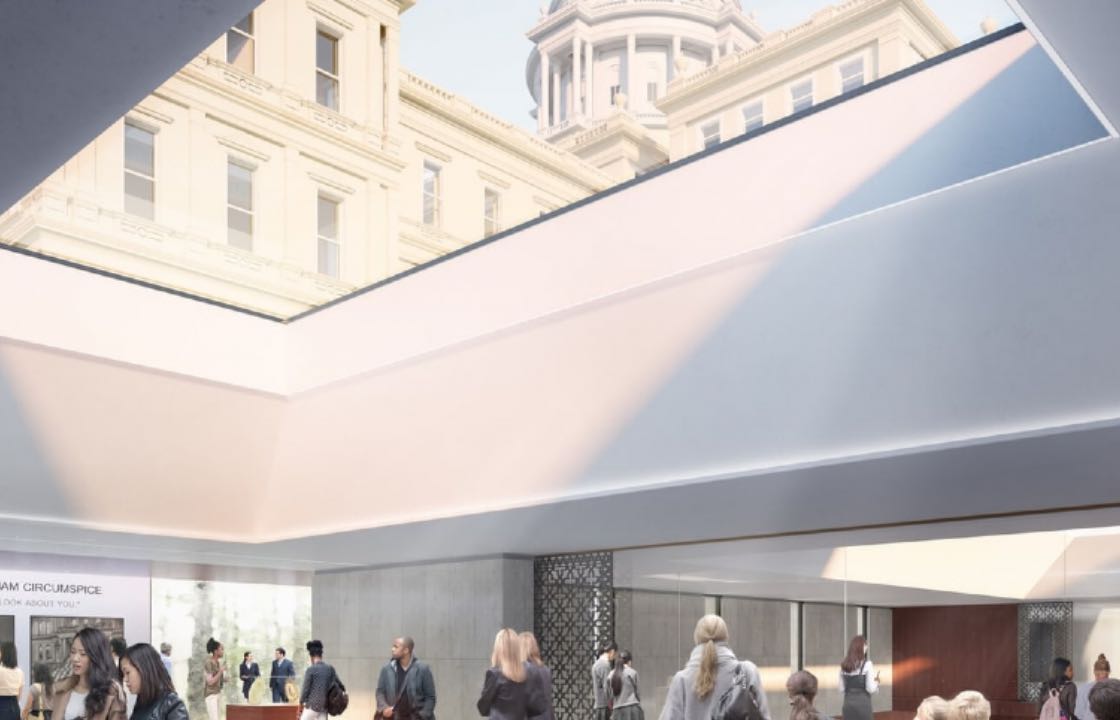 The underground Heritage Hall visitor center will include three skylights to give a unique view of the Michigan Capitol. (Courtesy of Quinn Evans Architects)
Architecturally, the underground facility will still include three skylights giving visitors inside a "visual connection" to the 141-year-old Capitol, which is a U.S. national Historic Landmark and on the Register of Historic Places, said Steven Jones of Quinn Evans, a national firm with Michigan offices in Ann Arbor and Detroit. 
The exhibition space could seat up to 500 visitors, and unlike the planned auditorium it will replace, the space could be divided using mobile and sound-proof partitions, allowing for multiple configurations. 
"We lose something that was truly grand about the initial plan — and that was the auditorium," Randall said. 
"But in reality we have opened up that space to something that has far more utility."
Commissioners are hoping to move quickly and complete Heritage Hall construction in concert with an ongoing project to dig geothermal wells that will be used to heat and cool the Capitol building.