Prosecutors put a Michigan man in prison for life. Then they got him out.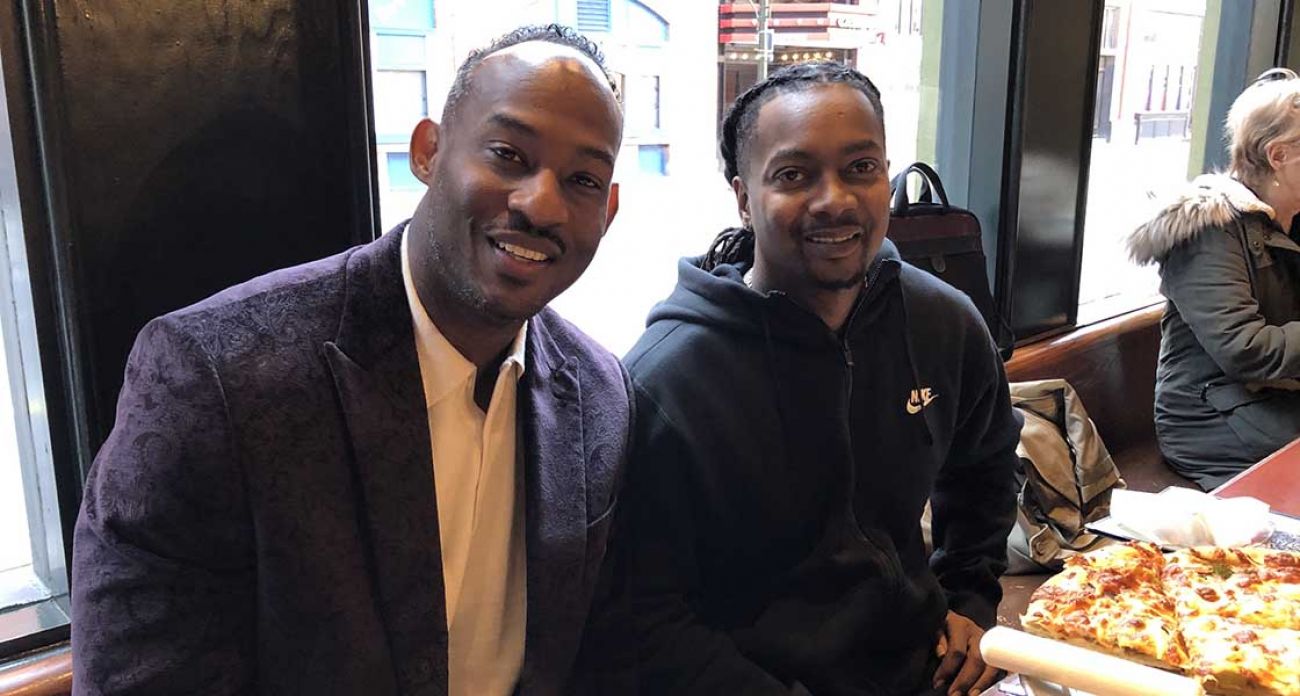 DETROIT—First, Ramon Ward put on the loose dark suit that his sister picked out at the mall and his brother brought to him in a white plastic bag. Then, beaming, he walked out into the lobby of the Wayne County jail and hugged his siblings and his 18-year-old niece—a niece that he'd never once been able to hug before.
That's because Ward has spent the past 25 years in prison for two murders he did not commit. But at a hearing Thursday morning, 26 years after his arrest, he was exonerated.
"I never knew when, but I knew it was going to happen," Ward told Bridge Magazine over lunch with his family and lawyers at a restaurant in Detroit's Greektown neighborhood. He recalled how back in 1994, as a teenager in the back of a police car, the soft, calm voice of his deceased grandmother came to him and told him that while it would take a long time, he'd make it through.
"That's what kept me going," he said Thursday.
The criminal justice system is society's mechanism for holding lawbreakers accountable. But with a growing spotlight on wrongful convictions, many states, including Michigan, are building a system to hold the system itself accountable.
That includes compensation funds for exonerees and conviction integrity units, housed in some prosecutor offices, to investigate past cases in which the innocent may have been imprisoned for others' crimes. In some instances, these units have found exculpatory evidence unknown to or ignored by state appellate courts. Wayne County's two-year-old CIU, which was essential to Ward's release, had been investigating his case since its founding.
"It just shows the appeals system is not working for guys. How are they missing all this?" said Aaron Salter, a Detroit resident who was himself exonerated in 2018. He attended Ward's hearing to offer his support.
Salter too is contributing to the state's emerging infrastructure for exoneration: He used money he received from a state compensation fund for wrongfully convicted people to create a shelter called Innocence Maintained. While Ward's family will have a place for him to stay, Salter's shelter is for exonerees who have nowhere to go.
No evidence, but a confession
At age 18, Ward was arrested for a double homicide in Detroit. No physical evidence linked him to the crime. He was arrested without a warrant three months after the murders. The case against him weighed heavily on two jailhouse informants who said they heard Ward confess while in the 9th floor lockup at Detroit Police headquarters. Both received reduced charges and other benefits for cooperating with police on multiple cases—for one of them, that included information that led to convictions in at least 20 homicide cases.
On a snowless day in January 1995, a jury convicted Ward. His sentence translated into spending the rest of his life in prison without the possibility of parole. In the years since, Ward lost appeal after appeal after appeal in the courts.
But Thursday, at age 44, he was a free man — a joyous moment for his family, but seven months too late for Ward's father, who died in July.
"I can truly say the scales of justice have been balanced, and a burden has been lifted," Ward said in a statement at the hearing.
State examines legacy of false convictions
Exoneration is not quite the same as having a criminal conviction overturned on appeal. When someone is exonerated, they are legally absolved from blame. It is essentially a declaration of innocence.
There have been 105 exonerations in Michigan since 1989, according to the National Registry of Exonerations. (Ward's case is not yet included in the total.) That adds up to 948 lost years, or 9.03 years per person. Nationally, there have been 2,535 exonerations in the last thirty years.
About a third of Michigan's wrongful convictions were in murder cases. Nearly all exonerees are male, and more than half are African American.
While the cases that left people wrongly convicted had different problems—and sometimes multiple problems—official misconduct and perjury/false accusation are the most common. Of all homicide exonerations nationally in 2018, according to the registry, 79 percent involved official misconduct, such as forensic analysts who falsified test results, or police or prosecutors who concealed exculpatory evidence.
A record 111 exonerations nationally involved perjury or false accusation. Of Michigan's 105 exonerations, 63 involved perjury or false accusation.
Ward spent nearly three times longer in prison than the average state exoneree. Michigan passed the Wrongful Conviction Compensation Act in 2016 to provide people like him with $50,000 for each year they spent in prison to help rebuild their lives. Ward could potentially claim $1.25 million for his time in prison.
Future payouts may be impacted by state budget appropriations. To date, the fund has paid more than $19 million. But it was dangerously depleted last year, leading Rep. Steven Johnson, R-Wayland, to sponsor legislation to supplement it with $10 million. Today, there is about $7.6 million remaining, according to Ron Leix, deputy public information officer with the Michigan Department of Treasury.
Megan Richardson, a clinical teaching fellow with the Innocence Clinic at the University of Michigan, said it would be ideal for the compensation fund to have a self-sustaining mechanism "so you don't have to go to the legislature every time it gets low."
But not everyone wrongfully convicted in Michigan has received compensation. While WCIA gives exonerees 18 months to apply for support, it conflicts with a different state statute that puts a six-month deadline on state claims.
Eleven people imprisoned for crimes they didn't commit applied for compensation within the eighteen-month window, but because the rule bumped against the six-month statute, the office of then-Michigan Attorney General Bill Schuette denied them funds, totaling $2.6 million. All 11 joined in a case that is now before the Michigan Court of Appeals.
A trio of bills meant to affirm the eighteen-month window for exoneration claims is now before Gov. Gretchen Whitmer
If signed into law, the bills could also make it possible to settle claims with the 11 exonerees who were denied earlier. According to a recent state fiscal analysis, "there is a sufficient balance in the Fund to pay those previously dismissed claims."
Broadening claims for compensation
There is another unsettled question: Does the compensation fund cover not only prison time but also time wrongfully served in juvenile detention? "On this, the statute is silent," said Richardson of the U-M Innocence Clinic.
The Michigan Supreme Court has requested legal arguments on the issue in a case that comes on behalf of Davontae Sanford, who was arrested in Wayne County at age 14 for a quadruple murder. Sanford, a former client of the Innocence Clinic, was released in 2016.
Last fall, current Michigan Attorney General Dana Nessel appointed a four-member board to review compensation claims. Richardson said that the board has been able to help process claims more quickly than before.
The Attorney General's office also formed its own Conviction Integrity Unit last April. So far, it and Wayne County are the only two CIUs in the state
Ramon Ward appears to be the ninth exoneration by Wayne County's CIU since its founding in 2018. He said Thursday that he doesn't believe he'll be the last.
"I know there are more like me," he said. "I know them by name."
We're not just a news organization, we're also your neighbors
We've been there for you with daily Michigan COVID-19 news; reporting on the emergence of the virus, daily numbers with our tracker and dashboard, exploding unemployment, and we finally were able to report on mass vaccine distribution. We report because the news impacts all of us. Will you please donate and help us reach our goal of 15,000 members in 2021?