Race, abortion dominate debate on Michigan $2-billion COVID response plan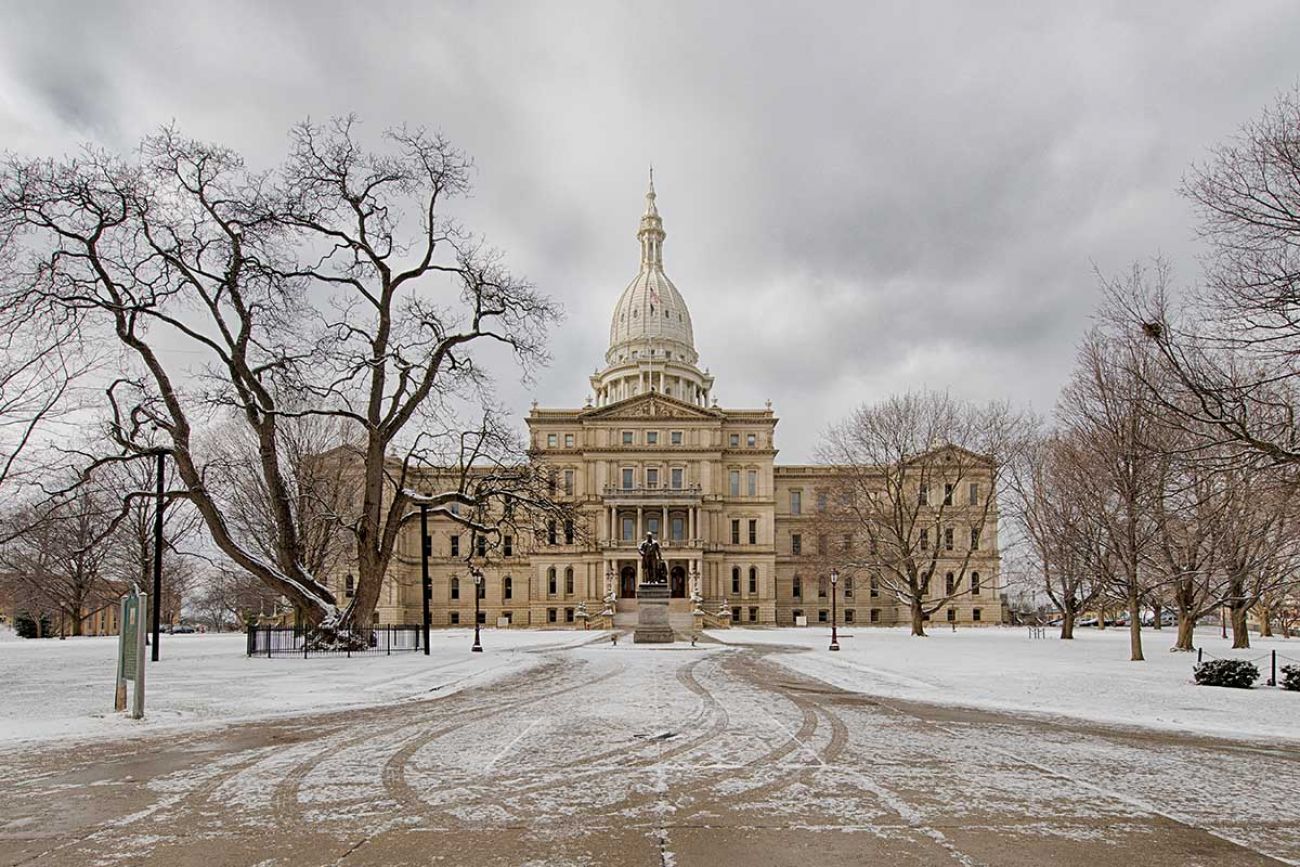 Republicans who control Michigan's Legislature are withholding more than $1 billion in federal coronavirus relief funds in hopes of gaining leverage with Gov. Gretchen Whitmer in policies surrounding the pandemic. (Shutterstock photo)
LANSING – Michigan's Republican-led Senate on Thursday approved a nearly $2 billion plan that would fund COVID-19 vaccine distribution, testing, hazard pay and schools but withhold more than $3 billion in additional relief funding provided to the state by the federal government.
The GOP proposal — opposed by all Senate Democrats — would authorize the state to spend about $1.6 billion of the roughly $5 billion in relief funding approved in December by then-President Donald Trump. The rest would stay in the bank as leverage for future negotiations with Gov. Gretchen Whitmer, who proposed a much larger $5.6 billion plan.
The two-bill package, now heading to the House for a potential vote next week, would allow $110 million in additional spending on vaccine distribution, but it would attach new strings to the money, including a controversial GOP-backed provision that seeks to prohibit the state health department from using race or socio-economic status as factors in its vaccine distribution formula.
"Instead of issuing a blank check for the governor to use without a detailed plan, our plan funds our state's most pressing needs and saves additional resources so we can continue to assess the situation and have the ability to response to problems as they arrive," said Senate Appropriations Chairman Jim Stamas, R-Midland.
Among the most notable Whitmer proposals left out of the GOP plan: Authorization to spend $2.1 billion in federal funding for extra food assistance benefits for needy families. The omission was met by strenuous objections from Democrats, who cited forecasts that current state reserves for the food assistance program could run out by the end of next month.
"The pandemic is not going anywhere soon, and Michiganders … deserve to know that they can keep putting food on their table," said Sen. Betty Jean Alexander, D-Detroit, who was on food stamps before winning election in 2018. "Many of you do not know what it's like to be hungry."
Sen. Kimberly LaSata, R-Bainbridge, used debate over the food assistance funding to make a public plea for Whitmer to lift ongoing restrictions for businesses like restaurants, which are currently only allowed to operate their indoor dining rooms at 25 percent seating capacity.
"Please free our state," LaSata said, directing her comments to the governor. "Please open up our businesses completely. Allow those business owners, allow the people of Michigan to do what they know best. Treat them like adults."
The plea sparked a sharp rebuke from Sen. Curtis Hertel Jr., D-East Lansing, who sarcastically applauded LaSata for what he called a "crass" admission on the chamber floor.
"Thank you for fully admitting the reason you're not providing food assistance for people is because of a power struggle between the governor and this body," Hertel said. "It has nothing to do with the actual need of people, which is huge, in the middle of this pandemic."
Experts say most of the federal funding that Senate Republicans propose to withhold — including some money for COVID-19 testing and lab capacity — is not especially time sensitive because the state still has access to prior relief funds that have not yet been spent.
But the food assistance funding left out of the bill is a more pressing need, according to Bob Schneider, a fiscal expert with the nonpartisan Citizens Research Council of Michigan. "It's possible we'll run out of our existing authorization by late March," he said.
The congressional COVID relief plan passed in December included federal funding for states to provide a 15-percent increase in maximum food assistance benefits for needy families through June. That would amount to about an extra $100 a month for a family of four. It also allowed states to provide "meal replacement benefits" to low-income families with children whose schools were closed.
'Social engineering' and informed consent
Stamas developed the GOP spending plan in consultation with his budget committee counterpart in the Michigan House, but they did not negotiate the plan with the Whitmer administration despite multiple meeting requests from Budget Director Dave Massaron. Republicans hold majorities in the state House and Senate.
In a Tuesday letter, Massaron called the stalemate "unfortunate" and again requested a meeting with legislative leaders to hammer out a compromise, promising to make himself available at any time. "Let's work to benefit all Michiganders," he wrote.
The $110 million that Senate Republicans are proposing for vaccine distribution and administration is more generous than the $90 million Whitmer initially proposed spending, but boilerplate language added to the bill sparked strained partisan feuds.
The plan seeks to bar the Whitmer administration from using a "social vulnerability index" as part of its vaccine distribution model, which also considers population and age. The index, developed by the U.S. Centers for Disease Control and Prevention, recommends states consider factors like minority status and income in an attempt to ensure equitable distribution of vaccines.
Sen. Jim Runestad, R-White Lake, called the index a form of "social engineering" that has resulted in more vaccines being shipped to Detroit than surrounding communities like Oakland County, which he represents.
While vaccine access in most parts of the state is limited to seniors and frontline workers, Detroit this week expanded its priority list to include people with vision or hearing impairments, and other intellectual and developmental disabilities.
"Seniors in my district have been screaming for this vaccine," said Runestad. He noted that "a 40-year-old who is hearing impaired in Detroit can get the vaccine but the same hearing imparied person in Oakland and Macomb counties cannot."
Under the GOP plan, the state could only base vaccine distribution on "the estimated number of individuals in each priority group who have not yet been fully vaccinated in each locality." Race, gender, national origin, religion, sex or socio-economic status could not be considered.
Democrats noted that African Americans have been disproportionately impacted by the virus and have been vaccinated at slower rates than white people. Black people make up about 14 percent of Michigan's population but have accounted for more than 22 percent of deaths.
Sen. Erika Geiss, D-Taylor, accused Republicans of "callous cruelty fueled by elitism and racism."
"The data shows that across the nation people of color are more likely to die than whites," added Sen. Sylvia Santana, D-Detroit, who proposed stripping the vaccine distribution restrictions from the bill. "This is not about race or social justice, this is about life and death."
Whitmer hasn't made public her exact formula for vaccine distributions, and it has attracted criticism from some Democrats outside of the Michigan Legislature. Macomb County Executive Mark Hackel and Wayne County Executive Warren Evans, for instance, have questioned why they are receiving fewer doses per-capita than other communities.
President Joe Biden's administration has encouraged states to prioritize equity in vaccine distribution, and the Senate plan "could mean Michigan gets fewer vaccines from the federal government," Whitmer spokesperson Bobby Leddy warned in a statement.
By leaving billions in federal funding on the table, the Senate plan also "hampers our ability to provide COVID-19 testing to student athletes, nursing home residents, and keep our state safe," Leddy added.
The governor does not have the authority to line-item veto the Republican language that would prohibit race as a factor in vaccine distribution, but Whitmer could potentially declare it unconstitutional or unenforceable, rendering it moot.
That could also happen with another controversial GOP provision that would require medical providers to inform recipients if a vaccine they are offered was developed using fetal tissue lines derived from an abortion, even if decades ago. The "informed consent" would not be required for Moderna or Pfizer doses but could apply to the upcoming Johnson & Johnson vaccine.
The Michigan Department of Health and Human Services has warned that similar language in an earlier House bill "could confuse the public and cause some Michiganders to forgo the COVID-19 vaccine based on misconceptions."
Geiss, the Democratic state senator from Taylor, called it "disappointing but not surprising" that Senate Republicans "are putting politics into this process in order to scare people from getting this extremely safe vaccine."
Stamas, the GOP budget chairman, acknowledged the abortion reference inspires "passion" among officials on both sides of the political aisle. But "this simply gives the opportunity for those individuals to make an informed choice on which vaccine they choose," he argued.
Partial funding
The new Senate Republican plan also addresses one of the state's most immediate needs: Extending a temporary pay raise for direct care workers on the front lines of the pandemic. Authorization for an extra $2 per hour is set to expire Sunday, but the Senate proposal includes $150 million to extend and increase the temporary raise to $2.25 an hour through September.
It would also make additional workers eligible for the extra hazard pay, including employees at adult foster care homes, homes for the aged and child caring institutions. If approved by the House next week, the pay raise could be made retroactive, ensuring qualifying workers don't lose pay even though the current authorization ends this week.
Whitmer has pressured lawmakers to authorize all available federal funding, arguing her larger $5.6 billion plan would better help the state, school districts and local health departments plan, implement and continue various initiatives to fight COVID-19.
Republicans have used their power to delay the federal funding to seek policy concessions from the governor. A separate House spending plan, for instance, would only send funding to K-12 schools if Whitmer agreed to give up state authority to close schools or sports in the event of outbreaks, transferring that role to local health officials instead.
But Whitmer contends full federal funding — especially for testing and vaccines — is a critical component of achieving shared goals of reopening all schools, allowing sports to continue and resuming family visitations at nursing homes.
"Michigan will not be able to keep up with the testing demand from students, student athletes, school staff and teachers for much longer," she said Thursday. "We need the Legislature to do their job … so we can keep purchasing these critical antigen tests."
The Senate spending bill includes $110 million to expand statewide COVID testing, tracing and lab capacity. That would help continue existing efforts but is only a fraction of the $575 in federal funding available to the state.
Likewise, the plan would authorize $282 million in spending on a rental assistance program, which is about one third of the $661 million in federal funding available to assist households unable to pay rent and utilities in the pandemic.
The Senate Republican plan would allocate $1.24 billion to K-12 school districts including $933 million of the nearly $1.7 billion in federal funding made available by congress for resumption of in-person instruction and special programs to help students make up for learning losses.
Most of that money would be allocated to schools through a federal funding formula designed to advantage poor districts. But the Senate plan would use other federal and state funds to ensure that each district qualifies for at least $450 per student.
The proposal would send districts another $80 million in state money for K-8 summer school, $21.3 million for summer staffing costs, $45 million for high school credit recovery remediation services, $20 million for mental health services and $12 million for standardized testing.
Withholding even a portion of the federal funding "will "hurt school districts that need it the most," argued Sen. Rosemary Bayer, D-Beverly Hills, who proposed an amendment to spend the full $1.7 billion. "This is not our money. This our children's money, and they need it now."
But the partial funding will provide an "opportunity" for schools to "start assessing how the dollars are being spent and then share with us other things we may be able to help address in the future," Stamas said, defending the plan before it was approved in 20-15 vote along party lines.
We're not just a news organization, we're also your neighbors
We've been there for you with daily Michigan COVID-19 news; reporting on the emergence of the virus, daily numbers with our tracker and dashboard, exploding unemployment, and we finally were able to report on mass vaccine distribution. We report because the news impacts all of us. Will you please support our nonprofit newsroom?