Reaction in Michigan to U.S. Supreme Court gerrymandering decision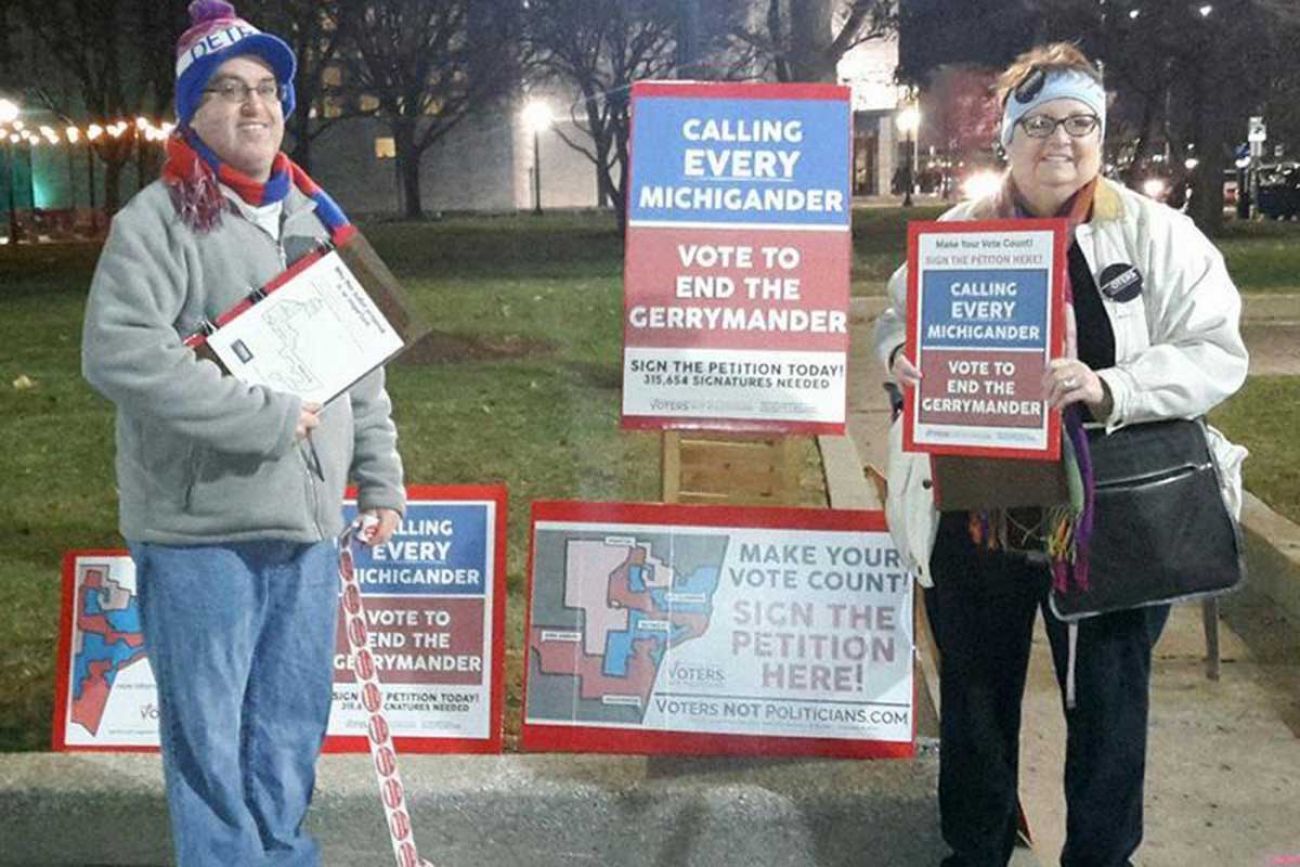 The U.S. Supreme Court decided Thursday that federal courts have no role in deciding whether state political lines are the product of partisan gerrymandering; that is, drawing legislative or congressional maps to favor one political party over another. That drew quick responses from Michigan politicians and others who have skin in the game.
Here's what two justices and Michigan leaders had to say:
U.S. Supreme Court Justices
Chief Justice John Roberts, who wrote the majority opinion:
"Deciding among just these different visions of fairness (you can imagine many others) poses basic questions that are political, not legal. There are no legal standards discernible in the Constitution for making such judgments, let alone limited and precise standards that are clear, manageable, and politically neutral. Any judicial decision on what is 'fair' in this context would be an 'unmoored determination' of the sort characteristic of a political question beyond the competence of the federal courts."
"Our conclusion does not condone excessive partisan gerrymandering. Nor does our conclusion condemn complaints about districting to echo into a void."
Justice Elena Kagan, who wrote the dissent:
"For the first time ever, this Court refuses to remedy a constitutional violation because it thinks the task beyond judicial capabilities. And not just any constitutional violation. The partisan gerrymanders in these cases deprived citizens of the most fundamental of their constitutional rights: the rights to participate equally in the political process, to join with others to advance political beliefs, and to choose their political representatives. In so doing, the partisan gerrymanders here debased and dishonored our democracy, turning upside-down the core American idea that all governmental power derives from the people."
Statewide officeholders
Gov. Gretchen Whitmer, a Democrat:
"Gerrymandering undermines the basic idea of open and free elections — regardless of political affiliation. It's disappointing that the U.S. Supreme Court has refused to review this unfair practice, despite several other courts declaring partisan gerrymandering unconstitutional. This is why passage of [Michigan's] Proposal 2 was so crucial to ensure Michigan has fair maps and fair representation. As governor, I will continue to do my job to ensure that voters can pick their elected officials, not the other way around."
Secretary of State Jocelyn Benson, a Democrat:
"The U.S. Supreme Court's decision today closes a vital door for citizens seeking recourse in a fundamental part of our representative democracy. This decision makes it even more important that last fall Michigan voters took the process of drawing district lines out of the hands of politicians and placed it squarely in the hands of our citizens. With clarity from the courts we will move forward to implement the Independent Citizens Redistricting Commission for the 2022 elections and actively engage all of our citizens in a transparent process that leads to fair districts for all."
Legislative leaders
House Speaker Lee Chatfield, R-Levering:
"The Supreme Court did the right thing upholding the will of the voters and leaving state policy decisions to the people of Michigan and their elected representatives."
Amber McCann, spokeswoman for Senate Majority Leader Mike Shirkey, R-Clarklake:
"Today's ruling suggests that a federal court should not be in the business of redrawing Michigan's Senate maps mid-term, as we have argued all along. However, our case is still pending and we await action from the Supreme Court regarding Michigan."
House Democratic Leader Christine Greig, D-Farmington Hills:
"The right to vote is both the bedrock principle of our country and the source of the people's trust in their elected officials. The Court had a significant opportunity today to help put a stop to the damage caused by political gerrymandering, but chose instead to reject their most important responsibility. This decision shows us the importance of fully committing ourselves to implementing the voter-approved measures that would provide greater access to voting and put the redistricting process in the hands of the people. The fight for fair elections is far from over and today's ruling only means we have a tougher fight ahead of us, but it's a fight we're ready for."
Senate Minority Leader Jim Ananich, D-Flint:
"Now that we know that the U.S. Supreme Court won't intervene to redraw lines, it's even more of a good thing that Michigan voters put an end to partisan gerrymandering at the ballot box last November. Because voters made the right call, we will have fairly drawn maps by the next time the Michigan Senate is up for reelection. Other states should follow our lead."
Congressional delegation
U.S. Sen. Gary Peters, D-Bloomfield Township:
"I am disappointed in today's decision. Following the 2010 Census, the Michigan state legislature drew what has been widely regarded as some of the most gerrymandered districts in the country. Politicians shouldn't be able to pick their own voters, and Michiganders spoke loud and clear last November that the current redistricting process is in desperate need of reform. I have confidence that the Citizens Redistricting Commission will use the 2020 Census to create fairer districts and representation that reflects the will of voters."
U.S. Rep. Debbie Dingell, D-Dearborn:
"Today's decision is a sad day for our democracy... While I disagree with the Court's ruling in this case, this only makes it clearer that Congress needs to act. H.R. 1, the For the People Act, contains many critical protections to protect the right to vote, including a requirement that states adopt independent redistricting commissions for the purposes of drawing Congressional districts. While I'm pleased that Michigan will have a citizen's commission in place for the 2022 election, we need these protections at the federal level as well."
Political parties
Lavora Barnes, Michigan Democratic Party Chair:
"The unfortunate reasoning displayed today by the conservative majority of our U.S. Supreme Court should remind all Michiganders that elections have consequences. This decision, while disappointing, is not surprising. To protect our rights, we must cast our votes for people that share our values and are concerned for the hard-working families of Michigan and their challenges. The voters of Michigan have already spoken, and they want fair elections and their voices heard — not after the next election, not down the road — now."
Laura Cox, Michigan Republican Party Chair:
"The Michigan Republican Party applauds today's decision by the United States Supreme Court. This ruling effectively ends Jocelyn Benson's attempt to redraw our state's legislative districts one year early, and benefit her political party at the expense of Michigan voters. This ruling is a victory for the people of Michigan and upholds the concept of judicial restraint."
Others
Judy Karandjeff, president of the League of Women Voters of Michigan, a plaintiff in Michigan's case challenging Republican maps:
"Today's U.S. Supreme Court decision is disappointing and will allow those who rigged Michigan's elections based on partisanship off the hook in federal courts. However, with the new independent redistricting proposal in Michigan that the majority of voters supported in 2018, we look forward to a new system being used in 2021 to draw districts for the next decade...We look forward to educating voters on the importance of applying for the new redistricting commission."
Voters Not Politicians, the ballot committee behind the successful 2018 Proposal 2 initiative to create an independent citizens redistricting commission in Michigan:
"We are dismayed that the U.S. Supreme Court has refused to protect the millions of voters across the country whose constitutional rights are violated by extreme partisan gerrymandering. Michiganders showed that gerrymandering is an issue that impacts all voters, whether we are Republicans, Democrats, Independents or third party supporters...These anti-democratic practices have run rampant, and today's decision will only further embolden politicians in the next redistricting cycle. Voters have had enough."
Tony Daunt, executive director of Michigan Freedom Fund, a conservative advocacy group:
"The Supreme Court today declared that Michigan voters and Michigan taxpayers come before liberal extremists and special interests. Secretary of State Jocelyn Benson has spent too many months and too many state resources pursuing bogus settlements in this rejected case, instead of keeping her badly broken campaign promises and branch-office wait time guarantees. After today's rebuke by the Court, we encourage her to finally get to work on behalf of the Michigan motorists spending hours in line in branch offices across the state."
We're not just a news organization, we're also your neighbors
We've been there for you with daily Michigan COVID-19 news; reporting on the emergence of the virus, daily numbers with our tracker and dashboard, exploding unemployment, and we finally were able to report on mass vaccine distribution. We report because the news impacts all of us. Will you please donate and help us reach our goal of 15,000 members in 2021?