Sea change for Michigan marijuana comes amidst industry chaos
LANSING — The CEO of Michigan's largest medical marijuana grow operation sat in a sleek, glass-walled conference room reminiscent of San Francisco tech giants near Lansing Tuesday. The state's marijuana industry, he said grimly, is at a breaking point.
"Dystopia is right now," said Jeff Radway.
His company, Green Peak Innovations, has stockpiled 2,000 pounds of cannabis it can't sell because dispensaries are still allowed to purchase marijuana grown by caregivers that's largely untested and cheap, he said, noting some of it has been found to contain contaminants such as e. coli, salmonella, pesticides and mold.
The next day the company held a rally on the steps of the state Capitol building, urging lawmakers to stop regulators from continuing to extend the deadline that would require around 50 unlicensed dispensaries to close and require all licensed dispensaries to purchase weed exclusively from the state's licensed growers.
Caregiver and patient protestors met the company, jeering and carrying signs with Radway's face on it. "Jeff Radway hates children & the elderly," read one. Companies like Green Peak don't make the specialized cannabis products their loved ones need to treat conditions like autism or Crohn's disease, they said, and if the state stops the flow of caregiver weed before more variety is available, they'd be left without medicine.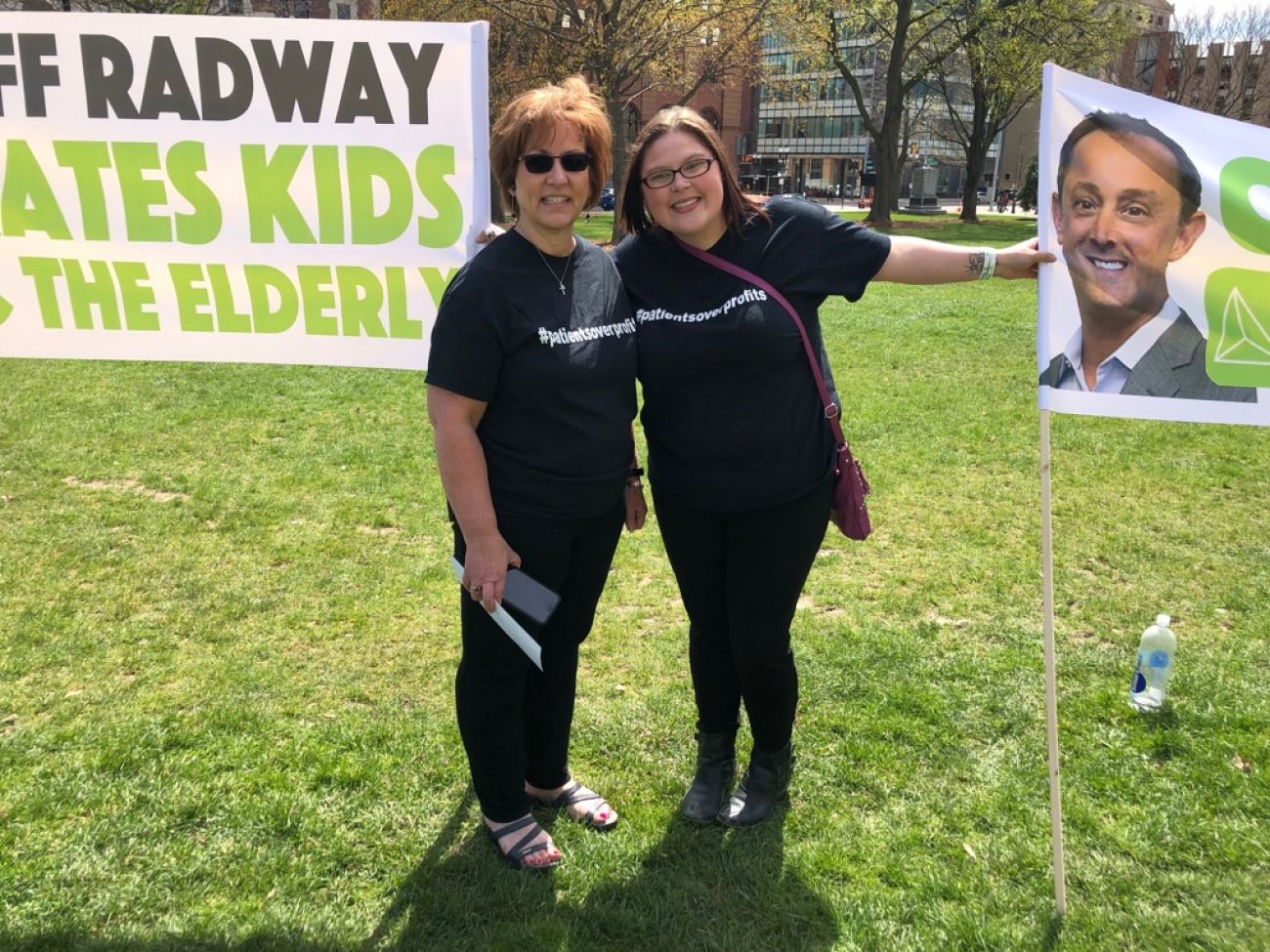 The conflict is emblematic of the many unresolved issues simmering within Michigan's evolving weed market as the industry, and the people who rely on that industry, prepare for a series of major changes to regulations.
One sea change occurs at the end of this month, when medical marijuana oversight changes hands from a controversial board appointed by former Gov. Rick Snyder to the new Marijuana Regulatory Agency (MRA), headed by current Bureau of Marijuana Regulation director Andrew Brisbo.
Critics say the board has moved slowly and denied licensees inconsistently and unfairly. The board was eliminated by Gov. Gretchen Whitmer in March in order to "make sure (the) process runs effectively and efficiently," she wrote in the executive directive.
At the final board meeting of the Medical Marihuana Facilities Licensing Board Thursday, Chairman Rick Johnson voted for a motion to approve all 92 pre-qualification applicants at once in exasperation with the potential coming changes to the licensing process. "It kind of makes you wonder why we've been here at all," he said. The motion failed.
The MRA, meanwhile, inherits a tumultuous market rife with unanswered questions. In addition to the ongoing tension between licensed growers and caregivers seeking a spot in the market, it's unclear when unlicensed dispensaries will be forced to comply with state rules or shutter. The industry is holding its breath waiting for a May 1 decision from a Court of Claims judge or for a Republican-sponsored bill to make its way to the governor's desk.
That's not to mention an impending December deadline to issue rules for the state's new recreational marijuana market, nor the hundreds of applications for medical marijuana licenses or pre-qualifications the state is still processing.
"Things are not settled at all," said Matthew Abel, executive director of the Michigan chapter of the National Organization for the Reform of Marijuana Laws (NORML) and a cannabis lawyer.
He said the government — both former Gov. Snyder and the Department of Licensing and Regulatory Affairs, which has continued to change rules and first oversaw the medical marijuana licensing process — are to blame for the system's continuing chaos.
"It was built piecemeal," Abel said. "And that's the mess we're left with."
A new licensing process
At the close of the final hours-long licensing board meeting, a former dispensary owner who said he went to prison for operating without a license, Don Koshmider, stepped up to the microphone.
"I'm certainly not a hater (of those who have been licensed), but I do believe racketeering has taken place" under the board's purview, he said, adding that he believes mom-and-pop shops and people of color have been targeted in the licensing process.
His was a common refrain throughout the board's nearly two-year-long tenure, which often clashed with industry proponents for tough and sometimes seemingly inconsistent screening. Board members, such as former drug enforcement cop Don Bailey, argued it was necessary to ensure future licensees comply with state laws.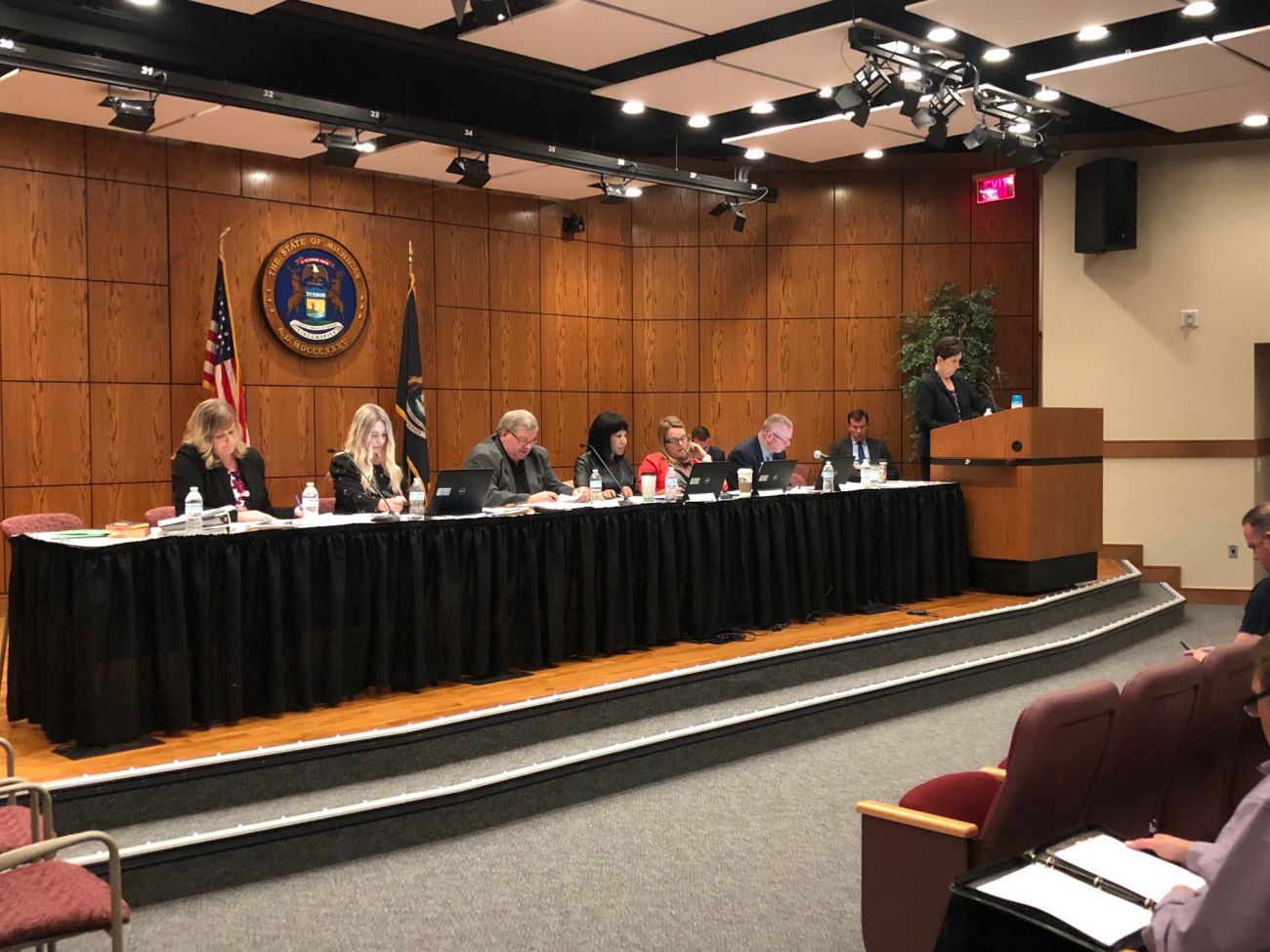 Industry leaders lauded the change and say they expect that the new system will speed the pace of licensing by integrating the analysis and decision-making within the new marijuana agency. Most board members disagree, saying the thorough scope of each application is to blame for the delays. LARA spokesman David Harns said the agency is now processing license applications as they come in — a far cry from former backlogs of hundreds of applications.
Among the well-wishers for the industry's future was Chairman Rick Johnson, the last person to speak at the meeting. While he's said the board was dedicated to helping the industry get on its feet, he expressed hope that the market will flourish under the new regulatory process.
"The biggest reason I'm here is (marijuana) really has helped two members of my family. Unfortunately, one's not with us anymore," Johnson said, choking back tears. He covered his face with his hands and paused before looking up.
"Keep doing what you're doing because those are the people that need to be helped."
Hanging in the balance
While one of the most controversial elements of the state's licensing system exits, medical marijuana patients, caregivers and business owners are staring down continuing chaos in an industry that has operated in limbo for months.
While some marijuana business owners pay hundreds of thousands of dollars and undergo a rigorous licensing process, others continue to operate unlicensed. A limited number of licensed growers test and process their product for contaminants while caregivers — originally authorized only to sell to a handful of medical marijuana patients under the 2008 law — sell untested product to dispensaries that struggle to meet demand.
Patients must sign a waiver acknowledging there may be chemicals such as arsenic or mercury in their untested weed before buying, and multiple batches have been recalled.
The date by which the market must be fully regulated — all product tested, bought from licensed growers and sold by licensed dispensaries — keeps shifting, as patient advocates argue they would be cut off from the products they rely on in the transition.
Harns, the LARA spokesman, said the department has not heard any reports yet of patients getting sick from caregiver product. Abel, of NORML, said requiring all caregiver product be tested too quickly will create a bottleneck, preventing marijuana from reaching patients.
"I think it's desirable that it all be tested," Abel said. "But I've been smoking untested marijuana for 45 years, so I think it's a little late for the government to be so concerned about it now for my health. I appreciate that, but where the hell have they been?"
Two outstanding decisions in the judicial and legislative branches may change all that.
A House bill that would require unlicensed dispensaries to come in line with state regulations by June 1 passed out of a Senate committee on Thursday morning after passing 102 to 4 in the House.
Douglas Mains, a cannabis lawyer at the Honigman law firm, said he wrote the bill. The goal, he said, is to ensure that unlicensed facilities are playing by the same rules as licensed dispensaries. That includes participating in the state's seed-to-sale tracking system and eschewing gray market delivery services as they await licensure.
"There's rumors out there that some of these unlicensed stores, because they don't have to say where they're getting their product, are getting it from other states where it's cheaper to buy as opposed to licensees who are generally getting it from growers or caregivers here," Mains said.
The bill will be racing with an incoming decision from a Court of Claims judge who issued a restraining order in late March to keep unlicensed dispensaries open past what was then a March 31 deadline. The cases the court is considering involve unlicensed dispensaries whose applications were denied by the state licensing board for invalid reasons and have not yet been reconsidered through the appeals process. A spokesman for the Michigan Supreme Court said the decision will now come on May 1.
However, it's not clear which one will supersede the other if the House bill and the judge's decision conflict, said Mains.
Neither decision may determine how long caregivers will still be allowed to sell to dispensaries since the state decided to look the other way in December. Harns said the department will continue to do so until "further order of the court."
Both Abel and Mains said there's no clear consensus on the role caregivers will be able to play in the medicinal market. The debate has "now been embroiled in some inflammatory rhetoric," Mains said of the "patients versus profits" dichotomy, such as that outlined by the Green Peak protestors.
Johnson, the licensing board chairman, echoed the discontent many parties say they feel looking to the future — whether they support extending the semi-regulated market or shutting it down. Johnson said he is squarely in the latter camp.
"It's really not fair," Johnson said. "Now we've licensed enough people, and if they can't figure out how to get together and work together to make this a better program, shame on them."
We're not just a news organization, we're also your neighbors
We've been there for you with daily Michigan COVID-19 news; reporting on the emergence of the virus, daily numbers with our tracker and dashboard, exploding unemployment, and we finally were able to report on mass vaccine distribution. We report because the news impacts all of us. Will you please donate and help us reach our goal of 15,000 members in 2021?