Prison reform -- once considered a ticket out of office for politicians -- is spreading around the country, and in some unlikely places. In many states, the efforts to reduce prison populations are being led by "law-and-order" Republicans.
In 2011, half of the 26 states that passed prison reforms were led by Republican governors; in 10 of the 26 states, the GOP controls the governor's mansion and the state legislature.
Michigan has a Republican governor and Republicans run the House and Senate. Michigan does not, however, have a forward-looking prison reform agenda in place.
The state has made a number of changes in recent years to streamline prison operations, lower the prison population and save hundreds of millions of dollars. Yet prisons still account for more than one in five dollars spent in the state general fund budget. Interest groups -- such as a corrections reform coalition organized by the Center for Michigan -- and some legislators continue to push for more money-saving reforms.
Among the more provocative ideas in Michigan this year is a proposal to create a sentencing review commission – an approach undertaken by numerous red states in recent years.
"It's easier to do in a red (Republican-controlled) state than a blue (Democrat-controlled) state," said Texas state Rep. Jerry Madden, a Republican who helped lead the charge for prison reform. "Red states won't be accused of being soft on crime."
Texas changes tactics
Delegations of state legislators from around the country make pilgrimages to Texas to learn how the state stabilized what was an exploding prison population. "They want to know the details of the programs, but what they really want to know about is the politics," said Texas Sen. John Whitmire.
Whitmire is the dean of the Texas Legislature, having served for 40 years. He recalls what he labels the "prison-industrial complex" taking off in the early 1990s. "People were spooked," said the Democrat, who sponsored a penal code in 1993 considered at the time to be the toughest in the nation. "We didn't need three strikes in Texas," Whitmire said. "They didn't get to three strikes."
In 1993, Texas had a prison capacity of 68,000; today, there are 158,000 behind bars at 112 facilities.
"Once you build (prisons), you're going to fill them," Whitmire said. "Filling prisons becomes an economic development issue."
That started to change in 2007, with a forecast that Texas would need 17,000 more prison beds by 2012. Instead of building prisons, the state decided to beef up drug and mental health rehabilitation programs.
"We said let's take a look at things that are smart and less expensive than prisons," Republican Rep. Madden said. "Use the prisons for the ones we're scared of and use other things for the ones we're just mad at."
For their work on the issue, Madden and Whitmire were lauded as 2010 Public Officials of the year by Governing Magazine.
So, instead of building $2 billion worth of new prisons, Texas closed a prison last year. "You can do things that keep people safe but uses money wisely," Madden said.
That's not the kind of talk you would expect to hear from a Republican, or, for that matter, from Democrats.
"The Democrats are still afraid of a Willie Horton moment," Grover Norquist, who heads the conservative Americans for Tax Reform, told The Daily Beast last year. Horton, a convicted murderer serving a life sentence in Massachusetts, was given a weekend pass out of prison, never returned, and raped a woman. Michael Dukakis was governor of Massachusetts at the time, and while running as the Democratic nominee for president in 1988, was excoriated in television ads that blasted him as being soft on crime.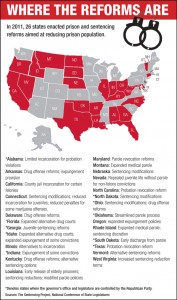 But tight budgets and falling crime rates are changing the politics of prisons.
Alabama, with a Republican governor and legislature, put limits on incarceration for probation violations; Florida Republican Governor Rick Scott signed into law an expansion of drug courts that diverts some drug felons from prison. GOP governors and legislators approved sentencing modifications in North Dakota and early discharge from parole in South Dakota.
Nobody would accuse Ohio Gov. John Kasich of being a liberal. But he championed reforms that shortened the sentences of some felons and helped others avoid prison altogether.
"This kind of reform legislation sat idle for 25 years, maybe. Nobody wanted to touch it," Kasich said after the passage of the prison reform, recalling that lawmakers in Ohio for about a decade had tiptoed around reform for fear of being labeled as soft on crime.
"If you're going to put your own future ahead of other people's lives and their ability to reclaim their lives," Kasich said, "then you're making a big mistake."
The United States has "the highest rate of incarceration in the world and that's been true for decades," said Nicole Porter, state advocacy coordinator for The Sentencing Project, a Washington, D.C., research center. Today, "Crime is at the lowest level it's been in a long time; most people feel pretty safe in their communities these days. That gives lawmakers an opportunity to rethink their views on policy (without) efforts to politicize and tie lawmakers to crime."
Porter expects the trend toward liberalized prison policies to continue as long as crime continues to drop.
"Where policy-makers feel safe is adopting earned time good time mechanisms for current prisoners, and having policies (apply only) to nonviolent and property and drug offenders," Porter said.
Incarceration trend grips Michigan
Between 1973 and 2010, Michigan's population grew about 12 percent, but its prison population grew a whopping 474 percent. In 1980, one in 13 state employees worked in the Department of Corrections; by 2010, it was one in three. As of Nov. 26, 2011, 13,739 of the 48,701 classified state employees worked for the Michigan Department of Corrections.
While the state's prison population has been dropping since 2006 (reaching 42,904 prisoners at the end of 2011), Michigan still spends about $2 billion on the Department of Corrections. By comparison the state will spend $1.2 billion of its $8.8 billion general fund on higher education.
"The recent drop in the prisoner population has been driven by the decline in prison entries, which has largely resulted from the drop in returns due to parole/probation violations," says a December 2011 briefing paper from the House Fiscal Agency. "Prison exits, however, also declined in 2010 with fewer moves to parole, which has slowed the population decline."
State Rep. Joe Haveman is interested in smaller prison ranks, not larger ones -- and is well-placed to push such a change. The Holland Republican leads the House appropriations panel on corrections and he wants to create a sentencing commission -- something Michigan hasn't had since the late 1990s -- as a way to revisit state imprisonment policies. "I don't want to do this because the rest of the country is doing this," said Haveman. "(But) I think attitudes have changed about what we want to incarcerate people for. Do we want to look at things and say, are there solutions that could have prevented (a prison sentence), solutions that would give them a better moral compass?
"What could we do better to create a safer society and save money?"
Senior Writer Ron French joined Bridge in 2011 after having won more than 40 national and state journalism awards since he joined the Detroit News in 1995. French has a long track record of uncovering emerging issues and changing the public policy debate through his work. In 2006, he foretold the coming crisis in the auto industry in a special report detailing how worker health-care costs threatened to bankrupt General Motors.