The state general budget is roughly 29 percent below what it was in 2000, when adjusted for inflation, according to estimates by the House Fiscal Agency.
Majority Republican legislators in Michigan often cite their belief in limited government as a rationale for tax or funding cuts. But Michigan government is at once larger than when Gov. Rick Snyder took office, and small compared to how large it has been historically.
[Editor's Note: This is just one story in a series examining Michigan's budgets during Gov. Rick Snyder's tenure as he prepares to release his final budget proposal.]
When adjusted for inflation, total state spending from all state resources — including taxes and other revenue sources, such as fees — is up about $2.8 billion, or 10 percent, this fiscal year compared to 2012, when Snyder implemented his first budget, a Bridge analysis shows. Some of that is due to economic tailwinds for much of the last decade, while a new road-funding package passed in 2015 has already started contributing new gas tax and vehicle registration revenue to pay for upkeep.
Related: Michigan needs $4B more per year for infrastructure, but how to pay for it?
But the numbers belie context: Snyder took over as governor as the state was struggling with the effects of the Great Recession; and an improving economy has contributed to improving revenue forecasts.
And the state budget is still well below where it was at the turn of the millennium. The nonpartisan House Fiscal Agency estimated in August that state general fund revenue this year would be nearly 29 percent below where it was in the 2000 fiscal year when adjusted for inflation. (The chart headline below, from the House Fiscal Agency, refers to general fund revenue)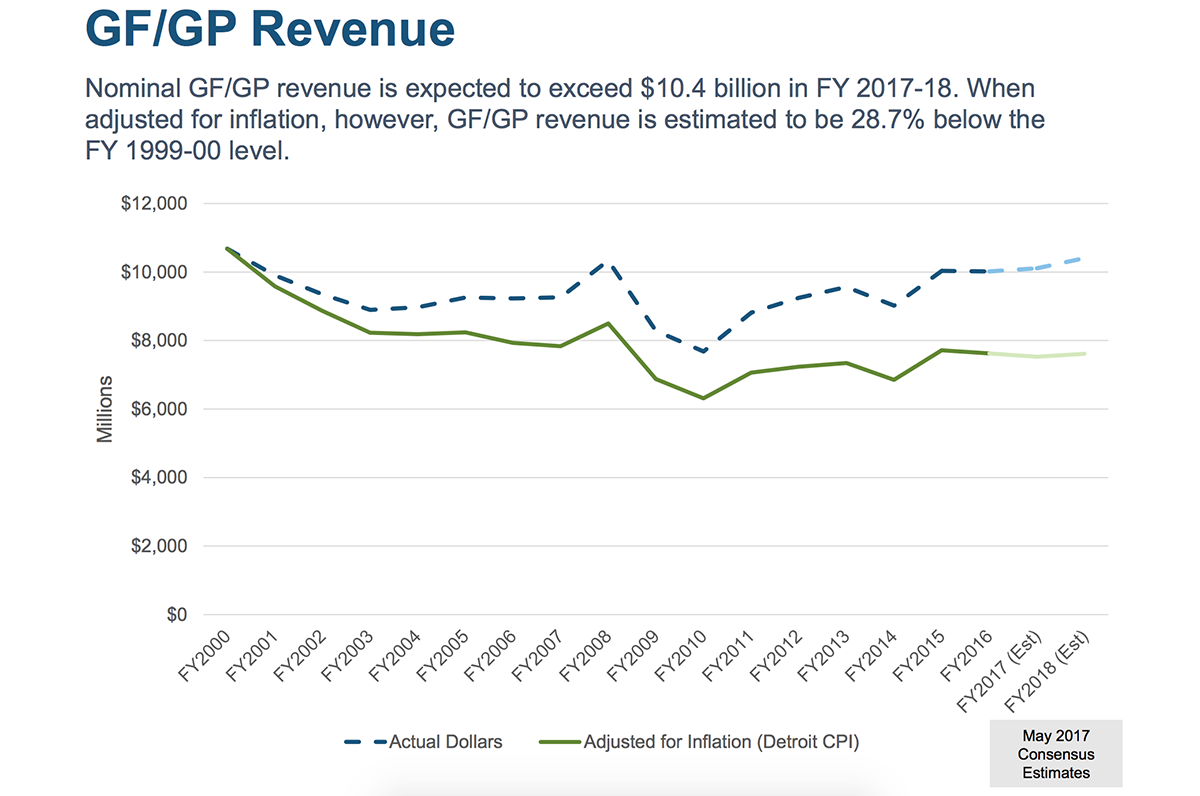 Also worth noting: Michigan's combined state and local government workforce, of roughly 50,000, is second-smallest in the nation given our population.
Related: Michigan's state, local workforce 2nd smallest in nation
The Michigan Constitution also limits how much money the state can take in and spend each year, a calculation that's based on residents' income. Michigan voters approved that limit in the 1970s, in what has come to be known as the Headlee Amendment.
Since 2000, total state revenue has fallen well below that limit — it's estimated to be as much as $10.1 billion below in the 2018-19 fiscal year, the budget of which Snyder will present Wednesday.
Put another way: Michigan policymakers have the ability, if they wanted, to raise and spend $10 billion more than they are today under Headlee.
One reason for the Headlee gap is a weakening state economy during the 2000s, even before the 2007-09 recession, according to the Citizens Research Council. Some of it is due to tax cuts, exemptions and other constraints that have been written into the tax code.
Many Republicans could point to the constitutional revenue limit as evidence that they have restrained government spending, said Craig Thiel, research director for the Citizens Research Council.
"There's no doubt about it that people would use this as the barometer to say, 'You sent me here to do something, and here's proof I've done something,'" Thiel said.
Mitch Bean, a former director of the nonpartisan House Fiscal Agency and a principal of Great Lakes Economic Consulting, said: "It is ideology."
The result has cost billions of dollars in state investment, Bean said, including on infrastructure and education.
"Essentially, government funded by state resources, as a percentage of the economy, has declined significantly, and everything has taken a hit because of it," he said.
State Sen. Dave Hildenbrand, R-Lowell, took issue with the argument that Lansing has disinvested in key areas. As the Senate's budget chairman, he said, it's his job to strike a balance between spending and taxation.
"Obviously, that's a pendulum that people have different viewpoints on," he said. "As long as we take care of the priorities of services to the people of Michigan, less spending is better."