At a recent meeting in Lenawee County to talk about crop insurance, loan options and potential second crops, a mental health expert was also on hand to discuss how to recognize stress – as a colleague handed out wallet-sized suicide prevention hotline cards.
"When we're dealing with stress, it rubs off on our families," said Kris Swartzendruber, who works for Michigan State University's Extension Office, which provides a  wide-range of services to farmers.
Lately, the stress has come from more than the weather: Trade wars are roiling grain markets, fruit farmers in southwest Michigan lost crops to the polar vortex, cherry farmers along Lake Michigan face cheap imports from Turkey, and dairy farmers statewide are getting crushed by low prices and lost feed crops.
The heavy rains that have confounded farmers from Iowa to Ohio have also complicated farming in Michigan, with growers across the state filing crop insurance claims and scrambling for options. One suggestion from farm lenders: Consider getting a second job, off the farm.
"At this point a lot of guys are just in survival mode," said Lenawee County farmer Calby Garrison. "You don't want to throw money in a black hole."
July 2018: As Trump pushes tariffs, Michigan farmers and businesses 'getting clobbered'
May 2018: Rural Michigan helped elect Trump. Now, farmers are sweating a trade war.
May 2018: Low milk prices are a big headache for Michigan's family dairy farms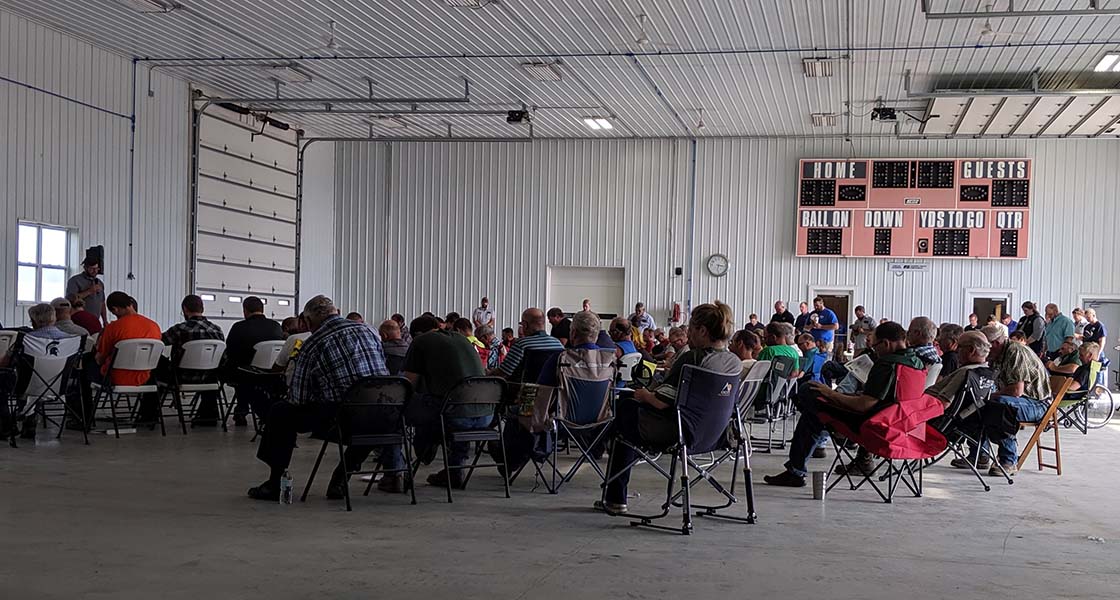 More than 100 farmers attended a meeting in rural Lenawee County recently to hear about insurance and crop options as they face one of the wettest years in Michigan history. (Bridge photo by Mike Wilkinson)
Bad all over
Food and agriculture in Michigan is a huge industry, contributing over $101 billion to the state's economy and employing over 900,000 workers. There are just under 48,000 farms covering roughly 9.8 million acres and producing about 300 products, making Michigan second only to California in diversity of products, said Trey Malone, an agriculture economist at Michigan State University.
This year, the most immediate problem has been near-constant rains that have pushed May planting into June and possibly July. Wet fields last fall hurt the harvest and those conditions have continued into the spring, making it impossible to plow and plant.
In early June, just 68 percent of corn was planted at a time when well over 90 percent is typically in the ground. Only a third of those seeds had sprouted, down from the 93 percent average.
Sixty-four Michigan counties have asked the U.S. Department of Agriculture for an emergency designation and Gov. Gretchen Whitmer last week implored U.S. Agriculture Secretary Sonny Perdue to help the state's farmers.
Late last week, Perdue granted some relief, relaxing rules that will allow farmers to sell crops raised on land on which farmers filed insurance claims. Whitmer hailed the decision as she also announced the state had approved $15 million to help farmers, growers, processors, and farm-related retailers secure low-interest loans.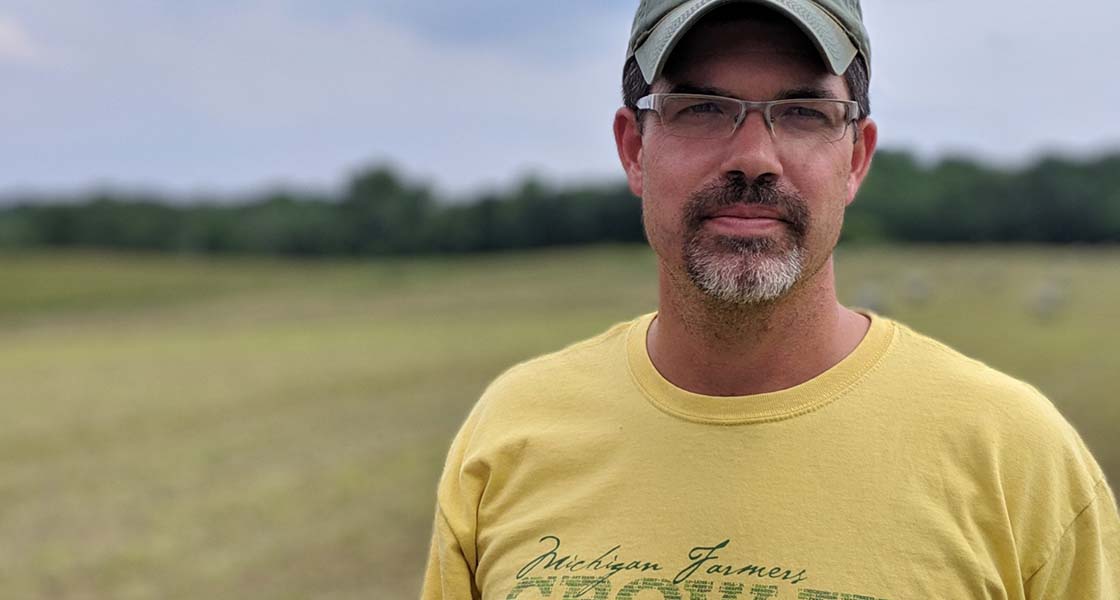 The wet weather has prevented Calby Garrison of Lenawee County from planting corn and soybeans. He and his father just made their first cut of hay, well after they'd typically do so. (Bridge photo by Mike Wilkinson)
Also last week, U.S. Rep. Elissa Slotkin, D-Holly, last week pushed for an additional $10 million in federal funding from the farm and ranch stress assistance network, after hearing from farmers in the Mason area tell her about their rising stress levels. That measure, if passed, faces an uncertain future in the U.S. Senate. 
Swartzendruber, of MSU Extension, and Zastrow, of Saginaw County, who produced a video aimed at helping farmers, agreed on the symptoms – a tight chest, angry shouts, more drinking and less sleeping.  
"We need to address that," Zastrow told Bridge Magazine. "And know that you're not alone."
'Hit from all directions'
They definitely aren't alone.
Changing economics have forced thousands of farmers to quit, with the number of Michigan farms falling by 4,500 between 2012 and 2017, a 9 percent drop.
Farming has always been a high-risk venture but many say it's become more so for a number of reasons:
Customer demands have changed markedly –  think about the rising demands for gluten-free and organic products, putting pressure on farmers to correctly guess food consumption trends.

Weather has become more volatile, with earlier springs and bigger temperature swings. The state's fruit crops

were almost destroyed in 2012 after a frost followed an early spring, losing over 85 percent of peach, tart cherry, apple and grape crops. 

Trade and domestic farm policies have frequently changed
Although many Michigan farmers have been hurt, dairy farmers have been among the worst hit by weather and trade issues, said Trey Malone, an agriculture economist for Michigan State University.
"It's never-ending," said Steve Paradiso of the Michigan Farm Bureau. "There are a lot of people getting hit from all directions."
Trade war raises the stakes 
Many farmers are now weighing whether to file insurance claims on their crop insurance. The good news: Far more farmers today are insuring their crops.
But insurance claims may generate less than half the income that a crop would produce, causing some farmers to "plant something late and roll the dice," said insurance agent Nate Gust of Farm Bureau Insurance, who covers southeast Michigan.
In typical wet years, corn growers would switch to soybeans because they can be planted later. 
But with China levying $60 billion in tariffs on U.S. goods, including soybeans, market fears make the corn-to-soybean switch another gamble, even with anticipation of billions of dollars in federal aid to ease the pain of tariffs.
"The cutback in exports have hurt," said David Oppedahl, a senior business economist for the Federal Reserve Bank in Chicago. 
Dairy farmers, who produce the state's most valuable agricultural commodity valued at $1.8 billion, have been particularly hard hit. Increased automation pushed production levels way up, lowering prices to levels that don't cover costs. 
Thousands of dairy farms have closed nationwide, including hundreds in Michigan.
Dairy farming is "probably the most tragic story in agriculture right now," said MSU's Malone.
Tariffs from Mexico on U.S. cheese, in retaliation for U.S. tariffs, have made it even harder for dairy farmers. Now the wet ground has hurt their ability to put feed corn down, leaving them scrambling even more.
"We're kind of in the middle of the whole mess here," said Blaine Baker, a Lenawee County dairy farmer who has a 550-cow operation west of Adrian.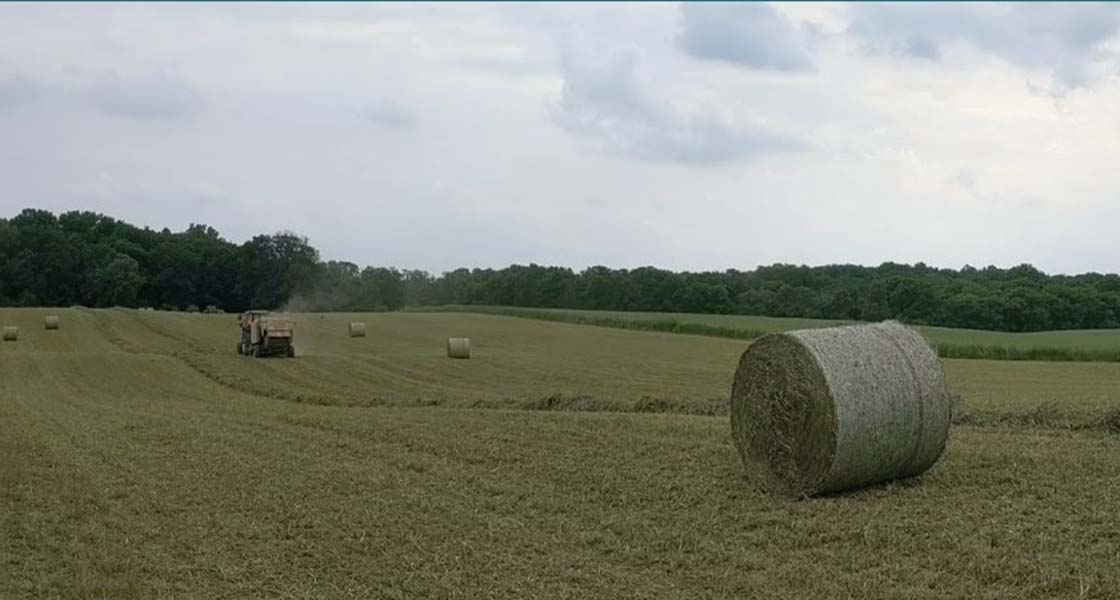 Clouds roll in as Calby Garrison and his father bale hay on their Lenawee County farm. The wet weather has put them and many other farmers behind, preventing or delaying the planting of corn and soybeans. (Bridge photo by Mike Wilkinson)
'Most stressful year'
Weather is always an issue – Will there be enough rain? Too much? There are late frosts and early frosts to fret about, along with funguses and bugs.  And trade has long played a role – the 1980s farm crisis had its roots in the then-Soviet Union's decision to buy U.S. grain in the 1970s and a 1980 embargo of grain.
When interest rates approached 20 percent in the early 1980s, many farmers were crushed and lost their farms.
Interest rates now are far lower – just over 5 percent, according to the Federal Reserve. More farmers are now buying crop insurance and politicians are more attuned to the impact of trade, propping up prices with massive aid packages. 
But with all the help from afar, it hasn't eliminated anxiety. 
"This is the most stressful year in several decades for farmers," said Zastrow, who has her own business, Bay Area Wellness.
In other years, farmers know that if they're down, someone else is up –  weather patterns don't typically hit the entire corn belt, for instance. Or the entire state; a bad year for fruit growers might be a good year for sugar beets.
But this year, it seems every farmer is getting hit – from rain, an early frost or chilly international trade relations. 
Garrison, the Lenawee farmer, 36, is resigned to a tough year. He and his dad haven't planted their corn and only last week got their first cutting of hay, well behind previous years.
"Every year is difficult," he said. "Every time you put a seed in the ground you're taking a risk."
Perhaps offering some balm has been the enormity of the weather woes, with almost the entire corn belt, from Iowa to Ohio, hit by heavy and near-constant rains.
That's started to push corn prices up over 30 percent since May, to $4.40 a bushel, the highest price in five years, though well below the $7 a bushel last seen in 2013.
That might sound like good news but Garrison adds some hard-earned perspective. 
"It's only good," he said, "if you have a crop."