Trump touts jobs in Michigan, falsely claims he saved auto industry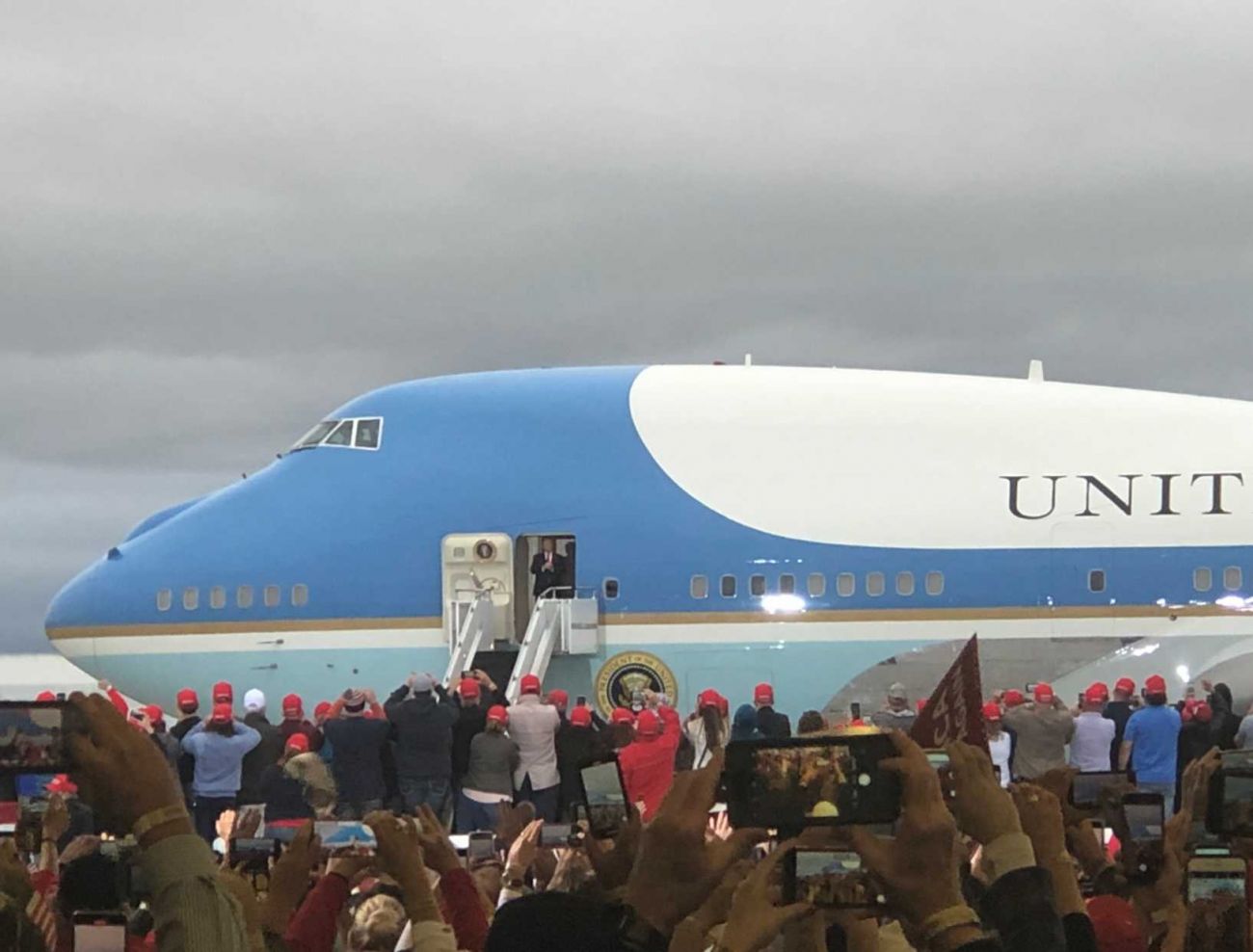 FREELAND — President Donald Trump visited Michigan on Thursday to tout jobs, falsely claim he "saved the U.S. auto industry" and ask supporters to remember the roaring economy before the coronavirus turned American life upside down.
Speaking to a crowd of about 5,500 at a hangar at MBS International Airport, Trump took jabs at Democratic opponent Joe Biden and implored Democratic Gov. Gretchen Whitmer, whom he called a "liberal hypocrite," to "open up your state" from coronavirus restrictions.
"I'm running for re-election to keep jobs in Michigan," the Republican president told supporters. "Last year, before the China plague came... we had the greatest economy in the history of the world."
It was the president's first campaign stop in Michigan since late May, when he visited a Ford Motor Co. plant in Rawsonville. His Thursday visit to Michigan came one day after Biden, the former vice president, visited union workers in Warren and Detroit.
Like Biden, Trump chose a politically significant spot for the visit. Saginaw County is one of the handful of Michigan counties that voted twice for former President Barack Obama but flipped to support Trump in 2016 by just over 1,000 votes.
Trump and Biden are vying for working-class voters seen by some experts as the key to carrying Michigan, which again is a battleground in the presidential campaign.
Here are some takeaways from Trump's visit:
No, he didn't save the auto industry
Although some of Trump's boasts about the economy before the pandemic are accurate, his claim that he "saved the auto industry" is wrong.
He told the crowd, "you better vote for me, I got you so many damn car plants."
In fact only one major plant, a Jeep plant in Detroit, has been announced in Michigan during his presidency and total auto manufacturing jobs in the state fell 2,000 to 40,300 under Trump as of February, according to federal statistics.
Biden, meanwhile, has also campaigned on his role in the multibillion-dollar bailout of the auto industry in 2009 as vice president. Several experts have credited the survival of General Motors and Chrysler with bailouts that began under former Republican President George W. Bush and continued under Obama.
Jobs, jobs, jobs
Trump told supporters he's transformed the Republican Party into "the party of workers."
Several supporters at the rally told Bridge that jobs and the economy are the most important issues in the election this year and one of the president's greatest accomplishments.
Trump highlighted his deal to kill the North American Free Trade Agreement, which unions have blamed for auto companies shipping jobs overseas and Biden supported as a senator.
The president said his deal to replace the trade deal with the United States-Mexico-Canada Agreement (USMCA) and withdrawal from the proposed Trans-Pacific Partnership have buoyed the economy.
"USMCA has powerful protections to keep auto manufacturing jobs here in Michigan," Trump said. "You remember how bad it was before I took office? It was like an avalanche of companies leaving our country."
While it's true job growth has increased in Michigan since Trump's election in 2016, it grew at slower rates than the nation as a whole.And under Trump, manufacturing jobs grew about 10 percent to 624,000 before the pandemic, federal records show.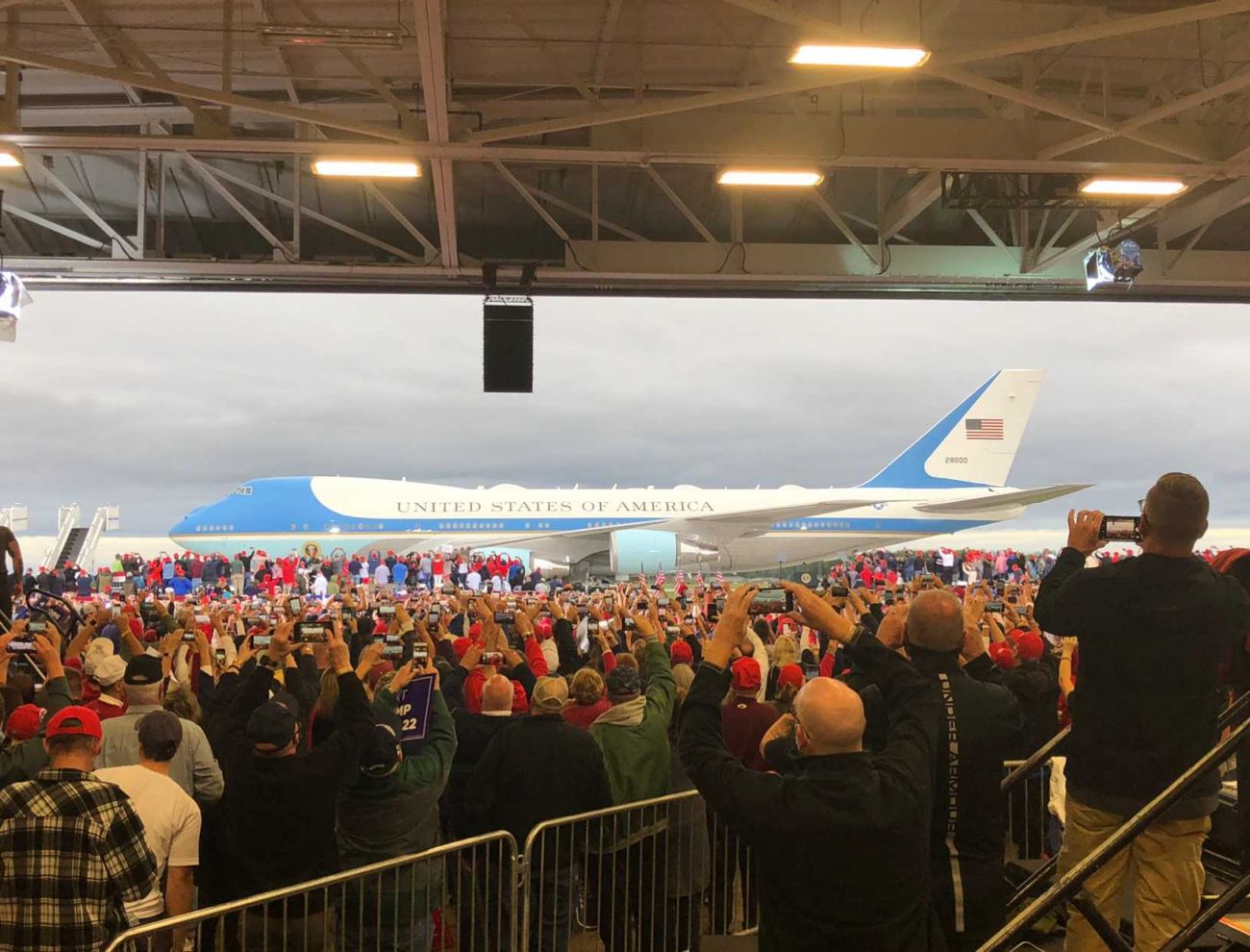 Bob Woodward is a 'wack job'
Trump acknowledged the coronavirus — what he called "the plague" — has waylaid the economy, led to massive unemployment and killed more than 190,000 Americans, including nearly 7,000 Michiganders.
Trump blamed Whitmer, Biden and other Democrats for those losses, arguing they've flippantly shuttered the economy. His reprisals against Whitmer garnered some of the heartiest applause of the evening.
"Tell your governor to open up your state… these Democrat governors, I think they do it for political reasons," he said to cheers. "It would be better if you had a governor who knew what the hell she was doing."
The president's visit came the day after it was revealed that he knew about the dangers of the coronavirus since early February and then admitted to downplaying it in interviews with journalist Bob Woodward earlier this year.
Whitmer, who is a national co-chair of Biden's campaign, called Trump's handling of the pandemic "reckless" earlier Thursday.
"I think the biggest enemy of the state right now is the misinformation that's coming out of the head of state," she said. "And the biggest threat to the American people is the American president right now."
Trump addressed Woodward's revelations late in his speech, calling the journalist a "wack job" and saying he intended not to alarm the American people.
'No president' has done more for Michigan?
Trump spoke lovingly about Michigan throughout the rally, repeating a debatable claim that he was once its man of the year and asserting "no president has done for Michigan what President Trump has done for Michigan."
Trump touched on the "terrible" flooding of the Edenville Dam in mid-Michigan in May, saying his administration may "sue the ass off of them," adding "we'll get some of that [money] back I think." (The dam's owners have been sued repeatedly and filed for bankruptcy last month.)
Trump also hyped several Republican candidates, including U.S. Senate candidate John James, whom he called a "star."
James told the crowd that both major political parties have failed Black voters. He called the Republican Party, the party of emancipation and the Civil Rights movement, and said it's time for the GOP to once again "free men from bondage and to hold this nation together."
"We are content with calling ourselves the silent majority. It's wrong. No more. Why are we quiet?" James asked to massive applause.
We're not just a news organization, we're also your neighbors
We've been there for you with daily Michigan COVID-19 news; reporting on the emergence of the virus, daily numbers with our tracker and dashboard, exploding unemployment, and we finally were able to report on mass vaccine distribution. We report because the news impacts all of us. Will you please support our nonprofit newsroom?