Two years after Jan. 6 riots, 11 convictions (and some regrets) in Michigan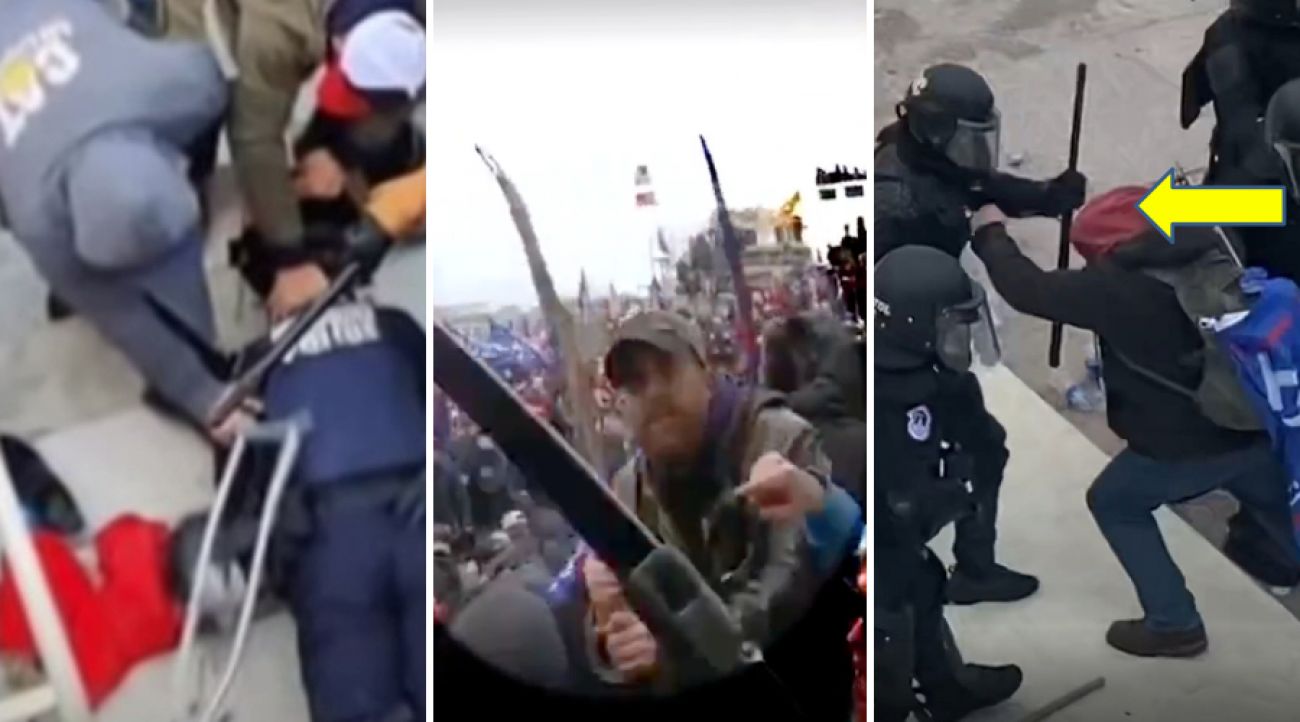 From left: Jan. 6 video footage prosecutors have linked to convicted felons Logan Barnhart and Justin Jersey, along with accused defendant Matthew Krol (Screenshots)
Two years after Capitol insurrection, 11 Michigan men convicted
Most Michigan cases have ended with plea deals
Some accused of assaulting police officers not yet sentenced
---
LANSING — One man dragged an injured police officer toward a mob and struck others with a flagpole. Another wrestled a policeman and then struck other officers with a baton.
Others simply walked into the U.S. Capitol after rioters had already broken through, including two men who have since sworn off politics and told investigators they felt misled by then-President Donald Trump.
Two years after a deadly attack spurred by Trump's failed bid to stay in office, 10 of the 16 Michigan men charged for their role in the Jan. 6, 2021, Capitol riots have struck plea deals admitting guilt to at least one crime.
Related:
An 11th man, Anthony Williams of Southgate, was convicted by a jury and sentenced to five years in prison after bragging on social media that he had "stormed" the Capitol and "pushed back the cops."
Five others are still working their way through the legal process, including former gubernatorial candidate Ryan Kelley, who has twice delayed court hearings amid discussions of a potential plea deal.
None of the Michigan men has been acquitted.
The convictions are part of a "massive" undertaking by federal prosecutors, who have charged more than 900 people nationwide in connection with the Jan. 6 insurrection, said former U.S. Attorney Barbara McQuade. Of those, more than 460 have reportedly pleaded guilty to at least one crime.
While plea deals typically yield shorter sentences, they help prosecutors save resources and any conviction can help deter future attacks against government buildings or officials, McQuade told Bridge Michigan.
"I think it's extremely important that the government act to send that message of deterrence to people who might be inclined to attack our government," said McQuade, who served as an appointee of Democratic President Barack Obama.
The Michigan men who reached plea deals have so far avoided major jail time — the longest sentence to date is 35 days in jail for Jeramiah Caplinger of Taylor, who pleaded guilty to a misdemeanor offense for scaling a wall of the U.S. Capitol before entering the building.
Caplinger bragged about his exploits in early 2021 and said he climbed the Capitol wall because it looked "fun," but in August he apologized "to the country" as he asked a judge to spare him jail time for the non-violent offense.
U.S. District Court Judge Paul Friedman denied Caplinger's request for a sentence of only probation, saying jail time is necessary for deterrence. He also ordered Caplinger to serve 24 months of probation, 60 hours of community service and pay $500 restitution to the Capitol architect.
"It's sometimes important to tell other people similarly situated, 'This is not OK,'" Friedman said at sentencing. "You can't do this sort of thing."
Police assaults, Whitmer kidnapper connections
Two other Michigan men who have pleaded guilty to crimes related to the Jan. 6 riots have not yet been sentenced but are expected to receive prison time.
In exchange for prosecutors dropping some of the charges against them, Logan Barnhart of Holt and Justin Jersey of Flint have both admitted they attacked police officers while a mob stormed through an archway tunnel to the Capitol.
Jersey charged at one officer, grabbing his face and knocking him to the ground, where they grappled over the officers' baton, according to an account he attested to as part of his plea deal. Jersey managed to grab another baton and use it to strike other officers in the archway.
Barnhart, meanwhile, grabbed an officer by the neck of his ballistic vest and, with the help of another man, dragged the officer down a set of steps and into a crowd where he was further attacked, according to a document he signed as true and accurate.
Jersey, whose "fuck you" finger tattoo helped internet sleuths discover his identity, faces up to 20 years in prison for assaulting and inflicting bodily injury on a police officer, but prosecutors are recommending no more than 61 months. They're recommending up to 51 months for Barnhart, who pleaded guilty to assaulting an officer using a dangerous weapon.
Jersey has been in police custody since his arrest in late 2021, according to court records. Barnhart was released on bond to home detention with GPS tracking after his arrest that fall.
Two other Michigan men are accused of assaulting police officers, including Matthew Krol of Linden, a former self-described militia leader who prosecutors say was an associate of men convicted of plotting to kidnap and potentially kill Gov. Gretchen Whitmer.
Krol, arrested in February, is accused of attacking a Capitol police officer, stealing a police baton and using it to strike other officers.
Krol has pleaded not guilty. In an initial interview with the FBI, he denied multiple times that he was the individual filmed in a violent encounter with police. In court filings, his attorney has suggested Krol was acting in "defense of others."
But video footage appears to show that Krol took "offensive action" toward police, and he poses a "concrete, prospective threat to public safety," a district court judge said in November as he denied Krol's request to be released from detainment pending trial.
As they fought to keep him detained, prosecutors presented the judge with a series of online chats involving Krol and two men convicted of crimes related to the Whitmer kidnapping plot, including ringleader Adam Fox, who was recently sentenced to 16 years in prison.
In one chat, Krol said he would "hypothetically" be willing to storm the Capitol and charge Whitmer with unspecified crimes, telling Fox he is "willing to kill or die for liberty."
Krol later told Fox and others he would "rather apprehend Tyrants at the Capital [sic], hang them on those beautiful oak trees then kill citizens in a civil war."
While Krol is not accused of any crimes related to the Whitmer kidnapping plot, prosecutors allege the chats are evidence of violent tendencies consistent with his actions on Jan. 6.
"He engaged multiple assaults of multiple officers in the midst of a violent riot where police were severely outnumbered by a mob attempting to unlawfully enter the U.S. Capitol," assistant U.S. Attorney Andrew Tessman wrote in a September filing.
Krol has not reached any type of plea deal with prosecutors, but the parties "are engaging in ongoing discussion regarding possible pre-trial resolutions of the case," Tessman told a judge in November.
Likewise, prosecutors are hoping to avoid a trial for Michael Joseph Foy of Westland, who is accused of using a hockey stick to repeatedly strike and stab two officers near a doorway to the Capitol.
After the attack, he allegedly shouted "Let's go" while pointing at the building, which he would later enter through a broken window.
Foy, a former Marine released to home detention in July, is working toward a "stipulated trial agreement" with the government that would result in convictions without a jury trial but preserve his right to appeal, according to court documents.
Regrets, and a plea for civility
Two Michigan men who reached plea deals with federal prosecutors later testified before the U.S. House Select Committee to Investigate the January 6th Attack, telling investigators and members of Congress that they wanted to help the country avoid similar chaos in the future.
Daniel Herendeen of Chesterfield Township and Bobby Schornak of Roseville carpooled from Michigan to Washington D.C. on Jan. 5, 2021, hoping to hear new evidence backing up Trump's claim the election was rigged against him, which they both believed at the time.
Herendeen, in particular, was expecting a "big unveiling" from Trump during his speech at the Ellipse park near the White House, he said in a deposition before the House committee.
Instead, "it was just the same thing he's been saying," Herendeen said in a newly released transcript of the deposition. "| was kind of disappointed in the speech actually… There was nothing new, nothing exciting."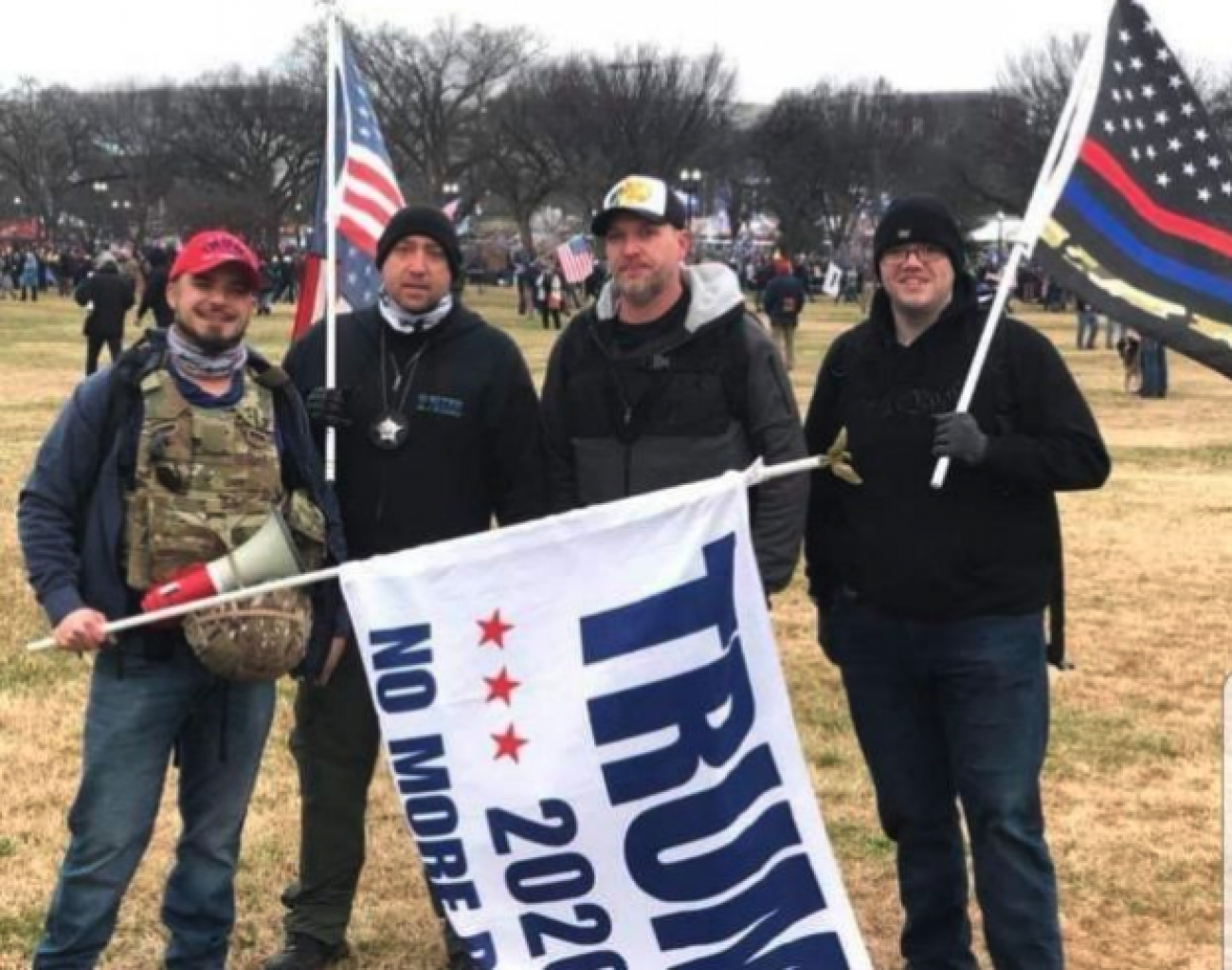 Robert Schornak (far left) and Daniel Herendeen (second from right) pose for a photo in Washington D.C. on Jan. 6, 2021. Both pleaded guilty to a misdemeanor crime after entering the U.S. Capitol. (Photo via FBI).
Following the speech, protesters began marching toward the Capitol because "Trump asked us to go down there," Schornak told the committee in a separate deposition.
On the way, Herendeen said they heard other activists saying things like "hang Mike Pence" and "Pence screwed us," a reference to the vice president who rejected Trump's request to block certification of his election loss.
Herendeen and Schornak lost each other in the crowd, but both eventually made it to the Capitol where each said they walked in through open doors and met no police resistance before leaving without any violent encounters.
They each later pleaded guilty to related misdemeanors and were sentenced to three months of probation with intermittent incarceration (which typically involves weekends or nights in jail), along with two months of home detention and a $500 restitution payment to the Capitol architect.
Schornak, who had attended two previous "stop the steal" rallies in Michigan, said he went to Washington D.C. confident the election had been stolen. He no longer believes that is the case because Trump never proved it, he told congressional investigators.
Trump "definitely let us down," Schornak said. "I don't know if 'hurts' is the right word, but it was just disappointing, you know? When you believe in someone, and you believe what they're saying, and then it doesn't come to fruition, you know, it's kind of like, 'Hey, that's some BS.'"
Herendeen expressed similar regret in his deposition: "I feel a little betrayed, a little abandoned, a little frustrated," he said.
Both told the committee they are done following politics and Trump, and are instead hoping to move on with their lives.
"It would be nice if we could have civil conversations again and agree to disagree without shutting other people out and down," Schornak said, concluding with a plea for peace but acknowledging his own divisive rhetoric in the past.
"It's almost like a big psychosis," he said. "Like, you are only going to believe what you believe, and everybody who doesn't believe what you believe is somehow, you know, like, the enemy or something."
Only donate if we've informed you about important Michigan issues
See what new members are saying about why they donated to Bridge Michigan:
"In order for this information to be accurate and unbiased it must be underwritten by its readers, not by special interests." - Larry S.
"Not many other media sources report on the topics Bridge does." - Susan B.
"Your journalism is outstanding and rare these days." - Mark S.
If you want to ensure the future of nonpartisan, nonprofit Michigan journalism, please become a member today. You, too, will be asked why you donated and maybe we'll feature your quote next time!