Voters Not Politicians mulls its next Michigan battle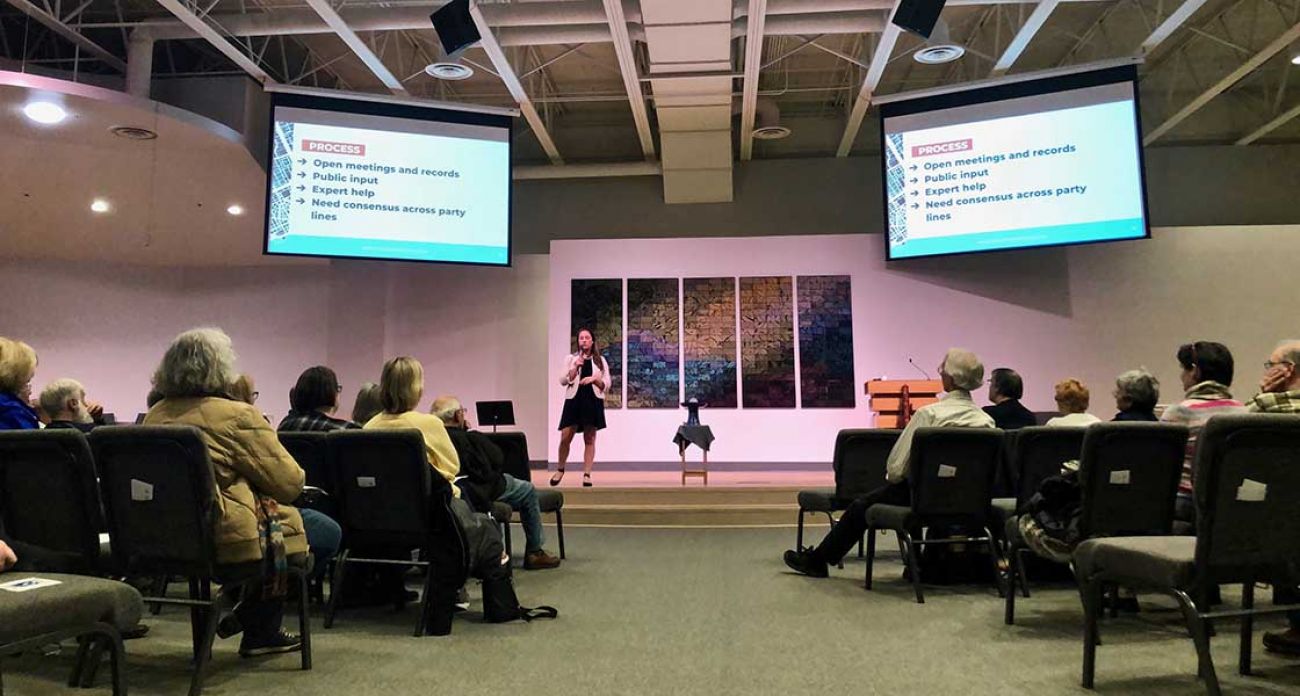 August 2019: Voters Not Politicians asks to intervene in Michigan GOP redistricting suit
Like any group whose first try ends in smashing success, the pressure is high for Voters Not Politicians to ensure it doesn't become a one hit wonder.
Its founders were a group of political novices who organized thousands of volunteers to change the state constitution over the wonkiest of subjects, gerrymandering. The group's proposal to take the drawing of political boundaries away from partisan politicians passed with more than 60 percent of the vote in November. The improbable victory means a 13-member, multi-partisan commission of Michiganders will be responsible for drawing district lines.
Now, the group is turning to its next battle: Find the next cause and spread the word about how the public can get involved with the new redistricting commission the state is constructing for future elections.
Related: Katie Fahey of Voters Not Politicians to take Michigan model national
In keeping with its follow-what-voters-want ethos, VNP is brainstorming what issue to tackle next in the state through dozens of town halls its hosting from the Upper Peninsula to Southeast Michigan.
The group must also demonstrate it can be effective without its founder and most public face, Katie Fahey, who is moving on to lead a national organizing initiative along with three VNP colleagues who followed Fahey to her new post.
After the November election, many volunteers were itching to find a new cause to throw their political muscle behind. But VNP organizers and many other volunteers first wanted to ensure the anti-gerrymandering measure, Proposal 2, was implemented as intended.
So after November VNP's first move was to protect the integrity, as they saw it, of the new redistricting commission.
"Our number one priority right now is making sure that the redistricting amendment is implemented fairly, impartially and transparently," said communications director Amelia Quilon.
The group opposed a Republican Senate-led lame duck bill this past December to define the political affiliation of commission applicants, which they argued was illegal because Proposal 2 was designed to be "self-executing." The bill later died in House committee.
VNP organizers also opposed lame duck legislation that placed a 15 percent cap on how many signatures citizen initiative groups can gather from each congressional district in the state, according to Fahey. The bill was signed into law in late December, but new Secretary of State Jocelyn Benson has asked Democratic Attorney General Dana Nessel to review the constitutionality of the law. Nessel's response remains pending.
In the meantime, Voters Not Politicians has secured more funding from the Texas-based Action Now Initiative. (The group was VNP's second-largest 2018 donor, giving more than $5 million, much of it in the final months of the campaign.) VNP would not say how much the Texas group contributed.
Voters Not Politicians also launched a new round of town halls to rev up its volunteer army in early March.
And the group bid farewell to Fahey, its founder, who is leaving to lead a national organization based on the VNP model, The People. Nancy Wang, former President of the group's Board of Directors and a co-founder, will now fill Fahey's role as executive director.
Wang said people can expect continuity because both she and Fahey prioritize allowing volunteers to drive the group's activism.
"People were devoting 20 or 40 or 60 hours a week to this effort because they felt ownership over it," Wang said. "I really feel like that's my responsibility to maintain that and sustain it and to continue to innovate to bring more people into this movement."
Each town hall features an in-depth presentation about how the new redistricting commission will work and the timeline for its roll out. Commissioners will be selected by next fall. They'll begin work immediately and finalize maps by November 2021. The first general election with the new maps will be November 2022.
At a Lansing event in March, Quilon said the group is watchdogging the process and gearing up for an anticipated legal battle once the commission draws up new legislative and congressional lines. (Critics argue that Republicans who have controlled Lansing for years have drawn political boundaries to favor their own candidates.)
"We're prepared, we anticipate it, we're ready for it," she said of legal battles.
After updating volunteers on the commission, town hall attendees — including avid volunteers and people who have never heard of the group, said Quilon, depending on the location — open the floor to discussions about what's next.
"There's so much more dark money in politics now than there used to be," said one woman at the Lansing event. "Frankly I'm tired of it, I'm really really tired of it."
"Observing what the lame-duck legislature did last year was stunning," said another. "We have to do something about lame duck."
One man said: "We have lots of opportunity to change the voting process with no-reason absentee (voting) and I think educating" the public about their new rights under Proposal 3 would be best.
Whatever issue is settled on, Quilon told the crowd of around 45 people, VNP will address it in a nonpartisan way that, if solved, will give voters "more confidence in our democracy."
The first round of town halls will continue through April, said spokeswoman Elizabeth Battiste.
VNP leaders said they can't estimate when they'll settle on their next issue. Watching the creation of the redistricting commission and encouraging public participation is still the group's top priority.
"We don't want to waste anyone's time," Quilon said. "We want to make sure that we have a plan in place that we believe in enough to ask our volunteer army to pick up their clipboards."
We're not just a news organization, we're also your neighbors
We've been there for you with daily Michigan COVID-19 news; reporting on the emergence of the virus, daily numbers with our tracker and dashboard, exploding unemployment, and we finally were able to report on mass vaccine distribution. We report because the news impacts all of us. Will you please support our nonprofit newsroom?