Voting results deliver on Michigan Chamber VP's gerrymandering promise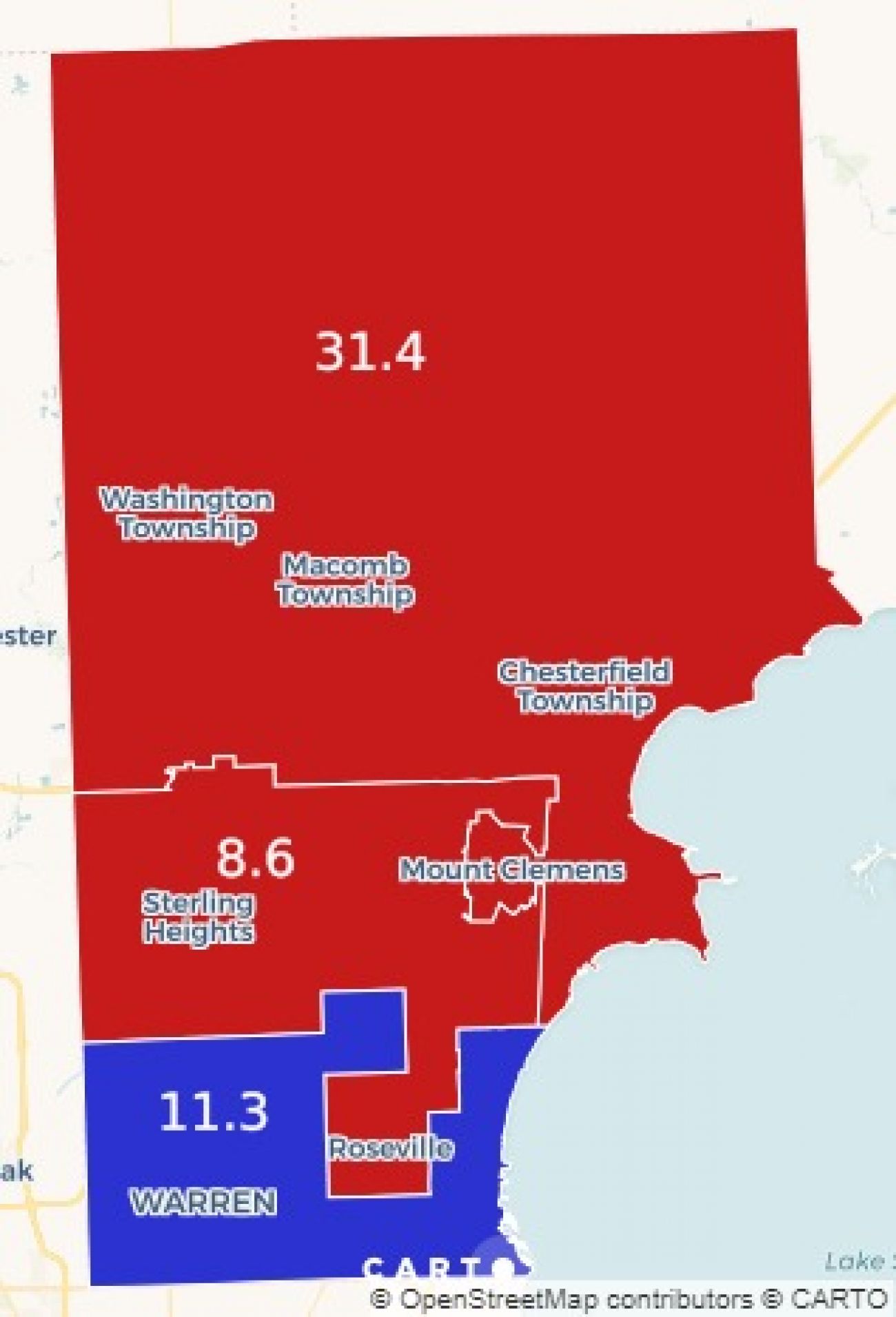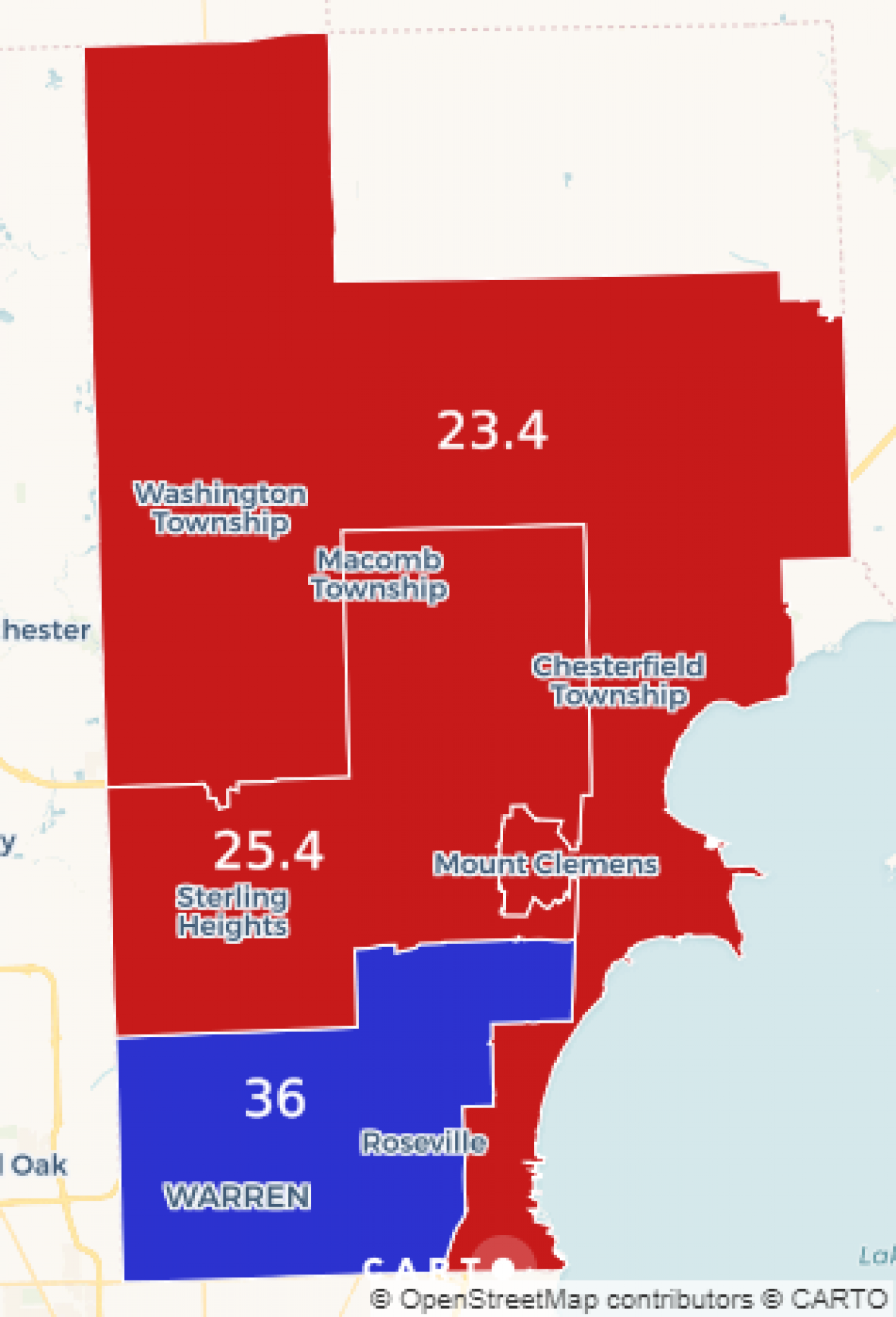 Across all 410 of those races, in three election cycles over six years, only 16 were decided by three percentage points or less. In more than nine out of 10 races, wide margins of victory raise the question of whether boundary lines most recently drawn to favor the Republican Party predetermined the winners.
"On the whole, we're a pretty purple state – the overall statewide voting pattern is pretty close to 50-50," said Eric Lupher, president of the nonpartisan Citizens Research Council of Michigan. A report issued by CRC last month concluded that Michigan's current voting maps fail several tests currently used to evaluate partisan gerrymandering.
"You can only come to the understanding that this is about gerrymandering," Lupher said Tuesday. "You just can't explain it away when you look at all the factors Bridge has looked at and (CRC) have looked at."
While Democrats have won far fewer races over the past three elections, they often win by huge majorities. Such results lend ammunition to criticism that Democrats are packed into specific districts — leaving Republicans with consistently more seats overall.
That's "the obvious objective — putting dems in a dem district and reps in a gop district," and "increase the black population in the black districts," as one GOP operative's 2011 email cited by Bridge declared.
Or, as another GOP operative put it as the 2011 maps were being finalized: "In a glorious way that makes it easier to cram ALL of the Dem garbage in Wayne, Washtenaw, Oakland, and Macomb counties into only four (congressional) districts. Is there anyone on our side who doesn't recognize that dynamic?"
Districts can also be "cracked" - diluting one party's voters to give advantage to the other party. Pollster Ed Sarpolus, who drew alternative Michigan voting maps seven years ago, said he suspects such cracking in some suburban districts under the current maps. "They are making marginal seats outside of Detroit less marginal," Sarpolus said.
Related: Download full statewide results for Michigan 2012-16 elections
The GOP gerrymandering emails were introduced last month as evidence in the League of Women Voters of Michigan's ongoing federal lawsuit alleging the 2011 state legislative and congressional maps are so gerrymandered as to violate the U.S. Constitution.
Here's what Bridge's analysis of post-2011 state and congressional races in Michigan show:
In Congress, 'whatever Dave wants'
At the top of the ballot, Michigan has long been a swing state — roughly split between Republican and Democratic voters. Traditionally, neither party dominates elections for the state's most powerful offices. That remains true today. Indeed, in the past three elections, Michigan voters elected a Republican governor, two Democratic U.S. Senators and awarded Republican Donald Trump the narrowest of victories over Democrat Hillary Clinton in the 2016 presidential race.
But in Michigan races for the U.S. House of Representatives, Republicans have consistently dominated — just as LaBrant, the former chamber senior vice president, vowed.
"We will accommodate whatever (then-Republican Congressman) Dave (Camp) wants in his district. We've spent a lot of time providing options to ensure we have a solid 9-5 (Republican) delegation in 2012 and beyond," LaBrant wrote in May 2011 to an aide to former Republican Congressman Dave Camp, R-Midland, as the voting map redraw neared completion.
That's exactly what happened in 2012, 2014 and 2016.
Despite narrow statewide totals, GOP owns congressional delegation
Since the 2011 redistricting, the GOP has solidified its hold on the 14 congressional seats, easily winning 9 of them, even in 2012 when they only got 46 percent of the statewide vote. The average GOP victor won by 19 points but the five Democrats won far more easily, by 44 points. Critics say the GOP rewrote the districts to "pack" Democrats in its seats, making it easier for the GOP to retain its advantage elsewhere.
Year
GOP %
GOP seats
Dem %
Dem seats
Total votes
(in millions)
2012
45.6 %
9
50.9 %
5
4.6
2014
47.5
9
49.2
5
3.1
2016
48
9
47
5
4.7
In 42 U.S. House races in Michigan over those three election cycles, only one race was competitive ‒ a 2012 northern Michigan race Republican Dan Benishek won by half a percentage point. Democrats consistently won five seats (four in Metro Detroit, one in the Flint region) by an average margin of 43.6 percent. Republicans consistently won everywhere else (nine seats) by an average margin of 19.2 percent. No seats switched party control. Statewide, Democrats earned more cumulative votes, but that never impacted the consistent 9-5 GOP majority.
Republican dominance in state Senate
Blue wave or not, Democrats appear to have little chance of capturing the Michigan Senate majority. That's been the parlor-game conclusion of lobbyists and political analysts circling the Capitol in Lansing for years.
Bill Ballenger, a longtime Lansing political commentator, said he believes it will be easier for Democrats to pick up seats in the state House than in the Senate.
In the Senate, which has been under GOP control since 1984, even gains "that would make them delirious in a previous election" would still not be enough this year, Ballenger said.
"Let's say they pick up four seats," he said. "That really is pretty good. (But) they'd still be in a 23-15 minority. It's just too steep a hill to climb."
He told Bridge that he believes Democrats will pick up seats in both the state House and Senate, though he doesn't believe the party will win back majority in either. The House is their better shot, he added, but Democrats will have to win in marginal districts they have lost in the past to do so.
The 1963 Michigan Constitution changed the Michigan Senate, increasing the number of seats from 34 to 38 and extending the terms from two to four years. Republicans have held the Senate majority since 1984. The GOP achieved its largest-ever Senate majority in the modern era (27-11) in 2014, the most recent Senate election. (That margin increased temporarily to 27-10 in March, when a Democrat resigned from the Senate following a felony conviction.)
Did Michigan voters suddenly swing to the right in 2014? No. In the statewide vote, they re-elected Republican Gov. Rick Snyder by just a 4-point margin. They elected Democrat Gary Peters to the U.S. Senate by a 13-point margin. Those top-of-the-ticket results offered evidence of Michigan's traditional swing-state status.
But 2014 was the first Michigan Senate election using the 2011 district maps on which GOP operatives "spent a lot of time," as LaBrant put it. As in Michigan's recent U.S. House elections, the details of the 2014 Michigan Senate elections further hint at a "cram-all-the-Dem-garbage" packing strategy.
In the 38 races for Michigan Senate in 2014, only one district was competitive. Republican Margaret O'Brien won that race in Kalamazoo by 61 votes (one-tenth of 1 percentage point). The 37 other state Senate races were all decided by 5 percentage points or more. This increased the Republican majority of 26-12 in 2010 to 27-11 in 2014.
Republicans won their 27 seats by an average margin of victory of 18 percent.
Democrats won 11 seats by an average margin of victory of 47 percent.
Cumulatively, Republican Senate candidates won just half the statewide vote, but 70 percent of Senate seats.
Michigan House: More Dem votes, but more GOP seats
The Michigan House of Representatives includes 110 seats all up for election every two years.
Consistent with Michigan's swing-state tradition, partisan control of the Michigan House flipped between Republicans and Democrats several times in the 1990s and 2000s. Republicans won solid majorities in all three elections since the GOP's redrawn maps took effect in 2012.
In 330 total Michigan House races since then, only 14 have been decided by 3 percentage points or less.
In 2012, when President Barack Obama carried Michigan by 9.5 percentage points, Democrats won more than 350,000 more cumulative state House votes than Republicans. But Republicans managed to maintain a 59-51 state House majority (Republicans had been up 63-47 after 2010).
GOP strengthens grip on state house
Changes in house district boundaries helped the GOP which, despite getting fewer total votes than Democrats in every year but 2016, claimed 63 seats in 2014 and 2016 compared to 59 in the year before redistricting. The average victory margin for Republicans was 22 percentage points, compared to nearly 43 points for Democrats.
Year
GOP %
GOP seats
Dem %
Dem seats
Total votes
(in millions)
2012
45.6%
59
53.4%
51
4.5
2014
48.5
63
50.9
47
3.0
2016
49.2
63
49.1
47
4.6
In 2014, Michigan voters split the top of the ticket, re-electing Snyder by 4 percentage points and sending Peters to the U.S. Senate by a 13-point margin. In state House races, Democrats won 51 percent of the cumulative vote. But Republicans picked up four seats, extending their majority to 63-47. Democrats did not pick up any seats held by Republicans.
In 2016, Trump carried Michigan by a tiny 0.2 percent margin of 11,612 votes, out of 4.8 million total votes. But the tumultuous competition of the 2016 presidential race didn't carry over to the Michigan House. Republicans maintained the same 63-47 majority. Republicans and Democrats each took one seat from each other. Only two of the 110 races were decided by less than 3 percentage points.
Cumulatively, over the past three elections, Democrats won 51 percent of the total votes in state House races. Republicans won 56 percent of the seats.
Republicans' average margin of victory was 22 percent. Democrats' average margin of victory was nearly twice as high — 43 percent.
What Comes Around, Goes Around
Bob LaBrant, now retired from his vice president role at the Michigan Chamber, openly discussed the partisan motivations of his redistricting efforts in his 2014 memoir, "PAC Man." The Wisconsin native traced his redistricting motivations back to the 1970s. Back then, Democrats held overwhelming majorities in the Michigan House and Senate - and faced gerrymandering scorn.
"I came to Michigan knowing the outcome of many legislative elections were stacked against us due to the 1972 redistricting map," LaBrant wrote. "I was looking for a mechanism for the Michigan Chamber to influence the redistricting process. I found it in the creation of the Michigan Reapportionment Fund."
Formed by LaBrant and other GOP operatives in 1989, the Michigan Reapportionment Fund later morphed into the Michigan Redistricting Resource Institute, which paid nearly $1 million toward re-drawing Michigan's current voting districts.
Download full statewide results for Michigan 2012-16 elections
Bridge reporters Mike Wilkinson and Lindsay VanHulle contributed to this report.
We're not just a news organization, we're also your neighbors
We've been there for you with daily Michigan COVID-19 news; reporting on the emergence of the virus, daily numbers with our tracker and dashboard, exploding unemployment, and we finally were able to report on mass vaccine distribution. We report because the news impacts all of us. Will you please support our nonprofit newsroom?