Not far outside Grand Rapids, digital entrepreneur Ryan Peel is making a bet: He can profit from bringing fiber optic cable to isolated, rural homes and businesses ignored by the big cable firms.
"We have figured out a way to do this for half what it costs them," said Peel, founder of a seat-of-the-pants firm called Vergennes Broadband.
That's because Peel is out on the road much of the time himself, stringing underground cable in a crew of two or three, sometimes as late as 7 p.m. or 8 p.m.
"You do what it takes," he said.
He's been at this for years, convinced by a 2009 report the demand would be there if the service were offered. Indeed, the survey of three rural townships east of Grand Rapids found that nearly 40 percent of households had no access to a high-speed connection. More than 90 percent said they wanted it.
MORE COVERAGE: Need broadband in Michigan? Rural life can mean you're out of luck
That would include Tom Hahn and his wife, Ann, who for years put up with slow Internet for one reason – they had no other choice.
Ann, a teacher in Sparta Area Schools some 35 miles from their home, had to drive to school on weekends to upload video lesson plans. Tom, a global operations manager for Steelcase Inc., scheduled international video conferences at home only to have his screen freeze or the audio drop out.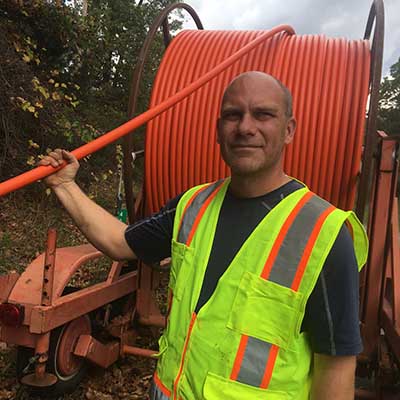 Fiber optic entrepreneur Ryan Peel dares to go where big cable firms won't. (Bridge photo by Ted Roelofs)
The Lowell Township residents are now plugged into the Vergennes Broadband firm's fiber optic cable, among about a thousand households signed up thus far.
"We love it," Tom Hahn said. "The convenience for work is incredible. I can get up at 5 a.m. in my pajamas and do a video conference, instead of having to get up at 4 a.m. and drive into work to do it."
Vergennes Broadband charges $100 a month for an Internet speed of 50 megabytes per second, $70 for 25 mbps – fast enough to download video, large documents and high resolution photos in seconds.
Ann no longer drives to Sparta to download lesson plans. When Tom books a video conference at home, he knows it won't crash. And yes, they can happily binge watch "Breaking Bad" or "Ozark" on Netflix.
Hahn recalled being out for a run about a year ago when he came across Peel and his cable crew. They were laying cable on a road about a quarter mile from his house.
Hahn pleaded with Peel to come his way.
"He said he could do it, but I would have to pay $400 for installation instead of $200.
"I said fine," Hahn recalls. "I don't care what it costs."