Michigan Health Watch is made possible by generous financial support from the Michigan Health Endowment Fund, the Michigan Association of Health Plans, and the Michigan Health and Hospital Association. The monthly mental health special report is made possible by generous financial support of the Ethel & James Flinn Foundation. Please visit the Michigan Health Watch 'About' page for more information.
By now, the medical evidence is clear: Childhood trauma can have profound effects on physical and mental health.
Even so, Michigan physicians like Timothy Kval remain all too rare. Working out of a Muskegon clinic, Kval evaluates more than a patient's symptoms, blood pressure readings and cholesterol scores.
He also screens adult patients for past traumatic events like physical abuse, neglect, domestic violence in the home or the loss of a parent through divorce or death. He is looking for links between what researchers call Adverse Childhood Experiences (ACEs) and higher rates of everything from obesity to heart disease to heavy drinking and depression.
RELATED: Michiganders: Take this test for childhood trauma
"What this gives the patient is self-awareness," Kval said of the questions he asks. "It can be a very useful tool. It just correlates with a lot of health issues."
He cited the example of a patient who is dangerously overweight.
"You might ask why aren't they losing weight. Why are they slightly depressed? And low and behold, their ACEs score is high."
In many cases, he said, doctors armed with this information are better able to refer these patients to social workers or counselors based at the clinic. They refer some for outside treatment.
"This can help you to talk to them. It's a conversation starter. It helps us get at the root cause of things we glossed over in the past."
Indeed, a 2016 Michigan survey found that adults who endured four or more traumatic events as children were nearly four times more likely to be diagnosed with depression than those with none. They were more than twice as likely to have asthma as those with no traumatic events.
Childhood trauma by the numbers 
A 2016 survey of Michigan adults revealed widespread reporting of childhood trauma. Based on those surveyed, a projected: 
1.3 million Michigan residents experienced 4 or more traumatic childhood events
1.4 million lived in households where adults were physically violent to each other
1.1 million were sexually abused as children
1.9 million lived in a household where the parents were divorced or separated
2.1 million lived in a household with an adult with a substance abuse issue
1.4 million lived with someone with mental illness
600,000 lived with an adult who was incarcerated
Sources: U.S. Centers for Disease Control and Prevention, Michigan State University, Michigan Department of Health and Human Services
Thirty percent of those with four or more traumatic events in childhood also said they were in poor or fair health — compared to 13 percent of those with none, according to the study, conducted by the U.S. Centers for Disease Control and Prevention, Michigan State University and the Michigan Department of Health and Human Services .
Nearly a fifth of those surveyed — projecting to 1.3 million residents statewide — had four or more of these traumatic events in childhood.
Despite that staggering number, Kval and the Muskegon clinic appear to be an outlier among Michigan health providers. 
Asked by Bridge to estimate the share of Michigan doctors who assess patients for childhood trauma, Teresa Holtrop, past president of the Michigan Chapter of the American Academy of Pediatrics, offered a bleak appraisal.
"I would say it's no more than 1 percent." 
"There's an understanding that ACEs play a huge role in the lives of our patients. But there's a lot of fear of what do I do if I get a positive assessment."
Teresa Holtrop, past president of the Michigan Chapter of the American Academy of Pediatrics, said there's "a lot of fear" among physicians about to do with patients with multiple childhood traumas. (Courtesy photo)
Why doctors don't ask 
While experts agree on the link between childhood traumas and poor health outcomes, Holtrop said many physicians balk at adopting trauma assessment. Some resist, she said, because they're concerned about additional paperwork.
But others are unsure what behavioral health or other resources are available to help patients with high trauma scores. Holtrop cited the example of a parent with multiple traumas, which could be an indication their child was at risk as well.
"Say for example I screen the parent of a 4-year-old and found out that the parent had a huge ACEs score and I don't have the knowledge of what might be out there in the community to help that child move forward. It's going to be real challenging for me to be helpful."
In Muskegon County, urologist Brian Stork – an advocate for greater trauma assessment by physicians – helped conduct a 2018 survey of county physicians to calculate how many knew of the ACEs questionnaire and how many used it. The finding was better than Holtrop's grim estimate, but not by much.
Muskegon County urologist Brian Stork conducted a survey that found just 4 percent of county physicians uses childhood trauma assessment, a result he called "abysmal." (Courtesy photo)
Of 226 physicians who responded, 4 percent said they used trauma assessment in their practice. Only a fifth were even aware such a questionnaire existed.
"That's just abysmal," Stork said.
Perhaps in recognition of this gap, the Michigan State Medical Society, which represents 15,000 physicians, approved a resolution this year encouraging annual screening for trauma by pediatricians.
Jared Burkhart, executive director of the Michigan Chapter of the American Academy of Pediatrics, concedes there's "plenty of room for growth" among physicians for trauma screening.
He said pediatricians are among more than 100 individuals certified as master trainers on ACEs for the Michigan ACE initiative, a two-year statewide project to train educators, public health experts, nurses, doctors, police officers and others in how to identify children facing a high trauma score and properly intervene.
Jared Burkhart, executive director of the Michigan Chapter of the American Academy of Pediatrics, said there remains "a lot of work still to be done" in advancing physician trauma assessment. (Courtesy photo)
He added: "I would say there's a lot of work still to be done."
A research consensus 
Focus on childhood trauma has been building nationally for a couple decades, following a landmark 1998 study conducted in conjunction with the CDC.
It found that adults with at least four traumatic risk factors as children were four times more likely to be depressed, six times more likely to be alcoholics and 11 times more likely to have injected drugs than someone with no childhood trauma. It also found they were also more likely to have heart disease, high blood pressure and severe obesity.
A follow-up CDC survey of 25 states — including the one involving Michigan — released in November, confirmed those findings.
In the national survey, adults who experienced four or more traumatic events as children were 1.8 times more likely as those with none to have heart disease, twice as likely to have experienced a stroke, five times more likely to be depressed and nearly twice as likely to be a heavy drinker.
In the meantime, researchers also found links between trauma and abnormal brain development — and subsequent health and behavioral problems.
In 2011, the American Academy of Pediatrics cited mounting evidence that the "toxic stress" of  childhood trauma impairs normal brain development in infants and young children — with long-lasting emotional and physical effects. It pointed to studies that found trauma can actually cause physical changes to the brain's architecture "that create a weak foundation for later learning, behavior and health."
What doctors do with this information  
So, the question remains: What are Michigan doctors to do with these findings?
Perhaps they could learn from the Center for Youth Wellness in San Francisco, a clinic in a low-income neighborhood that transformed its practice around the recognition of the role traumatic experiences play in childhood development.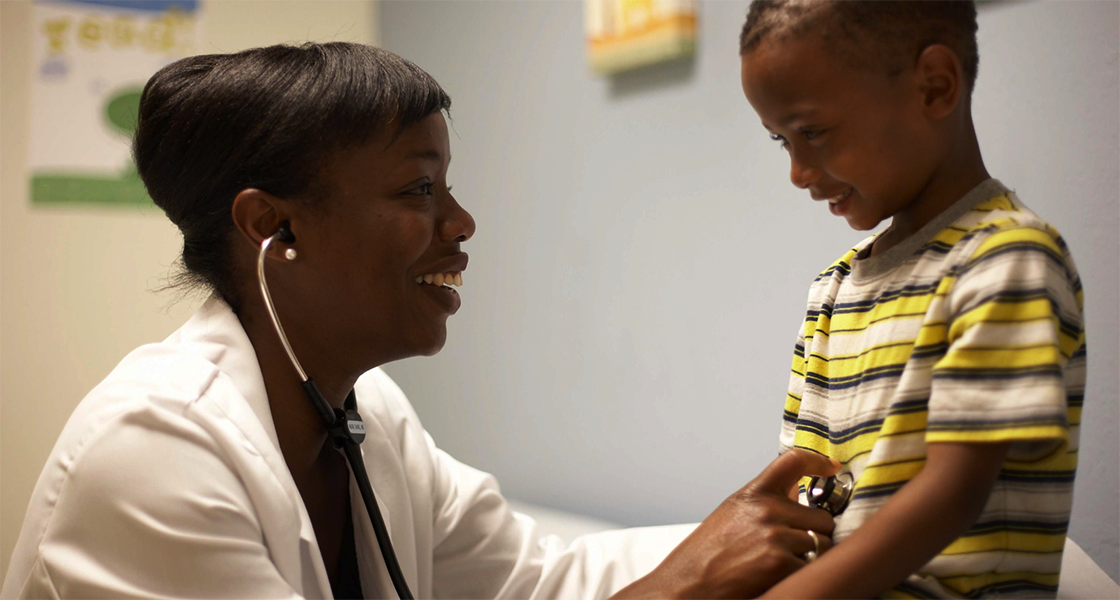 California surgeon general Nadine Burke Harris has been a pioneer in advocacy of universal screening for ACEs. (California Surgeon General's Office)
Founder Nadine Burke Harris — a pediatrician and now California's first surgeon general — has said she was puzzled that so many children in her practice were suffering from chronic abdominal pain, headaches, asthma or behavior disorders.
After learning of the original ACEs study results, the clinic began to screen every child for trauma and evaluate family history as well as health history. By finding connections to past trauma, doctors could connect children and families to mental health and social workers for further treatment.
Prompted by Harris, California legislators approved a budget in June that will move California toward universal ACEs screening. The state set aside about $45 million to reimburse Medicaid providers in the state for trauma screenings of adults and children and $50 million to train primary care providers in how to administer the screenings.
Praise for universal screening is not universal. Aside from the cost, there are questions about proper screening techniques and whether identification of past trauma can help remediate future health risks.  
"We have treatments for effects of abuse, like depression, but not for the experience itself. Not everyone who was abused will necessarily have problems or need treatment," wrote David Finkelhor, a professor of sociology at the University of New Hampshire. "Moreover, just sending a child to a counselor doesn't mean the counselor has something effective to offer." 
Aside from the Michigan State Medical Society's encouragement of pediatric ACEs screening, Michigan is nowhere near California in moving toward universal screening.
But in October, several southeast Michigan hospitals and the Detroit Wayne County Health Authority began an initiative to train pediatric medical residents in the use of ACEs assessment and how to "take therapeutically appropriate next steps" with children or their parents. It's funded by a $78,000 grant from the Michigan Health Endowment Fund, created when the Michigan Legislature authorized Blue Cross Blue Shield of Michigan's conversion to a mutual insurance company.
Jasmine Gray, a third year pediatric resident at Children's Hospital of Michigan in Detroit, has already immersed herself in research linking multiple trauma with adverse physical and mental health outcomes.
Detroit pediatric resident physician Jasmine Gray said she believes childhood trauma has a "crucial role" in patient outcomes. Jasminegray.jpg (Courtesy photo)
"I kind of did my own research," she said. "I think trauma-informed practice is very important. I don't think it's something we've ignored, but it's something that we haven't incorporated into practice as much could be."
Gray said she intends to carry trauma assessment into her future practice, likely at a health center for the underserved in the Detroit area.
"It definitely has a crucial role in the prognosis and course of treatment of a patient," she said.
At Muskegon Family Care, physicians adopted trauma screening following the 2016 community survey of adult county residents that found that nearly a third had experienced four or more childhood traumatic events — far higher than the state average of 18 percent.
Nearly 23 percent of respondents said they had experienced sexual abuse. More than a fifth said they had been physically abused as children.
For Muskegon County behavioral health service providers, those findings could be a roadmap to ways to end abuse and provide treatment.
Lauren Meldrum, community relations manager for HealthWest, the county's community mental health agency, said the community's already building on what it learned from the 2016 survey.
A $4 million federal grant awarded in 2018 to Muskegon HealthWest is aimed at comprehensive treatment services including crisis assessment, outpatient mental health and substance abuse treatment services and care coordination including partnerships with emergency rooms, law enforcement, and veterans groups.
Meldrum said that a separate $4 million, 4-year 2016 federal community grant paved the way for adding seven mental health professionals in county schools. Another dozen mental health professionals were placed in schools through Hackley Community Care, a federally qualified health clinic.
From his experience, Kval, the Muskegon physician, said apprehensions about onerous paperwork tied to trauma assessment are largely unfounded. For adult patients, he said, physicians at Muskegon Family Care use the questionnaire just once. He said nearly all patients agree to complete the form.
"The beauty of it is it's just one and done. It provides not only the practitioner a glimpse into the patient's deeper universe. It can really show the patient how you can benefit from this therapy or treatment."