Delays, confusion as Michigan preps for new Medicaid work rules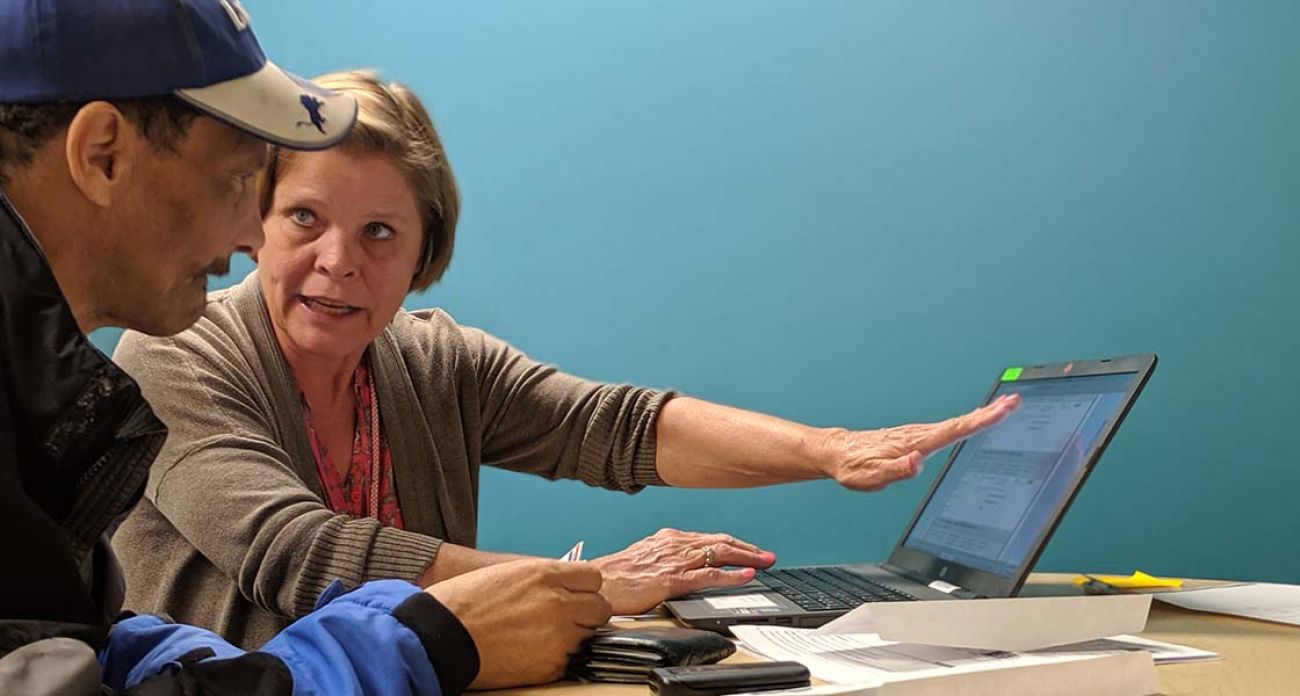 BALDWIN—With just six months to go until hundreds of thousands of Medicaid recipients must prove they are working for health care coverage, advocates for low-income Michiganders worry many will lose benefits ‒ not because they're ineligible, but because they won't know to file the paperwork.
Outreach efforts that were to supposed to be underway this spring have been delayed until late summer at the earliest.
Lawmakers are still working out the fine details of the rules.
There's no coordinated outreach to beneficiaries of Healthy Michigan, the Michigan Medicaid expansion program, in rural areas lacking reliable computer access.
No training yet for community outreach staff.
And no printed training materials.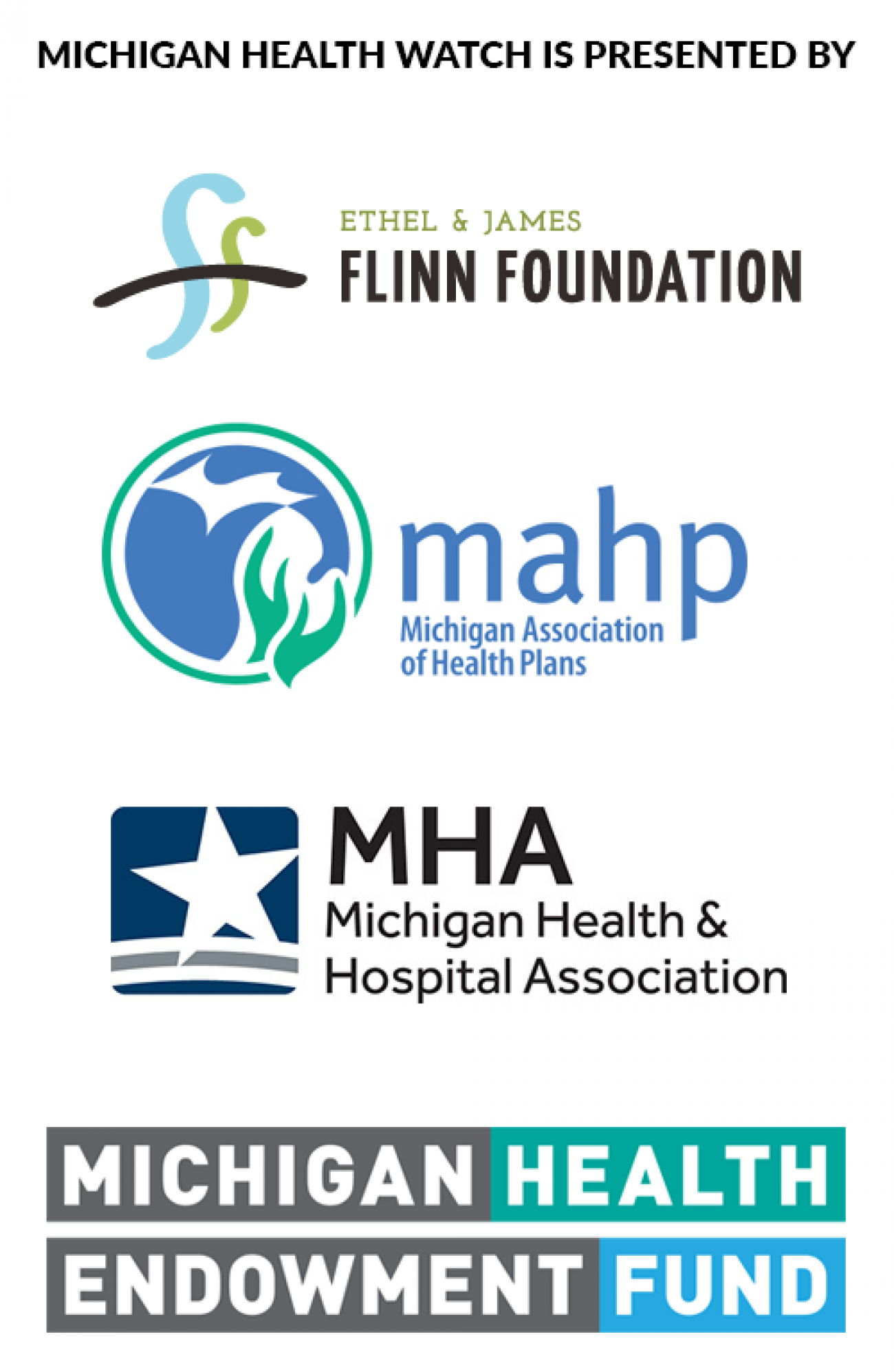 All the while, the prospect looms that Michigan will face the same chaos that unfolded in Arkansas, where more than 18,000 people lost Medicaid benefits last year under similar rules.
Just last week, a report in the New England Journal of Medicine confirmed earlier news reports about "significant losses" in coverage when Arkansas rolled out its Medicaid work law in June 2018. An estimated 95 percent of Arkansas recipients either met the requirements or would have been exempted from them, according to the report.
Yet about half the Arkansas Medicaid recipients surveyed said they didn't bother to report to the state because they had no Internet, were confused, or incorrectly believed they did not meet the work requirements, according to the report.
"Many Medicaid beneficiaries were unaware of the policy or were confused about how to report their status to the state, which suggests that bureaucratic obstacles played a large role in coverage losses under the policy," the report's authors wrote.
Community health workers fear the same snafus could complicate Michigan's rollout.
"The entire focus was to make sure we don't get into the same pickle that other states have been in terms of people just falling off the edge because of some ridiculous compliance requirement" — Mike Shirkey, Republican Senate Majority Leader
"We're in jeopardy of losing a lot of our Healthy Michigan folks" through no fault of their own, said Julie Burke, an outreach worker at a Family Health Care clinic in rural Lake County, where online connections are touch-and-go in some areas. "I'm very concerned."
Even in this sparsely populated county north of Muskegon, an estimated 1,073 residents today would be subject to new work rules when they take effect Jan. 1, according to data by the Michigan Department of Health and Human Services.
To accommodate Michigan beneficiaries without reliable Internet services, the state will operate a call center "from Day 1," allowing callers to choose between voice-activated technology or talking live with someone, according to Bob Wheaton, spokesman for the Michigan Department of Health and Human Services.
That was one lesson gleaned from Arkansas, which initially relied on online reporting only, Wheaton said. Michigan health officials also are working with the legislature on bills intended to ease the burden of reporting work hours.
"The department is really concerned that we preserve coverage for as many people as possible, particularly to make sure that people don't lose coverage because of the reporting requirements," Wheaton said.
But Burke said she still worries.
Last week, her gray Chevy sedan pulled down an asphalt road intersected by dirt roads and two-track driveways pock-marked with mud puddles from an overnight rain. A turkey sauntered out of the way.
The same dense, green solitude that attracts out-of-towners to the area's rental cottages and bait shops also hides year-round residents who have no Internet service, much less the finances for a desktop computer or reliable smartphones.
"Where I'm going, I pray I get some coverage," said Burke, who just an hour earlier worked with a 59-year-old client struggling with a flip phone.
Less than 3 percent of Lake County households have fixed broadband service with a connection that meets the Federal Communications Commission's current definition of broadband, according to Connect Michigan, a nonprofit that, with the Michigan Public Service Commission, pushes to expand broadband throughout the state.
So on home visits, Burke said she can sometimes do little more than hope for coverage and wait as she fires up her HP laptop. "It's really hit and miss depending on the weather and the grace of God and if the Internet is in a good mood that day."
Online access also contributed to problems in Arkansas, as beneficiaries who were eligible to keep their coverage simply had no way of reporting monthly work hours.
Based on the experience in Arkansas, it has been estimated between 61,000 and 183,000 Healthy Michigan Plan recipients could lose their Medicaid benefits over a year, according to a report released in February by Los Angeles-based professional services firm Manatt, Phelps & Phillips LLP, a legal and consulting health care group.
More than 60 percent of Medicaid recipients in Michigan work. Those who oppose work rules for Medicaid argue that those who don't work often have good reason ‒ they care for elderly relatives, they lack affordable day care, or they scramble to maintain steady jobs in economies based on seasonal tourism.
Kathy Hempstead, a senior policy adviser at the Robert Wood Johnson Foundation, which helped fund the New England Journal of Medicine report, noted the myriad ways Medicaid recipients were tripped up by Arkansas' reporting system.
After losing coverage, these workers were forced to leave health problems untended, which in turn risked their ability to work ‒ "a cruel irony" of a law intended to ensure poor people worked to receive coverage.
"The concept (of work requirements) may sound simple, but the implementation is difficult," she said.
Michigan's new rules take effect Jan. 1, and generally require 80 hours of work, school, job training, or a related activity a month. Many beneficiaries will have to pay premiums and copays if they don't report how they are working toward healthier behaviors, such as trying a smoking cessation program.
The law exempts some recipients from the work requirement, including pregnant women, full-time students, people with disabilities, caregivers to the disabled or young children, those recently incarcerated, and anyone 63 years or older.
The law was passed by a Republican-led Legislature that was reluctant to embrace the expansion of Medicaid as part of the 2010 Affordable Care Act, or Obamacare. Then-Gov. Rick Snyder pushed for the expansion, and Michigan's lawmakers ultimately agreed in 2013, making Michigan one of the first red states to pass Medicaid expansion.
In passing the work rules, Republicans sought assurances beneficiaries were helping to share the costs of care ‒ either through improved health, copays and premiums, or coverage elsewhere through better jobs. So Michigan joined more than a dozen other states in placing conditions on these newly eligible beneficiaries. Last December, the U.S. Centers for Medicare & Medicaid Services granted Michigan final approval to move forward with the rules.
But implementing a state reporting system that was reliable and accessible has not proven easy.
A bipartisan group of state senators, including Republican Senate Majority Leader Mike Shirkey, is working to ease some reporting requirements.
Two bills introduced in early June would give Healthy Michigan Plan recipients more time to report work activities for the previous month, and wouldn't punish them for reporting their work history late. The bills also would exempt a recipient from filing if the Michigan Department of Health and Human Services can verify on its own that person was working. The bills unanimously passed the Senate and remain pending in the House.
Shirkey said the bills are intended to prevent problems like those of Arkansas.
"We studied what occurred in other states that had implemented work requirements before Michigan, and one of the things that occurred is that they had very cumbersome processes for people to verify that they were actually engaged in the workplace," Shirkey, R-Clarklake, told reporters this month. "What we did was (we) made some changes there to make that easier for people to report — (the) presumption, frankly, of their being in compliance until proven otherwise.
"The entire focus was to make sure we don't get into the same pickle that other states have been in terms of people just falling off the edge because of some ridiculous compliance requirement."
Michigan's pending bills are a legislative compromise between Shirkey, the Senate's top Republican, and state Sen. Curtis Hertel, a Democrat from East Lansing and one of the bill sponsors.
Hertel said he and Shirkey disagree about requiring Medicaid recipients to work as a condition of receiving benefits, "but what we both do agree on is that we shouldn't have unintended consequences and we should make it as efficient as possible for people."
"This is a good bipartisan attempt to work together," Hertel said.
It's also as far as Shirkey said he is willing to go on making changes to the policy for now.
Democratic Gov. Gretchen Whitmer earlier this year said she wanted to negotiate revisions to the work rules with Republican legislative leaders, and she called the legislation "a huge step in the right direction."
"By exempting beneficiaries from monthly reporting requirements who we already know are working, we're lifting the unnecessary burden this rule has placed on both the (state) Department of Health and Human Services and on consumers," she said in a statement.
Those who have watched work rules play out in Arkansas and other states say the efforts in Lansing now may head off some difficulties early.
"Even if you don't like Medicaid work requirements, you certainly want to make the barriers as simple as possible," said Marianne Udow-Phillips, executive director of the Center for Health and Research Transformation at the University of Michigan.
"You want to make sure you're helping people," she said.
Whitmer proposed $26.2 million in increased funding for the state health department to pay for staffing and implementation of the Medicaid work rules law. Half of that would be federal money, with the remainder coming from the state's general fund, according to the state budget office.
Whitmer also wants to include $10 million in the state's general fund to help low-income Medicaid recipients make it to work by providing services such as transportation and child care. The Senate agreed with Whitmer's funding proposals in its own DHHS budget, while the House did not include funding for work supports.
Whitmer and the House and Senate all assume work rules will reduce Healthy Michigan Plan costs by $50 million as some recipients lose coverage due to noncompliance and others earn more in income that would allow them to buy their own health care policies in the marketplace or receive employer-sponsored health insurance.
Those dollar figures, however, "are extremely rough estimates," according to the nonpartisan Senate Fiscal Agency.
In an analysis of the new bills intended to make compliance easier, the agency said the measures will likely ensure fewer people are disenrolled from Medicaid, but added that precise numbers are "impossible to determine."
Even on the federal level, the future of work requirements for Medicaid beneficiaries remains murky, since a federal judge has tossed out work rules in other states, including Arkansas.
It's not just a digital divide that might separate beneficiaries from health coverage. In some regions of the state, such as Dearborn, there is also a language gap, especially among new immigrants and refugees.
When the state sent out an initial letter to beneficiaries in February, many ‒ especially those who don't read well or for whom English isn't their first language ‒ may have discarded the work hours warning as junk mail, said Farah Erzouki at the Dearborn-based ACCESS Community Health and Research Center, a human services agency where workers speak at least 15 languages, including Arabic, Spanish, Russian, Gujarati and Urdu.
She said the letter ‒ even for English speakers ‒ was "vague."
The state plans to send a second letter, with more detailed information, in September. This letter is expected to more fully explain the steps for reporting work hours or seeking an exemption. For those without Internet, the state said it will establish an Interactive Voice Recognition system and call center, according to the Michigan Department of Health and Human Services.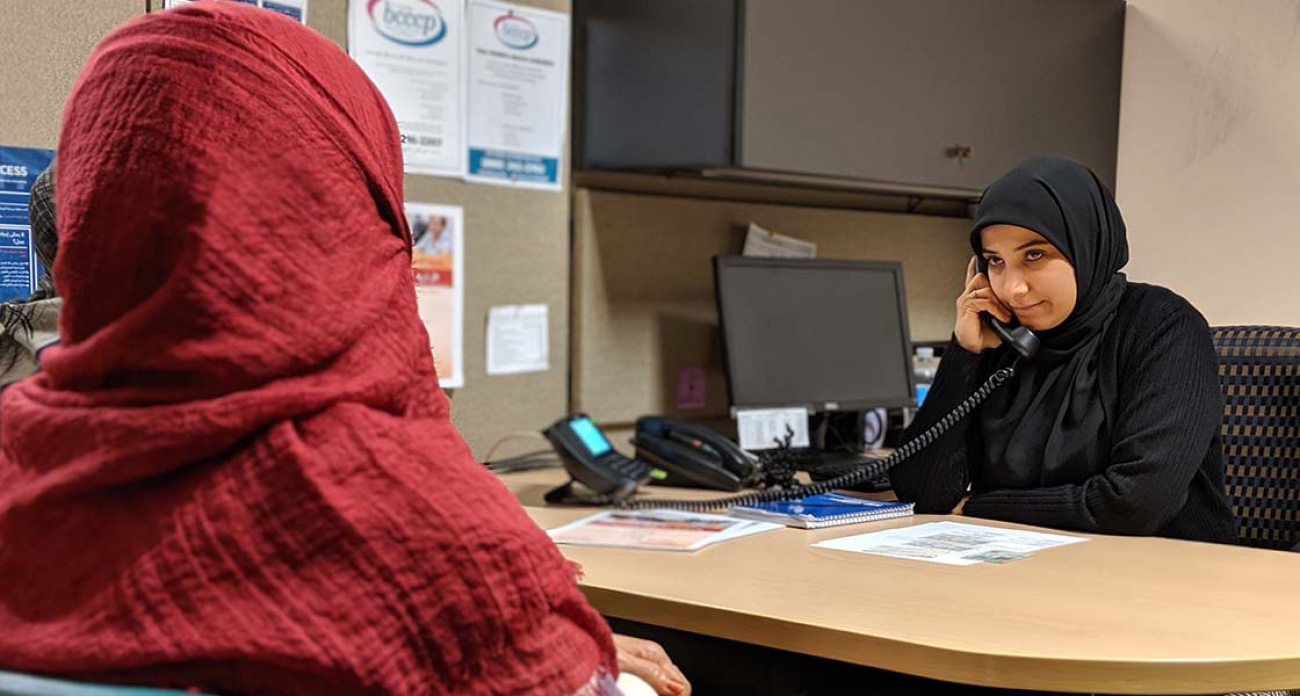 Staff at ACCESS in Dearborn said outreach must start soon, so they've created cardstock charts explaining the changes to the Healthy Michigan Plan. One set has been written in English; the other in Arabic.
"We tell [clients] what we know right now … but some of the things that we're telling them are also subject to change. That makes it very difficult," Erzouki said.
Outside Erzouki's office, outreach worker Ebtisam Mohamed was helping two Arabic-speaking women enroll in Healthy Michigan, slipping easily between English and Arabic. Thumbtacked to her cloth cubicle wall were notices about coming changes.
"We're hoping that the state will come out with more resources ‒ and they said that they will," Erzouki said from her own desk, "but the clock is ticking."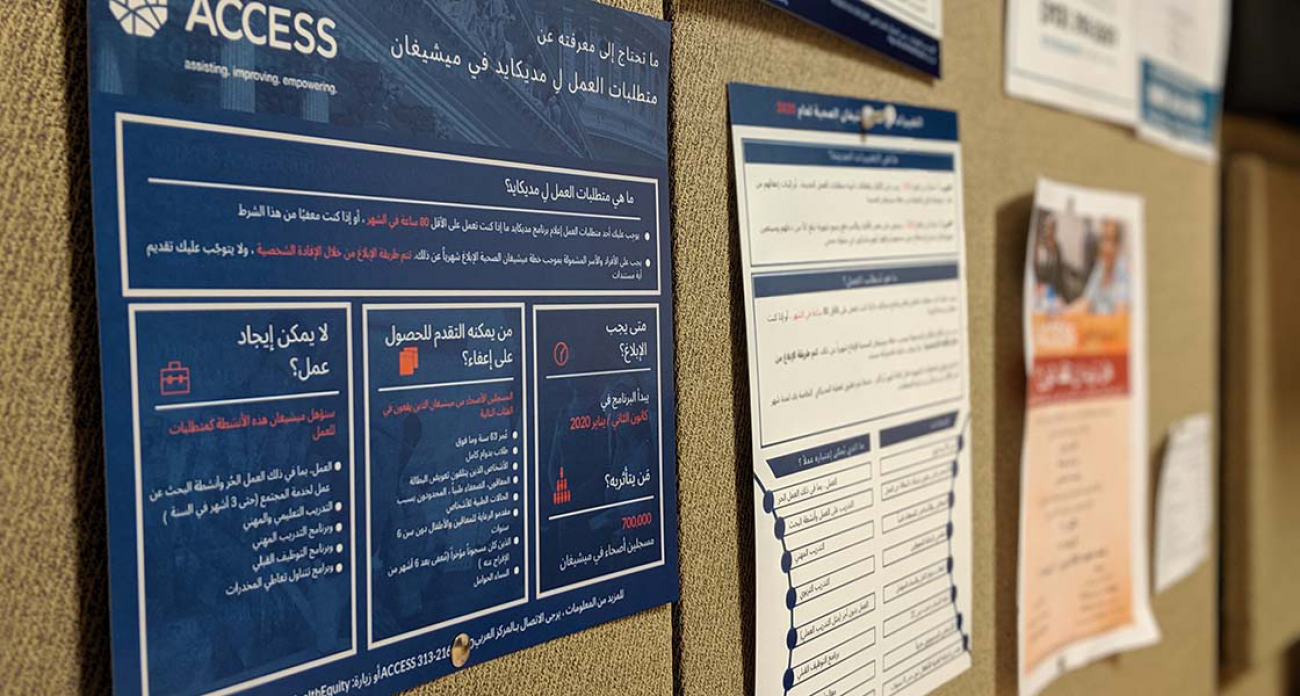 Also still to be ironed out: What roles local agencies and clinics can play in helping Medicaid recipients comply with the reporting law ‒ logging work hours, seeking an exemption, or helping them respond to notices of lost coverage and showing them how to reapply.
Community outreach workers and staff at health centers say they're already stretched thin as they assist Michiganders in enrolling in Healthy Michigan, sorting through bills and documents, and making doctor appointments for adult enrollees or their children.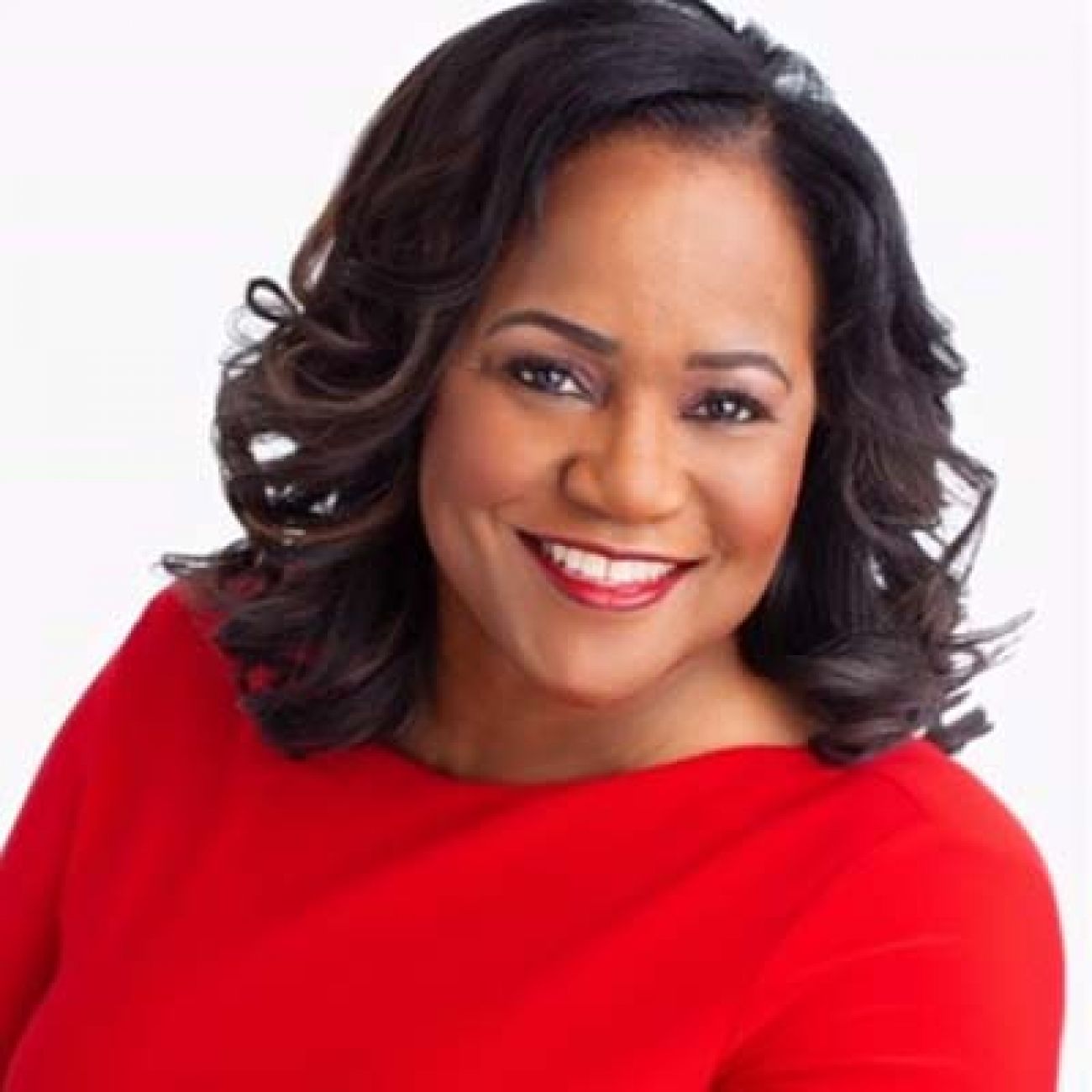 Those kinds of conversations take time, said Loretta Bush, president and CEO of Detroit-based Authority Health, which she said last week asked the state to be part of staffing a call center to handle calls from Detroit and Wayne County.
"It's not, 'Just get this piece of paperwork and do it.' It's a 20-, 30- or 40-minute conversation just to get people to understand what they're required to do," Bush said. "This is a heavy lift, not only as an administrative burden, but also for the residents."
The Michigan Primary Care Association, which represents community health centers across Michigan, asked the state in December for $1 million to help with outreach, but that money has not been forthcoming, Amber Desgranges, the association's chief operating officer, told Bridge last week.
Rather, Michigan's Department of Health and Human Services suggested this spring the association apply for assistance through the national service organization, AmeriCorps. The association did so, requesting a $75,000 grant as a first step to allowing health clinics hire AmeriCorps staff to help with outreach.
But even if all goes as planned, the association still must seek a follow-up grant to pay AmeriCorps staff, and those workers wouldn't be trained until at least Oct. 1, 2020, Desgranges said.
In the meantime, communications and outreach staff among the primary care association's clinics are still drafting training materials, but with so many uncertainties, they can't yet be printed.
"There are definitely concerns," Desgranges said, "that we're at June 21, and the finalization of the plan isn't complete."
We're not just a news organization, we're also your neighbors
We've been there for you with daily Michigan COVID-19 news; reporting on the emergence of the virus, daily numbers with our tracker and dashboard, exploding unemployment, and we finally were able to report on mass vaccine distribution. We report because the news impacts all of us. Will you please support our nonprofit newsroom?