High blood pressure is rampant in Michigan. Better data may lead to a cure.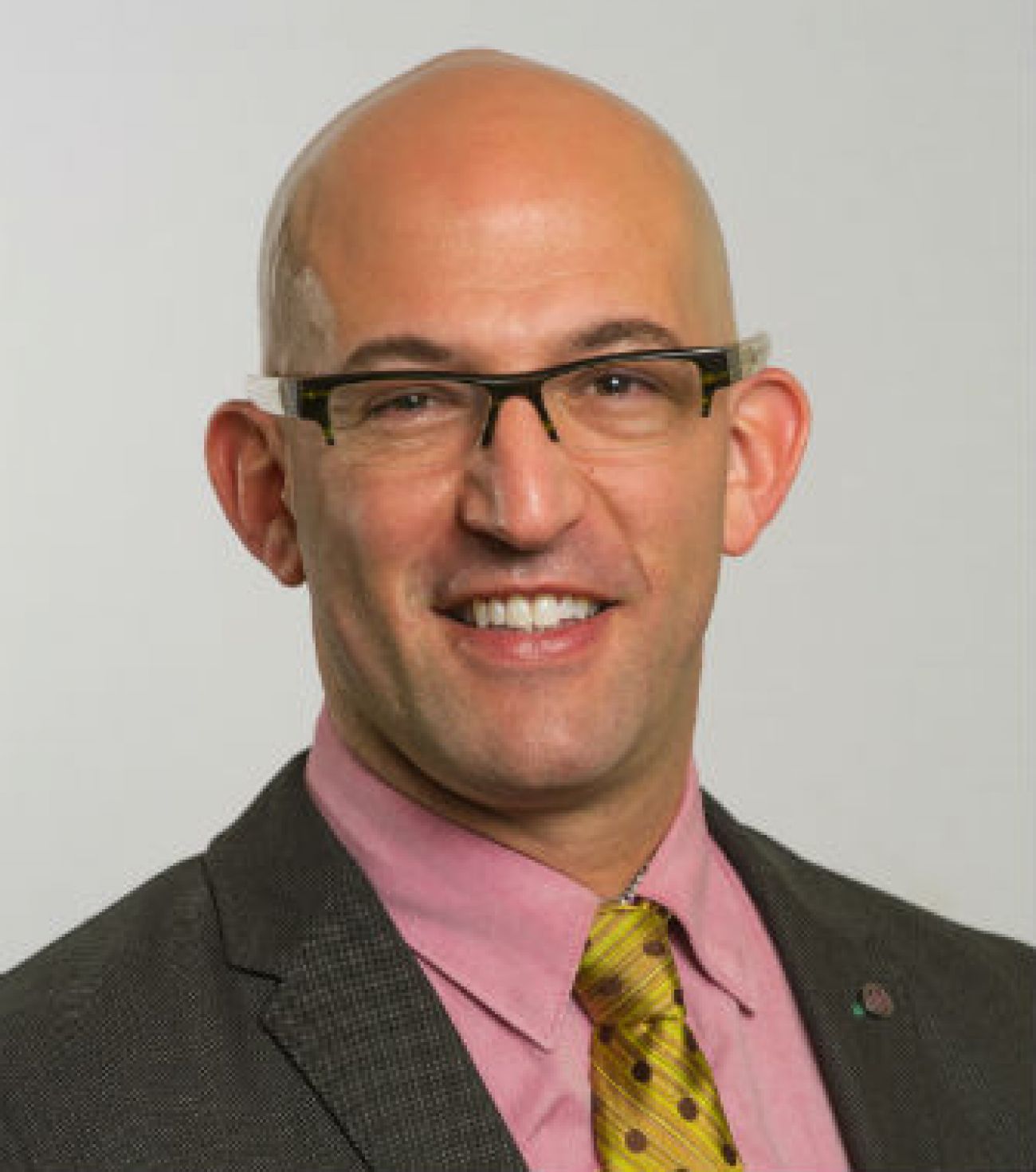 Dr. Philip Levy helped develop a map showing hypertension rates by neighborhood. The tool could help determine how best to allocate public resources to save lives. (Courtesy photo)
They call it the silent killer because of its ability to lurk undetected – hardening arteries, stiffening heart muscles, depriving blood from the brain and damaging kidneys and retinas.
Now, high blood pressure may be losing a bit of its ability to hide.
A new color-coded, data-driven mapping tool developed at Wayne State University reveals dangerously high blood pressure readings from an extraordinary perspective: neighborhood by neighborhood.
In this hypertension dashboard, areas with the highest blood pressure readings in four counties – Wayne, Macomb, Oakland, and Livingston - are exposed as a patchwork of deepening shades of orange.
By studying such health data maps, doctors, public health advocates, businesses, policymakers and others can better understand how geography dictates health and even life expectancy. Most importantly, such data can help maximize disease control and prevention efforts, saving both healthcare dollars and human lives.
"You can throw all the medicines you want at the [hypertension] problem, but if you can't fix the upstream social determinants, you'll never solve it," said Dr. Phillip Levy, an emergency room physician at Detroit Receiving Hospital and cardiovascular researcher who developed the tool.
Levy's work will be presented Thursday at the Detroit Regional Chamber Mackinac Policy Conference.
If all goes well, the map could one day address health disparities at the street level throughout Michigan, combining neighborhood health data with demographic information such as age, race, demographics, income, insurance coverage, pollutants, access to transportation, fresh food and more.
"This is about using information to address adverse health outcomes of the state. We know that heart disease disproportionately affects Detroit, so it makes sense to start there," he said.
Levy trained in New York and has worked in Detroit for 17 years. He said he's seen far too many heart attacks and strokes that could have been prevented by better blood pressure control.
In fact, Michigan – a state crisscrossed by hiking and biking trails and parks and lakes - for years has had some of the highest rates nationally for cardiovascular disease, considered one of the most preventable diseases through medication and lifestyle change.
In Michigan, 298 residents for every 100,000 die of stroke, heart failure, and other cardiovascular disease deaths. That's 42nd in the nation (the healthiest state, Minnesota, is at 190 per 100,000), according to the United Health Foundation, a Minnesota-based nonprofit that compiles the annual America's Health Rankings report that pulls together a trove of data.
The national rate is just under 257 deaths per 100,000, and only Nevada and mostly southern states such as West Virginia, Mississippi, Louisiana and Oklahoma have worse rates than Michigan.
The rate of cardiovascular deaths in Michigan are highest in Wayne County and Detroit, along with counties in the Northeast Lower Peninsula and Thumb, according to data from the Centers for Disease Control and Prevention.
For Levy, those data points are patients rushed to the ER, followed by the panicked and grieving family and friends: "Telling a loved one that their husband or father died from consequences of high blood, an inherently treatable condition, is really devastating," he said.
So last year Levy, who also is a professor and researcher at Wayne State University's School of Medicine, again turned to data – this time for a more close-up look and for a solution.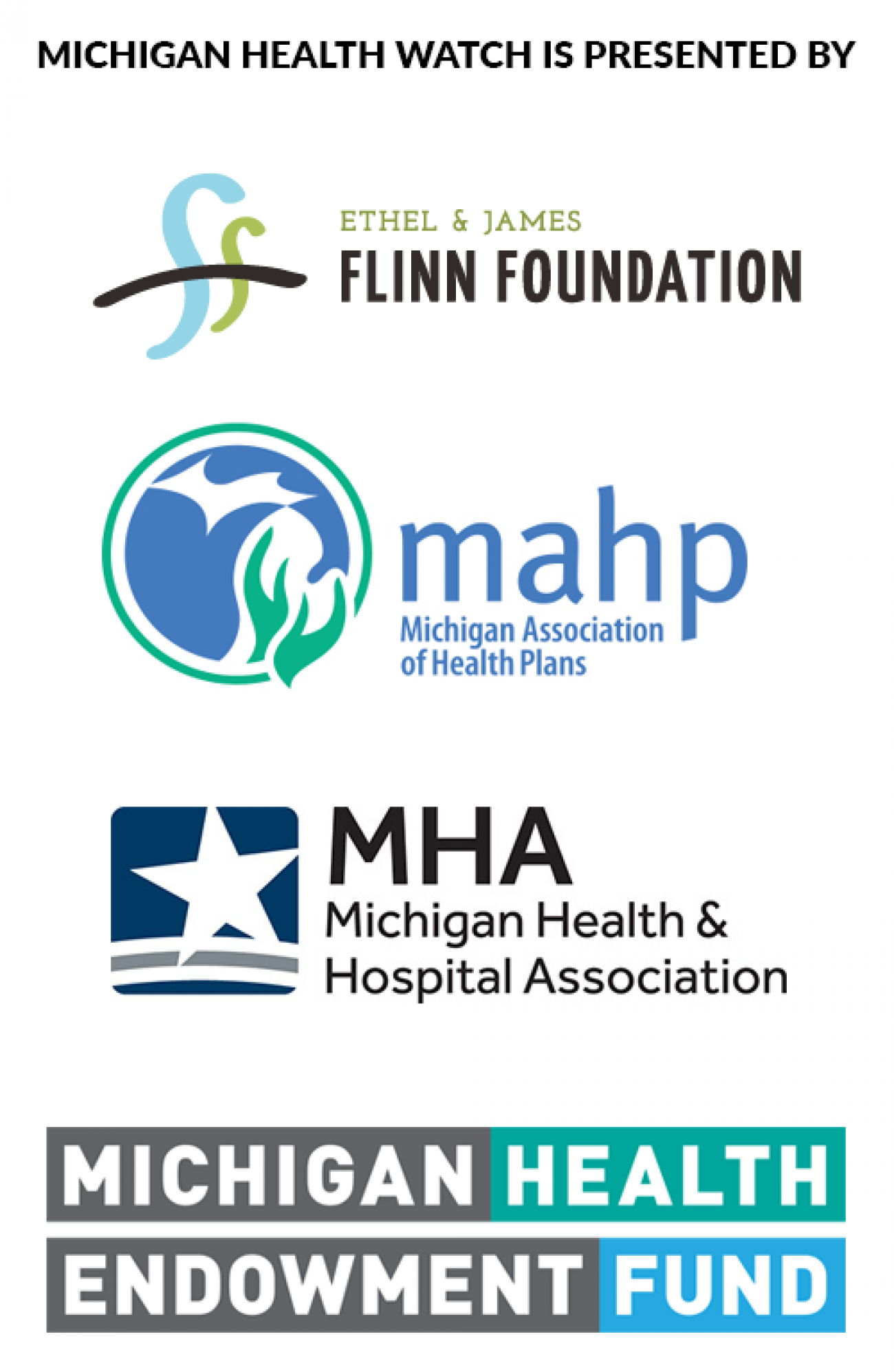 Exact data. Targeted fights.
Levy's work is part of an emerging focus in health care on "precision public health, as more practitioners, public health advocates, and even community leaders and businesses better understand that certain demographics and neighborhoods carry more "disease burden" than others.
Like precision cancer drugs that are personalized according to a patient's gene code, public health efforts, can be guided by an area's demographics and environment.
Just as data shows where disease lives, data can also reveal ways to fight it, by guiding providers and funders in how to reframe health care and target resources to keep disease in check rather than reacting to disease - expensively - when it spirals out of control, said Dr. Faiyaz Syed.
He is the chief medical officer of the Michigan Primary Care Association, which operates 45 community health centers for about 700,000 patients throughout Michigan.
Front line staff in community health centers have long known that ZIP Code, as much as genetic code, dictates health, he said.
But knowing something – even seeing it firsthand day in and day out - is far different than being able to analyze it and act on it.
"As we move from volume- to value-based care, data is how we are going to show we're moving the needle… Just gathering data is not enough. Making it actionable is what counts," he said.
Beginning in December 2016, Levy and his team began compiling blood pressure data from every patient who arrived at emergency rooms of the Detroit Medical Center, later adding Henry Ford Health System as well.
Through February 2019, they collected data for nearly 552,000 "encounters" or emergency room visits – arrivals that were driven not only by heart attacks and strokes and other crises related to high blood pressure, but also by things like earaches and broken bones.
Levy's team stripped personal identifiers from the readings, assigning them instead to census tracts where patients lived.
Then, they added more data: age and poverty estimates, along with measures from the Area Deprivation Index, a tool used by researchers to rank neighborhoods based on socioeconomic status that incorporates factors from income and education to employment and housing quality.
Despite treating and researching heart disease for a long time, Levy said he and others were "pretty astonished" by the "sheer magnitude of the impact of uncontrolled blood pressure across the region."
Hot spots and trends
The areas with the highest readings emerged deep orange – places like Census Tract 26163518900 – a Detroit neighborhood northwest of I-75 and Gratiot Avenue, around Eastern Market.
On average, blood pressure readings here measured 137/83 mmHg, compared to 120/80 mmHg, which is considered normal. That means, even accounting for patients in the emergency room whose blood pressure was healthy, the census tract as a whole has moved beyond "normal" and "elevated," registering an average blood pressure in the first stage of hypertension.
Jewrell Roquemore, 65, isn't surprised. He made his way down the sidewalk recently in a pair of white athletic shoes, his blood pressure pills in hand in a plastic bag. He'd just left Gateway Medical Clinic.
Roquemore said he tries to walk often and takes his medications "religiously." Sometimes, though, he feels like the outlier here.
"I tell them: 'You've got to do this, take care of yourself, or you'll perish.' But people are busy. They don't think they have time to think about [high blood pressure]," he said.
Revealing, too, are numbers outside the blood pressure readings, WSU's Levy said.
In this same census tract, there were more than twice as many emergency room visits - 4,493 - as there were people - 2,122 - in the 26 months of data collection.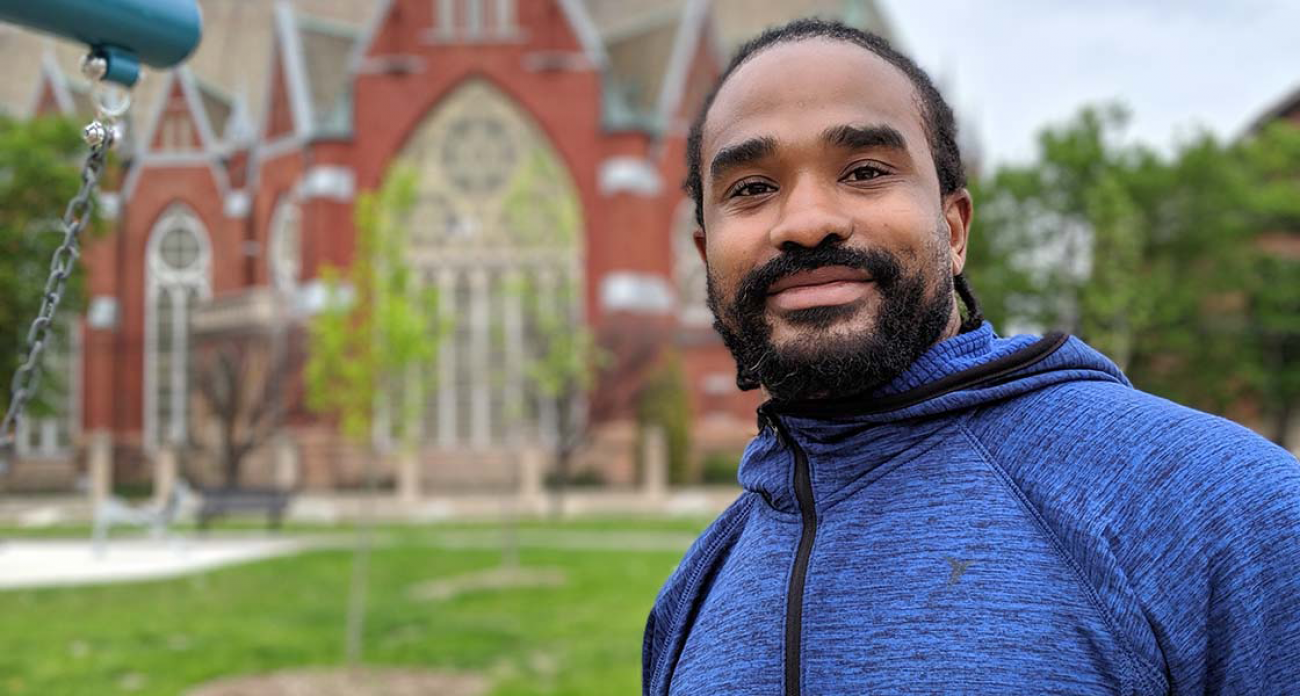 Joe Turner III said many neighbors in his Detroit neighborhood struggle with high blood pressure. (Bridge photo by Robin Erb)
Statistical blip? Bad data? Levy doesn't think so.
Neither do Roquemore and Joe Turner III, 40, a swimming coach spending a recent morning at Forest Park in Detroit.
For his part, Turner said he seeks outside time with his 2-year-old niece, allowing them both to stretch and run. He sees others around him, including family and friends, who struggle with a constellation of health problems and high blood pressure.
For too many, he said, health care is reactive and ERs are "easy access."
"They don't really know what's going on with their bodies, and they're in and out of ERs," he said.
Therein lies the map's potential. That's because precision population health is much more than simply layering health metrics onto poverty rates or convenient demographics like race and average age.
Could data suggest a strategy for better, more convenient placement of public health clinics and primary care doctors for health maintenance in areas where residents rely too much on ERs, where care is so expensive? Data, after all, shows that nearly 9 of 10 residents here are insured, suggesting the use of the ER isn't about a lack of access to primary care; rather, it's about education of how to best use the health care system, Levy noted.
Or consider the rates of what health officials call "medication adherence" – how often a patient takes a drug as prescribed.
Some patients stop taking blood pressure medications as soon as they feel well, even though it's critical to continue to take them as prescribed to keep hypertension under control, said Dara Harris, a member of the Hypertension Community Advisory Board, a group of citizens working with Dr. Levy and others to raise awareness about hypertension.
"For someone else, they have to ration out their medication. It's a matter of income. Then in some cases, the individual doesn't like the side effects (of the medication), but they haven't gone back to their doctor to ask about another medication," Harris said.
That's three different sets of needs that may vary by area. A campaign in one neighborhood might teach the importance of taking all medication as prescribed. An effort elsewhere may build access to affordable meds. Work in a third area might be about transportation, Harris said.
In the exam room: Doctors and data.
Dr. Antoinette Byrd-Carr's patients arrive in her office in Taylor for mammograms, pap smears and other reproductive health care.
But the gray digits on the blood pressure screen show this obstetrician and gynecologist something else too: high blood pressure in what Byrd-Carr estimates is about 1 in 4 of her patients. Most worrisome, some of them are in their 20s and 30s.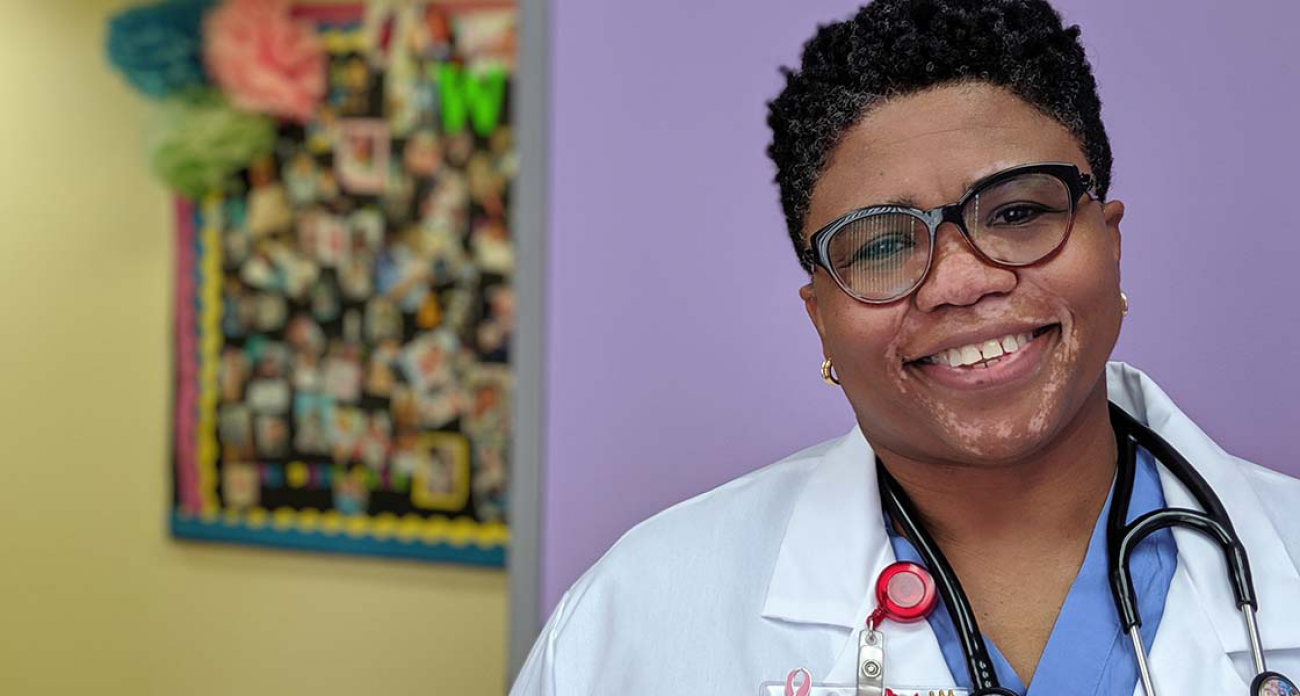 Dr. Antoinette Byrd-Carr, chief medical officer of Western Wayne Family Health Centers, said many patients with high blood pressure fail to follow up and take their medications. (Bridge photo by Robin Erb)
The conversation goes something like this, said Byrd-Carr, who also serves as the chief medical officer for the Western Wayne Family Health Centers, the site of her obstetrics-gynecology practice.
Did you know you have high blood pressure? she'll ask.
Yes. A doctor told me it's high and to come back and get retested.
And what happened then? Byrd-Carr presses.
Very often, Byrd-Carr said, patients didn't go to the follow-up appointment as requested, or if they do, they get medication, but "they'll say 'I take it when I feel bad or when I get a headache.'"
And medication adherence is just one piece of the solution. Still remaining are complicated issues of finding and preparing healthy food or exercising, added Byrd-Carr.
It's human nature, she said, to think about health in a reactive way – to go to the doctor or take medications when sick or injured.
By understanding the dynamics and health struggles of neighborhoods, she said, health campaigns can be reframed to raise consciousness about wellness, reduce disease rates, and smooth out expensive health crises.
More immediately, Byrd-Carr said data mapping tools can guide everyday discussions with patients.
"When I look at a map, it can tell me about those neighborhoods: Are they poverty-stricken? Do residents have the ability to go out and go for a walk? Where are good, healthy foods? Are there (primary care physicians) located there?" she said.
Levy's team continues to collect data, and the map is updated on a quarterly basis.
Levy hopes to eventually add data from all health encounters across the state, providing the most comprehensive visual representation of how high blood pressure impacts populations.
Long-term surveillance will offer feedback on community changes that may impact health, too. He wonders, for example: Now that the controversial Detroit trash incinerator is closed, will cardiovascular disease and other health metrics like asthma in the nearby neighborhoods change for the better?
"With this mapping effort, we now know where high risk communities are and what, beyond biology, may be contributing to their health outcomes," he said.
Hypertension rate by neighborhood
A Wayne State University researcher and heart doctor has mapped Metro Detroit's hypertension rates by census tract and layered it with social determinant data. Health providers and advocates hope this latest tool in "precision public health" may guide decisions about where and when to spend health care dollars for maximum impact.
Only donate if we've informed you about important Michigan issues
See what new members are saying about why they donated to Bridge Michigan:
"In order for this information to be accurate and unbiased it must be underwritten by its readers, not by special interests." - Larry S.
"Not many other media sources report on the topics Bridge does." - Susan B.
"Your journalism is outstanding and rare these days." - Mark S.
If you want to ensure the future of nonpartisan, nonprofit Michigan journalism, please become a member today. You, too, will be asked why you donated and maybe we'll feature your quote next time!