Home-visit programs save money, free ERs. Many insurers don't cover them.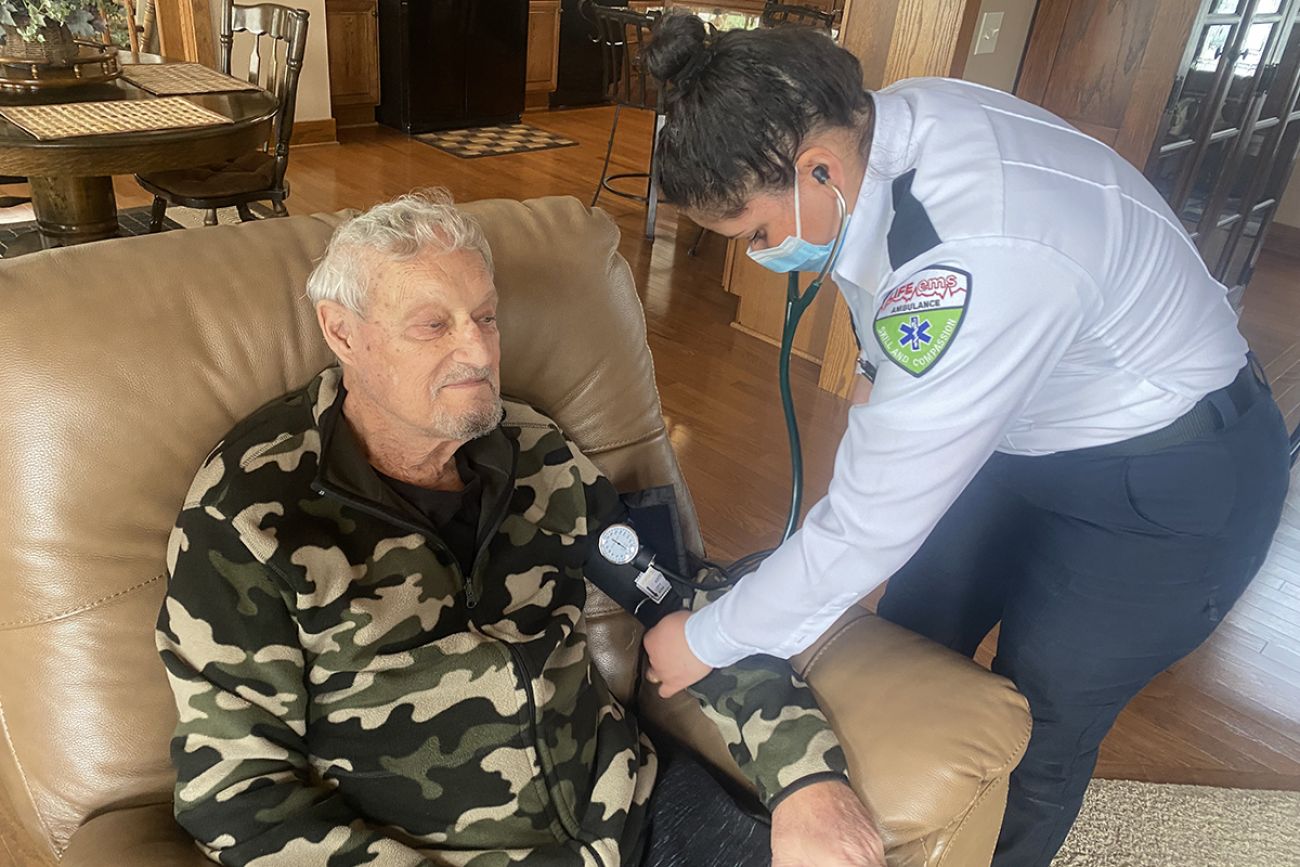 Paramedic Shannon Williams checks the blood pressure of Ottawa County resident Leslie Toth. (Photo by Ted Roelofs)
GRAND HAVEN—Paramedic Shannon Williams has become something like family to 80-year-old Grand Haven resident Leslie Toth.
Over the past few years, Williams and a team of paramedics and nurses have steered Toth through a bout with COVID-19, urinary tract infections, fever and falling blood pressure, kidney stones and a case of pneumonia that could have landed him in the hospital.
"I don't know where I'd be without it," Toth said of the paramedic team as Williams stopped by his home to check his vitals one afternoon earlier this month.
Williams is part of a Grand Rapids-based health management program built around paramedics, nurses and social workers called Tandem365. The mission is to offer support in the homes of more vulnerable residents, most of them elderly and all of them more susceptible to serious illness and frequent hospitalizations.
The result: Far fewer of the team's patients wind up in hospital emergency rooms than a comparable group of residents who lack such support.
In southeast Michigan, Ann Arbor-based Huron Valley Ambulance yields similar outcomes with an emergency response system that treats many 911-call patients at home instead of taking them to the ER. According to Huron Valley records, its community paramedicine program received just over 3,000 calls from 911 in 2020 ─ and was able to treat more than half of them (1,569 patients) at home instead of transporting them to the hospital.
An average ER charge in Michigan is estimated at nearly $1,300. In contrast, a visit from the Tandem365 paramedic team is about $200.
Aside from cost savings, paramedicine programs free up often-crowded ER rooms for more critical medical cases, while allowing many vulnerable patients to be treated where they are most comfortable, at home. But despite the positive results, there are fewer than a dozen such networks in Michigan.
According to advocates, that's largely because basic Medicare ─ federal health care insurance for those age 65 and over ─ and most private insurance plans won't pay for paramedic services that don't involve hospital transport. Tandem365 is a notable exception, as its patients are covered by two insurance plans that pay for its costs.
"I think the potential for community paramedicine is huge," said Angela Madden, executive director of the Michigan Association of Ambulance Services, a trade advocacy organization that represents 70 ground ambulance agencies in Michigan.
"But the biggest roadblock to expanding this is the lack of insurance that will pay for it. That's critical to its sustainability."
Dominick Pallone, executive director of the Michigan Association of Health Plans, a Lansing-based nonprofit representative of the health insurance industry, said the largest barrier to wider insurance coverage of community paramedicine is lack of hard data for each program showing that it works.
Pallone said that in this emerging field, programs vary widely in how they operate ─ which can make it difficult for insurers to decide whether to fund them.
"When you've seen one (community paramedicine) program, you've seen one program," Pallone told Bridge Michigan.
"When you have a program and it's evidenced based and you can demonstrate that it's proven to work, then it's easier for insurance to cover it," he said.
The startup costs of community paramedicine programs pose a second hurdle to their expansion, according to Kristine Kuhl, community paramedic coordinator for the Michigan Department of Health and Human Services.
The state requires 150 to 200 hours of approved training for a community paramedic, a cost of $2,000 or more that the ambulance agency or paramedic must bear. That training is on top of state-mandated requirements for basic paramedic practice.
"The programs have a hard time sending paramedics through the education component. Everybody wants a (community paramedicine program) but nobody pays for it," Kuhl said.
In Ann Arbor, Huron Valley Ambulance launched its community paramedicine program in 2015, after constructing its own training curriculum for its paramedics. At a cost of about $2,400, the 160-hour course requires 40 hours of hospital clinical training, a 36-hour internship on paramedic calls and coursework that includes study on how factors like substandard housing, stress and lack of transportation can affect patient outcomes. HVA pays the cost of the training for paramedics on its payroll who want to become community paramedics.
But the program only survives thanks to "several hundred thousand dollars" in annual subsidies from Huron Valley's nonprofit parent, Ann Arbor-based Emergent Health Partners, which owns and operates six ambulance services In 14 counties in southern Michigan. That includes Jackson Community Ambulance, which also runs a community medicine program in Jackson County.
"If you (divert) 911 calls (for community paramedic treatment), that's where you are losing money. More than 50 percent of the calls are Medicare patients and Medicare doesn't pay for it," Jason Fair, a project manager for emergent health at Huron Valley, told Bridge.
One Michigan health analyst said the insurance gap reflects a deep and long-standing flaw in the way most emergency medical care is funded ─ to reward ambulance services only for trips to the ER.
According to Samantha Iovan of the University of Michigan-based Center for Health & Research Transformation, a nonprofit health policy think tank, that payment model fails to recognize a small, but consistent, slice of 911 calls that can be safely treated in a patient's home.
And because community paramedics spend more time in a patient's home, they are often able to identify other forms of social assistance that would help patients with health issues, saving even more trips to the ER.
"If the community paramedic is going into a house for someone unable to manage a chronic condition, maybe that's because they don't have transportation, lovan said. "If they are food insecure, they can connect them to a food pantry. The paramedic can serve as this connection to community organizations that can help."
At Huron Valley Ambulance — which covers Washtenaw County and parts of Wayne and Oakland — dispatchers try to identify 911 calls best suited for its community paramedicine unit. This might include problems with urinary catheters, nausea of vomiting, or shortness of breath associated with asthma.
On asthma calls, Fair of Huron Valley said, a paramedic may discover the patient is out of medication to treat it.
"The community paramedic will connect with an ER doc and the doc write the script, and the paramedic will call it in and will even drive to the pharmacy and bring it back to the house," Fair said.
Of calls for vomiting, said Fair of Huron Valley, "We see that a lot of these calls can be resolved with some fluid administered by the paramedic and medication. The paramedic can do that, and call the ER physician and discuss a treatment plan.
"You've got an hour-and-a-half into it at a patient's home, compared to several hours in an emergency room."
Over the past 18 months of the pandemic, Huron Valley paramedics have delivered more than 1,900 monoclonal antibody infusion treatments for COVID-19 at patients' homes across its service area.
"These are patients you don't want in an ER," Fair said.
In west Michigan, Tandem365 comes at community paramedicine from a different angle.
Unlike Huron Valley Ambulance, it fields no 911 calls.
Instead, it sends paramedics from Grand Rapids-based Life EMS (backed by nurses and social workers) on regular home visits to high-risk patients in an effort to prevent avoidable ER trips and hospitalizations. Tandem365 has about 1,100 patients with an average age of 77 in Kent and four other west Michigan counties.
The patients are identified by health care records for a history of frequent hospitalizations, often accompanied by multiple chronic medical conditions. It's one of a few community paramedicine networks covered by insurance, as Grand Rapids-based insurer Priority Health and Blue Cross Blue Shield of Michigan offer coverage paid through their supplemental Medicare health plans.
Phil Fennema, director of operations for Tandem365, cited a typical patient: an elderly man with congestive heart failure, a common condition in that age group that often leads to fluid buildup in the extremities and, if untreated, hospitalization.
"One of the big drivers of congestive heart failure is sodium in the diet. We had a patient that was eating a pack of hot dogs a day, thinking it was low-sodium. His congestive heart failure was completely unmanaged."
Fennema said a Tandem365 nurse discovered his dietary habit after peering in his refrigerator and confirming his favorite food.
"With our guidance, he stopped eating salty foods and microwaved dinners," Fennema said.
Janet Scovel, director of care management for Priority Health, said the insurer continues to fund coverage through Tandem365 for a simple reason: The evidence says it works to cut hospitalizations and ER trips for its patients.
"It's definitely worth the investment, not only to control costs but it also improves the quality of life for our members and their families. It's a win-win," Scovel told Bridge.
Earlier this month, community paramedic Alex Burgnon set out on a trip to pick up a urine sample from 64-year-old Nora Huls, a health care receptionist who lives alone in a suburban Grand Rapids apartment. Her stack of health issues includes congestive heart failure, cirrhosis of the liver and high blood pressure.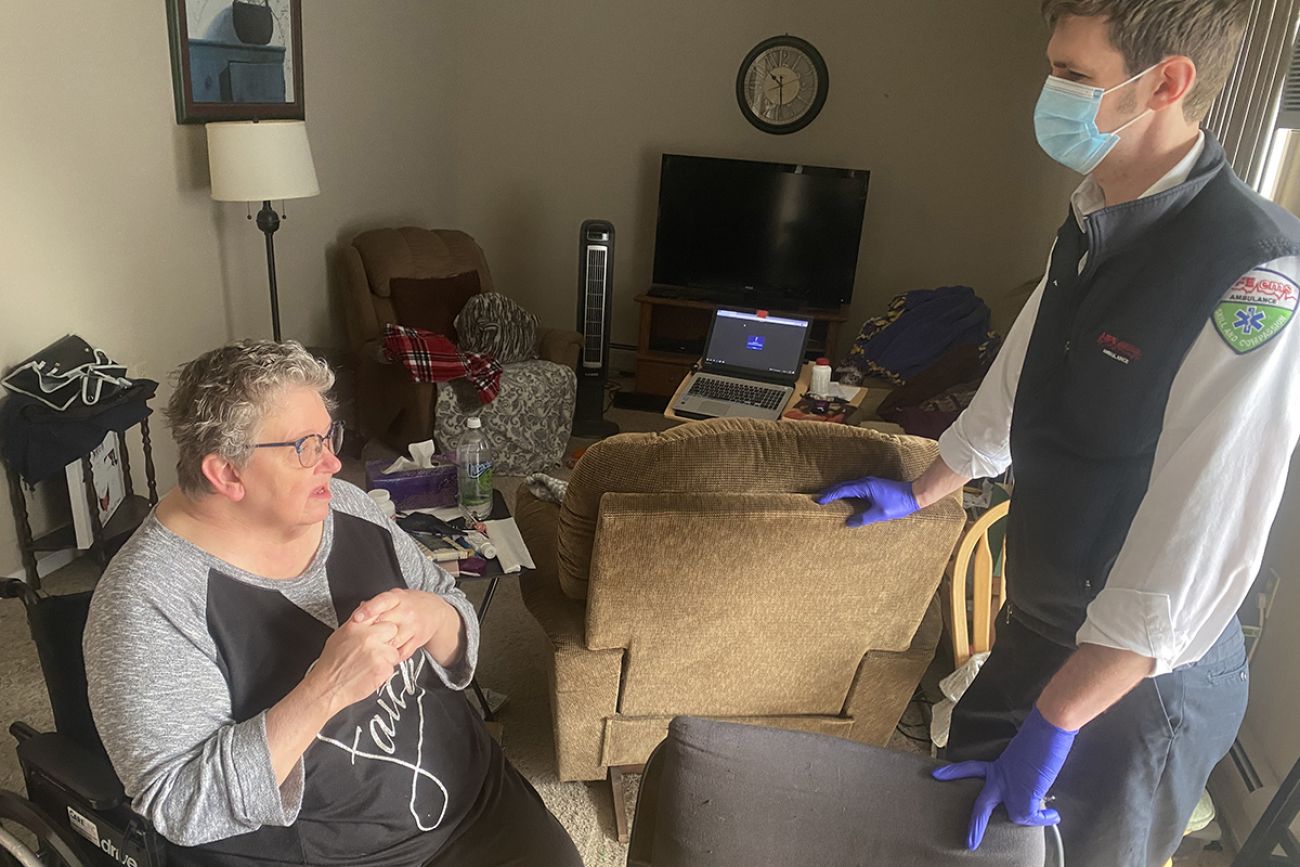 Suburban Grand Rapids resident Nora Huls talks with paramedic Alex Burgnon, who dropped in to pick up a urine sample and deliver it to a hospital lab. (Photo by Ted Roelofs)
Huls is also prone to urinary tract infections, which if left unidentified and untreated can migrate to the kidney and lead to sepsis, a dangerous blood infection. She also uses a wheelchair and walker, which makes trips to a lab to drop off a urine sample an ordeal she'd just as soon skip.
She described what that entails: "I have to get into my car, put my wheelchair in there, get my walker out, go around to the front, get in my car, haul the walker over my head to the passenger seat, go to the lab. Then I haul it all out, drop the sample off at the lab, go to my car and do it again, go home, and then do it again. I'm really getting Popeye arms from pushing that wheelchair around."
Instead, on this day, Burgnon would drop off her urine sample at a Grand Rapids hospital to check for infection.
Before Burgnon left, Huls said she was more than grateful for the help.
"You have no idea ─ it's taken so much stress out of my life," she said.
It's also kept her out of the hospital of late. Huls was hospitalized five times in the year before she enrolled four months ago in Tandem365 ─ and not once since then.
Toth, the Ottawa County resident ─ who retired at age 60 from the Ottawa County Department of Public Health ─ has been enrolled in Tandem365 over the past three years. Its paramedic team has guided Toth and his wife, Deanna, through a gauntlet of health issues.
Diagnosed in his 40s with an autoimmune disease that can affect the lungs and kidneys, Leslie Toth suffered compression fractures in his spine nine years ago as a side effect from a steroid he took for his autoimmune disease. He's also prone to frequent urinary tract infections and kidney stones.
In August, Toth came down with a fever, nausea and a cough.
"I called and said, 'Something's not right,'" Deanna recalled. "He was getting worse."
A Tandem365 paramedic rolled into their driveway within about an hour, performed a swab test for COVID-19 and dropped it off at a lab. The lab test confirmed the following morning he was positive for the coronavirus. A few hours later, a paramedic showed up at their door to administer intravenous fluids and monoclonal antibodies.
"He was much better within four days," Deanna said.
Toth was hospitalized five times in the year before he enrolled in the paramedicine program, its records show. That's been cut to five times in the three years since.
"That's a big, big change," Deanna said,
"When he started having all these issues, I always called 911 because I didn't know what to do so fast. It was just so traumatic. Now I can talk to Tandem365 any time and get decisions made about what to do. There are no words to say how much that has meant to us."
Only donate if we've informed you about important Michigan issues
See what new members are saying about why they donated to Bridge Michigan:
"In order for this information to be accurate and unbiased it must be underwritten by its readers, not by special interests." - Larry S.
"Not many other media sources report on the topics Bridge does." - Susan B.
"Your journalism is outstanding and rare these days." - Mark S.
If you want to ensure the future of nonpartisan, nonprofit Michigan journalism, please become a member today. You, too, will be asked why you donated and maybe we'll feature your quote next time!